Our students share their best tips for studying from home
More time with loved ones, extra pats and cuddles with pets, study snacks just a short trip to the fridge and activewear every day (give or take actually being active). Studying from home brings us closer to creature comforts, but it can also come with some interesting challenges.
How do you stay on track with assignments when there are new episodes of Tiger King on Netflix? How do you look professional in your Zoom meeting when your kids are yelling in the background?
Five Southern Cross University students share their top tip for staying motivated, concentrated, organised, and exercised.
Gold Coast artist Ellie Hopley (@Shuturp) has put pen to paper to show you what this might look like in action.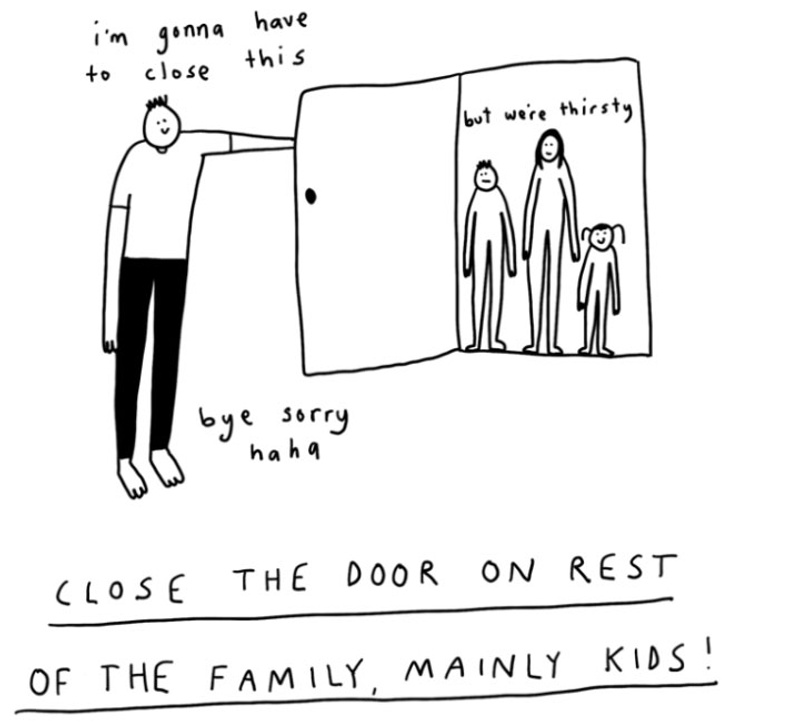 Tip one
Close the door on the rest of the family, mainly kids!
By Heidi Patenaude
Bachelor of Midwifery, first year.
When you're a studying parent, it's as if kids/ babies have a sixth sense, they know exactly when a parent has something important to do and then they decide wreak havoc!
For me, I announce to the household that "MUMMY HAS VERY IMPORTANT THINGS TO DO – DON'T COME NEAR ME!!!!" and close the door on them. I put Spotify on, usually an instrumental playlist, to block out any of their sounds. It's like white noise for babies (parents will understand this!). LOL!
I would tell any parent to let go of any mum guilt/dad guilt because study takes up so much time. You're a better and more present parent when you're not worrying about looming deadlines and all of the things you have to do.
So, give yourself the time to study. Then go and be present with your kids. Obviously, that's not easy for everyone, so my advice in this scenario would be to write a list of the most important things to get done, then physically scratch each one off with a pen. That is therapeutic in itself!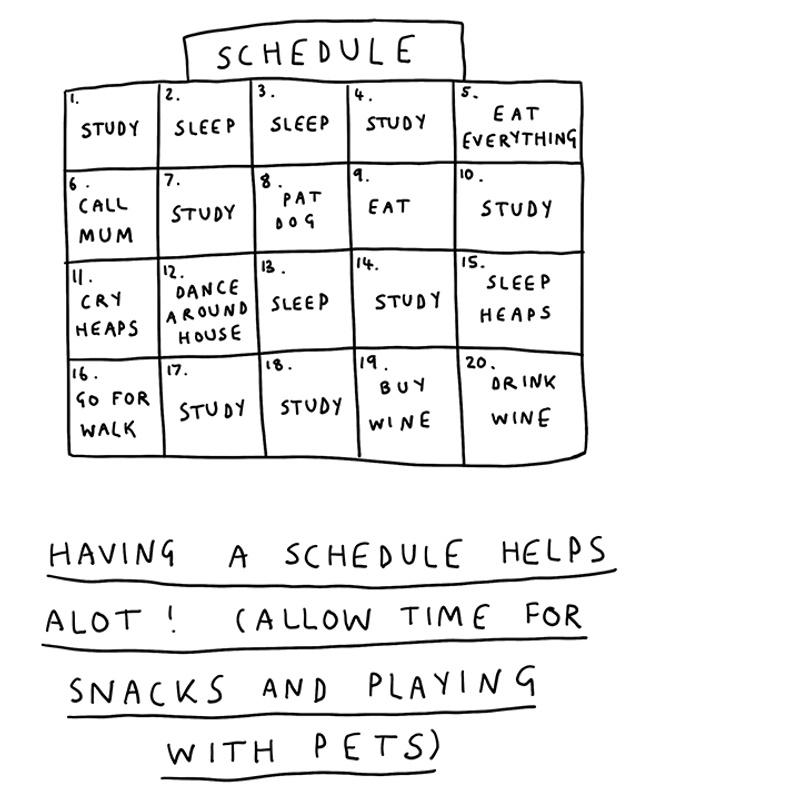 Tip two
Create a study schedule
(allow extra time for snacks and playing with pets)
By Chloe Van Breemen
Bachelor of Laws and Bachelor of Legal and Justice Studies, second year.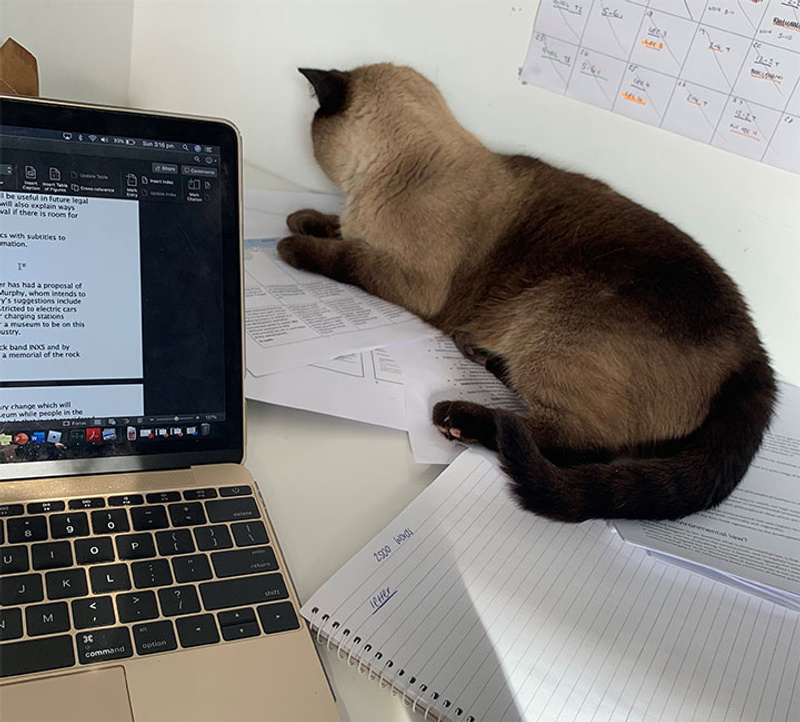 My typical day of studying from home starts with waking up at nine or ten o'clock (after finishing work late the night before), having breakfast and sitting down to study by 10:30am. I check my emails first and 'prepare to study'. I then study for an hour and go play with my dogs for a little study break. I have a one-year-old female Labrador called Evie and a ten-month-old German Shepard called Zarla. I also have a cat called Dakota.
After that I study for another four or five hours with frequent ten-minute breaks for snacks. My favourite unhealthy isolation snacks to munch on are mint slice biscuits or chocolate bars, but I also love pistachios, cucumbers and grapes!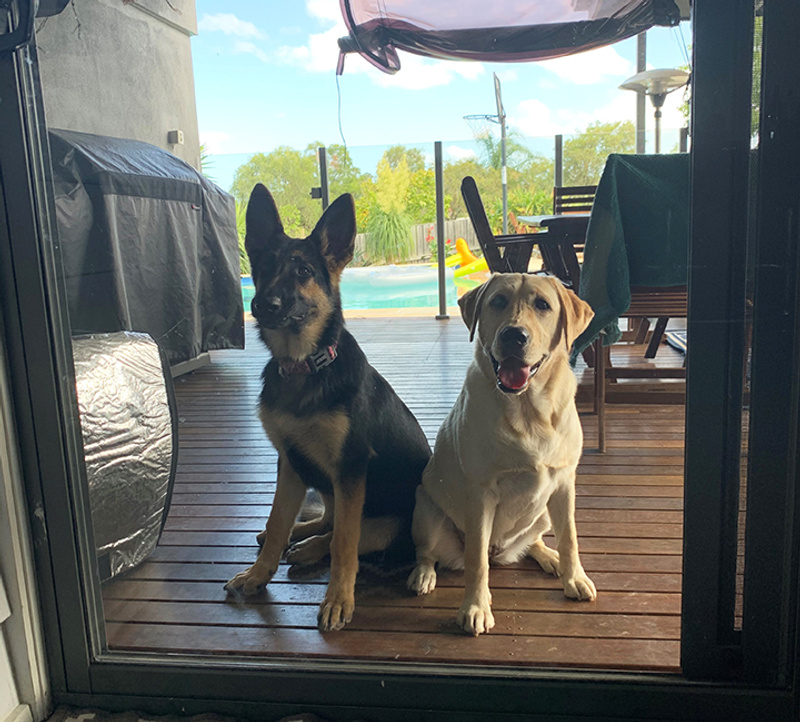 My advice to maintain a healthy wellbeing while studying at home is to set aside time to socialise and maintain friendships and relationships. Get twenty minutes of sun a day and make sure you get outside in the fresh air. Have a good schedule and allow yourself a treat once you get the work done. Don't underestimate a break or getting up and having a stretch. I like to keep a calendar on the wall to keep track of due dates!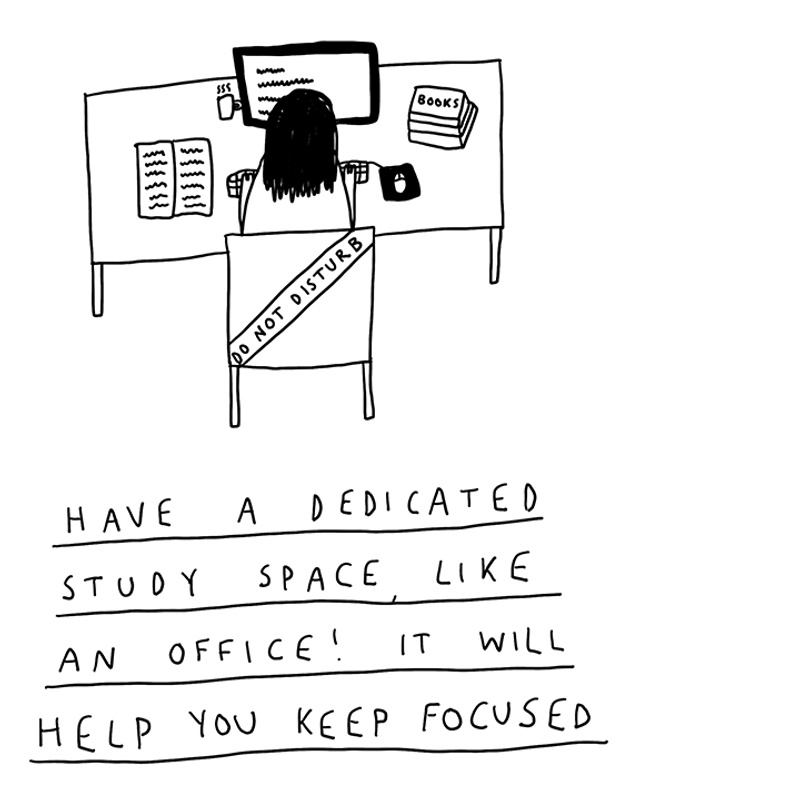 Tip three
Have a dedicated study space
By Nadine Hughes
Bachelor of Law and Psychological Science, third year.
My number one tip for studying at home is to set up a dedicated study space, like an office. This will help you keep focused.
I have a candle burning (allows me to feel relaxed), my calendar (to stay focused and planned), fake plant and palm tree painting (because I kill real ones, and I love how it reminds me of the outdoors), a photo of my partner (because I love him and am thankful that he continues to help me succeed), stationary ( because a gal can't have too many pens), a quote board which says "be fearless in the pursuit of what sets your soul on fire" (to help remind me that I should remain fearless in my uni career as this is what I want and what I'll do) and most importantly - snacks!! Cause food is life...
I find that having a desk and chair set-up refrains me from either sitting in my bed, or on the couch. Otherwise, before I know it, I'm sleeping or watching TV. This space keeps me accountable and focused. This space also has everything uni-wise, my textbooks live underneath, so it's easily accessible, neat and tidy. Also, it's close to the window, so my blinds stay open to allow sunshine to come in, it makes me feel like I'm outside and not stuck in my room (which I am haha), and helps me to feel comfortable.
My perspective on working or studying from home is that it's all about balance - especially in this strange time! Don't sit at your desk for the entire day. Get up, go for a walk. My routine is to walk the dog of the morning, take breaks to get food (of course), and to hang the washing out and then come back. I even have a part-time job that I manage to squeeze in.
It's also important to maintain your friendships. Have a facetime with your gals, play online trivia games from Zoom. Try to simulate normal life so that you can easily adapt.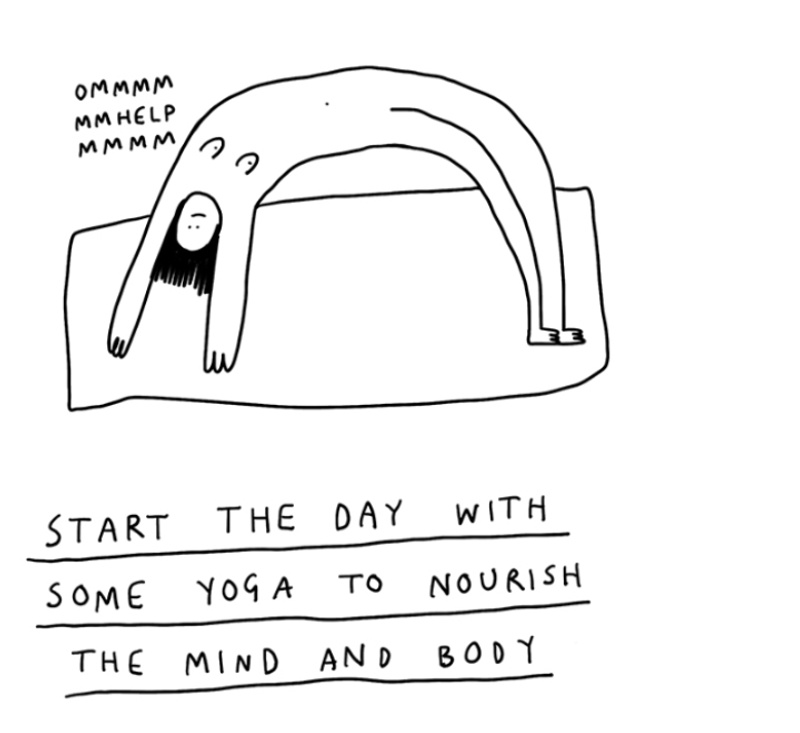 Tip four
Start the day with some yoga to nourish the mind and body
Gala Hazell
Bachelor of Art and Design, third year.
I like to start the day with some yoga, this gets me out of bed and moving. After that I can tackle a little of the uni work that I find most difficult (with a lot of coffee breaks). My afternoons mostly involve working and creating in my home studio.
If I get stuck or emotional trying to do uni work throughout the day I make sure I stop and do more exercise to reset and then come back to uni work.
As an artist studying from home, my advice is that it's okay to not feel productive all the time, you just have to role with the feelings. Some days are for staying in bed and watching Netflix, but then when you feel motivated ride that wave!
Trying to create when you don't feel creative is hard, not everything I'm creating is a masterpiece but making something bad is better than making nothing at all.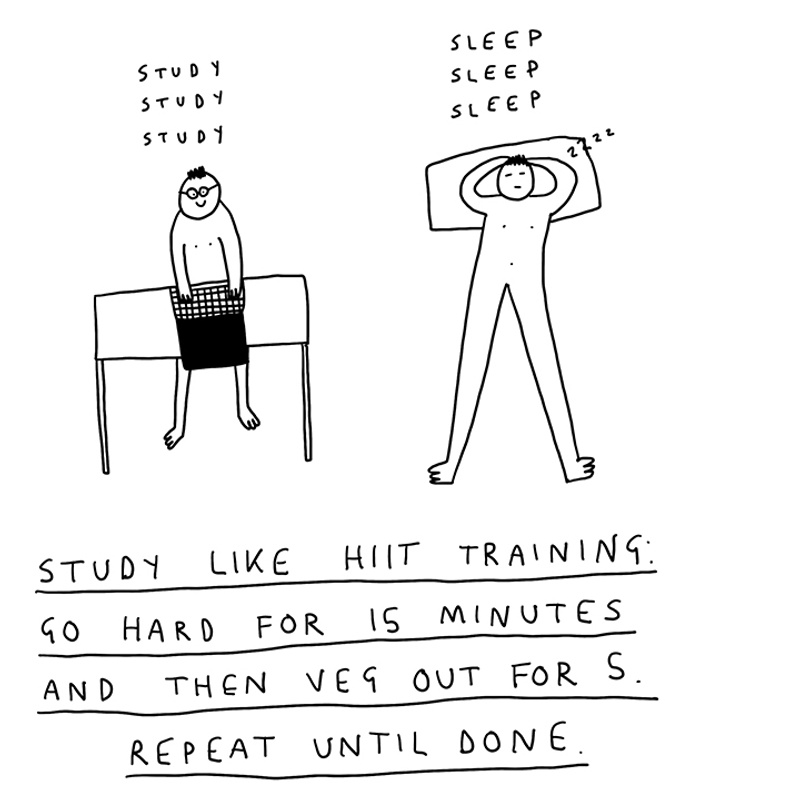 Tip five
Study like HIIT training
By Lailarni Walker
Bachelor of Biomedical Science, second year.
My best tip for studying from home? Study like high-intensity interval training (HIIT) - go hard for fifteen minutes and then veg out for five. Repeat until done!
When I HIIT study, I set a timer on my phone for fifteen minutes and start to write notes or read over notes I've done earlier. Then once the timer goes off I give myself five minutes to sit with my eyes closed or maybe listen to a song to relax.
This method has been good during isolation as studying in the privacy of my room is the only place I can have a timer going off every fifteen minutes without driving everyone crazy!
I like studying in bursts because I find it hard to stay focused for extended periods, especially with all the distractions of my home environment.
I find I get more quality learning done and procrastinate much less when I HIIT study.
Student support during this weird time
With all courses currently delivered online due to COVID-19, there's never been a more important time to feel supported. No matter who you are or which course year you are in, our 5-star student support (The Good Universities Guide 2020) is available to you.
Our friendly staff provide informed advice and personalised service. The University offers a wide range of resources, assistance, and support for all students.