COVID-19 and Children
Are we there yet? Supporting children to stay the distance during COVID-19
The urgent nature of the global response to COVID-19 has brought with it fast and unprecedented change to family, school and work life. The largely invisible but highly pervasive threat of the virus continues to be a testing time for everyone. As restrictions ease, uncertainty continues, with the 'after lockdown' phase bringing new changes to adapt to. In fact, it is now clear that it will still be some time before life will return to 'normal'.
Children are not immune from these effects. While politicians and social commentators have drawn heavily on military metaphors to underline the urgency and scale of what we, like other nations, are facing ('Dunkirk moment', 'war with an invisible killer', 'frontline soldiers'), children are grappling with their own questions and concerns: Will Grandma be OK? Does this mean no soccer season? What about my birthday party? Is it safe to be at school? Will you die if you catch this?
Given the COVID-19 impact is unlike anything most of us have experienced before, we need to continue to give close attention to how we can best support children to cope and adapt. A considerable body of research highlights that adverse life events can impact significantly on the wellbeing of children and young people but it is often the accompanying change and uncertainty that such events give rise to that is not so readily recognised and addressed (Gibbs et al., 2014; Shepard et al., 2017).
With COVID-19 change and uncertainty may be experienced differently in different families. While most will have been impacted to some extent by changes in routine at home, school, work and in social interactions, some families will have been more deeply affected by unemployment, reduced finances, temporary housing issues, safety concerns at home, family bereavement and illness. Since we have no precedent in Australia (nor in many other 'wealthy' western nations) for a disease threat and widescale change on the scale of this pandemic, there is very little direct research evidence to help us understand how best to support children (including from their perspective) in this specific context. However, literature on the science of coping suggests there are parallel events we can look to where there is research evidence on what children experience and need by way of support, and to draw on this for a guide (Goldberg, 2019).
Central to such research is that children are impacted - they need to understand what is happening, be reassured about their safety, have opportunities to ask questions, be given timely information in clear, factual ways that doesn't overwhelm them with detail, and be supported to focus on what they can influence rather than what they can't. Such strategies reduce anxiety and promote coping, both during lockdown and as we navigate our changed worlds again afterwards. As Gibbs et al. (2014) have highlighted following detailed, longitudinal studies of communities recovering from the 2009 Victorian bushfires, "Infants, children and young people are alert to their physical surroundings and experiences, sensitive to their emotional and social environments, and, according to their age and personalities, will try to make sense of what is happening to them, as adults" (p.18).
More broadly, literature on natural disasters and terrorism events reiterates these points, highlighting that a caring, consistent and open parent or carer, who is coping as positively as they can, is key to helping children understand and adapt to difficult situations. Indeed, such evidence shows time and again that this relationship is a central factor in strengthening children's resilience as they develop their capacity to live with uncertainty and adapt to change. This often involves parents and carers talking about feelings with children (as well as about facts), spending time together and doing enjoyable activities (Freeman, Nairn & Gollop, 2015; Gibbs et al., 2014; Mooney et al., 2017; Pine et al., 2015; Schonfield et al., 2015; Shepard, Kulig & Botey, 2017).
In summary, such research focuses our attention on supporting children by:
Open communication (which sometimes involves listening to what children are not saying);
Minimising media exposure (reducing anxiety exacerbated by constant media coverage, including unhelpful social media);
Creating new routines – around home-schooling, free time, family time, alone time, device time; Using the 'not normal' to spend quality time together;
Modelling creative problem-solving to promote positive adaptation;
Looking after yourself as a parent or carer - including affirming the way you are managing to juggle the challenges, changes and uncertainty - while also attending to your own stress, anxiety and fatigue as a result of the unprecedented impact of COVID-19 realities
The Centre is committed to sharing evidence-based information and resources to support children, young people, families and communities throughout the crisis. We will be adding these below as the challenges, changes and responses to COVID-19 unfold.
COVID-19 Response Resources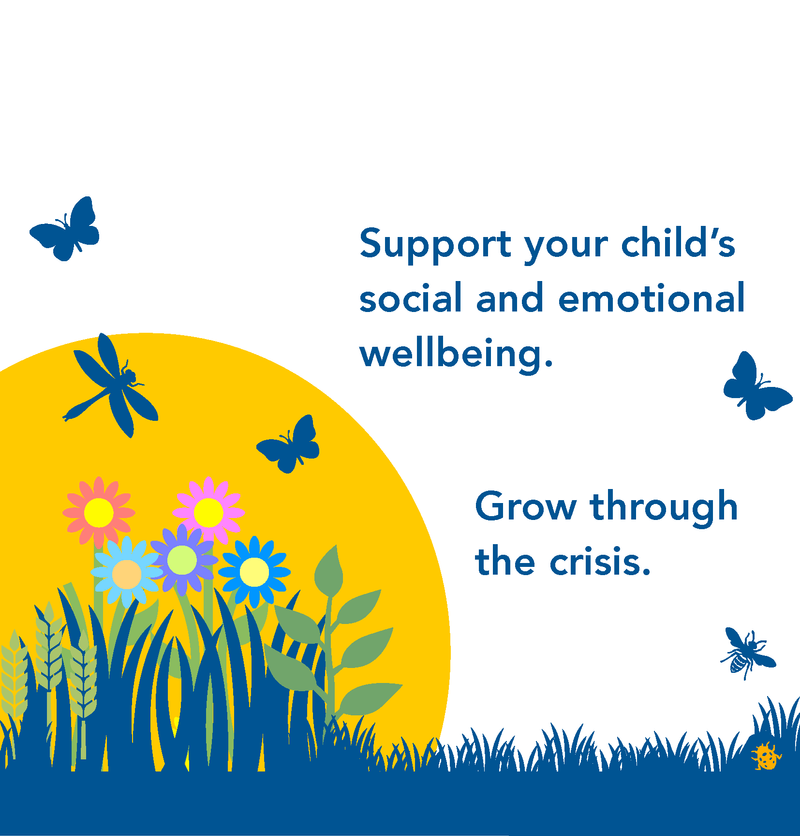 Supporting your Child's Social & Emotional Wellbeing
Supporting Children Adapting after COVID-19
A number of organisations have compiled further useful resources for supporting children and young people during this time. For example:
References
Betancourt, T.S. & Khan, K.T. (2008). The mental health of children affected by armed conflict: Protective processes and pathways to resilience. International Review of Psychiatry, 20(3), 317-328.
Freeman, C., Nairn, K., & Gollop, M. (2015). Disaster impact and recovery: What children and young people can tell us. Kōtuitui: New Zealand Journal of Social Sciences Online, 10(2), 103-115.
Gibbs, L., Di Pietro, M., Harris, A., Ireton, G., Mordech, S., Roberts, M., . . . Wraith, R. (2014). Core principles for a community-based approach to supporting child disaster recovery. Australian Journal of Emergency Management, 29(1), 17-24.
Goldberg, S. (2019). Parental socialization of coping: A review of the literature. In Stress and Anxiety: Contributions of the STAR Award Winners, Buchwald, P., Moore, K.A., Kaniasty, K., & Arenas-Landgrave, P. (Eds.). (pp. 182-190). Logos Verlag: Berlin.
Mooney, M., Tarrant, R. A., Paton, D., Johal, S., & Johnston, D. (2017). Getting through: Children's effective coping and adaptation in the context of the Canterbury, New Zealand, Earthquakes of 2010-2012. Australasian Journal of Disaster and Trauma Studies, 21(1), 19-30.
Pine, N. S., Tarrant, R. A., Lyons, A. C., & Leathem, J. M. (2015). Rolling with the shakes: An insight into teenagers' perceptions of recovery after the Canterbury earthquakes. Kōtuitui: New Zealand Journal of Social Sciences Online, 10(2), 116-125.
Schonfield, D. J., Demaria, T., & The Disaster Preparedness Advisory Council and Committee on Psychosocial Aspects of Child and Family Health. (2015). Providing psychosocial support to children and families in the aftermath of disasters and crises. Pediatrics, 136(4), e1120-e1130.
Shepard, B., Kulig, J., & Botey, A. P. (2017). Counselling children after wildfires: A school-based approach. Canadian Journal of Counselling & Psychotherapy/Revue Canadienne de Counseling et de Psychothérapie, 51(1).