Consultancy
Consultancy brochure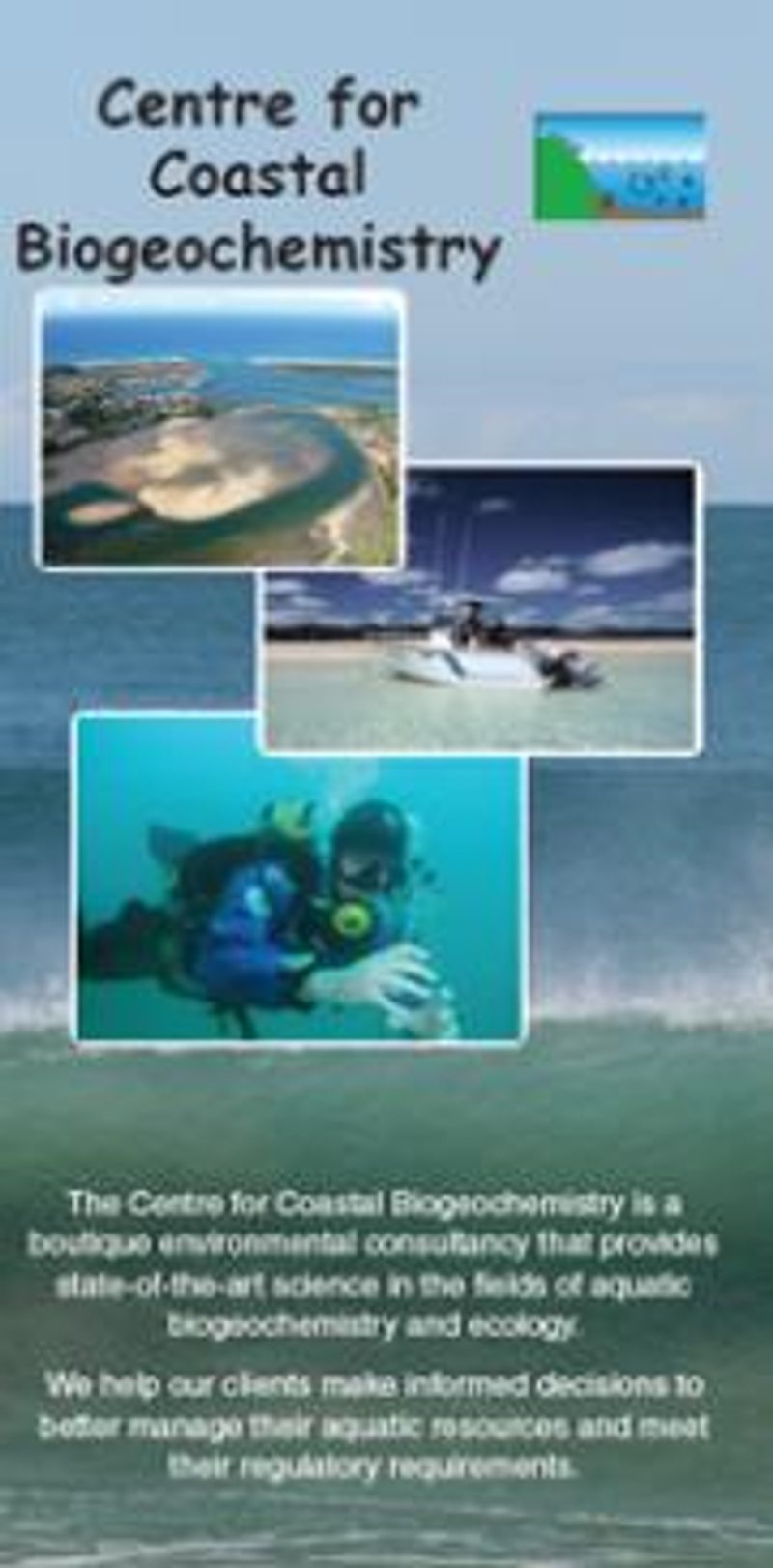 The consultancy arm of the Centre for Coastal Biogeochemistry (CCB) was established to service the needs of a rapidly changing environmental market. There is a move towards understanding how aquatic ecosystems function rather than just describing and monitoring the system. This much deeper understanding of ecosystem function is increasingly being demanded by regulatory agencies and resource managers and cannot be achieved with traditional sampling, survey and monitoring programs. An understanding of ecosystem function requires a combination of traditional environmental and ecological studies and state-of-the-art biogeochemical studies and modelling. For more details see Australian Online Coastal Information website.
CCB is defined as much by what we don't do, as by what we do. We are not generalists and do not attempt to cover all aspects of environmental science, but specialise in aquatic biogeochemistry and ecology. We only undertake projects in our area of expertise even if this means passing a Client onto another organization. This focused approach, our research at Southern Cross University and our close collaboration with other research organizations, guarantees that the work we do is technically at the forefront of the aquatic science field nationally and internationally. It's this technical expertise that has seen CCB involved in two of the most comprehensive marine and estuarine biogeochemical and ecological studies undertaken in Australia (Brisbane River Moreton Bay Wastewater Management Study, Pimpama River Estuary Ecological Study). More importantly we understand that this rigorous science must be presented in a format that is easily understood by our clients.
Our strength lies in:
our focus on aquatic environments (marine systems, estuaries, coastal lagoons, ports and harbours are our speciality, but we also undertake studies in rivers, lakes, dams),
our ability to draw on current scientific research due to our research programs at Southern Cross University and our close collaborations with other research organisations,
our ability to combine traditional environmental and ecological studies with state-of-the-art biogeochemical studies and modelling to provide a comprehensive understanding of ecological systems, and
our focus on delivering high quality client-based products.
Being a small boutique consultancy we are able to offer a very personal service focused on our client's needs. This is illustrated by the hands-on involvement of the principal. We have the philosophy of always giving that little extra so as to exceed our client's expectations of both the science and the delivery of that science. Although we are happy to undertake one-off projects, we are genuinely interested in building long-term relationships with our clients. We like to determine what are our clients long-term goals for understanding and managing their aquatic ecosystems and what we can do to assist in achieving those goals. Our consultancy has grown rapidly from referrals and repeat work from our initial clients, and our continued growth depends on the complete satisfaction of every client.
In addition, we have established alliances with other boutique consultancies, such as water quality and ecological modelling groups, through previous collaborative projects that allows us to extend our capabilities. We have demonstrated in previous large projects that a number of small specialist groups working together are able to provide a more scientifically rigorous and comprehensive service than one large generalist group.