Laboratories and Analytical Facilities
The Centre runs two purpose-built laboratories where our experimental and analysis work is done and we also have a range of field equipment for working in and sampling from the field.
Experimental and Preparation Lab
Our Experimental and Preparation Lab is outfitted with the latest equipment and facilities to support experimental research, including:
A dedicated wet experimental area, incorporating lighting and water supply
Tanked seawater supply on tap
A workshop area
Spacious walk-in Fridge and Freezers
Plumbed Scientific Gas supply
RAD-7 Radon monitoring equipment
Numerous pH, LDO and multi-parameter probes
GC mainly for looking at DMS
A wide range of General Laboratory equipment such as: Freeze Drier, drying oven, Fume-hoods, Mili-Q water supply, glassware and glassware washing (including acid and purified water rinse), autoclave, balances, centrifuge, shaker table and vortex mixers, sonicators, microscopes, ample sink and bench space, well stocked chemical supply, rotary evaporator and other equipment for organic extractions.

Analytical Lab and IRMS Facility
Our analytical Lab houses our instrumentation, including our MIMS, FIA, IRMS and peripherals and also related ancillary equipment such as two 5-figure balances and a 1 micro-litre auto-dilutor.
IRMS
Our IRMS facility contains three DeltaV Isotope Ratio Mass Spectrometers which are used to measure stable isotopic composition of samples (primarily 15N,13C). One IRMS is able to measure 5 different channels simultaneously, enabling the simultaneous measurement of N2, and N2O from a single sample.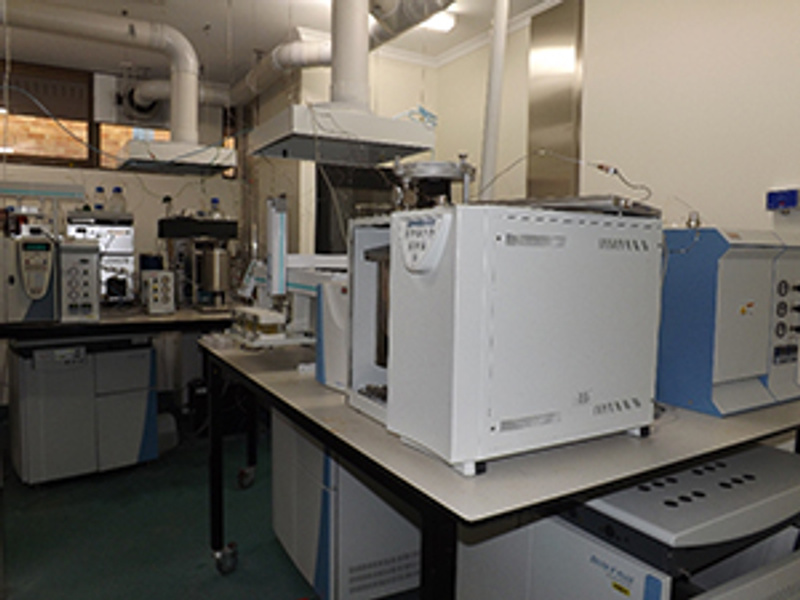 We also have a wide range of peripherals allowing many different types of samples to analysed. They include:
Trace GC Ultra. Gas Chromatograph for the measurement of lipids, amino acids and inorganic gases like N2, N2O, CO2 and CH4.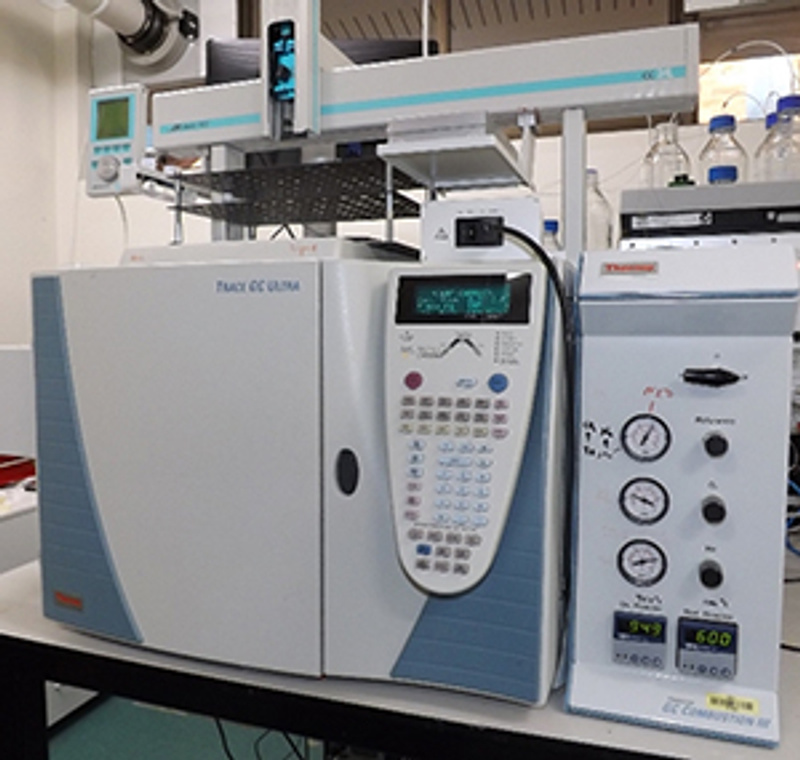 Flash EA: Elemental analyser for C and N in solid samples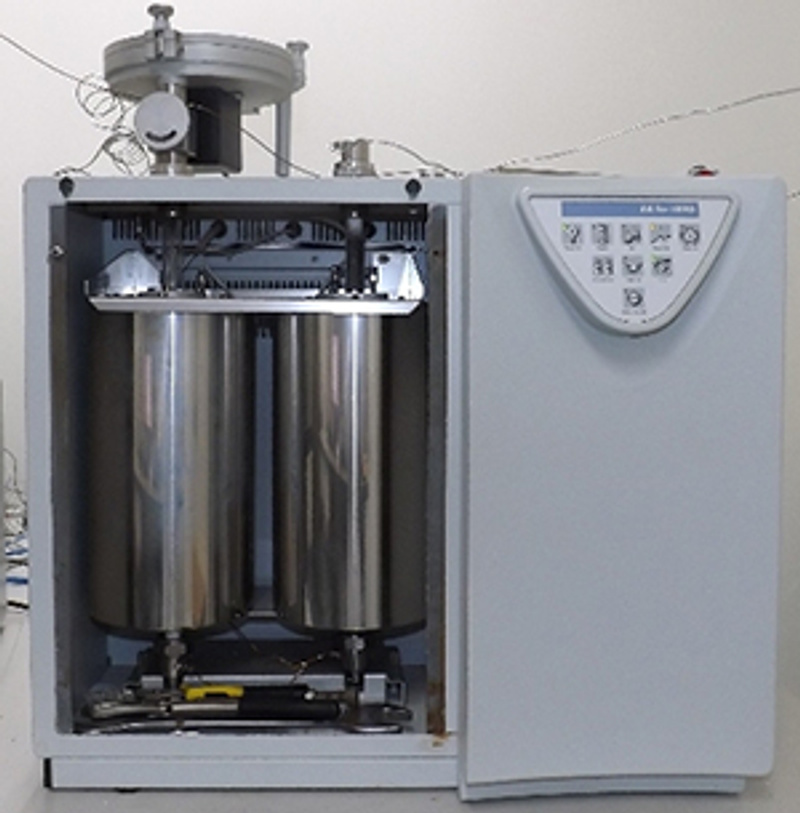 TC-EA: Elemental analyser for the measurement of O2 and H2 in solid samples.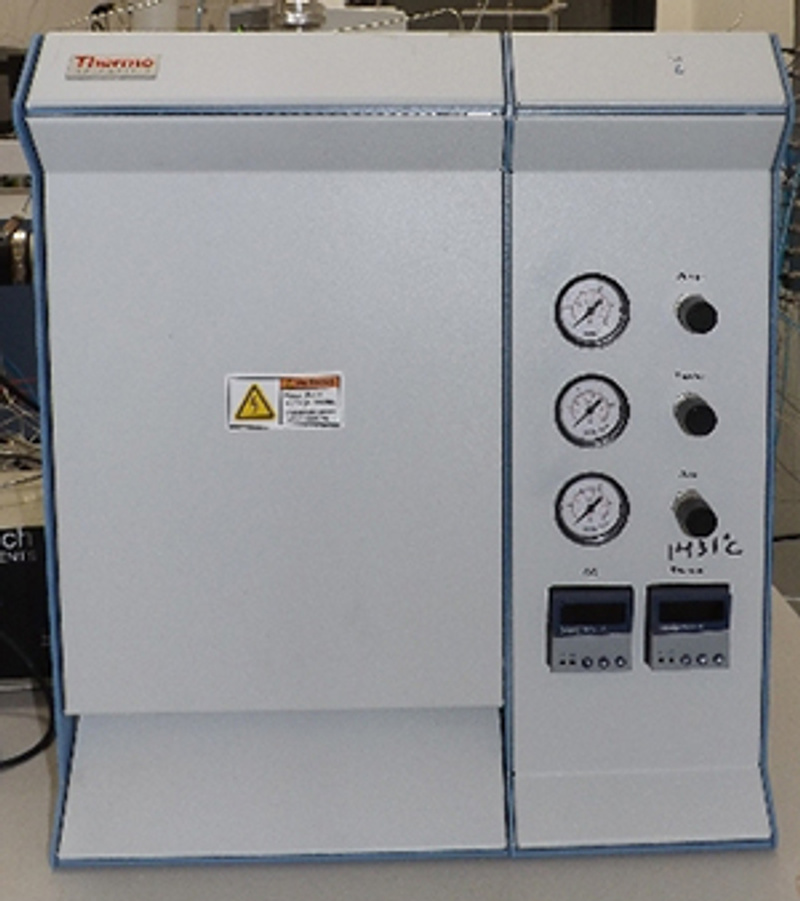 Aurora 1030 TIC/TOC analyser for the measurement of inorganic (DIC) and organic carbon (DOC) in water.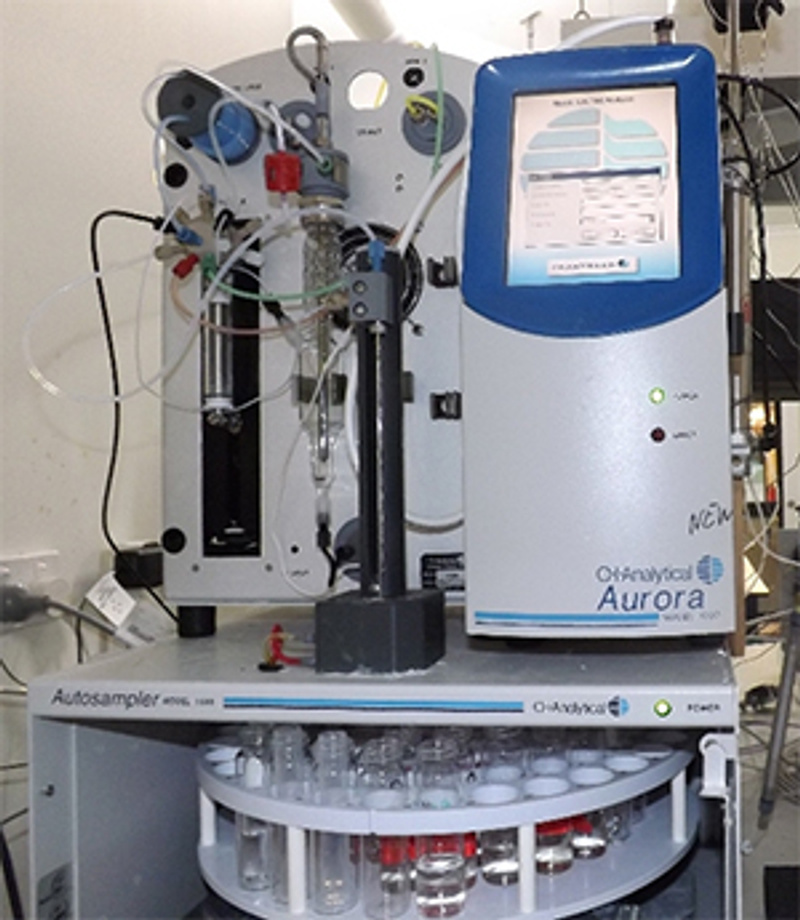 GasBench II: modified to measure isotopomers of N2O and 15N18O-NO3 in water samples using the denitrifier method.

LC Isolink: enables the measurement of C isotopes in compounds that are soluble in water and can be separated by liquid chromatography.

Microbalance balance (precision up to 0.1mg) for sample preparation.
MIMS
Our Membrane Inlet Mass-Spectrometer is housed in a specially designed temperature controlled lab and incorporates a purpose-built inlet manifold with a Quadrupole Mass-Spectormeter and custom software It used to determine the concentrations of gasses dissolved in water such as N2, Ar, and O2 with very high precision. It can also be used to determine the ratio of the isotopes in the gasses. Our MIMS also has an optional of Oxygen Removal furnace.
FIA
Our 5-channel Lachat Flow Injection Analyser is used to determine the Nutrient content of water samples such as NOx, PO4, NH4 and is used primarily for very low-level concentrations (< 5 ppb). It can also be used to determine Sulphate, Iron and Silicate concentrations.

We also have access to, though the Faculty of Science & Engineering and Southern Cross University's Research Centres, other facilities and equipment, including
Inductively-Coupled-Plasma Mass Spectrometer (ICP-MS)
Inductively-Coupled-Plasma Optical Emission Spectrometer (ICP-OES)
UV-VIS Spectrophotometer
LECO CNS analyser,
Scanning Electron Microscope with Energy Dispersive X-ray Analysis
Voltammetric analyser
X-Ray Diffractometer
Mossbauer spectroscope with cryostage
Field Equipment
Our range of field equipment includes:
Sediment sampling cores of various sizes with the ability to sample from depths exceeding 10m
In-house designed and built incubation systems, including in-situ diffusive flow and rotary stirring benthic chambers
Data loggers and Field-use multi-parameter probes
4.5m forward console estuary boat
Grab samplers
GPS equipment
Ground-water sampling equipment

RaDeCCc
The Centre has 8 Radium Delayed Coincidence Counters to analyse water samples for isotopes of radium (Ra-224, Ra-223, and Ra-226) using Mn impregnated acrylic fibers. We are using radium isotopes to estimate residence times in coastal waters, mixing in estuaries, and submarine groundwater discharge.

RAD7
The Centre also has 7 RAD7s radon-in-air monitors used for real-time measurement of radon. We are using radon to estimate groundwater discharge into creeks, estuaries and the coastal ocean as well as soil gas fluxes.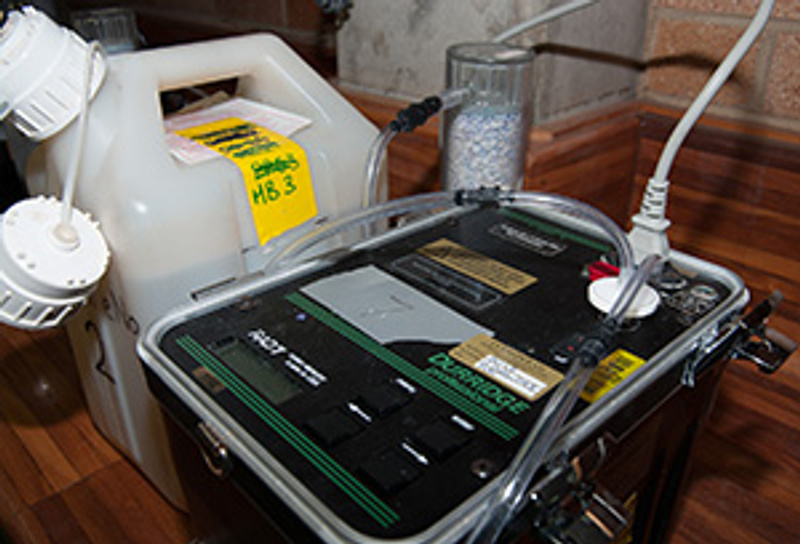 Picarro
The Centre has 4 Picarro Cavity Ring Down Spectrometers for measurement of concentrations and stable isotope ratios of CO2, CH4 and N2O. These instruments are field deployable and can be mounted on a boat or car to measure real time atmospheric or in situ dissolved concentrations and stable isotope ratios of these gasses or in the lab to analyse gas samples or the gas phase of liquid samples collected from the field.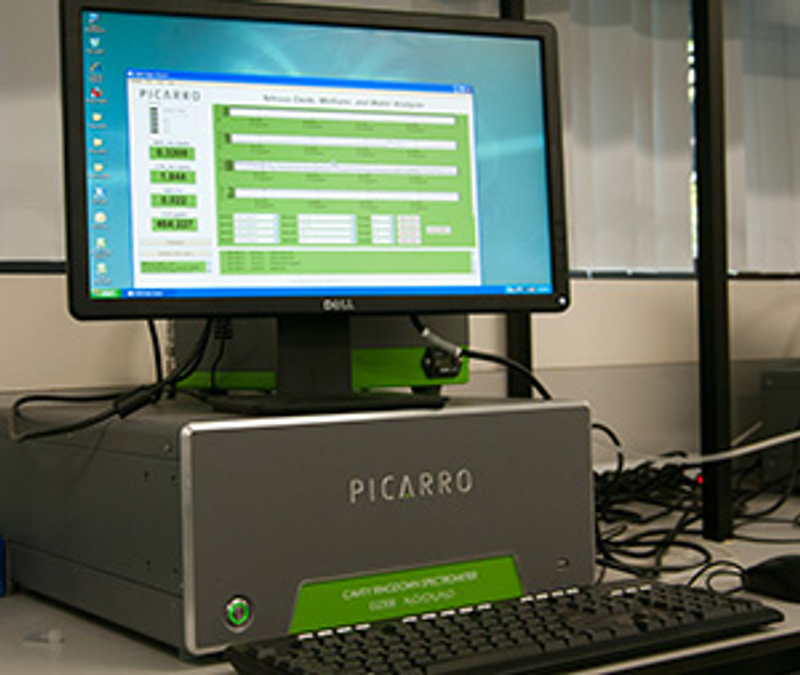 Vindta/ Titrando
The Centre's Vindta High precision DIC analyser and Titrando alkalinity titrator can be used together to obtain high precision, low-level analysis of Alkalinity and Dissolved Inorganic Carbon in riverine, estuarine and marine waters. We also have a Shimadzu HTC and an Aurora TOC/IRMS facility for analysis of DIC/DOC concentrations and stable isotope ratios.
LiCor CO2 analysers
The centre has an several LiCor gas analysers which are used in the field to measure in real-time atmospheric and water phase partial pressures of CO2.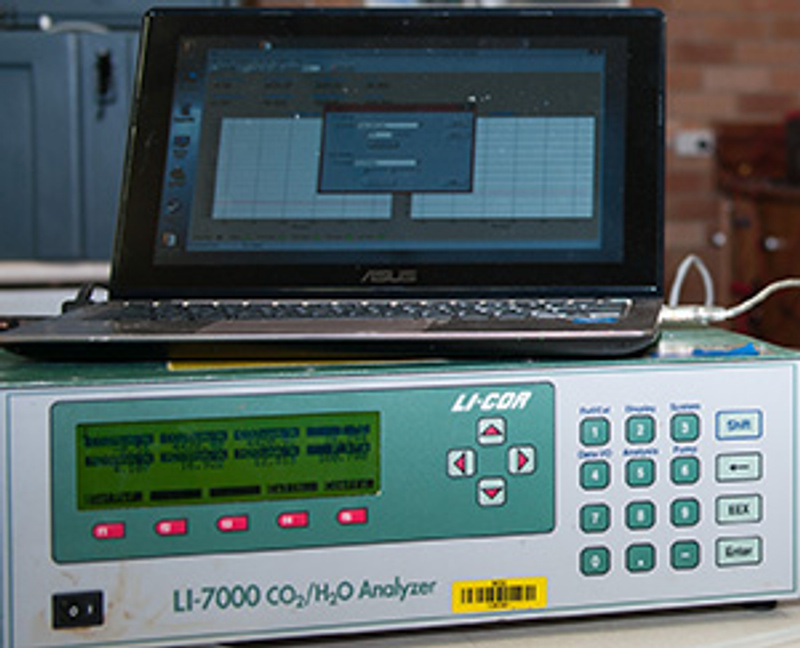 Other Devices and capabilities:
Troll and Hydrolab DataSonde Multi-parameter probes for measurement and logging of pH, DO, conductivity, light data.
Current meters and portable weather stations
Depth sampling pumps for sampling water >20m
Flurometers and CDOM meters
High-accuracy pH and DO meters
Cores and Chambers for in-situ or laboratory-based experimental incubations
Sampling pumps and flow-through equilibrators
Completely self-sufficient field based deployment of monitoring and logging equipment, including on land vehicles and our purpose-built 5m research catamaran