CCB News archive
2019 | 2018 | 2017 | 2016 | 2015 | 2014
Student award at Australian Coral Reef Society conference (May 2019)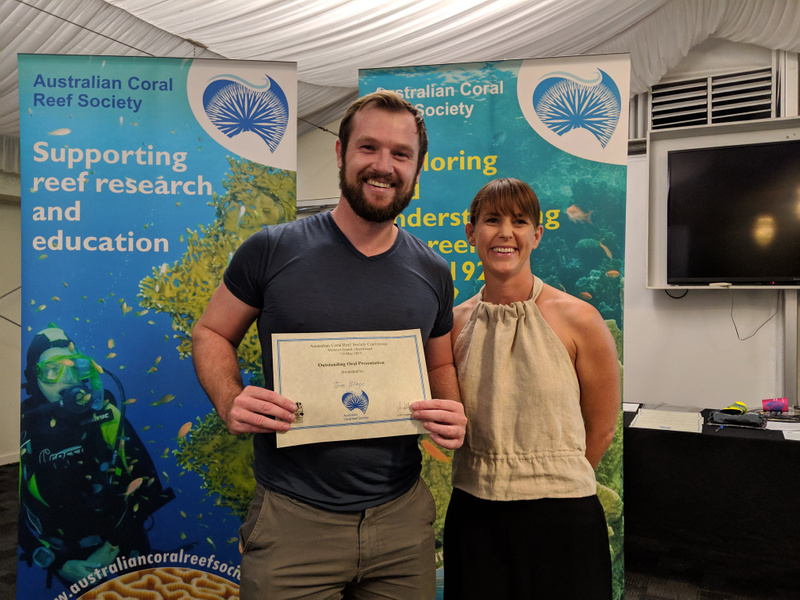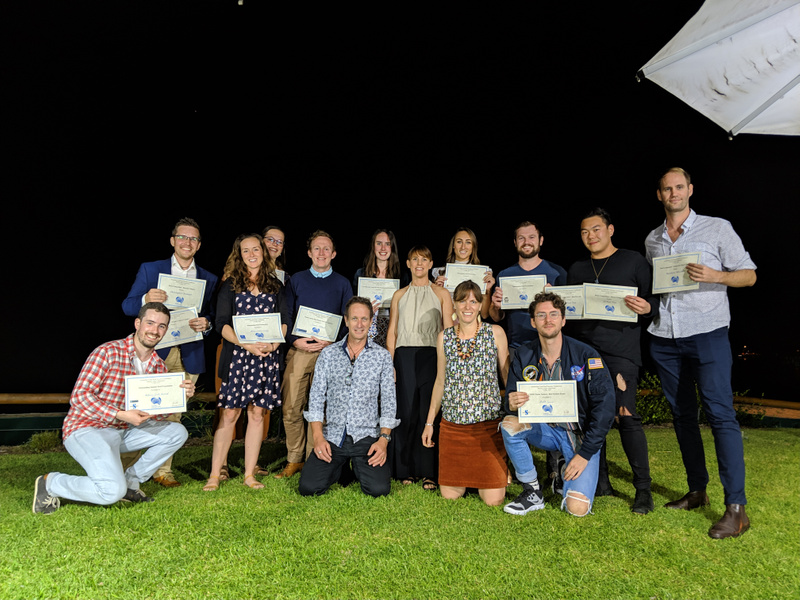 Centre for Coastal Biogeochemistry PhD student Tom Glaze was awarded the One Tree Island Research Station award for his oral presentation at the Australian Coral Reef Society conference held at Tangalooma, Moreton Island. Tom's presented his research on "Nitrogen cycling processes in Scleractinian coral microbiomes". His award includes bench fees at One Tree Island Research Station. Tom is supervised by Assoc. Prof. Dirk Erler and Prof. Symon Dworjanyn.
Science at the Shine Dome (May 2019)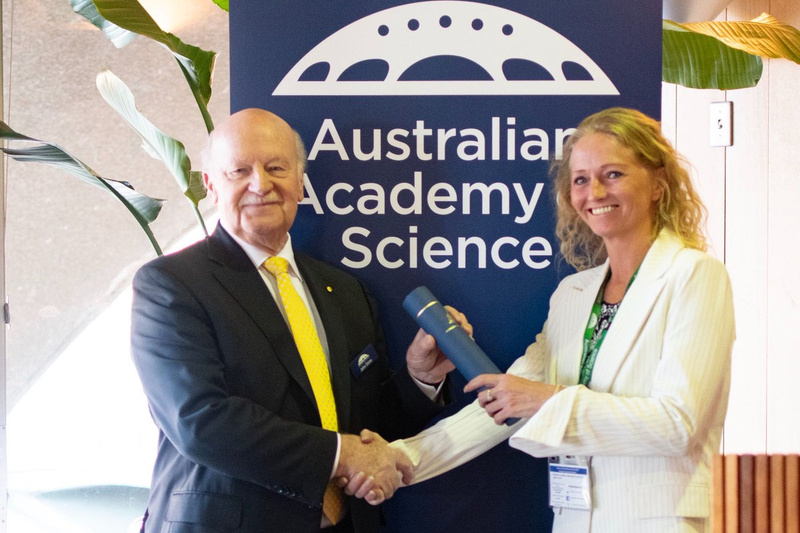 PhD student Anita Perkins (supervisors: Dr Joanne Oakes, Prof. Brad Eyre, Assoc. Prof. Andrew Rose) attended the Science in the Shine Dome event in Canberra this month to collect a Highly Commended award for her application to the Max Day Science Awards. Her application was titled "Fungi as degraders of kelp detritus: unravelling the role of fungi in coastal carbon storage".
Homeward Bound (March 2019)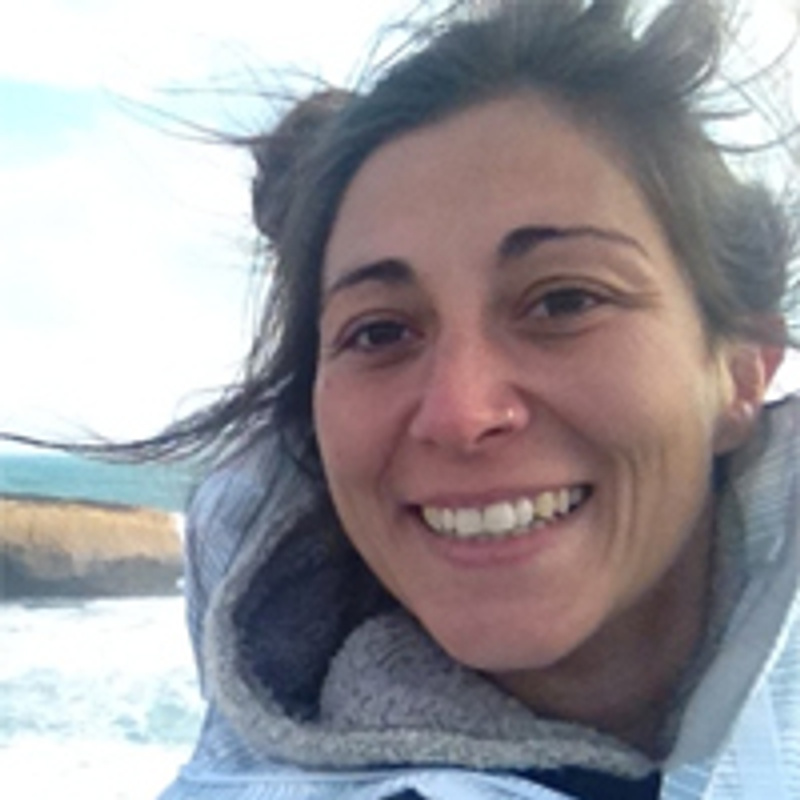 CCBR researcher Elisabeth Deschaseaux is among 95 women selected from thousands of applicants around the globe to participate in the 4th Homeward Bound Initiative.
Homeward Bound is a 12-month leadership program targeting women in STEMM (Science, Technology, Engineering, Mathematics, Medicine). The program culminates in an expedition to Antarctica and aims to give women in science the right skills, knowledge, and confidence to become effective leaders and make decisions that will help shape our planet.
PhD student recognised in Max Day awards (January 2019)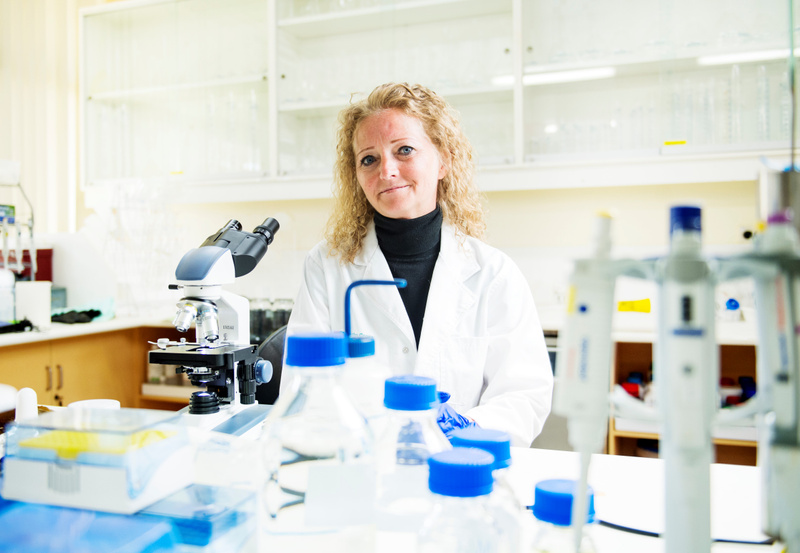 CCBR PhD student Anita Perkins has received a "Highly Commended" award for her application to the Max Day Environmental Science Awards, which aim to support early-career researchers. Anita's proposal was titled "Fungi as degraders of kelp detritus: Unravelling the role of fungi in coastal carbon cycling and storage". Anita has been invited to attend an event at the Australian Academy of Sciences Shine Dome in Canberra in May to collect her award. Anita is supervised by Dr Joanne Oakes, Prof. Brad Eyre and Assoc. Prof. Andrew Rose.
Prof. Bradley Eyre elected as 2018 Fellow of ASLO (November 2018)
Professor Bradley Eyre has been elected as a 2018 Fellow of the American Society of Limnology and Oceanography (ASLO) in recognition of his commitment and contributions to supporting ASLO's mission to advance the sciences of limnology and oceanography. ASLO has 4000 members from around 60 countries, and only around 2% of members are elected as Fellows. Brad has been invited to receive his award at the 2019 Aquatic Sciences Meeting in San Juan.
CCBR's Dr Naomi Wells represents Australia at IAEA meeting in Vienna (October 2018)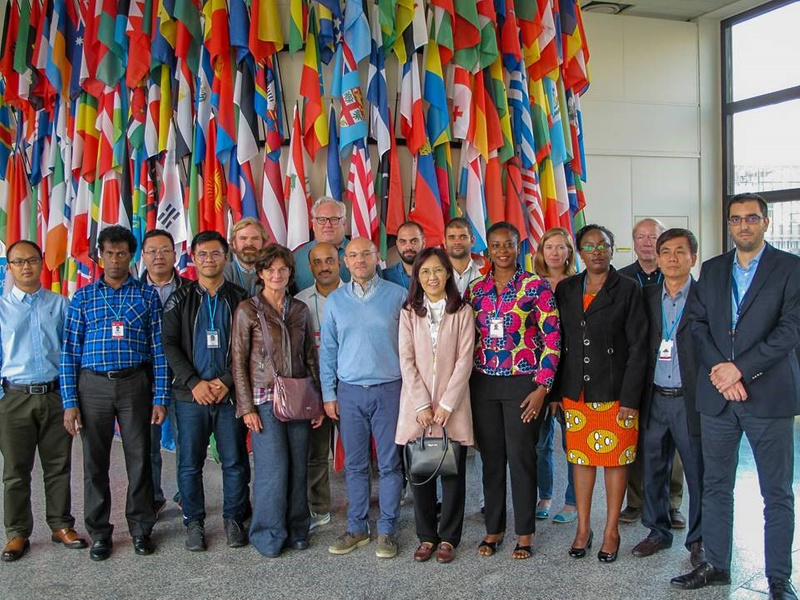 Dr Naomi Wells recently travelled to Vienna, Austria, as the country representative for Australia for the first research coordination meeting for the International Atomic Energy Association's coordinated research project, 'Global Monitoring of Nitrogen Isotopes in Atmospheric Waters'. Naomi met with representatives from other participating countries (Estonia, Belgium, Italy, Greece, Cuba, Costa Rica, United States, China, Singapore, India, Sri Lanka, Thailand, Vietnam, Ghana, and Kenya) to plan the next three years of work using stable isotopes to improve our understanding of global nitrogen deposition patterns.
Prof. Bradley Eyre features in Sydney Morning Herald (October 2018)
Professor Bradley Eyre and his research in ocean acidification were highlighted in the Sydney Morning Herald, in an article entitled "The science career that allows Bradley to keep asking, why?". The full article is available here: https://www.smh.com.au/business/workplace/the-science-career-that-allows-bradley-to-keep-asking-why-20180927-p506ib.html
BR students and staff attend ECSA57 in Perth (September 2018)

The 57th conference of the Estuarine and Coastal Sciences Association (ECSA) was held in Perth from 3-6 September 2018. The theme of the conference was "Changing estuaries, coasts and shelf systems - Diverse threats and opportunities". The Centre for Coastal Biogeochemistry was well-represented, with talks given by Professor Bradley Eyre, Dr Joanne Oakes, Dr Naomi Wells, and PhD students Kenji Chen, Michelle Simone and Jacob Yeo. Dr Naomi Wells also co-chaired a session on Greenhouse gases: Production uptake and emission.
Prof. Bradley Eyre gives invited keynote address in New Zealand (August 2018)

Professor Bradley Eyre gave an invited keynote address at the INTERCOAST workshop in New Zealand. INTERCOAST - 'Integrated Coastal Zone and Shelf-Sea Research' is a collaboration between the Universities of Bremen (Germany) and Waikato (New Zealand). Research themes deal with global and climate change which have strong impacts in coastal and shelf-sea areas and are of geoscientific, socio-economic, and legal interest. Brad's presentation was on his carbon and nitrogen cycling work in permeable carbonate sands, including his recent dissolution work published in Science.
The workshop was held at the Tauranga Yacht Club overlooking the beautiful Tauranga harbour, which can be seen in the back of the photo.
Acid ocean poses global reef threat (Feb 2018)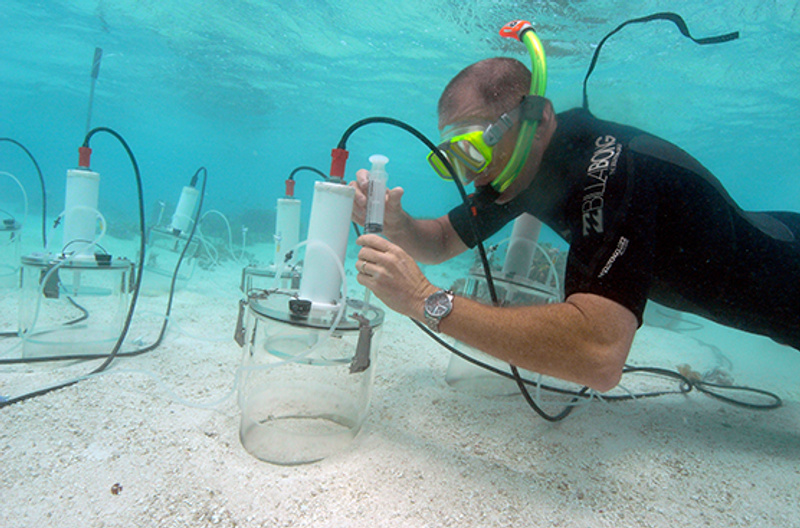 Many of the world's coral reefs could begin to erode within 30 years as a result of increasing ocean acidity, according to new research.
The Centre for Coastal Biogeochemistry's Professor Bradley Eyre and colleagues from the US have found that the sands which provide material for the building and maintenance of coral reefs will begin to dissolve due to increasing ocean acidity.
Their paper, published in Science today, shows the rate at which coral reef sediments dissolve is ten times more sensitive to ocean acidification than the rate at which corals grow. Corals are expected to grow more slowly due to ocean acidification and this new study shows dissolving sands could greatly exacerbate reef loss associated with this reduction in coral growth.
"Coral reef sediments around the world will trend towards dissolving when seawater reaches a tipping point in acidity – which is likely to occur well before the end of the century," said Professor Eyre from the University's Centre for Coastal Biogeochemistry.
"This will potentially impact coral reef ecosystems – not to mention tourism, fisheries and the many other human activities that occur around reefs.
"It is vital that we put pressure on governments globally to act in concert to lower CO2 emissions as this is the only way we can stop the oceans acidifying and dissolving our reefs."
Professor Eyre said the oceans have absorbed around one third of the carbon dioxide emitted to the atmosphere and have become increasingly acidic as a result.
The researchers placed benthic chambers underwater at four reef locations in the Pacific and Atlantic Oceans to measure the impact of future seawater acidity in dissolving the sands that make up coral reef systems. They then developed a model extrapolating their results for 22 coral reefs across three ocean basins.
Once the ocean reaches a tipping point in acidity, the reef sediments begin to dissolve. The time it takes to reach this threshold will depend on the rate of seawater acidification on the reefs. One study suggests more rapid acidification of seawater on reefs – which could mean that reef sediments start to dissolve by 2020. A slower rate of open ocean acidification would still mean that reef sediments will be dissolving at 20 of the 22 reefs modelled, before the end of this century.
"It may be possible to reduce the impact of ocean acidification on the dissolution of reef sediments by managing the input of organic matter at local and regional scales, providing some hope for reefs, but much more research on this topic is required," Professor Eyre said.
The paper's second author, Dr Tyler Cyronak, completed his PhD and first postdoctoral work at Southern Cross University.
The Science paper 'Coral reefs will transition to net dissolving before end of century' can be found here: https://www.science.org/
'Outstanding' PhD thesis earns Chancellor's Medal at graduation ceremony
(June 2018)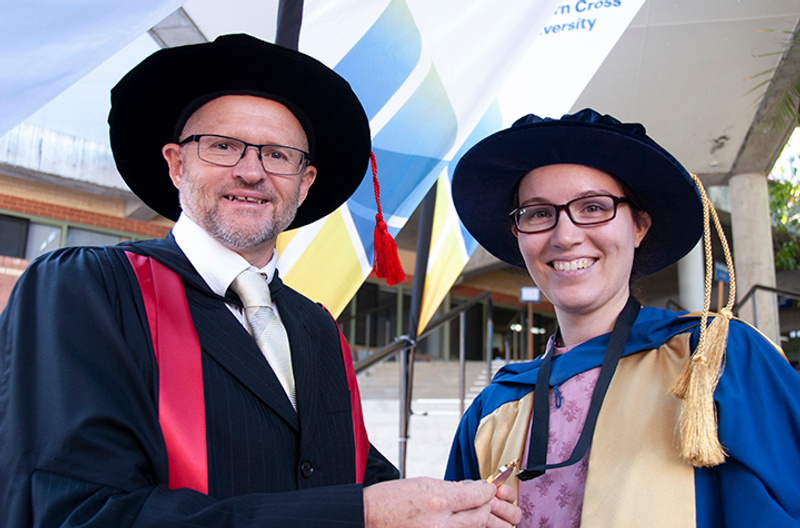 Rachel Murray spent three years knee-deep in the mangrove and estuary systems of north Queensland measuring nitrous oxide. The insights the then PhD researcher gleaned using a new approach - continuous real time monitoring of this greenhouse gas – saw her awarded Southern Cross University's highest accolade for an outstanding thesis, the Chancellor's Medal, at today's graduation ceremony.
"I think it's great, I'm really excited. I feel really proud," Dr Rachel Murray said of the honour she received from the University's Chancellor Nick Burton Taylor AM for her thesis 'N₂O cycling in vegetated estuaries: Insights from continuous, real time N₂O measurements and isotopomer analysis'.
Nitrous oxide is a powerful, long‐lived greenhouse gas, but little is known about the role of estuarine areas in the global N2O budget. Rachel's research set out to change that.
"Estuaries are a source of nitrous oxide as a greenhouse gas but they can also be a sink for nitrous oxide," said Dr Murray who spent time in the Johnston, Burdekin and Fitzroy river catchments, between the north Queensland towns of Innisfail, Ayr and Rockhampton.
"We were using a unique method of taking continuous samples of nitrous oxide along the length of an estuary. That gave us higher resolution data about nitrous oxide emissions. We got more data than we otherwise would have.
"The data told us exactly where the nitrous oxide was coming from: some was coming from sewerage treatment plants, some coming from the soil, some came from fertilisers upstream in the estuary.
"In the mangroves we found that nitrous oxide could actually be consumed which is uncommon to observe in coastal areas."
Dr Murray worked with researchers from the University's Centre for Coastal Biogeochemistry. Professor Bradley Eyre, the Centre's Director, was one of her PhD supervisors.
"It's an outstanding achievement for Rachel to receive this award. The examiners, all international experts, saw how difficult the topic was and what an outstanding job she did in handling the thesis," said Professor Eyre.
Dr Murray already had two degrees under her belt - a Bachelor in geology and a Master's in climate science - when she relocated to Australia from the USA to pursue postgraduate research at the Southern Cross University Lismore campus.
"In the future we may have taxes on greenhouse gases and credits for mitigation so my research is relevant for planning for the future. Land management and conservation efforts will have to account for both natural and man-made sources of greenhouse gases," she said.
Six Doctors of Philosophy were awarded, along with two Doctors of Business Administration.
A University Medal was awarded to Kate Bradshaw in recognition of a very high standard of academic achievement in her Bachelor of Science with First Class Honours degree.
Around 165 students graduated at two ceremonies in the Whitebrook Theatre at the Lismore campus.
Mangrove methane needs to be accounted for in global carbon budgets
(June 2018)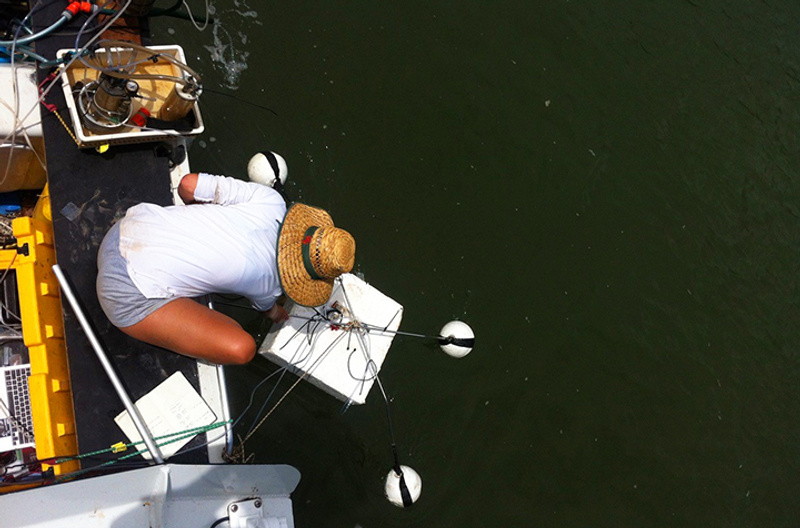 Mangroves are highly valued for their efficiency in storing the greenhouse gas carbon dioxide. But those calculations need to be adjusted to account for the methane emitted during the carbon burial process, according to new research from Southern Cross University.
Organic material within the mangrove system releases methane as it breaks down. However scientists from the University's Centre for Coastal Biogeochemistry Research have found the methane being released is offsetting on average 20 per cent of the carbon dioxide removed from the atmosphere and buried as blue carbon.
The paper Methane emissions partially offset 'blue carbon' burial in mangroves, published today in the highly prestigious journal Science Advances, provides the first estimate of the global magnitude of this offset.
"Our results show that high water and sediment methane emissions have the potential to partially offset 'blue carbon' burial rates in mangrove sediments on average by 20 per cent," said lead researcher Dr Judith Rosentreter.
"The offsets may be as high as 60 per cent around the boundary between the tropics and subtropics, driven by lower mangrove carbon burial rates and higher methane emissions.
"Although there are some uncertainties associated with global emission estimates of methane - mainly due to the lack of data from countries with large mangrove areas such as Indonesia or Brazil - the overall conclusion that there are some offsets remains the same."
Professor Bradley Eyre, Director of the Centre for Coastal Biogeochemistry Research at Southern Cross, is one of the co-authors.
"Methane emissions from mangroves need to be accounted for when assessing their importance in in future 'blue carbon' assessments and climate change mitigation," said Professor Eyre.
As well as offering valuable ecosystem services to the coastal zone and its inhabitants, coastal vegetated ecosystems have been highlighted as efficient natural carbon stores. The term 'blue carbon' was coined to describe the carbon sequestered in sediments of mangroves, seagrasses and salt marshes and considered as a long-term storage of atmospheric carbon dioxide.
Yet mangrove and other coastal wetlands are threatened ecosystems needing protection and conservation.
Climate change is driven primarily by increased carbon dioxide concentrations in the atmosphere (due to burning of fossil fuel). Climate change mitigation strategies include emission reduction and preserving and enhancing natural carbon stores.
Science Advances journal
'CH4 emissions partially offset 'blue carbon' burial in mangroves' by Rosentreter, J. A., D. T. Maher, D. V. Erler, R. Murray, and B. D. Eyre. https://www.science.org/doi/10.1126/sciadv.aao4985
Turning poo into profit: new project adding value to organic wastes in the Northern Rivers (May 2018)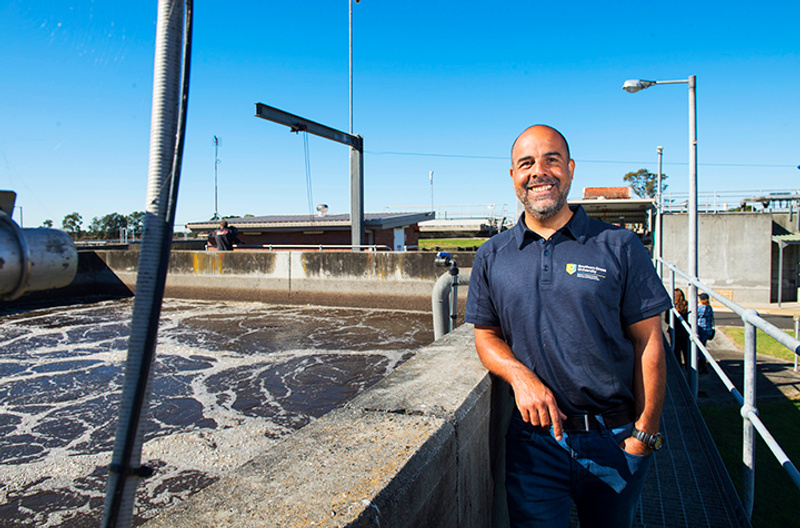 Unlike the rest of the world, Australia has been slow to explore technologies that convert solid waste into valuable commodities like renewable energy or nutrients. Now Southern Cross University has teamed up with industry to investigate new uses for human excrement and food processing waste while solving disposal issues.
Project leader Dr Dirk Erler from the University's School of Environment, Science, and Engineering has secured $500,000 in funding from the federal government's Cooperative Research Centre for Contamination Assessment and Remediation of the Environment (CRC CARE) to study ways of converting organic wastes into nutrients and energy.
Industry partners the Richmond Valley Council, NORCO, and Richmond Dairies have collectively contributed an additional $180,000 to the study.
Dr Erler said the two-year project will focus on applying techniques such as pyrolysis and anaerobic digestion to dairy processing solids (the Australian dairy industry produces millions of litres of liquid organic wastes annually) and human waste in the Northern Rivers.
"Pyrolysis, which is the controlled combustion of organic material to produce biochar and combustible gases, and anaerobic digestion, which produces combustible methane, are not new technologies.
"But there has been very little application of these techniques to the types of waste generated by local industry," he said.
Methane could produce on-site electricity while biochar, a soil amendment product, could be used locally.
"The aim of the project is to apply these technologies on local wastes to see if they work, and then investigate ways of maximising energy and nutrient recapture," said Dr Erler.
CRC CARE brings together industry, government, science and engineering to prevent, assess and clean up environmental contamination.
"CRC CARE is very pleased to be collaborating with Southern Cross University on this project, which seeks to turn contamination and waste problems into economic opportunities," said CEO Professor Ravi Naidu.
"As a CRC, we are obliged to support research that not only solves environmental contamination problems, but also has the potential to be commercialised, and this work embodies that approach."
Given animal manures have been used as fertilisers for centuries, this project will also explore if the processed human excrement and dairy by-product have similar potential.
"The project involves testing to see if heat-treated wastes have any agronomic benefit, or if we can strip nutrients such as phosphates from the wastes," said Dr Terry Rose from Southern Cross Plant Science.
"At the moment farmers in the region spend significant amounts of money on fertilisers, where they should be getting it cheaply from the wastes being generated in other local industries."
Another major objective of the project is to integrate the University's undergraduate teaching with local industry development.
"We are encouraging our science and engineering students to get involved by undertaking smaller defined projects within the larger project," said Professor Andrew Rose in the School of Environment, Science, and Engineering.
"There are so many interesting research questions to be answered in this project. It's a great way to get practical experience and at the same time contribute to local industry development."
Dr Joanne Oakes gives invited talk at Biofilm Symposium, UK (Jan 2018)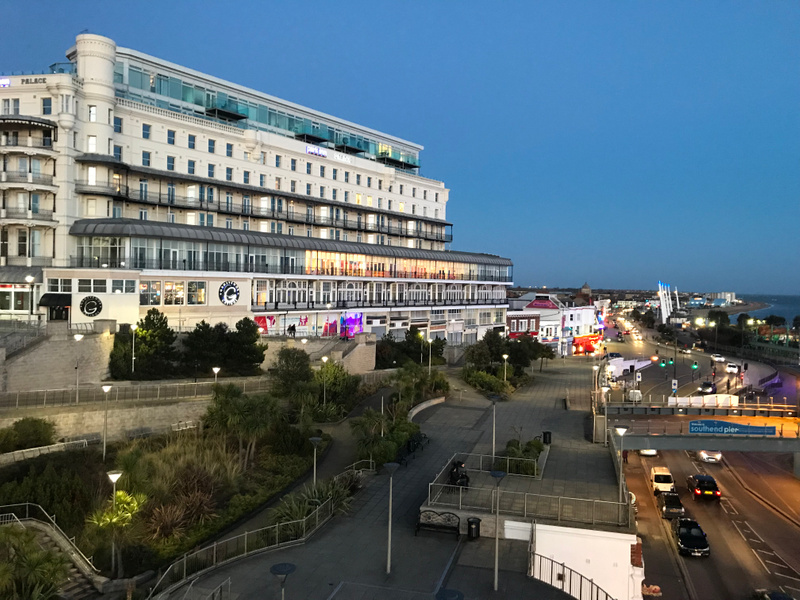 Dr Joanne Oakes was an invited speaker for the 3rd Microphytobenthic Biofilms Symposium at the 66th Annual Meeting of the British Phycological Society held at Southend in the United Kingdom. The British Phycological Society is devoted to the study of algae. Dr Oakes spoke about the processing and fate of carbon and nitrogen in microphytobenthic biofilms from tropical, temperate and high latitude environments.
The symposium was held at the Radisson Park Inn in Southend, UK (shown in the photo).
More ARC Success (Nov 2016)
The Centre for Coastal Biogeochemistry has received a total of $836,110 through the Discovery Projects and Linkage Infrastructure, Equipment and Facilities (LIEF) schemes.
The project which has received funding through the Discovery scheme is: "Unravelling the history of nitrogen cycling within the central Great Barrier Reef", led by Dirk Erler, $332,110. Dirk aims to test the commonly held view that nutrients have had a major negative impact on the Great Barrier Reef (GBR) since human settlement of the Queensland coast in the 1800s. The government is planning to spend billions on nutrient prevention programs, but the long-term effect of nutrients on coral reefs may not be as acute as the impacts associated with climate change," said Dr Erler. The project aims to clarify how nutrient discharge over the past 200 years compares to other impacts such as temperature increases that have only recently caused major bleaching events on the northern GBR. The project is in collaboration with Princeton University in the US and the Australian Institute of Marine Science.
The LIEF funding of $505,000 was for "A fisheries and oceanographic observing system for the continental shelf', and involved Isaac Santos, Brendan Kelaher, Symon Dworjanyn from the NMSC, and Kai Schulz and Douglas Tait from Lismore. The project will develop an automated floating facility that can provide data to support ongoing research programs in oceanography, marine chemistry, climate change, ocean acidification, coastal hydrology, and fisheries in the continental shelf and beyond.
Greenland study shows arctic ecosystems behave similarly to warmer climates (September 2016)
CCBR researchers Dr Joanne Oakes and Prof. Eyre, along with international collaborators, have just published an article in leading international journal Limnology and Oceanography showing that the flow of carbon through Arctic sediments is similar to that in warmer climates. Joanne Oakes discussed this research during an ABC North Coast radio interview. The results are contained in the paper 'The transformation and fate of sub-Arctic microphytobenthos carbon revealed through 13C-labeling' published in the latest edition of the leading international journal Limnology and Oceanography.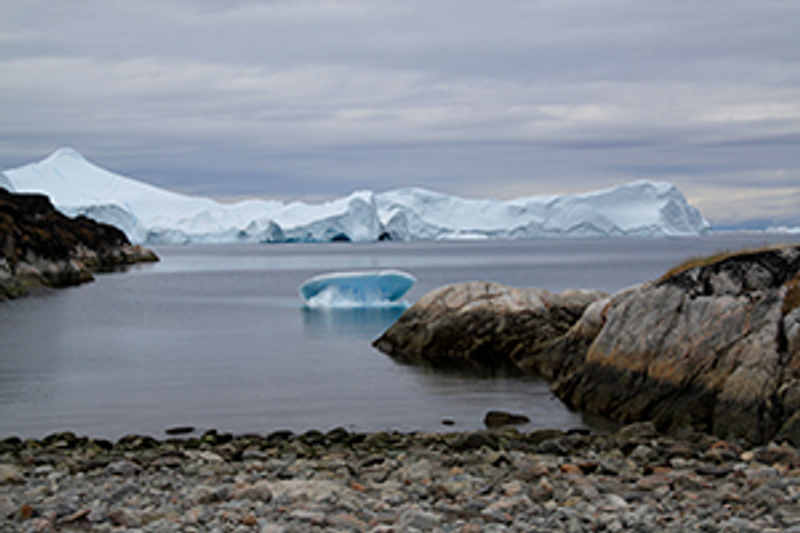 Naomi Wells takes out 5 minute Research Pitch (August 2016)
Naomi Wells won the science group of the 5 minute research pitch. She also won the peoples award. Stable isotopes is a difficult topic to present to a general audience, but she did an excellent job of highlighting their application to tracing "cow pee" in natural environments. Naomi will represent SCU at the national finals in November.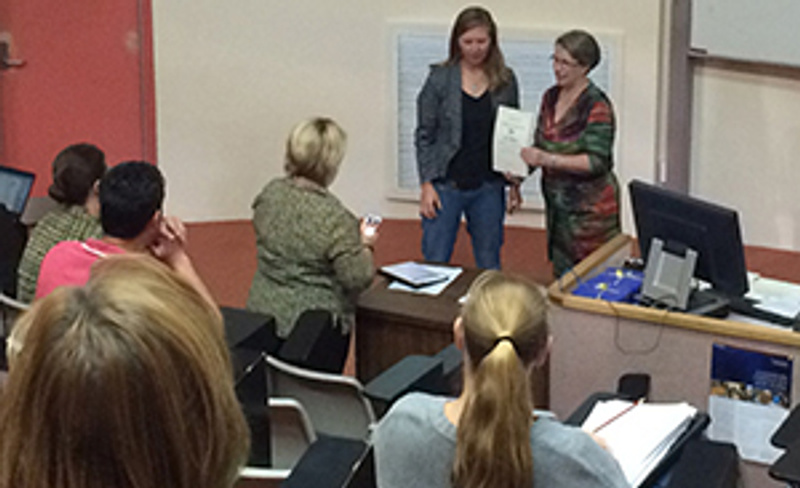 Goldschmidt Conference 2016 - Yokohama, Japan
Dr. Douglas Tait, Judith Rosentreter (PhD), Jackie Webb (PhD) and Philip Riekenberg (PhD) attended at the 26th International Geoscience Conference in Yokohama, Japan. In the session "Linked landscapes: biogeochemical connections among headwater streams, rivers, estuaries and coastal Systems" three of our CCBR representatives had the chance to present their recent work. Dr. Douglas Tait gave an oral presentation on "Mangrove pore water exchange across a latitudinal gradient", Judith Rosentreter presented here soon published findings on "Spatial and temporal variability of CO2 and CH4 gas transfer velocities in mangrove dominated estuaries" and Jackie Webb showed results from her study on "Drivers of dissolved CO2 and CH4 dynamics in artificial drains of a coastal floodplain following a flood". Philip Riekenberg, who is soon about to finish his PhD, gave a presentation on "Processing of organic carbon and nitrogen within subtropical mudflat sediments under increased nutrient loading using dual isotope tracers (13C and 15N) and biomarkers" in the session "Organic matter from headwaters to estuaries: an integrator of hydrological, watershed, and climate processes".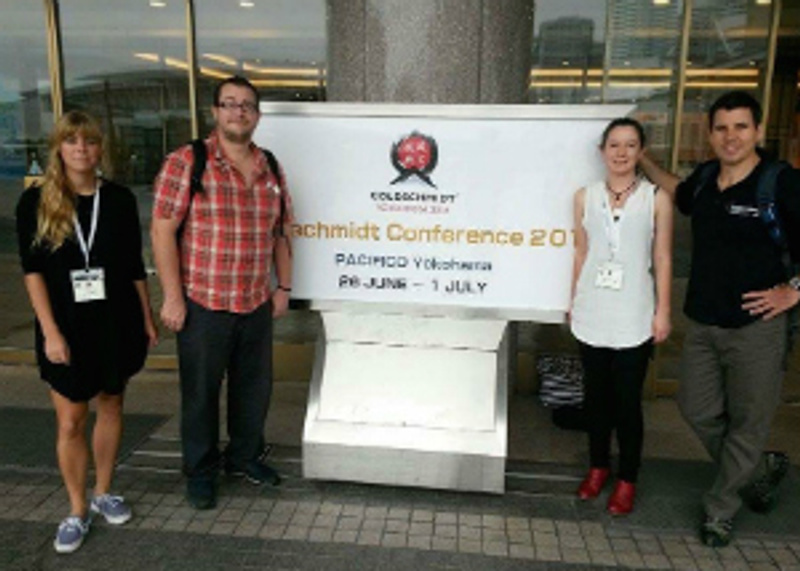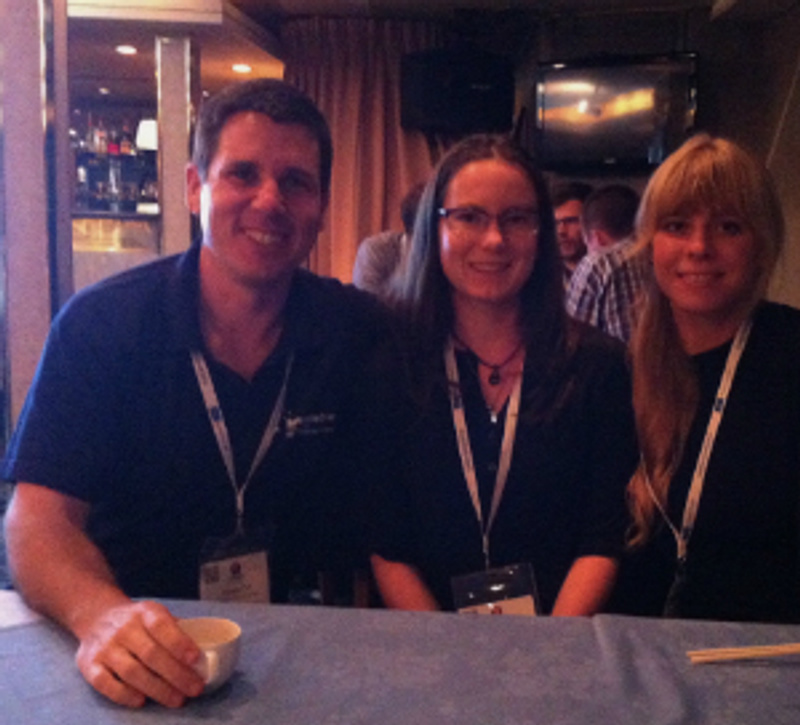 The Goldschmidt Conference is the premiere international conference on geochemistry and our team had the chance to meet scientist from all over the world with similar research interests but also from very different fields. The five days in Yokohama were a great opportunity to network with peer scientist but also to broaden minds and explore new fields, techniques and ideas in the world of geochemistry. All of our four CCBR representatives were the first time in Japan and were very impressed by the great hospitality and kindness of the Japanese people, the modern streets and buildings mixed with old traditional Japan style, and of course enjoyed the delicious food, such as sushi, ramen soup and many other sweets and tastes that couldn´t be identified. A special highlight was the PICARRO dinner cruise on the Marine Rouge cruise ship through the Yokohama harbour with a stunning night view on the Yokohama city skyline and bioluminescent plankton in the waterways of the harbour.
13th International Coral Reef Symposium (June 2016)
Prof. Bradley Eyre and PhD student Laura Stoltenberg attended the 13th International Coral Reef Symposium in Hawaii. Laura gave an oral presentation on " Temporal variations in calcium carbonate dissolution rates under ambient and elevated pCO2 in a shallow coral reef lagoon" and Brad gave an oral presentation on " Global response of coral reef benthic calcium carbonate dissolution to ocean acidification". Brad also chaired two special sessions on the "Biogeochemistry of Coral Reef Systems" and " Coral Reef Structural Dynamics and Complexity: Accretion versus Bioerosion and Dissolution". There was lots of interest being shown in dissolution with several presenters in different sessions referring to our dissolution work and the fact that it needs to be included in coral reef carbonate budgets.
The conference was also an opportunity to catch-up with our international collaborators on ARC funded projects and develop some new collaborations. Brad also got the opportunity to catch a few waves on a board with a fin that measures the ocean water temperature and GPS location being developed and tested by a past PhD student of CCBR Tyler Cyronak who is now based at Scripps Institution of Oceanography. The "Smart Fin" will hopefully include other sensors in the future such as pH and temperature and is being funded by Lost Bird a non-profit organisation to raise community awareness of global change in the oceans.
ARC Grant Success (October 2015)
The Centre for Coastal Biogeochemistry was successful again in the latest ARC round with another Discovery and another DECRA.
Professor Bradley Eyre, director of the University's Centre for Coastal Biogeochemistry Research, has received $305,000 for a three-year study investigating the rates of denitrification in seagrasses and how effectively they work as 'cleansers' of nitrogen. The project is being undertaken jointly with Professor Ronnie Guld, from the University of Southern Denmark.
The Discovery Project is titled 'Resolving the amount of nitrogen lost from seagrass communities via denitrification: importance for global nitrogen budgets'.
"We will be looking at seagrasses in estuaries on the east coast of Australia and in parts of Denmark. Seagrasses are an important part of the benthic habitat in these systems and our preliminary work has shown high rates of nitrogen removal via denitrification in the seagrass, which converts fixed nitrogen into a gas which is lost from the system," Professor Eyre said.
"It's essentially a cleansing process, taking nitrogen out of the water. It's a really important process to understand. If it turns out that the high rates we have measured to-date are found in all seagrasses, they may play an important role in the global nitrogen budget.
Dr Christian Sanders, also in the centre but based at the University's National Marine Science Centre at Coffs Harbour, received a Discovery Early Career Research Award (DECRA), worth $393,434, for his project 'Mangroves as nutrient filters: Resolving the balance between groundwater exports versus soil burial'.
Dr Sanders said mangrove wetlands naturally filter and bury large quantities of carbon and nutrients through soil accretion. This process of sequestering carbon in marine ecosystems is also referred to as 'blue carbon'.
"This project will determine site specific mangrove carbon and nutrient sequestration along the Australian coast, permitting these wetlands to be included in national policy frameworks, including the CO2 emissions reduction schemes," Dr Sanders said.
"Such information will allow adaptation strategies to use coastal wetland habitats that sequester greenhouse gases, providing strong support for mangrove forest protection and restoration."
Science and coal seam gas - a case of the tortoise and the hare? (December 2014)
By Damien Maher; Douglas Tait, and Isaac Santos
One of the key questions about the coal seam gas (CSG) industry, which is now being developed at breakneck speed across Australia, is how much methane is released as "fugitive" emissions.
Three weeks ago we published a paper containing the first detailed maps of atmospheric greenhouse gases in Queensland's CSG heartland. Our study clearly exposes the lack of knowledge in this area, leaving open the question of whether CSG really is greener than coal.
This research has seen us caught in the middle of a scientific, economic and political tug of war. While the industry keeps expanding at a rapid rate, is CSG science moving too slowly?
Incidental research
Our story started in 2012, when we won an Australian Research Council grant to purchase cutting-edge greenhouse gas monitoring equipment, which we initially planned to use to investigate coastal waters, rather than CSG fields.
At about the same time, our local community in northern New South Wales was fired up over concerns about future CSG development. Campaigns such as Lock the Gate began to gain traction, and the issue prompted large rallies.
One of the community's main concerns was about the lack of scientific information. While no experimental Australian data other than our recent papers has been published in the peer-reviewed literature on fugitive emissions, the NSW government has released a broad review of CSG, and CSIRO has recently released initial experimental results on fugitive emissions from some CSG wells.
Fugitive emissions were often viewed as a minor issue, with much of the concern focused on CSG impacts on groundwater. In 2012, we had at our disposal cutting-edge instruments not only to measure the concentrations of greenhouse gases with extremely high precision, but we could also detect their "chemical fingerprint" to pinpoint sources.
We drove to the gas fields of Queensland's Darling Downs region, where CSG production has been proceeding at full steam for a decade or more. That night we stayed in a hotel filled with mining workers in hi-vis clothing and a car park full of utes with flashing yellow lights. Our plan was to survey the local area, both inside and outside the gas fields. We detected increased methane levels across wide areas of the Darling Downs (compared with our local area of Casino, NSW).
A day's drive had produced more data than was available from the CSG industry or the Queensland government after more than a decade of mining.
To share or not to share?
Our results pointed to something unusual in the gas fields. We felt compelled enough to share our findings in a submission to the Department of Climate Change and Energy Efficiency. We also held a seminar in Lismore, NSW, in November 2012 that triggered a rollercoaster ride of media, political and community interest in our research.
Then came the backlash, with criticism that our data had not yet been peer-reviewed and was therefore worthless (despite it being common practice for scientists to present research at conferences and seminars before peer-review). We were attacked by the industry and even by the then federal resources minister, Martin Ferguson.
In response, other politicians and our university's Vice Chancellor Peter Lee, joined the fray in our defence.
This was no longer just a matter of science. With billions of dollars invested, thousands of jobs promised, and growing community interest in the topic, we were in the middle of a political and social firestorm. If fugitive emissions turned out to be significant, the industry may not be economically viable in the face of a price on carbon, and the major assumption that natural gas was a clean source of energy could be dismissed.
We spent weeks fielding calls and emails from the media, the community, colleagues and even investment companies seeking advice on divestment (we had none).
The initial media frenzy died down, and last year our first study was peer-reviewed and published. A few weeks ago, we followed this up with our second paper. Each paper produced its own extra flurry of media attention, criticism and counter-criticism.
It has been said that procrastination is the grave in which opportunity is buried. CSG wells have a typical lifetime of 10-20 years. Government reviews have taken 19 months to complete. Our initial experimental results have taken from 6 to 24 months to be peer-reviewed. Will the wells run dry before peer-reviewed science can explain what is coming out from them?
Only time will tell.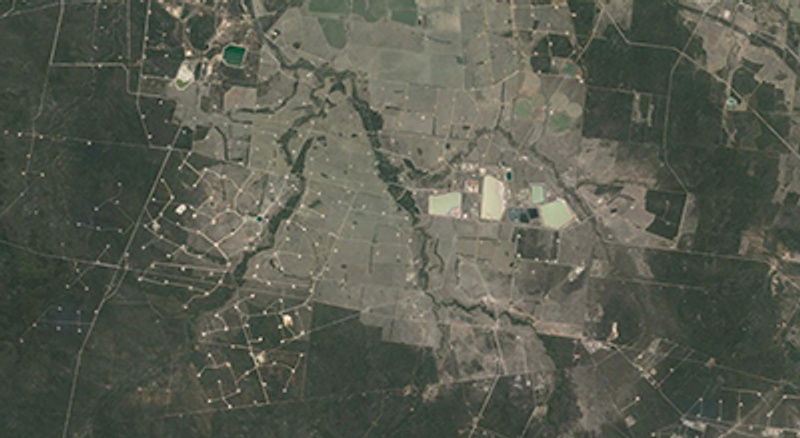 This article was originally published on The Conversation. Read the original article.
ARC Grant Success ( November 2014)
The Centre did well in the 2015 Round of ARC grants with the lead on two Discovery Grants and a DECRA and as Co-CI on an SCU lead LIEF. In addition, centre staff were Co-CI's on two ARC Discovery Grant lead by other institutions
Damien Maher- ARC DECRA
(DE150100581) Resolving the role of aquatic ecosystems in processing and degassing terrestrially fixed carbon $360,000
Bradley Eyre, Kai Schulz - ARC Discovery
Eyre, Schulz, (DP15010209) Dissolution of CaCO3 in sediments in an acidifying ocean, 2015-2017, $350,000.
Christian Sanders, Isaac Santos- ARC Discovery
Sanders, Santos, Will soil carbon burial increase in mangrove wetlands?,$277,187
Bradley Eyre, Christian Sanders - ARC LIEF
Reichelt-Brushett, Burton, Eyre, Johnstone, Sanders, (LE150100007) Metal speciation for complex studies in changing environments, 2015, $170,000
Brendan Kelaher - ARC Discovery
Kelaher, Sulfur cycling in toxic oozes, microbialites and petroleum
Symon Dworjanyn - ARC Discovery
Dworjanyn, Adaptive capacity of marine invertebrates in a climate change ocean
Review in Nature Climate Change (November 2014)
Professor Bradley Eyre is lead author of a review just published in Nature Climate Change. He and his co-authors Andreas Anderson and Tyler Cyronak argue that changes to carbonate dissolution in an acidifying ocean, which have been relatively overlooked, are potentially more important than calcification for the future accretion and survival of coral reef ecosystems.
Benthic coral reef calcium carbonate dissolution in an acidifying ocean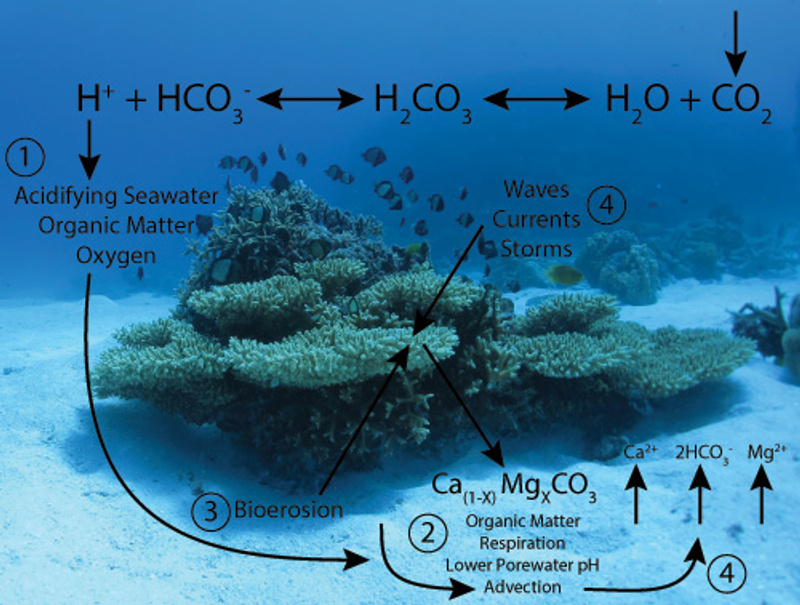 Falling ocean pH levels means rising threats for coral reefs ( August 2014)
The rate of acidification in coral reef ecosystems is more than three times faster than in the open ocean, say a team of Southern Cross University biogeochemists. Led by recent graduate Dr Tyler Cyronak, the results highlight how coral reefs may be acidifying faster than expected. The University's Centre for Coastal Biogeochemistry Research has published its results, 'Enhanced coral reef acidification driven by regional biogeochemical feedbacks' by Dr Tyler Cyronak, Associate Professor Isaac Santos, Associate Professor Kai Schulz, and Professor Bradley Eyre, in the latest edition of the Geophysical Research Letters journal. Ocean acidification, or the lowering of the ocean pH due to anthropogenic inputs of carbon dioxide, has been well documented in the open ocean. However, this research looked back at studies done in coral reefs since the 1960s and found that the rate of acidification in coral reef ecosystems was more than three faster than in the open ocean.
The researchers developed a model based on previous work at Heron Island in the Great Barrier Reef to determine what the potential causes of this rapid increase in carbon dioxide were. "Our model demonstrated that small changes in the biogeochemistry, or the way coral reefs breathe carbon dioxide, could be to blame," said Dr Cyronak. "During the day coral reefs take up carbon dioxide because photosynthesis is dominant and at night they release carbon dioxide through respiration. Small changes to this natural daily cycle can have a big impact on the average acidity of coral reef waters."
Professor Bradley Eyre, director of the Centre for Coastal Biogeochemistry Research, said the study was significant. "The findings from this study are globally important because coral reefs are under a lot of pressure from climate change," said Professor Eyre. "Ocean acidification in particular is expected to result in reef loss, which may now be worse than previously expected." The biogeochemists argue that increased inputs of organic material and nutrients could be responsible. "More organic material can change the ratio of respiration to photosynthesis," said Associate Professor Kai Schulz. "Coral reefs are generally balanced, but if respiration increases it can have a big effect on the average carbon dioxide levels of a reef." The news is not all bad for coral reefs, with the scientists offering some hope. "I think there are some positives to these findings," said Dr Cyronak. "Generally ocean acidification is thought of as a global problem. However, if the pH of a coral reef can be controlled by reducing runoff and terrestrial inputs there may be solutions to help offset the global problem of ocean acidification, or at least the increased threat, on a regional level."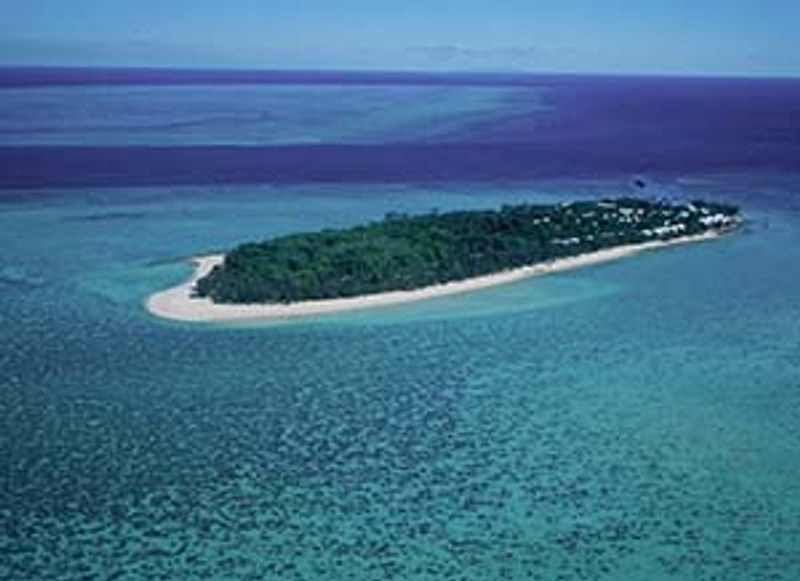 The work was funded by the Australian Research Council Discovery program.
Research spotlight in EOS, Transactions of the Geophysical Union
Recent news coverage in ECOS magazine
The 7th International Symposium on Isotopomers (July 2014)
Prof. Bradley Eyre attended The 7th International Symposium on Isotopomers at Tokyo Tech Front, July 2014. He presented a paper titled "First use of cavity ring-down spectrometry for N2O cycling studies in aquatic ecosystems". The presentation generated lots of discussion about the use of laser based spectrometry in aquatic systems and the requirements for verification with traditional IRMS. This presentation should lead to ongoing international collaboration between researchers at the Centre for Coastal Biogeochemistry and Toyko Tech Front. While in Japan Prof. Eyre also visited the University of Toyko and gave a presentation titled "Carbon and nitrogen cycling in permeable carbonate sediments". He also toured the facilities of the Atmosphere and Ocean Research Institute.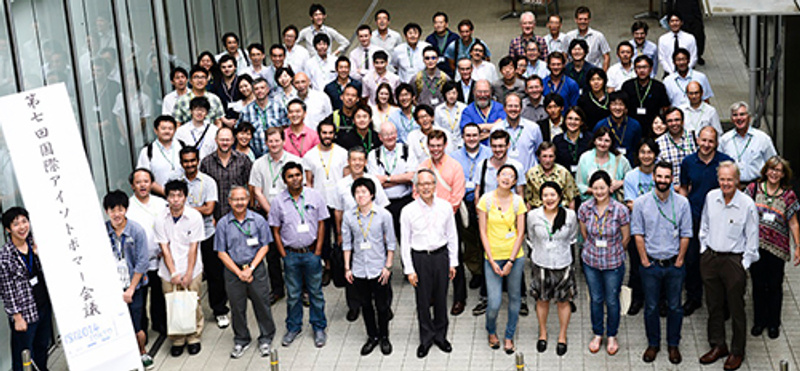 Great Barrier Reef Dredging Workshop (May 2014)
Professor Bradley Eyre from the Centre for Coastal Biogeochemistry Research was invited to participate in an expert panel convened in Townsville to develop a synthesis statement on the effects of dredging and offshore spoil disposal on the Great Barrier Reef (GBR). This is a joint initiative between the Great Barrier Reef Marine Park Authority (GBRMPA) and the Australian Institute of Marine Science (AIMS). Dredging and offshore spoil disposal is a highly topical subject area which is receiving attention in the media and public arenas, but with considerable confusion and debate around the scientific evidence and interpretation. The Great Barrier Reef is a national treasure and World Heritage Area, but the recently released draft GBR region strategic assessment report shows that the Reef is in decline, especially in the inshore areas of the southern two thirds of the region. In this context, it is critical that we understand and reduce the cumulative impacts of all pressures on this iconic ecosystem.
AMSA's Third Annual Postgraduate Symposium (May 2014)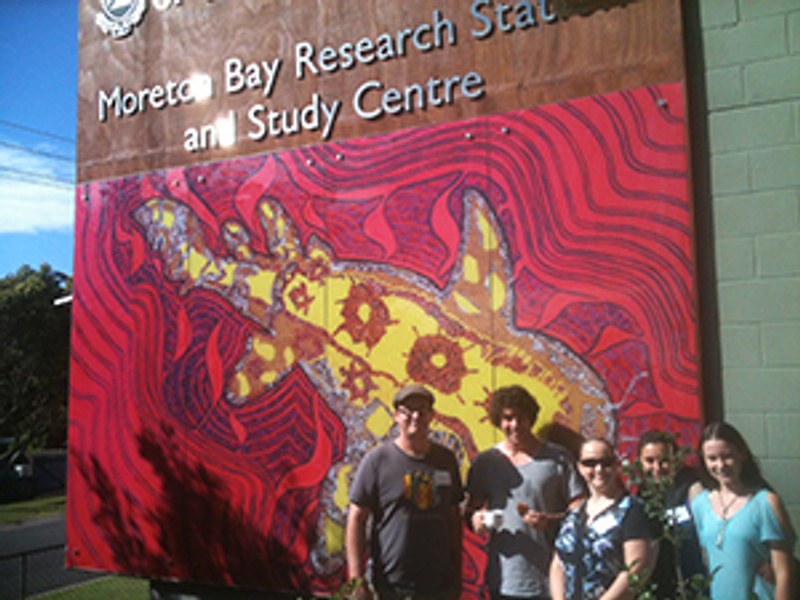 PhD students Jackie Gatland, Melissa Gibbes, Philip Riekenberg, and Hanieh Tohidi Farid and honours student Ben Stewart recently presented current and planned research in the SEQ Australian Marine Science Association's Third Annual Postgraduate Symposium, held on Stradbroke Island from 16th - 18th May 2014. Presentations were well received and each participant got valuable feedback in regards to improving their oratory skills. The forum also provided an opportunity for postgraduate students to meet others working in similar fields of research. The workshop also provided a friendly environment for participants to receive a range of advice on topics including presentation styles, effective communication in science, and how to efficiently utilise limited writing time from senior and early career scientists, science journalists, policy scientists, and even a wildlife documentary film-maker.