Every picture tells a story
Published 4 November 2019
Gabriella Lennon at the Storyfest popup library during the SWELL Sculpture Festival
Strong industry connection enhances tourism student's learning experience.
It's a picture-book setting for the Storyfest pop up library – a spring morning, blue skies and a sea breeze drifting across the beachside park at Currumbin in south-east Queensland. Among the intriguing sculptures, Southern Cross student Gabriella Lennon sets up reading books, colourful tables, crayons, rugs and three little red and white striped reading tents, as she waits for the kids to arrive.
The pop up library might be a literary adventure for children at the 2019 SWELL Sculpture Festival but it's also part of Gabriella's adventures into the world of event management. Her Storyfest experience is just one aspect of an internship she is completing at prestigious Gold Coast private school Somerset College.
The Bachelor of Business in Convention and Event Management student says workplace experience has allowed her to establish connections and explore what her chosen study pathway could look like as a career.
"I'm meeting lots of people on the job and I'm finding out what I am capable of and where my passion really lies," she said.
Her work placement experience has been wide – from community celebrations, festivals and corporate events including the Festival of the Young Performers to a corporate Golf Day, and the Celebration of Entrepreneurship. "I've done event ticketing, handled enquiries, staged an event and managed activities like our pop up library at SWELL," said Gabriella. Her next exciting challenge will involve the organisation of a Storyfest business lunch in November where guest speakers will be Drs Richard Harris SC OAM and Craig Challen SC OAM, the two Australian divers who were instrumental in the rescue of the Thai soccer team trapped in a sea cave last year.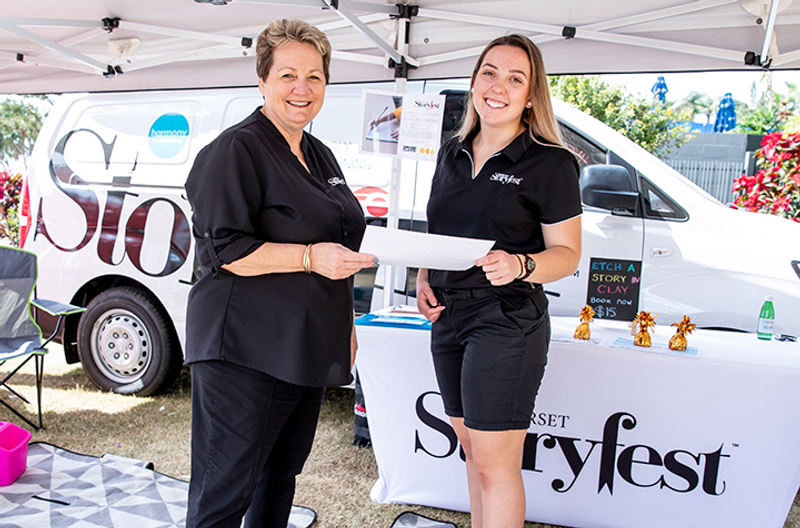 Student Gabriella Lennon (right) with alumnus Andrea Lewis
Storyfest CEO/Festival Director and Southern Cross alumnus Andrea Lewis has mentored more than eight Southern Cross students on internship and understands what an important and valuable time it is for them. She allocates responsibilities that give her interns a range of practical and transferrable skills. "Offering students a hands-on internship, ensures they're job ready when taking the next step in their career. With a variety of activities to participate in, this diversifies their experience and assists them in making their decision on future employment options. Whilst I believe it is invaluable to have their degree, on-the-job training allows the students to put their studies into action," Andrea said.
"Having Andrea as my mentor is such a bonus. She has the same degree from Southern Cross that I am about to finish," Gabriella said.
Read more about our industry connections and professional experience.
Media contact:
Media team – scumedia@scu.edu.au