Gold Coast Marathon a sporting honour for Southern Cross Uni
Published 22 June 2021
Southern Cross University student Heidi Patenaude
Gold Coast Marathon will bring back the region's premier running event in style, with more than 20,000 participants signing up for the July 3-4 race weekend.
While international borders remain largely closed, domestic athletes – who have signed up to race weekend in record numbers – can kick-start their recovery with a tailored Recovery Program for free, through the world-class Southern Cross University Recovery Hub.
The expert-led Recovery Hub will be open to all runners in the race precinct following their events, with Southern Cross University health students gaining hands-on treatment experience in delivering the 100-point Recovery Program as part of an immersive cross-disciplinary team.
Dr Luke Del Vecchio, an expert in training, injury prevention and recovery at Southern Cross University, developed the 100-point Recovery Program.
He said the students delivering the program study a range of health degrees at Southern Cross University, including exercise science, clinical science, Masters of Clinical Exercise Physiology, and Osteopathic medicine.
"This 100-point recovery system gives runners a goal to try to accumulate as many points as they can from various recovery activities – starting with stretching and hydration within the recovery hub and continuing at home with things like contrast showers, compression garments, stretches, massage and supplementation – which can dramatically increase their ability to recover quickly," he said.
"We've already seen marked success rugby league teams using our tailored program to aid in their recovery, so this will not only benefit the athletes but also contributes to valuable student learning and experience in a post-race environment."
Any runners who want additional expert advice regarding running preparation, injury prevention and recovery and nutrition in the lead-up to their event can check out this video featuring Dr Luke Del Vecchio and nutritionist Holly Muggleston.
University triathlete Isaiah Koopmans will aim to keep the pace car in sight as he leads Team Southern Cross Uni in the 10km Run, aiming for a personal best run of under 33 minutes.
As a Marine and Environmental Science student from Southern Cross University's Coffs Harbour campus, Isaiah has balanced studies with competing in triathlons and running events since he began his degree four years ago, recently achieving fourth place in both Australian Championships and the National Unisport Triathlon Championships.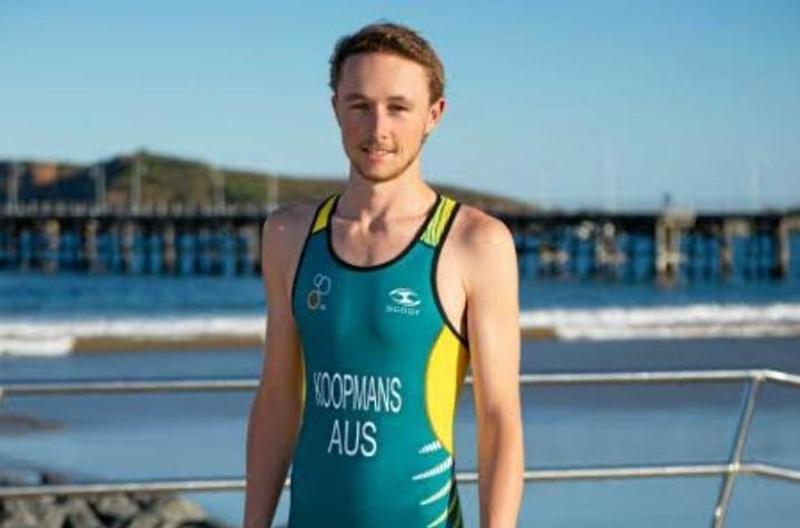 Isaiah Koopmans
The seasoned sportsman says the Gold Coast Marathon is always a highlight of his off-season training where he gets to connect with other students from across the University's campuses in Lismore, Coffs Harbour, Gold Coast and the online cohort from across the country.
"It has a great atmosphere, and it's a fast flat course. Southern Cross University's team tent is usually right on the finish line where we can cheer on all the full marathon runners, which this year will include my dad," Isaiah, 22, said.
Southern Cross University Vice President (Engagement) Ben Roche said as education partner and sponsor of the Gold Coast Marathon's iconic 10km Run event, Southern Cross University is proud of its long-running 14-year investment in the Gold Coast's sporting community – with 2021 set to be the most exciting year yet.
Ahead of race weekend, Team Southern Cross Uni has already been announced as achieving podium status one of the largest corporate teams, with more than 100 runners donning Team SCU singlets for the 2021 Gold Coast Marathon event.
Media contact:
Media team scumedia@scu.edu.au