International Women's Day scholarships support students in education and healthcare leadership
Published 7 March 2022
Jessica McEvoy recipient of the Postgraduate Southern Cross University Coffs Coast International Women's Day Scholarship
Leadership in mental health nursing and a passion for women in ancient history are in the spotlight for this year's International Women's Day Scholarship celebration in Coffs Harbour.
Master of Healthcare Leadership student Jessica McEvoy was awarded the Postgraduate Southern Cross University Coffs Coast International Women's Day Scholarship, while the Undergraduate Scholarship was awarded to Bachelor of Education student Taylor Slattery, in recognition of their outstanding academic, personal and professional achievements.
As Nursing Unit Manager of Coffs Harbour's Mental Health Inpatient Unit, Jessica holds an important leadership role within a multi-disciplinary team of healthcare professionals, focused on patient care and recovery. She said a person-centred, trauma-informed approach is at the heart of everything they do.
"My responsibility is to ensure the smooth running of the mental health inpatient unit. This involves everything from managing the rosters for a large number of staff to planning and evaluating projects and programs that improve the way we provide care to our patients," Jessica said.
With ten years' experience as a nurse under her belt, Jessica enrolled in Southern Cross University's Master of Healthcare Leadership to broaden her skillset and take her learning to a new level.
"The emphasis on change management in this qualification is helping me transform the way we provide care to our patients. I am building on the skills needed to integrate evidence-based and safe practice into everything we do," she said.
"I have a passion for mental healthcare and am excited about how far mental healthcare has come in the last 30 years and even more excited about how I can help implement, assist and progress mental healthcare for the next 30 years. This course will assist me in implementing and embedding new practices," Jessica said.
She said the International Women's Day scholarship will provide her with the opportunity to meet other inspiring women who are leading our communities in so many ways.
"I see International Women's Day as an opportunity to slow down for a moment, to take a breath and to reflect on the amazing achievements of women. I am constantly in awe of the ability of women to manage so many tasks and priorities and I am inspired by the contribution women make to our community," she said.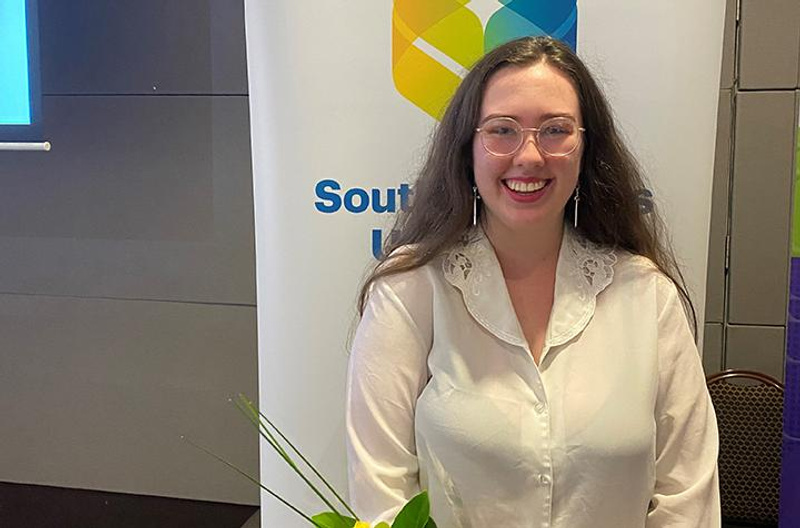 One such inspiring woman is Taylor Slattery (pictured above), a Bachelor of Education student who is passionate about educating the next generation, not just about the famous women in history, but those you may never have heard of.
"My Year 12 ancient history teacher is my inspiration; her lectures on women in ancient history fostered a love of ancient history within her students, not just limited to the well-worn stories of men like Nero," she said.
Studying primary and secondary education, Taylor's focus is on deconstructing the myths and stereotypes surrounding women in ancient history, which she hopes to bring into her own classroom as an ancient history teacher.
"I think what is particularly interesting about women in ancient history is that when we look at prehistoric civilisations women are incredibly prevalent. In fact, Bettany Hughes notes that around 90% of the figurines found around 40,000 BC to 5,000 BC display feminine physicality. But it is as we enter the classical period, we see a dramatic decline in the prevalence of women, making up only 0.5% of recorded history. And even when they do appear, they are reduced to stereotypes rather than characters in their own right," she said.
"By understanding how their own political, cultural, and religious ideologies affected the writings of historians, we can apply these critical thinking skills to our own lives, using them to deconstruct the biases of those shaping history today."
The scholarships will be presented at an International Women's Day breakfast event, held at Pacific Bay Resort, hosted by three women's groups: the Zonta Club of Coffs Harbour Inc., BPW Coffs Harbour (Business and Professional Women) and the Coffs Coast Business Women's Network (BWN) ahead of International Women's Day.
Photo: Mid North Coast Local Health District
Media contact:
Media and content team content@scu.edu.au