Lismore community's mental health supported at SCU Health Clinic
Published 29 March 2022
Ready to offer help: Staff from Healthy North Coast, Southern Cross University and Neami National at the Lismore Head to Health Hub located at the SCU Health Clinic (credit Healthy North Coast).
A much-needed mental health service for the region's flood-affected community is now available at Southern Cross University Health Clinic Lismore.
Called the Head to Health Hub, it is the latest offering at Healthy North Coast's new Lismore Primary Health Precinct operating out of the University's Lismore campus.
Head to Health Hubs are designed to provide a welcoming entry point for engagement, assessment and treatment for people who may be experiencing distress or crisis.
Funded by the Australian Government through the PHN Program as part of the Northern NSW flood recovery efforts, Head to Health offers free mental health support both in-person and via telehealth.
"We recognise that specific components of the new Head to Health Hub Lismore service will be essential to help people deal with the trauma they've experienced and its after-effects," said Healthy North Coast chief executive Julie Sturgess.
"Mental health support is in high demand right now and into the foreseeable future. The impacts of the floods and, before this disaster, the ongoing pandemic means we all need to prioritise our mental health and wellbeing.
"We've fast-tracked the service launch thanks to many willing hands. Our own Healthy North Coast teams, supported by Southern Cross University staff, have pulled out all stops. Local suppliers and tradies have worked tirelessly to transform the SCU Health Clinic building and the dedicated service providers at Neami National have all made this possible."
Associate Professor Jacqui Yoxall, the University's Director of Clinical Services for the SCU Health Clinic, attended the Head to Health Hub Lismore launch.
"I am very pleased to welcome Head to Health to the precinct to support our community's wellbeing in a time of need," said Associate Professor Yoxall.
"Southern Cross University is offering more than consulting rooms and office space to Head to Health. We welcome the team as colleagues and look forward to opportunities to interact on many levels as they support individuals and families in their mental health recovery journey."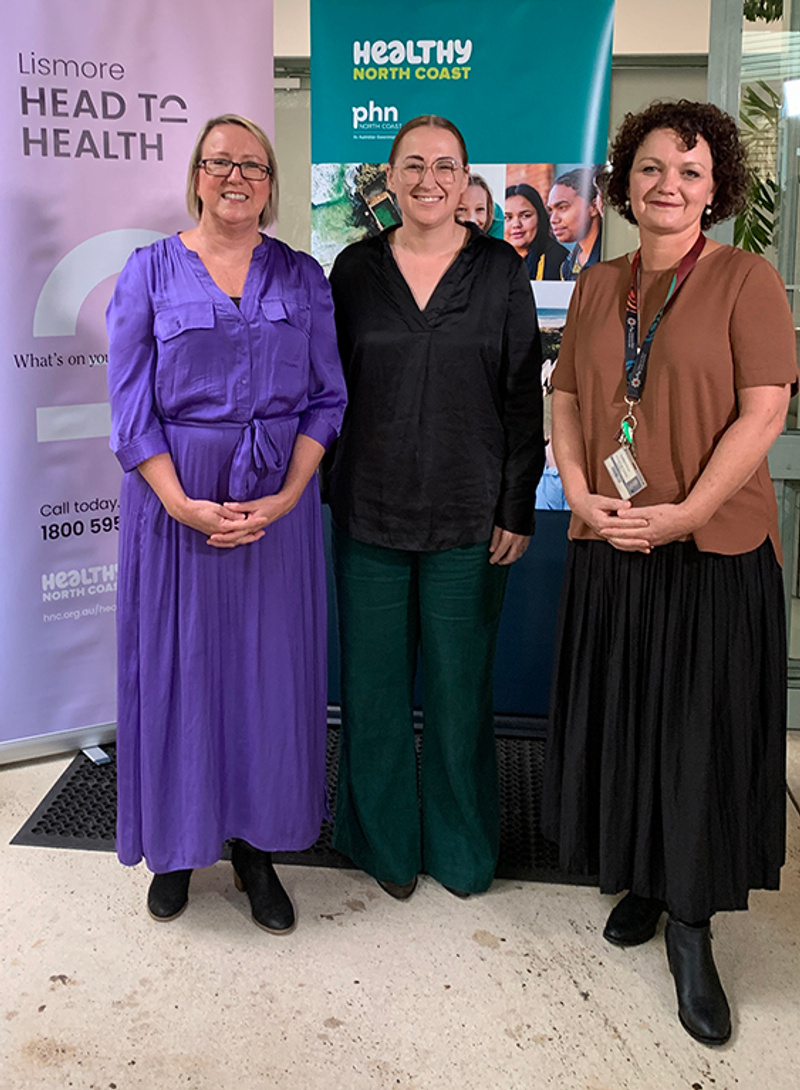 Associate Professor Jacqui Yoxall, Director of Clinical Services of the Southern Cross University Health Clinic (right), with Healthy North Coast CEO Julie Sturgess (left) and Jacklyn Whybrow, Acting Executive Director of Operations for Neami National.
Professor Yoxall stressed that Southern Cross University students will gain real-life experience from Head to Health's presence at the SCU Health Clinic.
"Through the Head to Health Hub Lismore our students will be exposed to the enriched experience of mental health service provision in response to this natural disaster," Professor Yoxall said.
The purpose of the SCU Health Clinics, based at the Lismore and the Gold Coast campuses – and soon to open in a limited capacity at Coffs Harbour – is to provide quality clinical education for health and social care students in the Faculty of Health through student clinics that offer services to community.
"Building the capacity of the future workforce for interprofessional practice is a priority in order to meet Australia's changing social and health care needs," Professor Yoxall said.
"Opportunities for Southern Cross students to learn how to work with other disciplines and services will support them to be competent practitioners when they graduate."
How to connect with Head to Health
Phone: 1800 595 212 from Monday to Friday 8:30am-5:00pm.
In person: Lismore Head to Health Hub, Southern Cross University Health Clinic, P Block North, Rifle Range Road, East Lismore NSW 2480.
Website: hnc.org.au/headtohealth
Media contact:
Sharlene King, media office at Southern Cross University +61 429 661 349 or scumedia@scu.edu.au