Front row seats for birth of new corals livestreamed from Reef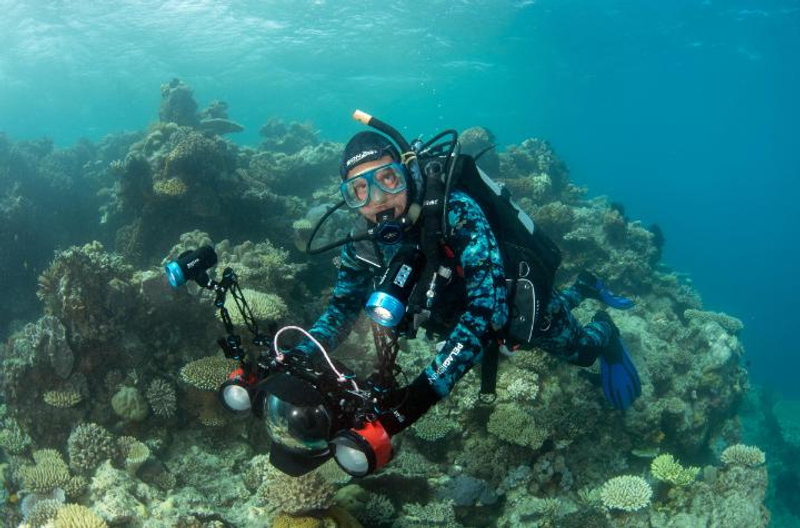 Professor Peter Harrison diving at Moore Reef, Great Barrier Reef (credit Juergen Freund).
Coral IVF Update (01:30)
Professor Peter Harrison: We're very excited by the outcomes of the experiment so far. We had some brilliant coral spawning right on cue on the fifth night after the full moon.
During this event hundreds of different corals from different species were all spawning together releasing their eggs and sperm bundle and that flowed like an underwater snowstorm up to the sea surface where the bundles all break apart and fertilization occurs. And the spawn was so intense that it coated the sea surface with a coral spawn slick.
We were able to capture some of that coral spawn slick and have distributed it into our larval nursery pools.
The larval pools are designed to retain the coral larvae on the reef system during their five-day development period and they have fine mesh in the base of them to allow the water to flow through to maintain them at good water quality in a healthy condition.
We have beautiful developing embryos turning into larvae and we have many millions of them ready for the experiment on the reef in a few days from now.
We'll be aggregating the larvae and then directing them down onto the reef system to settle in our experimental plots so that we can then see how quickly they grow into visible sized recruits and how quickly they grow in subsequent years through to reproductive size and start generating their own coral spawn and larvae to kick-start the recovery of the coral community on the northern Great Barrier Reef.
+