Meet some of our sponsorship partners
Byron Writers Festival
The annual Byron Writers Festival is Australia's largest and leading regional celebration of storytelling, literature and ideas.
Southern Cross University is a founding partner of Byron Writers Festival. The University's School of Arts and Social Sciences works closely with the Byron Writers Festival to provide student experience through the Student Reporting Team, discipline expertise and knowledge sharing, as well as presence on the Byron Writers Festival Executive Board.
In addition, Southern Cross University is the presenting partner of the Festival's Secondary Schools Day.
Visit the Byron Writers Festival website
Southern Cross University students at the 2019 Byron Writers Festival (0:40)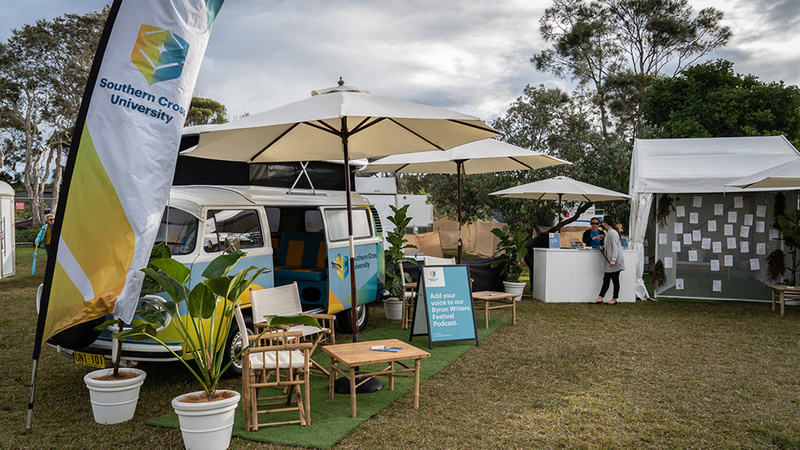 Southern Cross University Kombi and podcast space at the Byron Writers Festival.
spacer
Gold Coast Marathon
Southern Cross University has been a major partner of the Gold Coast Marathon for the over 10 years. The Gold Coast Marathon is Australia's premier road race and is one of only two marathons in Australia to hold a IAAF Gold Label status attracting 26,000 participants and 46,000 visitors along with TV coverage into 1 billion households across 100 countries.
Southern Cross University is the presenting partner of the 10km race which attracts around 8,000 participants. This race also involves significant presence from Team SCU, who have won the largest team award for several years, with a group made up of over 200 students and staff representing Southern Cross University.
In 2019, the University's School of Health and Human Sciences offered post-race consultation to participants with osteopathy, podiatry and health sciences students at the Southern Cross Recovery Hub in the race precinct.
In addition, Southern Cross University is a stall holder at annual ASICS Sport & Leisure Expo held annually at the Gold Coast Convention & Exhibition Centre and attended by 28,000 people over a three-day period.
Visit the Gold Coast Marathon website
For more than a decade, #SouthernCrossUniversity has supported the Gold Coast Marathon as sponsor of the 10km race. (1.01)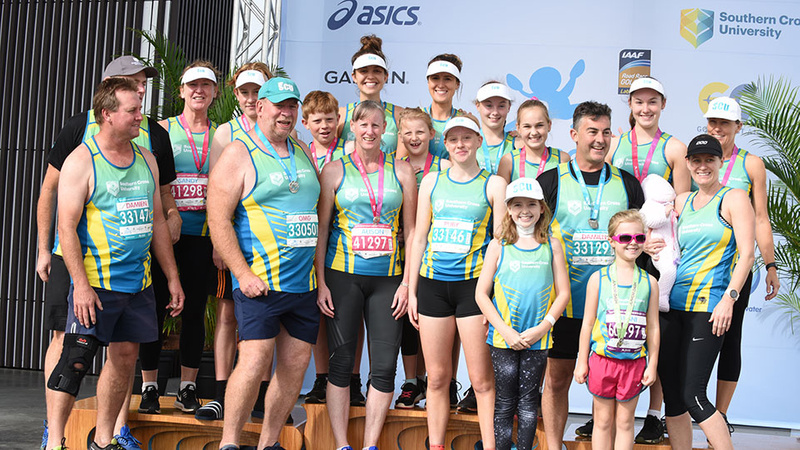 Gold Coast Marathon — Team SCU members.
spacer
Nextwave Online
In 2020, Screenwave Film Festival (SWIFF) and Southern Cross University entered a three-year partnership to take SWIFF's Nextwave regional youth film development program to budding filmmakers throughout Australia with the launch of Nextwave Online.
Nextwave Online, a new national online film education portal educates young regional Australians with basic filmmaking skills over a series of ten 20-minute episodes hosted at nextwavefilm.com.au, equipping them to share their stories.
Access to Nextwave Online is available to individuals wanting to learn filmmaking, school teachers wanting to engage their students with digital media, and councils wanting to bring new filmmaking skills to their community. Through the partnership, Southern Cross has provided free subscriptions to over 20 schools.
Nextwave is the largest regional youth film development program in regional Australia, consisting of an in-person workshop tour, short film competition and youth film awards festival which travels to over 20 regional communities each April.
Learn the essentials of filmmaking at Nextwave Online (1:27)
David Horsley: Festival Director.
Swiff has partnered with a Southern Cross University to create a new program called film for the future, which provides free film education access to schools all around regional new south wales basically taking the opportunity that technology provides us these days because filmmaking technology is in everybody's hands but it's about giving them the skills on how to tell story and how to, how to basically become a filmmaker.
And not necessarily just for the arts but across all disciplines and science and health and agriculture and things that mean that that are important to to regional Australian communities.
Associate Professor Grayson Cooke: Southern Cross University Lecturer and media artist.
So Southern Cross University is a sponsor and partner of the next wave filmmaking initiative. I'm really happy that we've been able to partner on this.
I think it's really essential that students especially students in regional areas get this kind of digital literacy training.
And what's really exciting is that you know they'll be doing filmmaking within this program we run a digital media degree where we teach skills in filmmaking as well as design and journalism and what have you.
And when you learn to become a filmmaker you learn to become a storyteller and once you can tell stories you can tell them across a whole bunch of media whether you want to be a you know a photographer photojournalist news writer or a filmmaker.
And so these fundamental skills and digital literacy are actually really transferable across a whole range of areas in the media industry.
And that's why I think it's really exciting that we're able to partner on this project.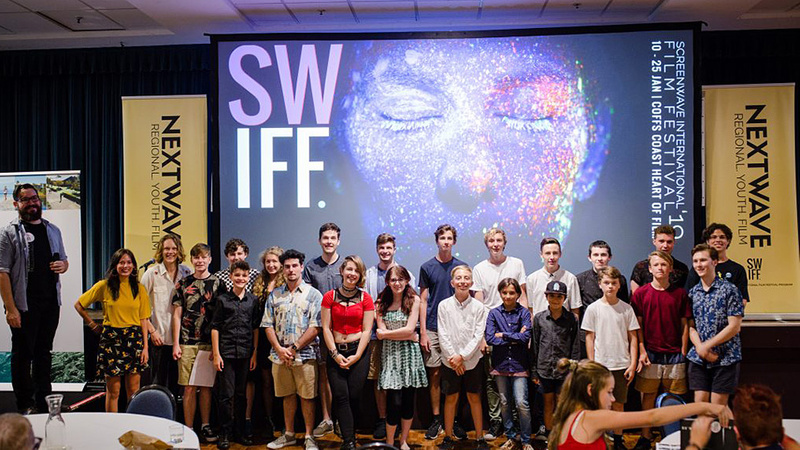 Nextwave Awards Finalists
+