Dr Lachlan Yee
Research Summary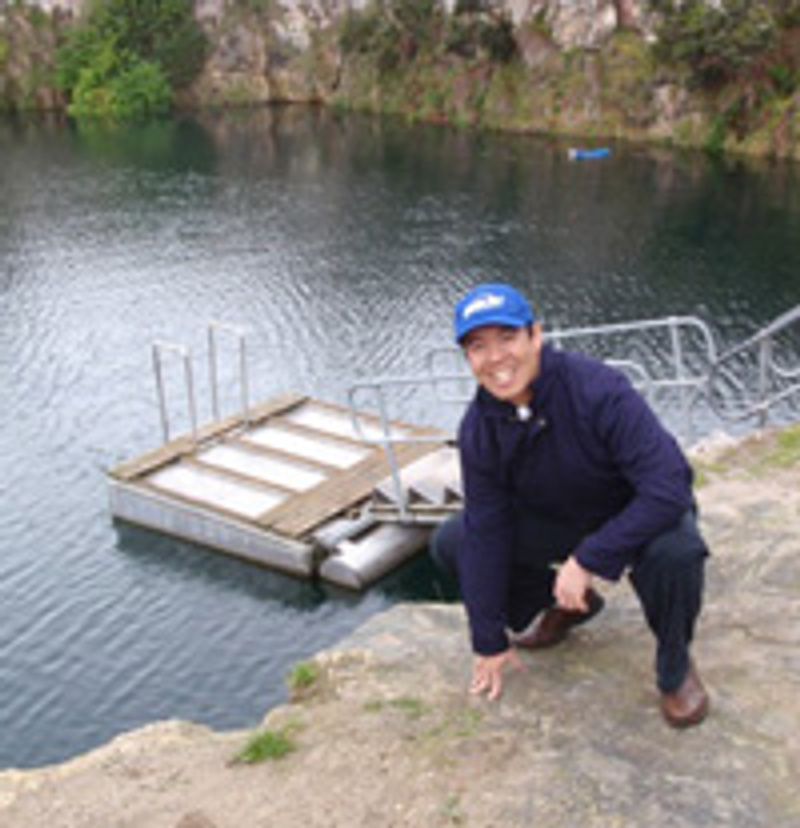 Dr Yee has made significant contributions to the interdisciplinary field of polymer science and bacteria in environmental arenas. In the area of polymer science, he has a thorough grounding in the manipulation and measurement of rate kinetics for free radical polymerisation reactions. This was then applied to the kinetics of photochromic dyes in polymer matrices.
His recent research emphasises the utility of polymer science as a powerful platform to overcome a number of environmental challenges such as marine biofouling where he published the first ever report of a living polymer immobilised bacterial biofilm that produced antifouling compounds to effect a significant reduction in algal and larval settlement in the field.
Dr Yee has also reported on the biodegradation of polyhydroxybutyrate, polyhydroxybutyrate-co-valerate and polyhydroxyoctanoate in soil via biofilm bacteria where the first ever reports of the importance of bacterial adhesion modes contributes to the rates of biodegradation of the polymers.
Significantly, he has also published on the topical environmental issue of polychlorinated organic pollutants in soil and how the dechlorination of hexachlorobutadiene in soil can be facilitated by the novel combination of alginate polymers and a nutrient solution including electron shuttles to biostimulate dehalogenating biofilm bacteria.
Recently, Dr Yee has been appointed the Chemistry lecturer at the Southern Cross University (2010) where he continues to research the nitric oxide communication chemistry of bacteria within a biofilm and how can polymers be harnessed to deploy such communication signals as well as marine ecologically relevant compounds for the settlement and metamorphosis of coral and urchins respectively.
Awards
Best technical paper presented at Surface Coatings Association Australia Symposia, Cessnock, NSW, Australia (2015).
Australian Academy of Science USA Research Travel award (2011).
CSIRO Look Out!!! Award is presented to recognise projects or initiatives that enhance CSIRO's reputation in the global science community (2006).
Treloar prize for best oral paper presented by a scientist under 30 years of age (1999).
Professional Societies
Chair of the Northern Rivers RACI section (2013 - )
Committee member of the Northern Rivers RACI section (2011 - 2013)
Treasurer for the National RACI Polymer Division (2009 - 2013)
Dr Yee is an visiting fellow at the Centre for Marine Bio-Innovation directed by Professors Peter Steinberg and Staffan Kjelleberg, University of New South Wales and a contributing researcher to the Biopolymers group directed by Assoc. Prof. John Foster at the University of NSW.
Treasurer for the National RACI Polymer Division (2009 - present)
Committee member for National RACI Polymer Division (2006 - 2009)
Chair of the NSW RACI Polymer State Branch (2008-2010)
Secretary to the NSW RACI Polymer State Branch (2004 - 2008)
Undergraduate teaching
Chemistry - CHE00201 - Unit assessor, lecturer and laboratory teacher
Integrated Projects - SCI00211 - Supervisor
Publications
A list of publications is available through the following link GoogleScholar
Books, Book Chapters and Patents
Yee LH, Foster LJR; Chap. 8- Polyhydroxyalkanoates as Packaging Materials: Current Applications and Future Prospects. Royal Society of Chemistry (2015) Green Chemistry No. 30 p183-207 'Polyhydroxyalkanoate (PHA) Based Blends, Composites and Nanocomposites'. Edited by Ipsita Roy and Visakh P M. Published by the Royal Society of Chemistry, www.rsc.org ISSN17577039 (Scopus recognised)
R. A. Evans, M. A. Skidmore, L. H. Yee, T. L. Hanley, D. A. Lewis. Photochromic compositions and light transmissible articles. United States Patent. (2010), 7,807,075 B2 *Oct. 5, 2010.
T. Harder and L. H. Yee. Bacterial Adhesion and Marine Fouling. Advances in antifouling coatings and technologies. Editors Claire Hellio and Diego Yebra. Woodhead Publishing, Cambridge, UK 2009. (Scopus recognised)
C. Woolnough, L. H. Yee, J. Foster 'Green Plastics': Surface Rugosity, Biofouling and Biodegradation. Lambert Academic Publishing AG & Co. KG and licensors. Köln, Germany 2009.
R. A. Evans, M. A. Skidmore, L. H. Yee, T. L. Hanley, D. A. Lewis. Photochromic compositions and light transmissible articles. PCT Int. Appl. (2004), 118 pp. WO 2004041961 Also published as: EP1560893(A1), US7247262 (B2), US2008006798 (A1), US2005269556 (A1), EP1560893 (A0).