Kerry Cameron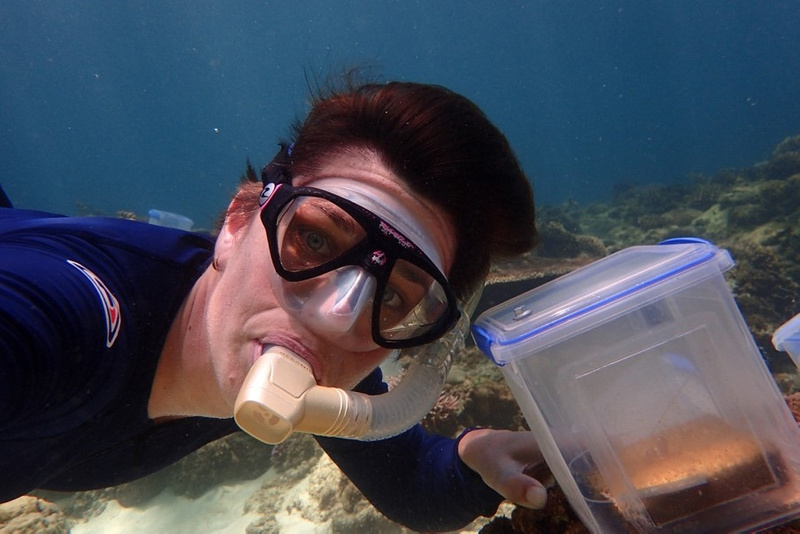 Kerry Cameron
PhD candidate: Restoration of corals on reefs using enhanced larval supply
Principal supervisor: Professor Peter Harrison
Co-supervisor: Dr Danny Bucher
Research summary:
Kerry completed a Bachelor of Science majoring in ecology and zoology at the Australian National University in Canberra in 1995, followed by a Graduate Diploma in Secondary Education (Science) at the University of Canberra in 1996. She taught in field-based environmental and marine education overseas (Florida, USA) and Australia (Heron Island) until 2000, when she joined the Australian Government Department of the Environment. Since then, she has primarily worked on threatened species listing and management, with a focus on marine species and fisheries impacts. Kerry met Professor Peter Harrison while he was a member of the Commonwealth Threatened Species Scientific Committee and completed first class Honours with Peter on coral recruitment at Lord Howe Island in 2012. She commenced her PhD with Peter and Danny in 2016.
Coral reefs are declining globally and active conservation is needed to preserve and restore these important ecosystems. An innovative approach being developed in Peter's lab takes advantage of the abundant annual release of reproductive material by broadcast spawning corals. Coral spawn is collected and reared to produce millions of genetically diverse coral larvae, for introduction onto degraded reef areas once larvae are competent to settle. Early results are very promising, showing a shift from algal dominated communities to coral dominated communities in restoration sites after 3-5 years. Kerry's PhD is examining aspects of coral larval ecology to enable refinement and scaling up of this technique, known as enhanced larval supply or more colloquially as larval reseeding, so that it can be effectively used at ecologically meaningful scales around on degraded reefs around the world.
Awards:
Outstanding Student Presentation for Field-based Research, Australian Coral Reef Society Conference, Townsville 2017.
Research Training Program (RTP) (formerly Australian Postgraduate Award) PhD scholarship 2016, Southern Cross University, NSW 2450, Australia.
Student talk prize winner, Australian Coral Reef Society Conference, Daydream Island 2015.
Publications:
Cameron, K. A., & Harrison, P. L. (2016). Patterns of scleractinian coral recruitment at Lord Howe Island, an isolated subtropical reef off eastern Australia. Coral Reefs, 35(2), 555-564. doi:10.1007/s00338-016-1414-3