Fluke Matcher
About Fluke Matcher
Fluke Matcher is a computer-aided fluke matching program which significantly increases efficiency in identifying individuals and finding resights within photo-identification catalogues of humpback whales.
Download the Fluke Matcher software and User Manual.
Background
The fundamentals of the Fluke Matcher system are outlined in the following publication:
Kniest, E., Burns, D. and Harrison, P. (2010) Fluke Matcher: a computer-aided matching system for humpback whale (Megaptera novaeangliae) flukes. Marine Mammal Science 26(3): 744-756.
The system was developed through a collaboration between Dr Eric Kniest (University of Newcastle), Dr Daniel Burns and Prof. Peter Harrison (SCUWRC). After the initial pilot project, started in late 2004, the team received grants from the Australian Government in 2007/8 and 2008/9 to complete the development of the Fluke Matcher system.
Following further refinement and testing of the system, a Final Report was submitted to the Australian Government (Australian Marine Mammal Centre) and the program was released to researchers and the general public in August 2010.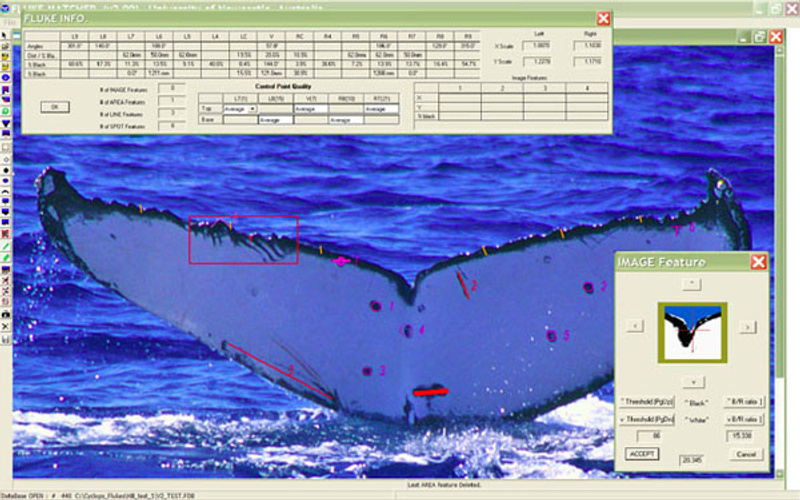 How the system works
The program uses a wide range of criteria to produce an efficient and reliable matching system. Initial user input is needed to identify five major control points used for the transformation of the fluke image onto a common reference frame. The system then measures key features of the fluke, including parameters to describe the shape of the fluke, and black and white pigment distribution in different regions of the fluke. The operator then highlights other distinctive features of the fluke that enable identification, such as spots, lines and areas of damage.
When searching for a given fluke, the program ranks all of the images in the database from the most likely to the least likely match for that fluke, and the operator then visually checks the ranked images to find the match(es):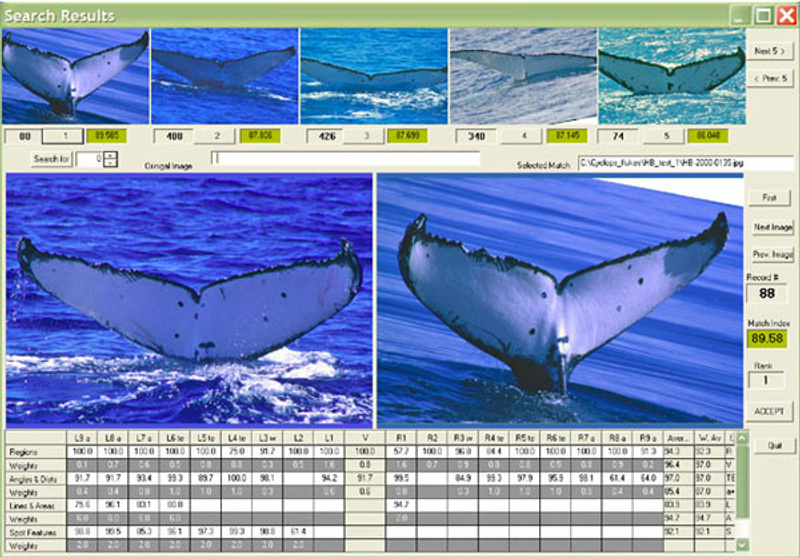 Tests to date have shown the Fluke Matcher system greatly increases the efficiency of finding resights in large fluke catalogues compared with traditional methods of matching. A test of the system using a database of 1247 fluke photographs of 754 whales from eastern Australia was completed in May 2010, with support from Dr Lyndon Brooks, Trish and Wally Franklin and Peta Beeman at SCU. This test showed that more than 98% of all matched pairs were found in the top 10% of the ranked database when performing searches.