Pleistocene archaeology and paleoenvironments of the Lake Victoria basin in Kenya
Description
Lake Victoria is the largest body of water in Africa and is surrounded by a diverse mosaic of forest and grassland habitats. These habitats changed with expansions and contractions of the lake throughout the Pleistocene. This dynamic environment provides the context for highly variable but still poorly documented archaeological and paleontological records of the Lake Victoria basin. We emphasize here our ongoing investigations of Late Pleistocene Middle Stone Age (MSA) archaeological sites and paleoenvironments on Rusinga and Mfangano islands, and introduce Karungu, located on the Kenyan shores of Lake Victoria. Karungu is a large (>25 km2) site complex with multiple exposures of Miocene, Pleistocene, and Holocene sediments first described in the early 20th century by F. Oswald and the Archdeacon W.E. Owen. In addition to archival research, our renewed investigations at Karungu have focused on >9-m-thick fluvial and alluvial sediments with multiple well-developed vertisols and correlative tephra deposits. The sediments contain Acheulian and MSA artefacts as well as abundant, well-preserved, and taxonomically diverse macro- and micro-mammalian fossil fauna. Artifact typological as well as biochronological evidence suggests Middle and Late Pleistocene ages for many of the Karungu deposits, periods in eastern Africa for which sites with associated lithic and faunal remains are rare. The fauna from Rusinga, Mfangano, and Karungu fauna indicate drier and more open paleoenvironmental conditions than today and the presence of non-analog animal communities. Paleoenvironmental and chronological foundations established at Rusinga, Mfangano, and Karungu provide essential data to understand the behavioural variability manifest in the Acheulian, Sangoan, Lupemban, and MSA sites dating prior to and during the origin and expansion of Homo sapiens.
Funding
Funding and support sources:
New York University Research Challenge Fund,
University of Queensland, Baylor University,
Geological Society of America,
Leakey Foundation,
National Geographic Society's Committee for Research and Exploration,
the National Science Foundation (BCS-0841530, BCS-1013199, and BCS-1013108), and
the National Museums of Kenya.
SCU Investigator(s)
Dr Renaud Joannes-Boyau (SCU)
Collaborators
Christian Tryon (New York University, USA),
J. Tyler Faith (UQ, Australia),
Daniel Peppe (Baylor University, USA),
Nick Blegen (University of Connecticut, USA),
Emily Beverly (Baylor University, USA),
David Patterson (The George Washington University, USA),
Zenobia Jacobs (UOW, Australia),
David Fox (University of Minnesota, USA), and
Sheila Nightingale (City University of New York, US).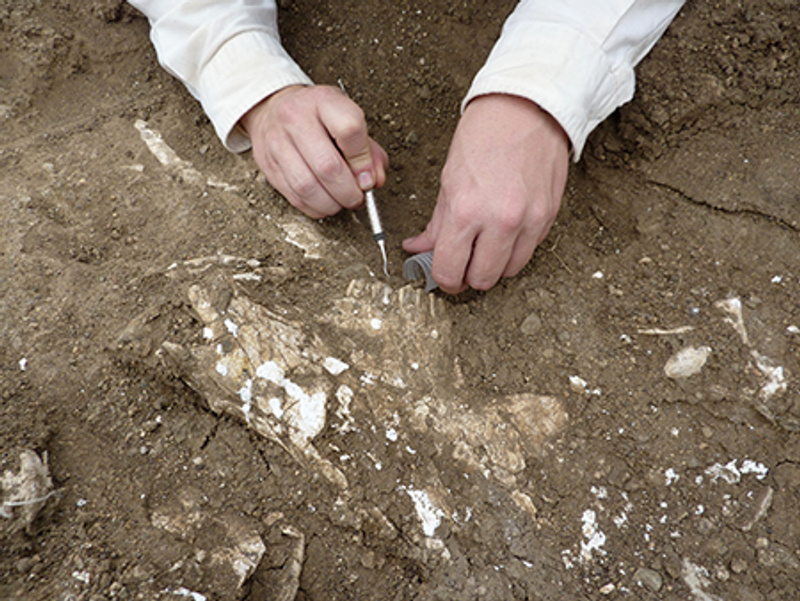 Dr R. Joannes-Boyau sampling the sediment surrounding the fossil jaw of a large extinct herbivore, Rusinga Island, Kenya.