Restoring hydrological connectivity of surface and ground waters: Biogeochemical processes and environmental benefits for river landscapes
Funding / collaborators:
Australian Research Council
NSW Department of Water and Energy
Hunter-Central Rivers Catchment Management Authority
G Harvey Nominees Pty Ltd
Australian Institute of Nuclear Science and Engineering
University of Newcastle
Australian National University
Project description:
This project examines the restoration of lateral hydrological connectivity to improve floodplain structure and function. The connections between stream flows and both shallow groundwater and floodplains are critical in sustaining river landscapes. Degrading land and water management practices compounded by natural climatic extremes have severed this link. Restoring hydrological connectivity is vital for replenishing groundwater storage and increasing base flows that affect fundamental riverine processes. Using an innovative approach to sustainable agriculture, our project unites multidisciplinary scientific and industry expertise to investigate the biogeochemical and biophysical effects of secondary floodplain channels and in-stream structures on riverine groundwater processes.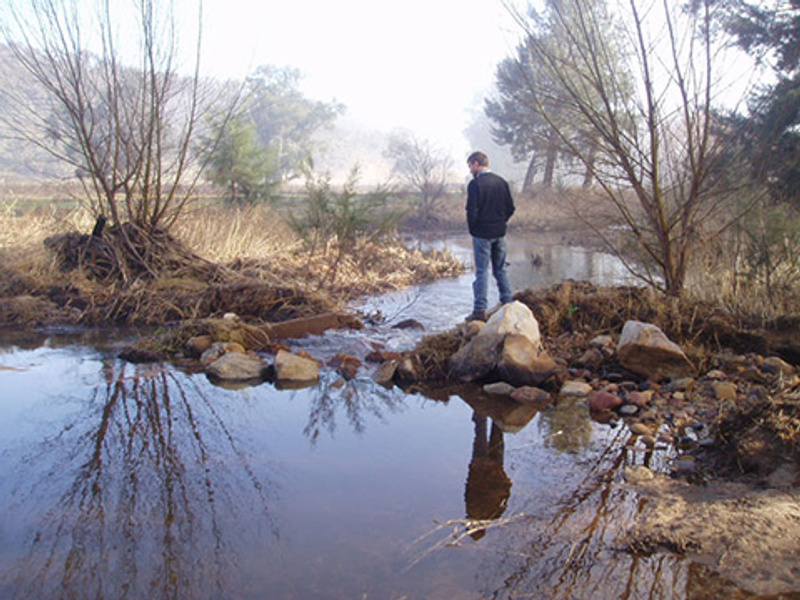 Team members:
Prof Richard Bush
Dr Annabelle Keene
Mr Michael Cheetham
Prof Wayne Erskine, NU
Prof Ian White, ANU
Mr Peter Somerville, ANU
Dr Greg Bowman, DECC
Dr Lee Bowling, DECC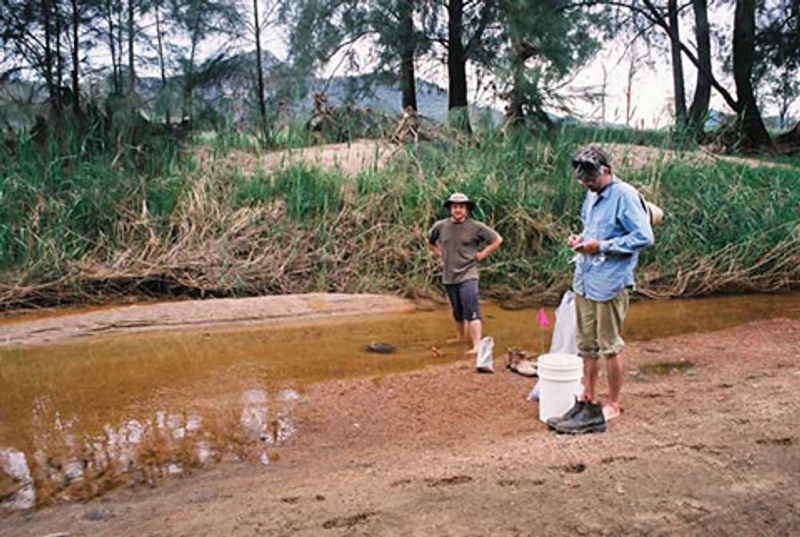 Outcomes / key findings:
Intrinsic geomorphic thresholds for formation of longitudinally correlated river terrace sequences. The top down and bottom up longitudinal interactions between river terrace sequences were strongly influenced by localised geomorphic processes. The stepwise progression of incision and deposition events continue once initiated regardless of extrinsic factors until interrupted by large scale factors.
Development of pool-riffle sequences in sand-bed rivers. It was determined that straight, sand-bed streams will rapidly form pool-riffle sequences when upstream sediment storage is increased to such a degree that a downstream bedload deficit induces bed degradation into sediment that contains a small pebble gravel fraction. The role of vegetation and stream and floodplain management in the reformation of the pool-riffle sequence is considered crucial.
Significant role of vegetation in bench formation. This was determined as the main process for channel contraction and recovery in combination with oblique accretion. The rate of channel recovery is important for river rehabilitation due to the short timeframe.
Importance of sand sequestration for bed stabilisation. Through formation of bars and benches and armouring of bed, sediment transport was reduced with sand storage upstream of works and spatial segregation of gravels occurred downstream.
Extent of channel change following European settlement and catastrophic floods. European settlement has led to rapid changes in the channel morphology of Widden Brook following the removal of riparian vegetation.
Extent of connectedness of stream and ground waters. Spatial trends were apparent in weathering reactions associated with depositional environments, with salinity and alkalinity increasing downstream in the catchment. Mineral weathering was identified as a major contributor to stream salt loads in the upper Hunter River valley.
Significance of NSF stream restoration works. As discussed in the abovementioned points, an ongoing assessment of the on-ground works was undertaken. This resulted in a number of invited addresses to various state and federal government agencies on the performance of Natural Sequence Farming (NSF) stream works. Research findings were used to inform guidelines, legislation and regulation on aspects of river rehabilitation as well as identify new techniques for improved river health.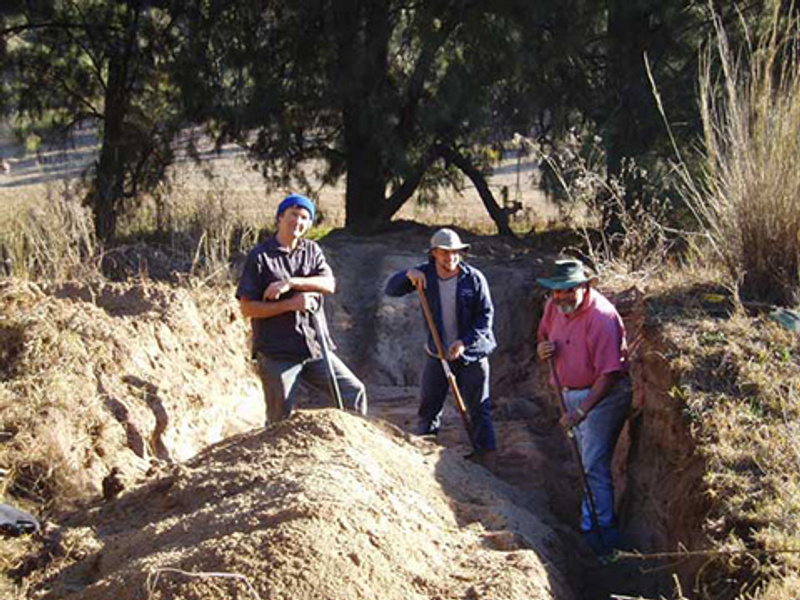 Relevant publications:
Cheetham, M.D., Bush, R.T., Keene, A.F., Erskine, W.D. 2010. Nonsynchronous, episodic incision: Evidence of threshold exceedance and complex response as controls of terrace formation. Geomorphology, n/a-n/a. DOI:10.1016/j.geomorph.2010.07.024
Cheetham, M.D., Keene, A.F., Erskine, W.D., Bush, R.T., Fitzsimmons, K., Jacobsen, G.E., Fallon, S.J., 2010. Resolving the Holocene alluvial record in south-eastern Australia using luminescence and radiocarbon techniques. Journal of Quaternary Science, n/a-n/a. DOI: 10.1002/jqs.1396
Cheetham, M., Keene, A., Bush, R., Erskine, W. and Fitzsimmons, K. (2010). Longitudinal Correlation of Late Quaternary Terrace Sequences of Widden Brook, South-Eastern Australia. Australian Journal of Earth Sciences, 57: 97-109.
Cheetham M.D., Keene A.F., Sullivan L.A., Erksine W.D., Bush R.T. (2008) A comparison of grain-size analysis methods for sand-dominated fluvial sediments. Sedimentology 55, 1905-1913.
Cheetham M.D., Keene A.F., Bush R.T., Erskine W.D. (2008) Connecting the disconnected: longitudinally correlating river terrace remnants in the upper Hunter valley, Australia. In: Sediment dynamics in changing environments. (Eds. J. Schmidt, T. Cochrane, C. Phillips, S. Elliot, T. Davies & L. Basher). IAHS Publication 325. (IAHS Press). pp. 123-129.
Keene A.F., Bush R.T., Cheetham M.D., Chalmers A., Erskine W.D. (2008) Pool-riffle reformation and bed armouring induced by structures and riparian revegetation that sequester sand. In: Sediment dynamics in changing environments. (Eds. J. Schmidt, T. Cochrane, C. Phillips, S. Elliot, T. Davies & L. Basher). IAHS Publication 325. (IAHS Press). pp. 576-583.
Keene A.F., Bush R.T., Erskine W.D. (2007) Changes to the connectivity of stream and alluvial ground waters from restoration works in an incised sand bed stream. In: 'Proceedings of the 5th Australian Stream Management Conference, Australian rivers: making a difference'. (Eds. A.L. Wilson, R.L. Dehaan, R.J. Watts, K.J. Page, K.H. Bowmer & A. Curtis). 21-25 May 2007, Albury Australia. (Charles Sturt University). pp. 187-192.