Community and Engagement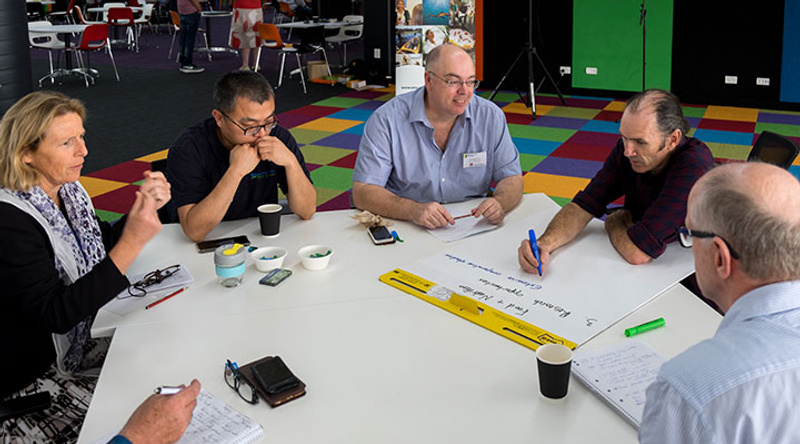 Industry Open Day
Most years SCPS reaches out to engage with local and regional primary producers and processors for their Industry open day. The event is an opportunity to learn what we can do for local business, and create and strengthen our regional networks.
In 2016 the guest speaker was Nick Burton Taylor AM, Southern Cross University Chancellor who presented "Connectivity: a producer's perspective". The theme of the 2017 Open Day was Building Partnerships, and two guest speakers presented. Ms Hollie Ballieu, Senior Policy Advisor (Agriculture), Office of the Minister for Primary Industries presented "Linking agricultural RD&E with government policy" and Prof. Robert Henry, Director, QAAFI and Adjunct Professor, SCPS, presented "From research to practice".
International Research Partnerships
Southern Cross Plant Science has developed a number of strategic partnerships with international institutions, with a particular focus in China and South-East Asia. This enables us to extend our reach of expertise based in sub-tropical agriculture and to address generic aspects of R&D affecting crop adaptation and resilience to climate change, crop and food nutrition in relation to food security, and adding value to plant-derived raw materials and end products. We have established a strategic alliance with Crops for the Future Research Centre, based in Malaysia at the University of Nottingham campus in Kuala Lumpur.
Industry Peak Bodies
Many of our research activities occur in conjunction with local peak industry bodies and producer groups to drive productivity, sustainability and profitability in the Northern Rivers region and beyond. Much of our experimental work is conducted on local farms to ensure relevance to the local community. We undertake research in collaboration with local peak industry bodies including the Australian Tea Tree Industry Association and the Australian Subtropical Coffee Growers' Association to deliver research innovation to local primary industries. At a national level we also engage with the Passionfruit peak body and run the national passionfruit breeding program. Previous funded projects have been run in conjunction with other peak bodies including Rice Growers' Association of Australia, and Avocados Australia.
We also work with other industry groups including the Northcoast Oilseed Producers.
SCU High School Engagement
On March 15 2017 SCPS hosted 22 high achieving year 12 Biology students from Coffs Harbour high schools to visit the facilities and hear talks from Prof. Graham King on DNA structure and function, genetic technologies and consequences for society and from Assoc. Professor Bronwyn Barkla on Plant Physiology and Abiotic stress.

In February 2018 Associate Professor Bronwyn Barkla interviewed with a number of Year 12 Biology Students from Pacific Pines State High School to answer their research questions on plant salt tolerance, plant nutrition and soil pH as part of their research project.