Global Networks
Australia is exceptionally well-placed to address the growing global demand for

high quality, naturally safe, novel food and other agricultural products.

This provides new opportunities for an agile and

regionally-based agribusiness

economy, able to adapt rapidly to new market opportunities.
Global niche

plant products have provenance traceable to a 'clean-green' production and processing environment, have definable quality

defensible by standards, and/or are novel and have high levels of perceived 'nutraceutical' benefit.
SCPS engage in a range of R&D activities in support of Global Niche Crops. This includes:

Tea Tree Oil
Macadamia
Australian grown Coffee
Passionfruit
Natural mustard flavouring
Industrial hemp

Scalable investment can be attracted through a path of

market development, whereby specific products may be proven within Australia's predominantly urban population and then adapted for export - particularly for the growing middle classes of China and SE Asia.
Industry partners have identified increasing demand

for specific global niche products, and the current constraints on market expansion. This includes the need to

meet well defined standards

in mature economies (such as REACH Registration, Evaluation, Authorisation and Restriction of Chemicals in EU), and access to suitable cultivars due to a lack of trained breeders and associated support in terms of specialised knowledge relating to plant chemistry, agronomy, statistics and data management (bioinformatics). This is compounded by poor access to relevant infrastructure and tools for breeding niche crops.
In many cases investors require a

vertically integrated approach

to cultivation and sourcing of raw materials for processing and distribution, where value is able to be captured and re-invested

throughout the supply chain. In consultation with stakeholders in the production and investment sector, we have identified a

key gap

in the development of Global Niche markets.
Southern Cross University has a strong track record in key disciplines of research that support sustainable agriculture and land management.
Southern Cross University research also plays an important development role in the region, and is actively engaged in the Pacific and Southern Asia with excellent research, government, industry and NGO contacts and experience.
Sustainable Agriculture/ forestry/ agroforestry- integration of trees and agriculture.
Traditional agricultural systems- organics, livelihoods and food security.
Interdisciplinary research- biophysical, sustainable livelihoods, ecological, ecotourism.
Tropical fruits, nuts, (Emerging species- Canarium, Terminalia, Barringtonia, Inocarpus, Vanilla, pepper, papaya).
High value cash crops- Coffee, Cocoa, Rice, Cereals.
Tropical and subtropical reforestation- benefits for agricultural production, floods, water quality.
Carbon sequestration in vegetation and soil- in ecological and agricultural systems.
Essential oils, sandalwood, non- palm oil products for industry, medicinal plants.
Payments for ecosystems services- valuation and conservation of natural forests.
Intercropping in perennial tree crops- benefits to soil, resilience for pests, disease.
CFF Research is a multidisciplinary, high quality and outcome-driven research organisation focused on underutilised crops and agricultural biodiversity.
---
Southern Cross University – the Australian node of CFF
Southern Cross University have developed a close working interaction with CFF since 2012. This has involved initial projects focusing on genetic characterisation of underutilised crops, establishing postgraduate projects and development of a common bioinformatics and data management framework. Prof Graham King is a Research Theme Associate (Biotechnology & Breeding Systems) at CFF.
CFF enables the wider use of underutilised crops to diversify agricultural systems, improve well-being and manage natural resource.
Based outside Kuala Lumpur alongside the University of Nottingham Malaysia campus, CFF is opened new research facilities in Sept 2015.
The guarantors of CFF are: University of Nottingham in Malaysia (represented by UNMC) and MARDI (Malaysian govt Ag R&D).
CFF is a founding member of Association of International Research & Development Centers for Agriculture (AIRCA).

AIRCA has a combined turn-over in excess of US$ 200 million p.a.
>60 member countries comprising >70% of world population
---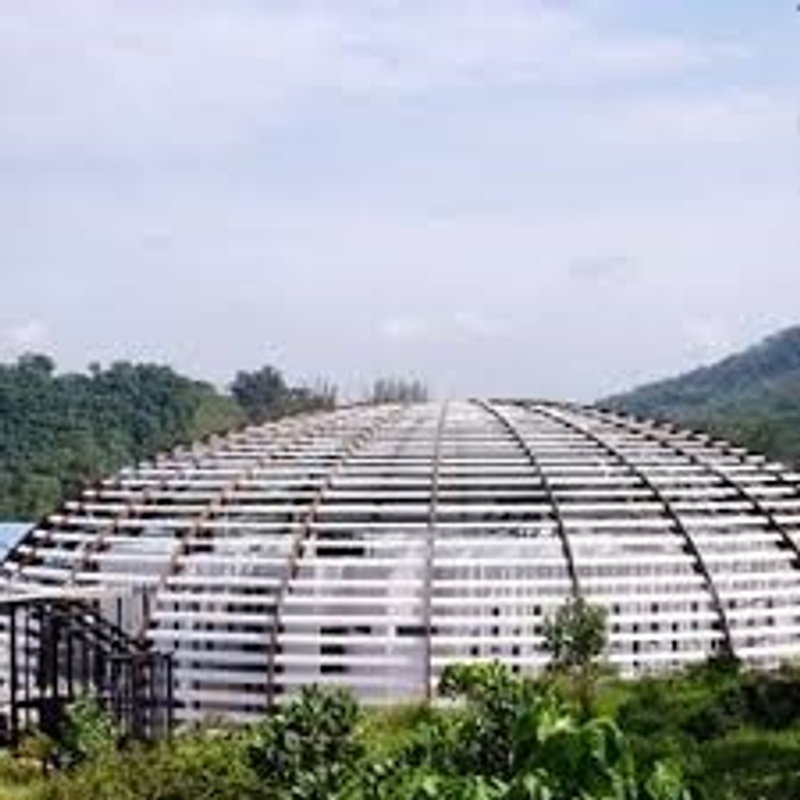 A Master Agreement with Southern Cross University was signed at the CFF Opening Ceremony in Kuala Lumpur in September 2015.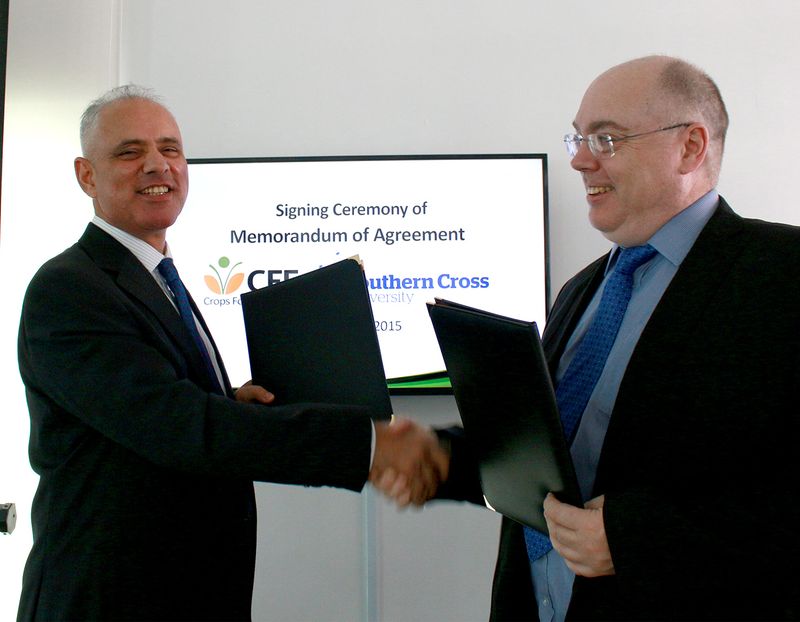 2015: Prof Sayed Azam-Ali (Director CFF) and Prof Graham King (Director, SCPS) at the signing ceremony for the Master Agreement between CFF and SCU.
2016: 1 x MSc and 2 x PhD students have been enrolled in the SCU:CFF collaborative program.
All three students in this cohort are based in Lismore, and will have opportunity to spend research and training periods at CFF in Malaysia.
Crops For the Future Projects:
Sadaf Naz (MSc awarded 2018)
Razlin Halimi
Liliana Andres
Based on our collaboration to date, Southern Cross University plays a complementary role to the expertise and resources at CFF. This includes:
Crop Genetic Resource management - also partnering links with DivSeek
Plant analytical chemistry: food nutritional composition
Crop bioinformatics and data integration
Crops For the Future: Why Lismore and Southern Cross University?
The skill base at SCU is complementary to that at CFF in Malaysia.
This includes extensive expertise in genomics, bioinformatics, management of ex situ plant genetic resources and soil science
Lismore is located within the northern subtropics, at a latitude in which a large proportion of the world's population live and are directly involved in crop-based food production.
What are Underutilised Crops?

Underutilised crops are those with unrealised potential to contribute to human welfare, in particular for:
• Food security and nutrition
• Reduction of 'hidden hunger' (caused by micronutrient deficiencies resulting from uniform diets)
• Income generation for the world's developing populations

It will address National R&D priorities to: optimise food and fibre production and processing and underpin clean, safe and sustainable production. Specifically it will enable us to bring together expertise to increase crop-based food quality, stability and shelf-life, and address the genetic composition of food sources appropriate for present and emerging Australian conditions.
Southern Cross University became a member of DivSeek in 2016.
DivSeek is a community driven effort consisting of a diverse set of partner organizations that have voluntarily come together to unlock the potential of crop diversity so that it can be utilized to enhance the productivity, sustainability and resilience of crops and agricultural systems.
Professor Graham King is a member of the Board of Directors for Divseeek, 2019-2021.

Some SCPS staff and PhD students are members of Divseek Working Groups:
SCPS hosts the www.brassica.info

website, which is collates information on behalf of the Multinational Brassica Genome Project (MBGP).
The Multinational Brassica Genome Project

(MBGP) formed in 2002 through the recognition of the benefits of international collaboration and co-ordination, especially with respect to development and dissemination of experimental resources and information for brassica crops.
Brassica species include crops such as canola, oilseed rape, Indian mustard and many vegetables such as cabbage, broccoli, cauliflower, Chinese cabbage, pack choi and turnip.
Prof Graham King is currently Chair of the MBGP steering committee (2017-2019)