Jeanette Balindong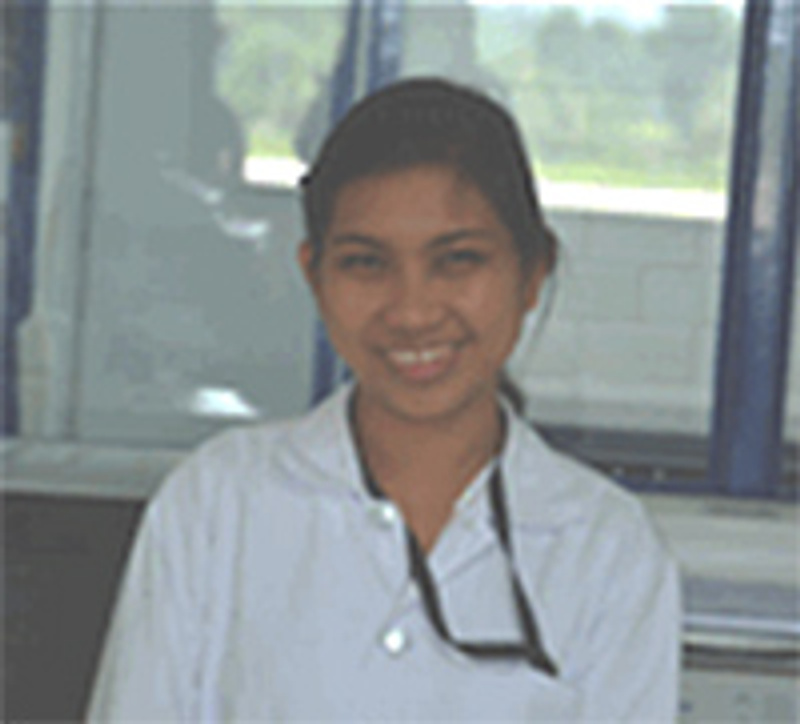 PhD Candidate
t: +61 41 0252 879
e: j.balindong.10@student.scu.edu.au

Education:
BSc in Agriculture, University of the Philippines, Los Baños, Philippines
MSc in Genetics, University of the Philippines, Los Baños, Philippines
Research interests/background
Jeanette is currently completing a PhD degree in Plant Science. She is working on rice endosperm proteins and its role in eating quality and grain breakage. Her research project involves identification of an improved extraction method and use of high performance liquid chromatography (HPLC) to characterise rice proteins.
Prior to commencing her full-time study, Jeanette obtained in 2005 the BSc degree in Agriculture from the University of the Philippines at Los Baños, and she passed the licensure examination for Agriculture at the same year. In 2006, she went to work as a plant pathologist in a banana plantation under a project funded by BASF at Marsman-Drysdale Biotech and Research Corporation (MDBRC), Sto. Tomas, Davao del Norte. Immediately after finishing her contract in Mindanao, she went home and started working as a product and sales specialist at RainPhil Incorporated, Makati City in 2007. She was assigned to provide after-sales service on DNA sequencer and gene expression machine to the researchers and scientists at the International Rice Research Institute (IRRI). After her two months tenure at IRRI as a corporate product specialist, a Technician III-Research position was offered to her by the institute. Then, she was promoted as a researcher in 2008. In 2009, she was admitted to the MSc in Genetics program of the UPLB Graduate School. She resigned from her position as a researcher at the Genetics Transformation Laboratory after being offered a scholarship. She obtained her MSc degree in Genetics in 2013. The title of her MSc thesis is: "Stacking nicotianamine synthase and ferritin genes to increase the iron content of the endosperm of rice (Oryza sativa L.)". She has practical experience from working on various projects dealing with ferritin, iron-transporter genes, drought, lysine and golden rice. After three years tenure as a scholar of the RF Golden Rice Project, she was hired as assistant scientist in the same laboratory. In this position, she performed construction of overexpression vectors, gene silencing, DNA sequencing and tissue culture work. She has hands-on experience with molecular biology techniques used in plant science, specifically in the field of rice research.
Publications
Balindong J, Ward R, Liu L, Rose T, Pallas A, Ovenden B, Snell P, and Waters D (2018) Rice grain protein composition influences instrumental measures of rice cooking and eating quality, Journal of Cereal Science, 79, 35-42, https://doi.org/10.1016/j.jcs.2017.09.008
Balindong, JL; Ward, RM; Rose, TJ; Liu, L; Raymond, CA; Snell, PJ; Ovenden, BW; Waters, DLE (2018) Rice grain protein composition influences head rice yield. Cereal Chemistry DOI: 10.1002/cche.10031
Balindong, J.L., Liu, L., Ward, R.M., Barkla, B.J. and Waters, D.L., 2016. Optimisation and standardisation of extraction and HPLC analysis of rice grain protein. Journal of Cereal Science, 72, pp.124-130.
Trijatmiko, K.R., Dueñas, C., Tsakirpaloglou, N., Torrizo, L., Arines, F.M., Adeva, C., Balindong, J., Oliva, N., Sapasap, M.V., Borrero, J. and Rey, J., 2016. Biofortified indica rice attains iron and zinc nutrition dietary targets in the field. Scientific reports, 6.
Oliva, N., Chadha-Mohanty, P., Poletti, S., Abrigo, E., Atienza, G., Torrizo, L., Garcia, R., Duenas Jr, C., Poncio, M.A., Balindong, J. and Manzanilla, M., 2014. Large-scale production and evaluation of marker-free indica rice IR64 expressing phytoferritin genes. Molecular Breeding, 33(1), pp.23-37.