Foundations of University Teaching Practice
Now open for enrolments
About the program
This is a flexible professional learning opportunity designed to improve your teaching and learning practice, enhance the learning experiences of your students, and fit in your busy career.
All SCU staff, including continuing, fixed-term and casual staff within their first three years of teaching, are invited to enrol in the Foundations of University Teaching Practice (FUTP) program offered by the Centre for Teaching and Learning (CTL).
This program will also be of interest to experienced staff seeking fresh inspiration, particularly in relation to teaching in the online environment.
The FUTP consists of six discrete modules, combining online learning materials and tailored support through the CTL. The modules will open within Blackboard.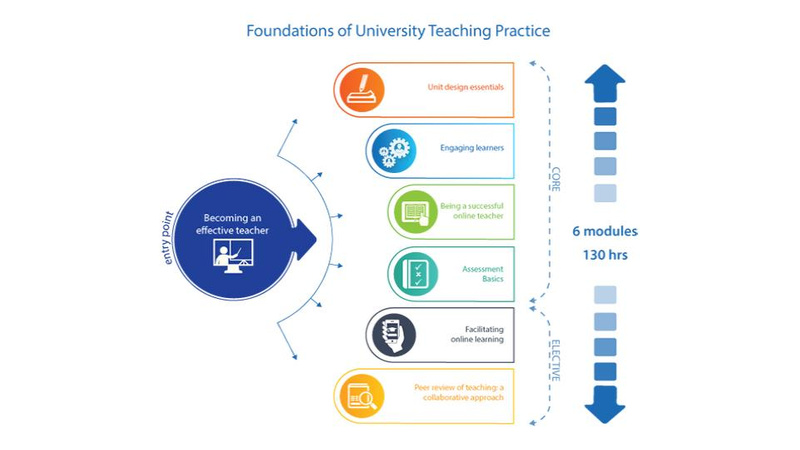 Modules: Foundations of University Teaching Practice
The module Becoming an Effective Teacher is designed to be completed first as an entry point module. Once completed you are required to complete four core modules in whatever order you wish, plus one elective module.
The time commitment for the entire program of six modules is 130 hours. Each module is approximately 15 hours of study time with the exception of the elective modules which are 20-25 hours. You only need to complete one elective module.
These designated hours allow staff to actively engage with the content and learning activities and complete two assessment tasks per module. Additional hours have been allocated to accommodate the preparation of a final reflective unifying statement for those staff that will be undertaking all six modules and submitting their portfolio plus statement as evidence for a Statement of Attainment.
Becoming an Effective Teacher
This module introduces the fundamental elements of effective teaching. In this module you examine reflective practice, what beliefs you have as a teacher and develop your own Philosophy of Teaching statement.
This is a fully online set of self-paced learning modules, designed to be flexible and wrap around your busy lives and careers.
Each module includes two pieces of assessment which you complete and upload online using the Blackboard ePortfolio. Completing these assessment tasks assures you have achieved the learning outcomes for each module.
After completing a module you will be issued with a digital credential (a digital badge). This credential is evidence of your completion of the module.
A Statement of Attainment is issued for successful completion of all six modules, plus your unifying statement.
The modules are free at the point of registration to all eligible staff who are currently teaching or who have recently taught. The program is designed for new SCU staff within their first three years of teaching. For casual/sessional staff interested in taking either single modules or completing the whole program of six modules, please contact your Head of Faculty/College to approve enrolment.
This program will also be of interest to experienced staff seeking fresh inspiration, particularly in relation to teaching in the online environment.
Unit Design Essentials
This module provides practical resources to help you design a unit of study. You will learn how the principle of constructive alignment underpins the design of your unit and understand the various elements that influence unit design, including assessment and AQF levels.
Engaging Learners
Engagement is key to effective student learning. This module explores theories and approaches to learning and introduces ways for enhancing student engagement. Both the learning activities and assessment tasks are designed to give you practical strategies for engaging your students effectively.
Being a Successful Online Teacher
This module will prepare you to be a successful online teacher. In the module you will learn about designing and organising an online unit, facilitating and moderating online, as well as assessing student learning in an online environment.
Assessment Basics
Assessment plays a critical role in guiding and shaping student learning. In this module you will learn about the purposes of assessment, the assessment cycle, examine your own assessment approaches, and reflect on their effectiveness.
Peer Review of Teaching: A Collaborative Approach
This module focuses on peer review and, in particular, the practice of collaborative peer review. You select a part of your blended or online teaching to review, and then work with a peer to review your teaching and theirs.
Facilitating Online Learning
Facilitating your students to learn in an online environment is a complex task. This module introduces you to effective online communication processes, to the importance of discussion, and presence, plus handy tips and advice for online facilitation.
+