Sally Smith was 37 and the mother of two growing boys when she enrolled as a mature age nursing student at Southern Cross University in 2015. Today, she is a leader in her profession, a role model for young nurses and a shining light for her patients.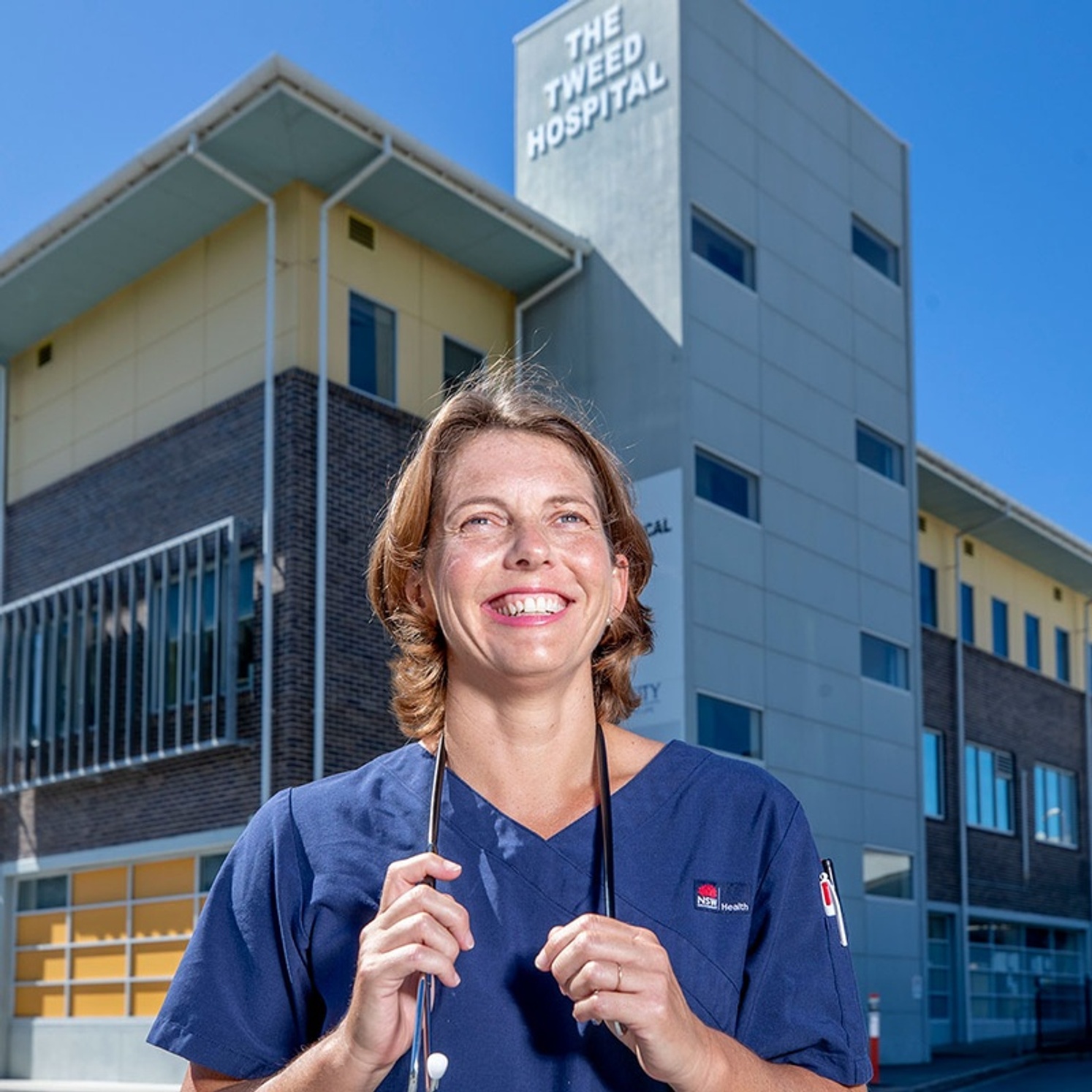 Behind the mask
On a warm evening back in March 2020, Sally Smith headed home after her shift at The Tweed Hospital's Surgical 1 Unit – a busy, 30-bed, post-theatre recovery ward. Next morning, she returned to find a state of total transformation. Overnight, Unit 1 had become a 15-bed COVID isolation ward.
Flash forward two years and Sally recalls both the speed of that transition and how, amid the uncertainty of what COVID-19 was and might mean, the certainty of the hospital was as impressive as it was necessary. And nurses like Sally were immediately on the frontline.
"In those few hours, we went from providing nursing care in our normal scrubs to wearing the full COVID protective gear and adhering to entirely new protocols," says Sally.
"Situations changed quickly, sometimes during shifts. When visitor hours had to be stopped, you could see the effect it had on patients' mental and spiritual health. For me and my nursing colleagues, it reinforced our resolve to be much more than a clinical presence. We are the ones most in contact with the patients. You are close to them, actually and emotionally. You hear their stories and situations. You are by their bedsides.
"The thing is, for all that we were learning as we went along, I felt we were in control the whole time. There was never any sense of panic and that was especially important for our patients. Care and calm were always key."
Care and calm … two qualities that embody Sally's approach to a career that is still relatively new and yet has progressed rapidly since she graduated from Southern Cross University with a Bachelor of Nursing in 2018.
The first of many accolades was a NSW Health Excellence in Nursing and Midwifery Award for her Surgical 1 Superhero Awards program, initiated during her first year as a fully credentialled nurse as part of The Tweed Hospital's graduate program.
"Every month we focused on different superhero qualities as they applied to care. Qualities like most passionate, hardest working, most reliable and so on," says Sally. "Nominations came in and we celebrated the monthly winner with an award presentation and dress-up day. The winners received a badge and a cape. It was a lot of fun, a light touch, because we do deal with difficult and sad situations in our working days. Taking the time to acknowledge each other is important."
Further acknowledgement came in November 2020 when Sally was awarded the position of Clinical Nurse Specialist 1, a major achievement for a 3rd year Registered Nurse. This was followed in February 2022 with her elevation to Quality and Safety Manager for The Tweed Hospital.
This new role involves overseeing quality of clinical practice, auditing practice and collating reports to deliver the highest standard of patient care. It is important work given the impending move of all operations to the new $723.3 million Tweed Valley Hospital at Kingscliff, scheduled to welcome its first patients in 2023.
It is patients who remain at the forefront of Sally's motivation, which is why she is combining her new post with an ongoing ward presence. She firmly believes that clinical interaction with patients, nurses, doctors and other hospital staff will better inform her administrative decision-making. Plus, she just loves nursing.
The spinning plate days
Not bad progress for someone who remembers her first days on the ward as "like spinning plates while trying to keep your head above water".
"Yep, after graduating, the first three months was like that," recalls Sally. "It was such a rush and I mean that in both senses of the word. It was a rush in terms of how busy it was, but also in how satisfying it was. It was hard, sure, but maybe I had an advantage because I was older."
Sally was 37 and a mother of two boys when she enrolled as a mature age nursing student at Southern Cross University in 2015. The preceding 10 years had been spent in remote Karratha (WA), where husband Gavin worked in the mining industry and Sally in administration.
"Karratha is very much a working town. It has about 7000 people, it's hotter than hell, the air-conditioning is a blessing and it's easy to get locked into a routine of go to work, come home, go to work, come home," says Sally.
Keen to avoid that trap, she sought diversion in a pursuit that is anything but routine – mountain-biking – culminating in the carving of 30km of track over red rock and spinifex behind the Outback town. Mountain biking is still one of Sally's favourite things in the world and she has continued with it since the family returned to the east coast.
"I coached some women mountain bikers in Karratha and we had such fun," she says. "When we came back to Northern NSW, I started coaching teenage girls and taking part in mountain biking weekends with older women. I even started a new group, MTBher, to encourage women to join the mountain biking community."
In the past year, the demands of work meant Sally was not able to devote as much time to coaching, but where possible she still finds the time for the bike and the bush trails.
"It's the adrenaline rush that I love. Rush, that word again. There is a real sense of achievement. Once you start, you build step by step and every step has you asking yourself: How good was that? What can I do next?
"I want others to enjoy that feeling too. Faster. Higher. Sometimes in life, we lose the desire to do cartwheels. I don't want that to happen. Mountain biking is my cartwheel. It lets me be a little bit scared again and I love it."
Sally also loves a nursing career that is both challenging and rewarding. She is certain others will love it too.
"We need more young nurses and studying nursing at Southern Cross University is an amazing opportunity," she says. "Sure, it is demanding, but it is so worth it.
"I remember, six months in, when I was no longer spinning plates, I took some time to reflect on nursing and it struck me just what an incredible job it is. That feeling hasn't changed. It is phenomenal. It is knowledge. It is caring. It is emotion."
"It is me."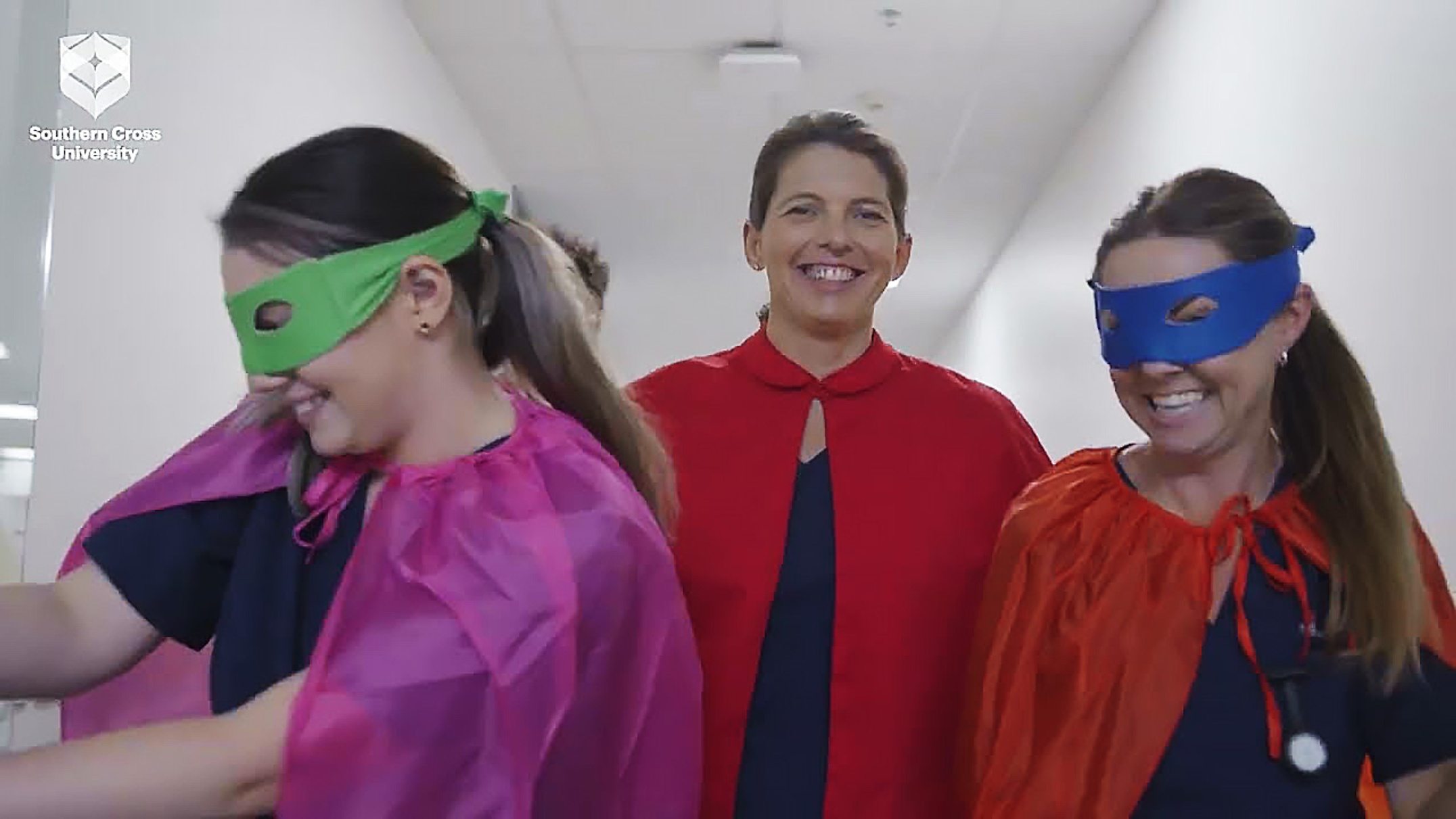 Nursing has shown me that small things have a big impact. Even just a smile or a touch of a hand it really matters. So creating a positive workplace is important.
Taking the time to acknowledge each other and celebrate the work we do. That's why I started the Surgical 1 Superhero Awards Program. Where we focus on our superhero qualities and have an awards event and dress-up day.
It's a lot of fun, a break from the routine and the difficult situations we face every day. In recognition of that program I received an Excellence in Nursing Award. I was so honoured.
It was my experience at Southern Cross University that prepared me and inspired me to create a positive workplace.
Together we're Transforming Tomorrow
Southern Cross University
---