Lisa is a four-time sailing world record holder and citizen scientist on a mission to take community action on climate change around the world with her. This year she circumnavigated Antarctica solo and unassisted setting a new speed record and collecting important data on ocean health and climate change along the way.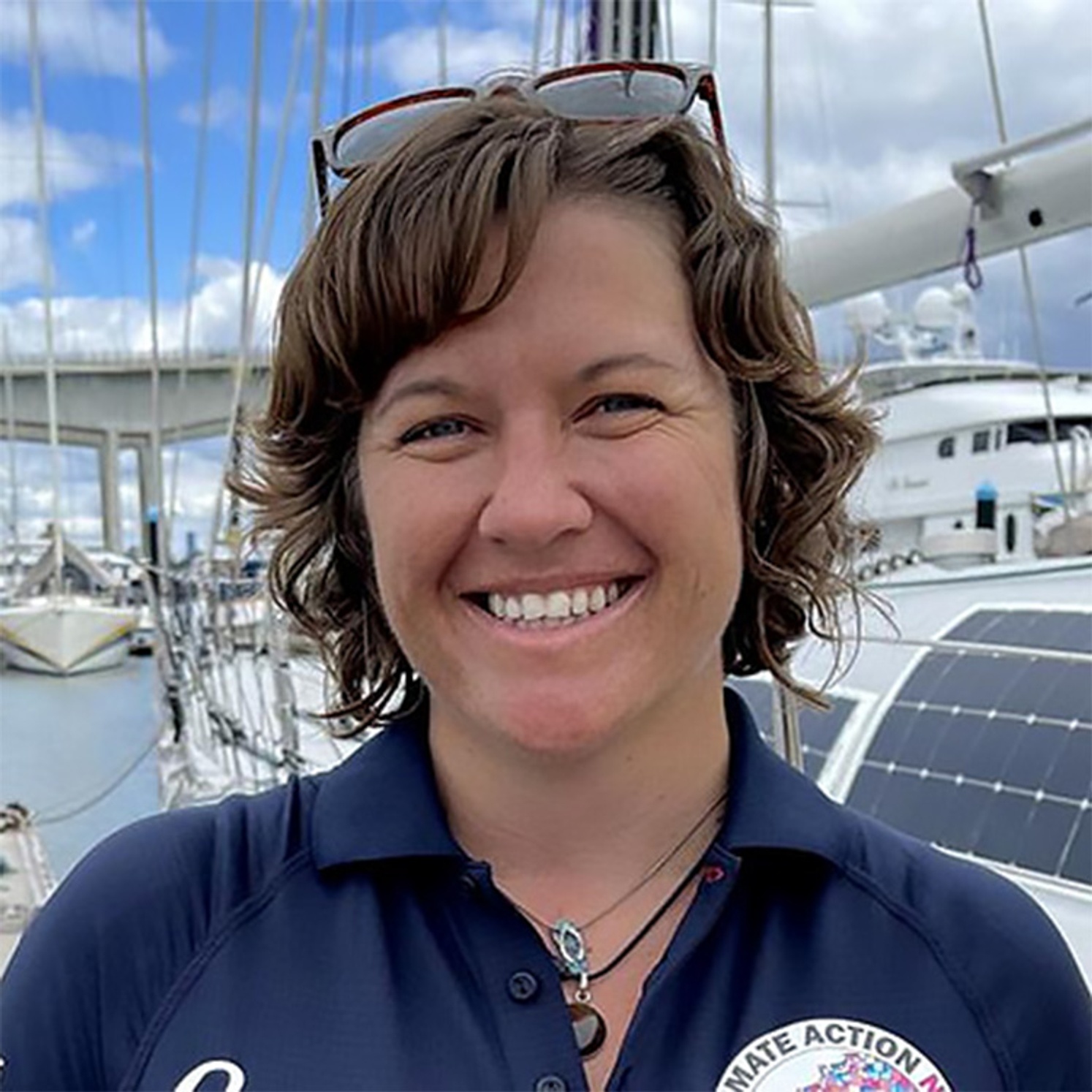 Sailing for Climate Action
A life spent on the open ocean means Lisa Blair is at home amongst turbulent seas, wind, storms and swell just as she is with a calm, glassy horizon and a light wind in the sails. While powerful, ever-changing and deadly strong, she understands that the ocean still needs nurturing and protecting. That's why she sees sailing and fighting for climate action as something that goes hand in hand.
Her boat, vibrantly coloured and aptly named 'Climate Action Now' is hard to ignore.
She describes herself as an ocean sailor, adventurer, keynote speaker, sailing teacher and published writer. In 2021, she was named Southern Cross University's Alumnus of the Year for her inspiring story as a sailor, educator and environmental activist.
"Sailing for me is all about just testing myself and overcoming these challenges. You have to harness the wind to get from point A to point B and you've got to figure it out and make these repairs and make the boat get across an ocean all on your own and I just love that challenge. The more I sail the more I want to sail," she said.
"I'm really aware that there's this incredible platform I've been able to create to amplify this climate action message. I sailed through the Southern Ocean which is a relatively unchartered part of our planet."
Lisa set her first world record in 2017 when she sailed solo around Antarctica with one stop, but she nearly didn't live to tell the tale. As she circumnavigated the icy continent, 1,000 nautical miles from land amidst a ferocious storm, the mast of her boat came crashing down.
"It put me in a big survival situation where I was up against massive waves and gale-force winds. Throughout the night I was trying to save my boat and my own life. I was forced to take to land, which meant I wasn't able to break the overall speed record," she said.
After her Antarctic adventure, Lisa continued to set new records when she sailed solo non-stop and unassisted around Australia, becoming the fastest monohull to do the trip and the first woman in history to complete the voyage. Not one to back away from a challenge, Lisa once again set her sights on breaking the overall speed record for sailing around Antarctica. In February 2022, she left Australian shores once again, heading south to Antarctica. Arriving back in Albany, Western Australia after three months at sea, Lisa broke the world record by an incredible 10 days.
She sailed not just to break world records and challenge herself, but to raise awareness on a global stage about the need to act on climate change and collect important environmental data along the way.
"I love sailing and I love just exploring our oceans and testing myself, but also I'm really aware that there's this incredible platform I've been able to create to amplify this climate action message," she said.
"The goal is to inspire individuals that we have the power to create change, it just starts with one small action. For me now my sailing is less about just being a single girl on a boat sailing around Antarctica or anywhere else. It's about carrying this community voice with me and inspiring positive change.
"I've put my hand up to the scientific communities around the world and we're going to be doing general ocean health readings, looking at salinity levels, the dissolved carbon dioxide levels and acidity levels," Lisa shared to her online community before setting sail in February this year. "I'm also going to be taking samples of micro plastic along the way that we're going to process in Australia and I'm looking to put a mobile weather station on board the boat so that we can link that back in to the global weather modelling system."
She also committed to six months of free talks at schools around the world to share her adventure narrative of solo-sailing, citizen scientist research, and climate education.
"I want to provide some education around ways they can improve their commitment to our climate and our environment through their own households and communities and that's where the post-it note campaign comes in," she said.
'Climate Action Now' is wrapped in a colourful design of post-it note messages from the community about environmental action. Messages such as 'I never give up and encourage others to do the same', 'I protect our trees', 'I don't eat meat' and 'I teach my family to recycle' are just some of the many messages contributed by people from all over the world which decorate Lisa's boat, or are shared on her digital platforms.
"I studied visual art and education at Southern Cross so I want to make sure that everything I do in life is still fun, playful and colourful. When I first purchased my yacht, I changed the name to Climate Action Now, and worked with my sister Shelley to design this post-it note campaign which includes messages from people in the community about things they're doing for the environment to work towards a better future. I collated all of these and we turned it into this colourful design, so behind me is actually the community's voice," Lisa said.
"The goal is to inspire individuals that we have the power to create change, it just starts with one small action. For me now my sailing is less about just being a single girl on a boat sailing around Antarctica or anywhere else. It's about carrying this community voice with me and inspiring positive change."
---