Strength and spirit prevail for Ronke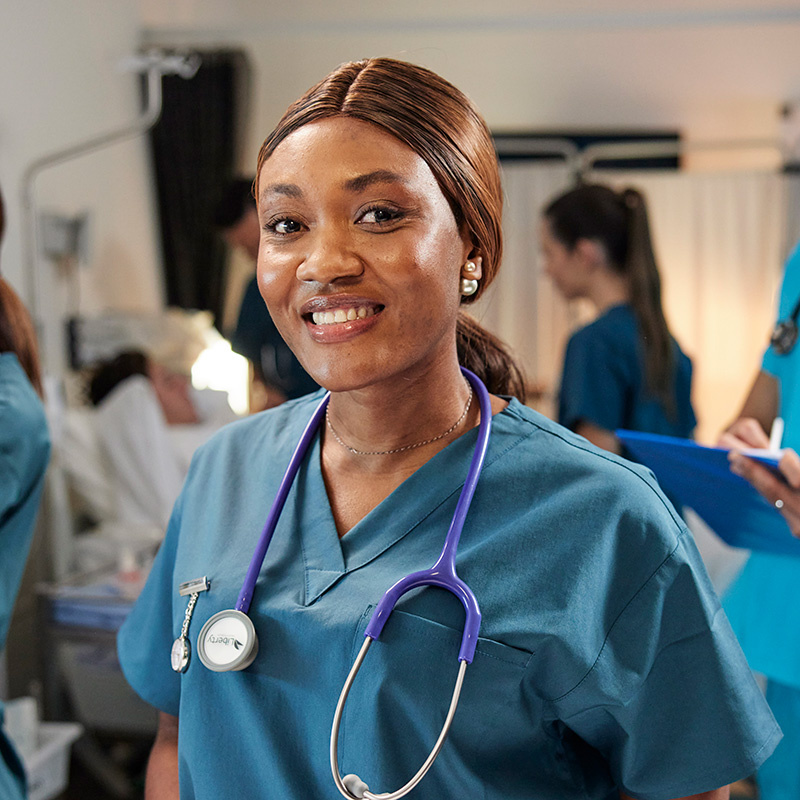 Aderonke Adeniran
Think transformation; think Aderonke Adeniran. In the past three years, Nigerian-born Ronke's life has scaled the heights of aspiration and plumbed the depths of despair. That she has emerged with her spirit intact says so much for her strength and self-belief.
"After everything I have been through, I have built a thick skin and a strong heart. At times, I almost lost hope and faith, yet somehow, I kept going. I kept pushing through and here I am."
Such experience seems a world away from the happy and confident woman now entrenched in a Nursing degree at Southern Cross University, living happily on the Gold Coast with her three children by her side, and taking a leading role in the University's new Transforming Tomorrow campaign.
However, this new chapter in Ronke's life has been hard-earned, with challenges including separation from her children for more than three years, the sudden loss of both her parents, and the difficulty of being alone and trying to cope in a new country.
"It has been a journey. It has been a transformation. Where shall I begin?"
The Nigerian city of Ibadan is a good choice, because it is here where Ronke was raised, married, and welcomed her children – son Khalifah (17) and daughters Faridah (15) and Ameerah (10). It is also where she worked in the healthcare system at the city's University College Hospital. Most notably, it is where she made the most difficult decision of her life: to leave her family behind to study overseas, pursue better opportunities, and hopefully, bring her loved ones to a new home and a new life.
"In Nigeria, I spent three years training in the hospital as an anaesthetic technician. It was on-the-job training. It was also unpaid," says Ronke. "I wanted to advance, but there are no higher degree courses for anaesthetic technicians in Nigeria. My mother was a nurse, so nursing appealed to me and I started to look around at opportunities abroad. Australia immediately stood out to me. It seemed so positive about welcoming international students. And it was so beautiful."
"On the other hand, I had many questions to answer. Could I leave my husband, my children and my parents? As a mother, even though my intentions were positive, was I right to entrust my children's care to someone else? Questions constantly ran through my mind. It was so difficult, so emotional – but I did it."
With her student visa approved, Ronke arrived in Australia in 2019 and started a course in Anaesthetic Technology through Queensland TAFE.
"I was living on the Gold Coast and studying in Brisbane," she says. "Even though I missed my family terribly, I was determined. I took relief from the knowledge that I could fly home during semester breaks or my family could fly here to see me. At least we could be with each other, if only for a short time.
"The global pandemic in 2020 changed everything. It began a truly terrible separation that affected me deeply, both emotionally and with my studies. I became a little lost. Then one day I was at Broadbeach and a bus went by."
Of course, buses go by in Broadbeach all the time, but this one stood out to Ronke by virtue of a Southern Cross University advertisement featuring a young African female student. For Ronke, this was an epiphany.
"I wondered: Where is this Southern Cross University? That is where I want to study. And I want to study nursing. Can I do that at this Southern Cross University?"
Indeed, she could. Ronke began her degree on the Gold Coast campus in 2021.
"I was so happy to be accepted," she says. "It meant I could not just follow my dream; I could see it being fulfilled. Still, the longer the pandemic went on, the more I missed my family. Zoom is good and I am grateful for it, but it is not the warmth of a proper hug or a kiss from your child. I had to keep reminding myself of why I had come to Australia. That got me through the most difficult days."
Tragically, the difficult days were not done with Ronke. In late 2021, just as international borders were beginning to ease, Ronke's father died in Nigeria. Heartbroken at the loss and at not being able to attend his funeral, Ronke had never felt further away from home. Three months later, in January 2022, tragedy piled on tragedy when her mother also passed.
"My world shattered."
Understandably so, which only exacerbates the unbridled joy that Ronke felt when the Australian Government reinstated her children's visas. In August 2022, she brought Khalifah, Faridah and Ameerah to their new home. Khalifah is hoping to study Engineering at Southern Cross University from 2023.
With life back on track, Ronke has reset herself for her nursing studies and future career in Australian healthcare. She loved her first clinical placement at The Tweed Hospital and is thriving in a care placement at Burleigh Heads.
"The placements have been wonderful. I was able to take the things I have been learning and put them into practice. It was real world experience, yet more than that, it proved that for everything that has happened, I can do this.
"There are so many challenges when you are an international student. There are so many challenges when you make tough decisions in life, even when they are for the best of reasons. As I say, I have built a thick skin and a strong heart. My family is here now. The future is full of love and promise."