A sense of belonging is a fundamental human need, which is why Southern Cross University's Dr Kathomi Gatwiri is determined to bridge the multicultural gap in Australian society.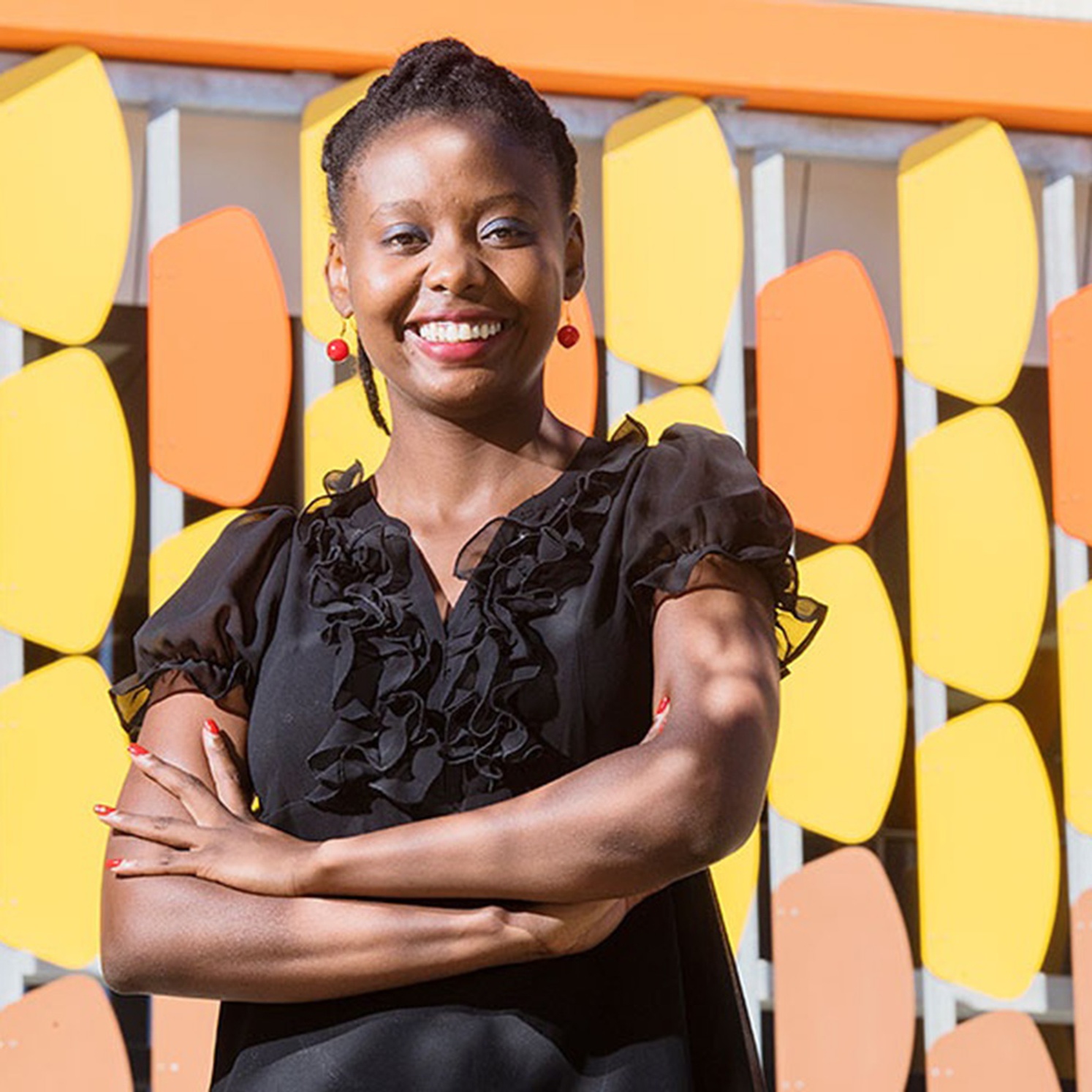 A seat at the table
Any conversation with Dr Kathomi Gatwiri is imbued with moments of deep reflection and steely commitment. She is an eclectic academic with a diverse array of interests, experiences and goals.
These become clear when she focuses the struggles of being a Black woman researching the complex topic of race in Australia. And again, in the social, cultural and health challenges of women in her native country, Kenya. And again, in the response to her Healing Together psychotherapy practice that provides mental health support to hundreds of Black people and other people of colour across Australia.
For one who works so intimately on such urgent issues, Kathomi's sense of humour is never far away. It emerges in brighter, bubblier things, like her love of salsa dancing, gardening and watching detective and legal TV shows – the latest being a repeat viewing of the Australian series Rake. "I am learning a lot of Aussie slang in the process," she says, with a smile that lights up the room and by extension must also shine for those who, through Kathomi's work and relationship-building skills, feel seen, heard and understood.
Everything she does is passionate and with a boundless energy – full of heart and full of light.
A Senior Lecturer at Southern Cross University's Faculty of Health, Kathomi's life and career span social work, cultural studies, counselling and psychotherapy. She brings invaluable expertise and depth to teaching and research that homes in on processes of minoritisation and marginalisation.
Of course, marginalisation has been an issue in Australia since the arrival of the First Fleet in 1788. Beginning with the nation's First Peoples, it has continued via waves of migrants and, more recently, refugees to these shores.
And while statistics may present Australia as one of the world's most multicultural countries, Kathomi points out that the spirit of multiculturalism is not always reflected in the experiences of those who feel least included in Australia's mainstream culture. She adds that this has implications for mental health and wellbeing.
"Inclusion efforts should aim to produce experiences of positive recognition and belonging for all new Australians," she says. "Belonging is a fundamental human need. We are all wired for it. That means having a sense of being safe and being at home is important for all those who have the privilege of calling Australia home."
The academic activist
Born in Kenya, Kathomi enrolled in university at just 17 and a decade later became one of the youngest Kenyan women awarded a PhD. Her work expounds ongoing activism, first seen in Kenya through her campaign advocating for women living with obstetric vaginal fistulas to receive better and more dignified maternal care. It continued in campaigns to end femicide and other forms of gendered violence against women. She is the founder of Counting Dead Women – Kenya, an initiative that aims to record every woman's murder reported in the Kenyan media.
Since coming to Australia 10 years ago – first to The Cairnmillar Institute in Melbourne, then Flinders University and now Southern Cross University – Kathomi's research, leadership and influence within academia and the African-Australian community have only expanded. She is the president of the Australian Gender and Women Studies Association, the peak body for Australian researchers in the fields of gender and women studies. She is also one of the best known and respected academics on issues impacting Africans in Australia and is sought regularly to give voice to these issues.
Giving voice is a major priority for Healing Together as it continues to demonstrate cultural leadership and a spirit of creating solutions to recurring problems. Launched in 2020 at the height of the #BlackLivesMatter worldwide protests, Healing Together is an online counselling and psychotherapy initiative that was Kathomi's response to a shortage in Australia of services catering specifically to the cultural and racial needs of Black people. Demand has continued to soar, with Kathomi one of the most sought-after psychotherapists for people seeking culturally safe mental health services.
"When the #BlackLivesMatter protests were at their height, my phone was going off, mostly from Black people affected by the collective racial grief triggered by the movement," she says. "They were seeing, hearing and experiencing what I was also seeing, hearing and experiencing … and we were stuck, competing for very scarce available mental health support systems, especially from practitioners who demonstrated an advanced understanding of what was going on.
"When I opened Healing Together, it was mostly out of frustration that Africans didn't seem to have a seat on mental health services tables. I decided to stop complaining, use my expertise, build my own table, and invite people to sit around it."
"It is beautiful to see people once so shy about seeking help now sitting around this table I made. They know their issues won't be explained away. They know they will be treated with respect."
A cultural priority
Looking ahead, Kathomi is applying her steely commitment to address the need for more psychologists, psychotherapists and counsellors trained within frameworks of cultural sensitivity.
"We know from research that despite the increasing mental health needs in the Black community, the available mental health and support services do not meet the cultural and racial needs for Black people and people of colour," she says.
"In fact, the global pandemic has provided a perfect illustration of why we need our communities. Africans are quite communal and so the isolation experienced during the pandemic compounded a sense of loneliness and separation with which many migrants sometimes struggle."
Kathomi's efforts demonstrate strong academic and community leadership which she blends through her teaching and research. She is also quick to acknowledge others.
"I have been incredibly supported at Southern Cross University. I have made some deeply personal friendships and also some very collaborative professional relationships which have kept me going. I have colleagues who know I have no family members in Australia, and they have made me feel part of their families. So, yes, it is luck and also a lot of hard work, but for as long as I am still able to, I will keep showing up authentically and boldly."
---