Temporary Permitted Areas – Lismore Campus
Due to the 2022 Lismore flooding event, Southern Cross University is hosting school students (minors) on Lismore campus. Consequently, there are extraordinary restrictions in place for the movement of staff and the general public in specified areas.
Please see the attached Lismore Campus Map.
Below the map is an alphabetical listing and general map key.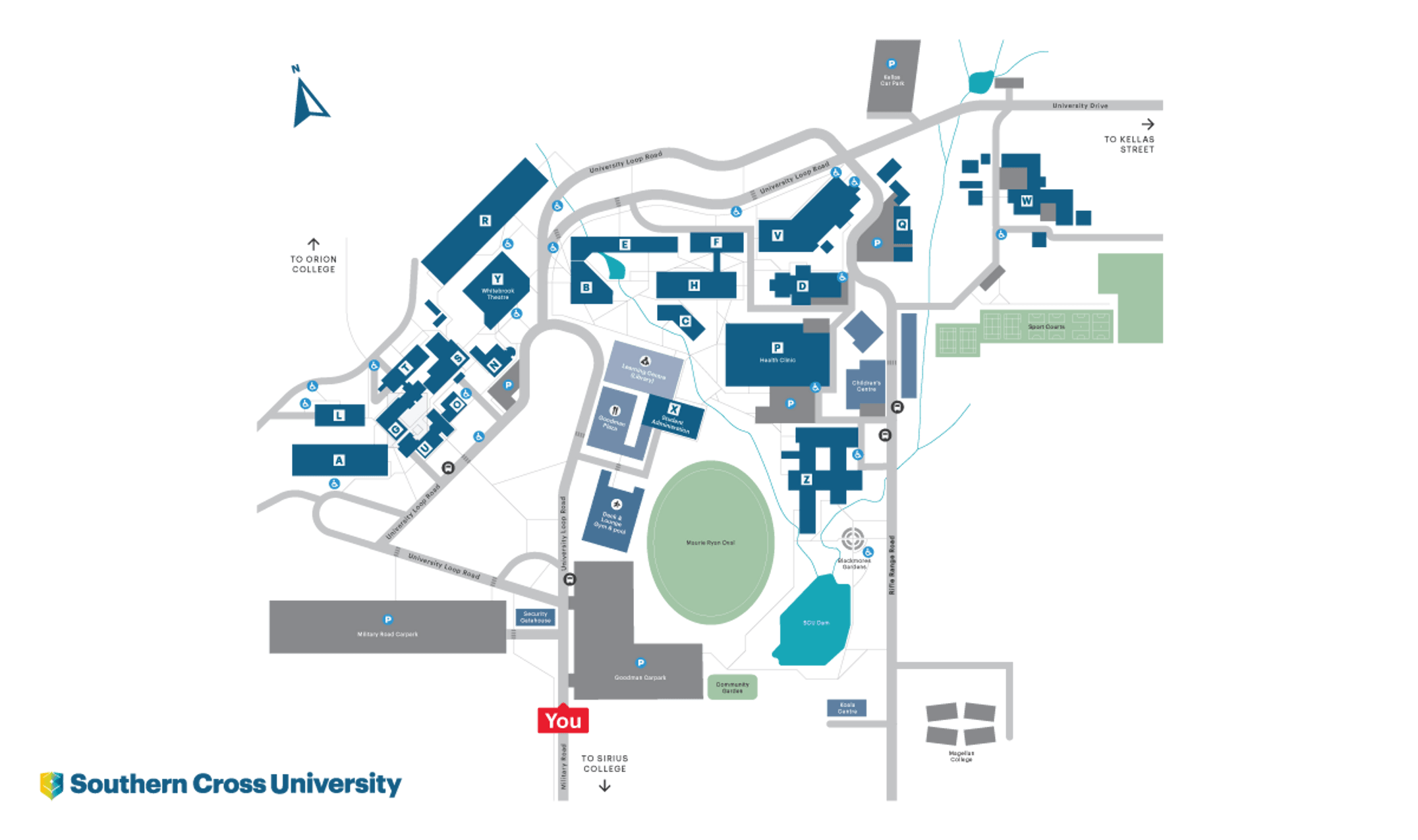 Map Key
A-Z
Name
Block
A
A Block
A
Alumni and Giving
A
Academic Skills
Learning Centre
Advocacy
Goodman Plaza
ATM
Goodman Plaza
B
B Block
B
Faculty of Business, Law and Arts
L, V
C
C Block
C
Centre for Children and Young People
B
Counselling
P
Creative arts
V
Careers
Goodman Plaza
Chaplaincy
Goodman Plaza
SCU College
H Block
D
D Block
D
E
E Block
E
Enterprise Labs
A
Engineering Labs
A
Faculty of Education
B
Education teaching rooms
E
Environmental Analysis Laboratory (EAL)
N
EAL
O
Equity and Diversity
Goodman Plaza
F
F Block (Rod Treyvaud Building)
F
Forestry workshop
Q
Food Outlets
Goodman Plaza
G
G Block
G
Gnibi College of Indigenous Australian Peoples
H
H
H Block
H
Health Clinic
P
Lismore Head to Health (Healthy North Coast)
P
Faculty of Health
Z
Health Science Labs
Z
I
Indigenous Australian Student Services (IASS)
H
J
Japan-Australia Centre Gallery and IAHA
C
K
L
L Block
L
Lecture Theatre
B, H, S, U
Labs
N
LEXSA Student Association
Goodman Plaza
M
M Block
Mailroom
W
Media
D
Music
D
Multipurpose Centre
P
Marine Ecology Research Centre
O
N
N Block
N
NSW Ambulance
W
NSW TAFE
V
NSW TAFE Student Administration
Goodman Plaza
O
O Block
N
P
P Block
P
Partnerships and Engagement
A
Property Services
W
Student and visitor parking
Parking
R
R Block
R
Rod Treyvaud Building
F
S
S Block
S
Faculty of Science and Engineering
A, U
Service Desk
B
Studio One29
D
SCU College
H
SCU International
Learning Centre
Sport and Exercise Science Labs
P
Science Labs
S
Stores
W
Student Administration Services
X
Student Access and Inclusion
Z
SCU Village Office
Goodman Plaza
Southern Cross Postgraduate Association
Goodman Plaza
Student Common Room
Goodman Plaza
Summerland Credit Union
Goodman Plaza
T
T Block
T
Teaching Rooms
A
Technology Services
B
Trinity High School
R
Toilets
A, B, D, E, H, LC, Plaza, P, R, S, U, Unibar, V, W, Y, Z
U
U Block and Lecture Theatre
U
University Library
Learning Centre
University Cashier
Goodman Plaza
UniLife
Goodman Plaza
Uni Lodge
Goodman Plaza
V
V Block
V
W
W Block
W
Whitebrook Lecture Theatre
Y
X
X Block
X
Y
Y Block
Y
Z
Z Block
Z
Access and Services
A-Z
Name
Block
A
Acon Health
Deck & Lounge
ANZ
Goodman Parking
ATMs
Goodman Parking
B
Banking Hub
G, N, O, S, T, U
BCU
G, N, O, S, T, U
C
Centrelink
Deck & Lounge
Commonwealth Bank
Goodman Parking
G

G&C Mutual Bank

G, N, O, S, T, U
Greater Bank
G, N, O, S, T, U
Business Grants (through Service NSW)
Deck & Lounge
H

Faculty of Health Staff

Z
I

Insurance Services

Deck & Lounge
International office
Learning Centre Library
L

Legal Aid

Deck & Lounge
Lismore Council (Rates)
Deck & Lounge
The Living School
(Essential SCU staff only Off limits to the public)
E, B
N

Newcastle Permanent

G, N, O, S, T, U
NSW Police)
A
NSW TAFE
L, V
P

Dept of Primary Industries

Deck & Lounge
R

Resilience NSW

Deck & Lounge
S

SCU College

H
Southern Cross Credit Union
G, N, O, S, T, U
St George
Goodman Parking
Summerland Credit Union
G, N, O, S, T, U
T

Trinity Catholic College
(Essential SCU staff only Off-limits to the public)

R, Y
W

Westpac

Goodman Parking
---