Give your way
It might be funding a scholarship, extending research capability or providing much-needed
equipment for study. Your gift can change the future for our students and researchers. By giving to Southern Cross, you are contributing to a university that believes in transforming tomorrow.
The Advancement team can provide all the information you need to make an impact.
The impact of your support
When you become part of our donor community, your donation not only contributes to a better future, but connects you with like-minded individuals, our alumni community and businesses invested in transforming tomorrow. We would also like to acknowledge the many University Medal and Academic Prize donors who reward students for their commitment to change.
My name is Sophie and I am the Twin Towns Community Foundation scholarship recipient.
I would tell graduates to consider Southern Cross because they have so many different
opportunities on offer for students. I was looking for that hands-on experience that was going to be
able to prepare me for a career. I'm currently studying business at Southern Cross University.
I was inspired to choose this degree mainly as I have a passion for events and what goes
on behind the scenes. I hope to be working in various events fields as I work my way through
my career. When I was awarded the scholarship, it was a major relief. I really worked hard at
school. I wanted to make sure that I showed the university that I was willing to put in
the work. I'm really proud and happy that I've had the opportunity to have this scholarship
awarded to me. I highly recommend applying for a scholarship. It changes your whole university
experience and your education as well. It started out trying to assist people who had difficulties
in being able to continue their education. We see real benefit in this because we can watch the
development of the students that we sponsor, see them develop as people and at the end of the day,
improving our regional workforce. It also gives us an opportunity to talk to a younger generation and
understand the issues that they face. To gain a little bit of knowledge about how they're feeling
and how they're travelling and where they're going. Sophie strikes me as mature young
lady who is quite in control of where she wants to go and what she wants to do. My assessment would
be that she's going to be a high achiever and probably do extremely well within the workforce.
Southern Cross, in all of their degrees, really make sure that it gives you the credentials and
the experience that you need to be successful. I'd like to thank everybody at Twin Towns for
awarding me this scholarship because I've been able to really take charge in my studies and
it's really given me that belief in myself. I'm able to pursue my goals in my future career.
Twin Towns Community Foundation
"We see real benefit in the scholarship because we can watch the development of the students we support. We see them develop as people and in turn watch them improve our regional workforce. It also gives us the unique opportunity to talk to our younger generation and understand the issues they face so that we can gain knowledge and support them with where they are going." David Phillips OAM.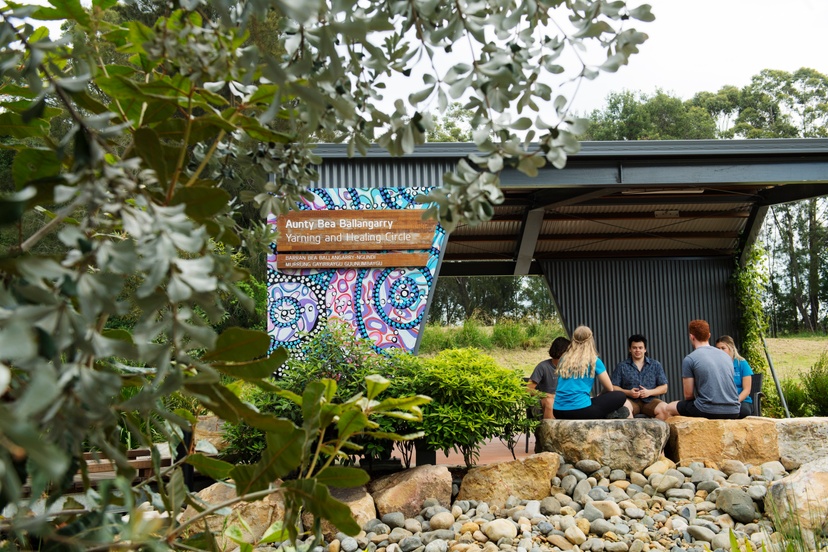 I'm a proud Aboriginal woman. I currently live on Bundjalung country. I wanted to study a Bachelor of Midwifery. To get there was a long journey. I always had a interest in midwifery however my family always told me I wasn't smart enough to go to university and that led me into a different path and I studied fashion design for 12 years and during that time I had my two children.
I think seeing the care and the empathy from the midwives enabled my passion and to follow my dreams. I think having aboriginal and Torres Strait islander midwives are imperative in providing culturally safe care. My hopes for the degree is to be there and to support women throughout the entirety of their pregnancy journeys and to work within a local hospital in the area would be the ideal goal.
SCU Gold Coast campus is a really tight-knit community. I've felt really supported especially through the past year and a half where terms have been quite tough and to have been out of school for 12 years prior to coming to uni it was a massive jump and for SCU to have been there every step of the way has been quite an incredible journey and experience for me.
I was really excited to receive a scholarship to attend the Australian College of Midwives Shining Light on Midwifery Conference. It was an incredible experience to be around like-minded women it was full of empowering and inspiring midwives.
I would tell my younger self that no matter how much someone can push you down or tell you that you're not smart enough that you absolutely are. I think following your dreams and believing in yourself is all you need to get to the dreams that you aspire to.
Australian College of Midwives
"For SCU (Southern Cross University) to have been there every step of the way has been incredible."
Rebecca Thorne, Australian College of Midwives (ACM) 2021 Conference Scholarship recipient.
Thank you my name is Tim Harding and I work for the City of Gold Coast as the tree program office, and I am currently studying a Bachelor of Business and Enterprise at Southern Cross University.
When I started studying at Southern Cross University I was a mature age student. I started at 41.
I needed an alternative pathway to get into Uni and the SCU college helped me with that. I was offered the Summerland Credit Union Scholarship after I completed Diploma of Business and I was invited to apply and was successful in achieving the scholarship.
The Summerland Credit Union Scholarship has been really helpful not only financially also helping to keep me motivated in my studies it obviously helps to pay the bills but it with somebody supporting you along the way it really helps you keep motivated.
Summerland Credit Union has been involved with Southern Cross University in their scholarship since 1994 and the scholarship is a fantastic opportunity to just support those and give back where we can.
It's been a fantastic opportunity for us to meet Timmy and to hear his story, his passion around what he does and his desire to continually improve himself and add further value to not only himself, but his local community is amazing and something that we are really proud to get behind.
Studying at Southern Cross University has been really rewarding. The things that I've found most helpful is all the support over the last couple of years.
I've been able to put the skills that I've learned directly into the job that I'm doing to enable me to make more informed business decisions for the city.
My course is a hundred percent online, but we still get lots of one-on-one time with all the teachers and faculty are really supportive, so I've found it really easy.
After I graduate, I'd like to apply for some middle or upper management jobs with the city.
I know I have the experience and the skills, but I need that backed up with a bachelor's degree I can apply for and be successful in the application of those management positions.
The thing I like working on the Gold Coast is it's such a multicultural and transient city.
You know there's people from all over the world and all over Australia on the Gold Coast.
Being a young city, I think we also have the opportunity to shape the city into a really nice place for the communities of the future.
Summerland Credit Union
"If you've got someone backing you, you feel motivated to do really well and continue on with your studies, especially while working full-time."
Tim Harding, Summerland Credit Union Scholarship recipient.
To start a conversation about donating differently, leaving a legacy or to start a scholarship contact our team.
---