Overview
Studying online enables you to tailor your study to suit your circumstances, providing flexibility while still remaining part of the Southern Cross University community.
Online study provides a flexible option for students juggling work/family commitments with university, or who wish to study a Southern Cross University course without needing to relocate.
Our suite of online degrees includes studies in business, information technology, the arts, psychological science and law. Some degrees allow you to accelerate your part-time study across six study periods a year.
As long as you have an internet connection, you can be part of our interactive, online learning community in your home, your workplace or even while travelling.
If you are looking to expand your skills, re-enter the job market or want a complete career change, studying online may be the answer.
The convenience of studying where, and when, it suits you best
Connected student community
Download our Course Guide
Undergraduate
Read about scholarships, our beautiful locations, pathways to university, study costs, student support, the Southern Cross Model and detailed lists of our 2024 Undergraduate courses.
Download our Undergraduate Course guide
Postgraduate
Read about our graduate stories, postgraduate research degrees, funding and supporting your studies along with detailed lists of our 2024 Postgraduate courses.
Explore our Postgraduate offering
You can download the complete Video transcript Studying online Q & A webinar.
As this is a 39-minute video you can also go to our YouTube channel and save.
Find out more about studying at Southern Cross by registering your interest at www.scu.edu.au/study
Good evening everyone and welcome to studying online Q&A webinar thank you for joining us my name is Jody I am a future students officer at Southern Cross and I'll be your host Tonight before we continue I'd like to acknowledge and pay respect to the ancestors and descendants of the lands upon which we work meet and study I am mindful that within and without the buildings the land always was and always will be Aboriginal land students and study experts are here this evening to answer your questions about studying at Southern Cross.
You can ask your questions via our Q&A throughout the webinar to use the Q&A click on the toolbar at the bottom of your screen you'll see a Q&A option click on this option from there you can type your questions into the text box that appears on the side of your screen I'll ask our student panel questions posted in the Q&A our study experts will also reply directly to you here so please start posting your questions Southern Cross has three main campuses the Gold Coast Coffs Harbor and Lismore to date we've celebrated the graduation of over 71,000 students and we're currently teaching over 18 000 students all of this and we've only recently celebrated our 25th birthday joining me this evening is Southern Cross students Isaac and Holly Cody from our future students and Southern Cross student Danielle will be responding your questions in the Q&A to get started Isaac can I ask you to introduce yourself and tell us about your connection to Southern Cross hi so yeah I'm Isaac Hawkins I'm currently studying a double degree a bachelor of laws and Bachelor of business and I've been grateful enough to be a student ambassador since 2019 and I'm currently still an ambassador and I'm also currently completing an internship in one of the offices as part of my business degree well thanks Isaac and we're very lucky to have you you've been a fantastic representative of Southern Cross and I can't wait to see what you do in your future and Holly you're a newly recruited Ambassador we met you through um a recommendation from your faculty can you tell us a little bit about yourself and your connection to Southern Cross.
Hi everyone my name's Holly I'm currently studying the master of teaching the primary one I started at the beginning of 2022 and hopefully we'll be finished at the end of this year also working part-time as well excellent and we've particularly invited you to come along tonight because you're doing a lot of your study online so we look forward to talking to you about that in a little bit more depth as well so at Southern Cross we have a number of courses to choose from everything from education to social work and Community welfare science and engineering to business and law that Isaac's studying with us to find out whether we've got your course that you're interested in please check out our course pages on our website to find them go to the toolbar at the top and select study at SCU when it drops down there's a text box you can put your chosen study area in there and the courses will pop up so you'll be able to find out more details about our courses there we've also recently released our 2024 quick course guide so it's available in a digital format at the moment and in printed copy in a couple of weeks we'll drop that one into the chat function for anyone interested tonight started starting their studies next year
So there's several Pathways to start your studies at Southern Cross you can apply directly with your atar results or a certificate three or higher from Tafe or another registered training organization if you haven't studied for a little while or simply want to polish up your skills before getting started you may choose to study our preparing for Success program taught by Southern Cross College by completing this program you're guaranteed entry into many of our degrees for preparing for Success students joining us this evening look out for an upcoming email outlining how to accept your offer and enrol in your units to start your degree this also applies to anyone else who's received an offer from Southern Cross you too need you too will need to accept your offer and enrol in your units to start your degree if you're local to one of our campuses and need a little bit of help please drop into our how to apply accept and enrol information session this Thursday the 2nd of February between 10 and 1 local time alternatively we invite you to reach out to our future students team by phone or email and I'll share our contact details at the end of tonight's presentation Southern Cross College also offers a range of short courses and diplomas if you have completed a diploma at Southern Cross or another Australian institution you may be entitled to credit saving you time and money off your degree to find out how much credit you'd be entitled to apply and include your transcripts from your previous studies and our admissions team will reach out to you remember a direct application to Southern Cross is free and there's no obligation to accept our offer to study so why not give it a go.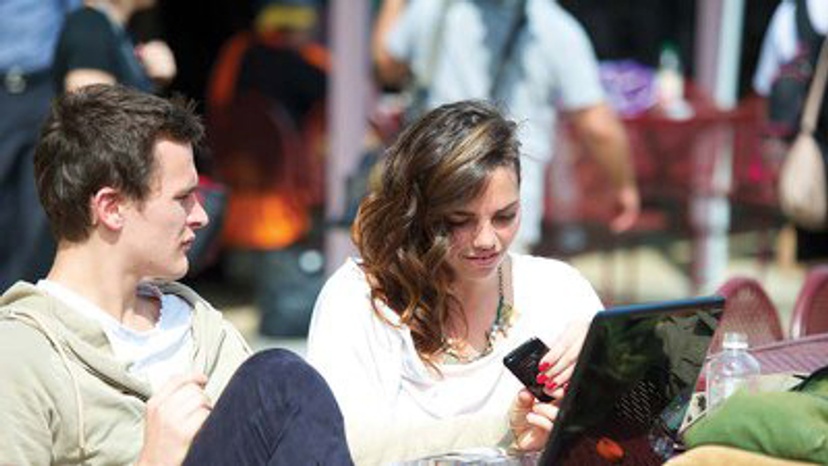 Hi everyone, welcome to Southern Cross University.
My name is Christy, and I'm Josh, and we're both students here at Southern Cross.
So being an online student can be challenging, can be really rewarding as well. You might be working full time, you might be a parent, you could be both, so you've got lots of things pulling you in different directions. Maybe you want to work at night or just go to class in pyjamas.
Which I have done, so if you do it's okay.
As a new student you probably have lots of questions about how to be a student and we're here to let you know that that's okay, and there's always someone you can turn to to help if you do have questions.
How is Uni different to school?
So, I remember when I first started, I knew how to study as a student but not as a uni student, and they are quite different. I had to be proactive about my studies and I had to also learn new online systems like MyEnrolment and MySCU, and what collaborate was, and the difference between them all.
What is MyEnrolment?
A quick tip - MyEnrolment is the administration system you'll use, and it's where you enrol into your units, check your grades and it's where you accepted your offer as well. So, you'll use it quite often throughout your degree.
What is MySCU/Blackboard?
MSCU, also known as Blackboard, is where you'll find your unit content. Things like your assignments and where to submit those assignments.
So, what's the main things you need to know about being an online student?
I would say getting used to your online systems. So, make sure you know how to use your Blackboard, make sure your email is ready and you know how to use that. Start communicating with your lecturers and other students. It's really important to open those lines of communication. How about you?
Well, definitely join UniMentor, they can be a real help, and definitely look at the resources that Academic Skills has in the Library - they can be absolute lifesaver sometimes.
How do I manage my time?
I started as a mature aged student, and as a parent, so I really needed to start from scratch. So, time management was a massive issue for me. I found the New to SCU module a really big help on getting started with my studies.
So, what do you do to stay on top of things?
Well, the first thing I do is get on to MySCU, look at my Unit Information Guide and find out when my assignments are due. I pop that all into the planning section of my diary and onto my wall planner to make sure that I know when everything is coming up. So as online students you have both the diary and wall planner and mailed out to you. What about you?
I actually do that as well, but I also make sure I have a study space at home. I definitely let my housemates know when I need to study. And do you know what really gets me through - deadlines and snacks.
Where can I get help?
There are so many services that are available to you if you need a bit of extra help. Here's a quick summary of services that you might find useful as a first-year student.
Course work: Ask your lecturer and tutor if you have any questions regarding any of your assignments.
Tips at Uni: Get a UniMentor - they'll really help show you the ropes and make you feel comfortable with getting started with your studies.
Assignments: Academic Skills and the Library have some fantastic resources to help you.
Computer Systems: Technology Services will help you work out what you need to get started with Uni.
Careers: Yes, this is your end goal, but they can also help you pick up part-time work during your studies.
Engage with other students. Connect on social media, Student Associations, SRC and events throughout the year whenever you can.
That's all from us today. Remember there is a handout with all of the links and resources we've mentioned today.
If you do happen to live near the Coffs Harbor, Gold Coast or Lismore campuses, you're more than welcome to join in on any on-campus activities. Check out the schedules online.
What can I expect from online study?
Southern Cross University uses web-based technologies so students can actively engage with lecturers and other students, no matter where they are. While some courses may have different study options depending on their content, you can expect to:
Attend a virtual lecture or tutorial
View lectures or tutorials online when you have time
Consult with your lecturer online
Receive instant feedback via an online quiz to make sure you're on the right track
Be inspired by a guest speaker who is a leader in their field
Join with fellow students to solve complex real-world problems from your own home or workplace.
For tips on how best to manage studying online, watch the video shown right.
---