Gold Coast students compete on home turf at Queensland UniSport Nationals
Published 1 October 2021
Southern Cross Women's Basketball Team, bronze medal winners
Team SCU had a successful week at the 2021 Queensland UniSport Nationals event held on the Gold Coast, competing with a student-athlete team of 65-strong in seven different team sports over the week.
The event usually consists of universities competing from all over the country. This year, due to state lockdowns and restrictions, the event was held in Queensland, with students from South Australia and Tasmania also permitted to take part.
Highlights from the week include claiming the trophy for 3rd overall Per Capita, given to the universities who performed best regarding the size of total enrolments. Team SCU punched well above their weight, with a stellar performance from the Women's Basketball team, claiming bronze in their event. Our Men's Futsal team also performed well with a valiant 4th place finish.
Southern Cross University's Women's Basketball team were fierce competitors, bringing their best to the top teams, including a close loss of four points to University of Sunshine Coast, who claimed gold in the event. They also had a four-point margin loss against Queensland University of Technology, who claimed silver. Their final match against Griffith University further highlighted the team's skill, winning 42-27 to claim bronze, a fantastic achievement for Team SCU.
Other highlights from the week included our Mixed Fours Beach Volleyball team finishing 5th overall and our Women's Volleyball Pairs team finishing 6th in a division featuring Australian and international representatives in the top four teams. Mixed Netball placed 7th overall with some narrow losses against tough competition, and the Men's Basketball team also claimed a 7th place finish.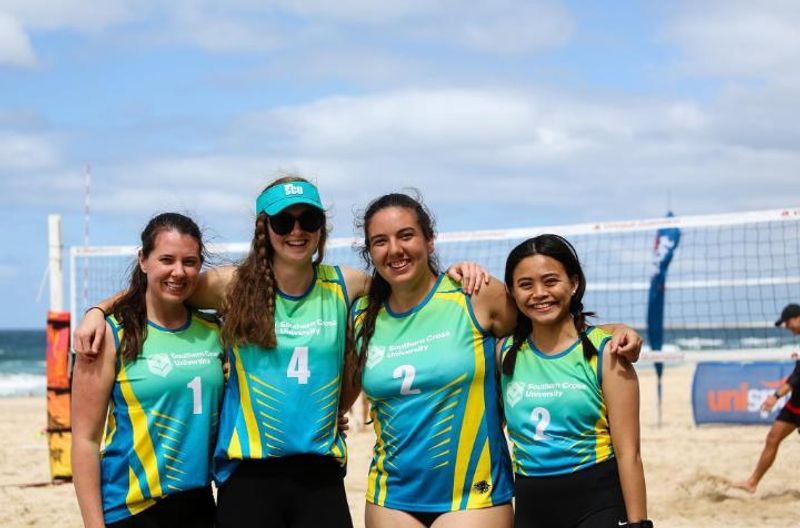 Women's Beach Volleyball team
Team SCU represented the University with pride and displayed great sportsmanship throughout the tournament. A special mention to all team managers and captains, and to students Lani Beard and Tyrone Orr for their commitment and effort in helping organise and manage team SCU.
Visit the Southern Cross University Facebook page to view the photo gallery.
Media contact:
Content Team content@scu.edu.au