View all news
Lismore's sister city gifts large donations for bushfire relief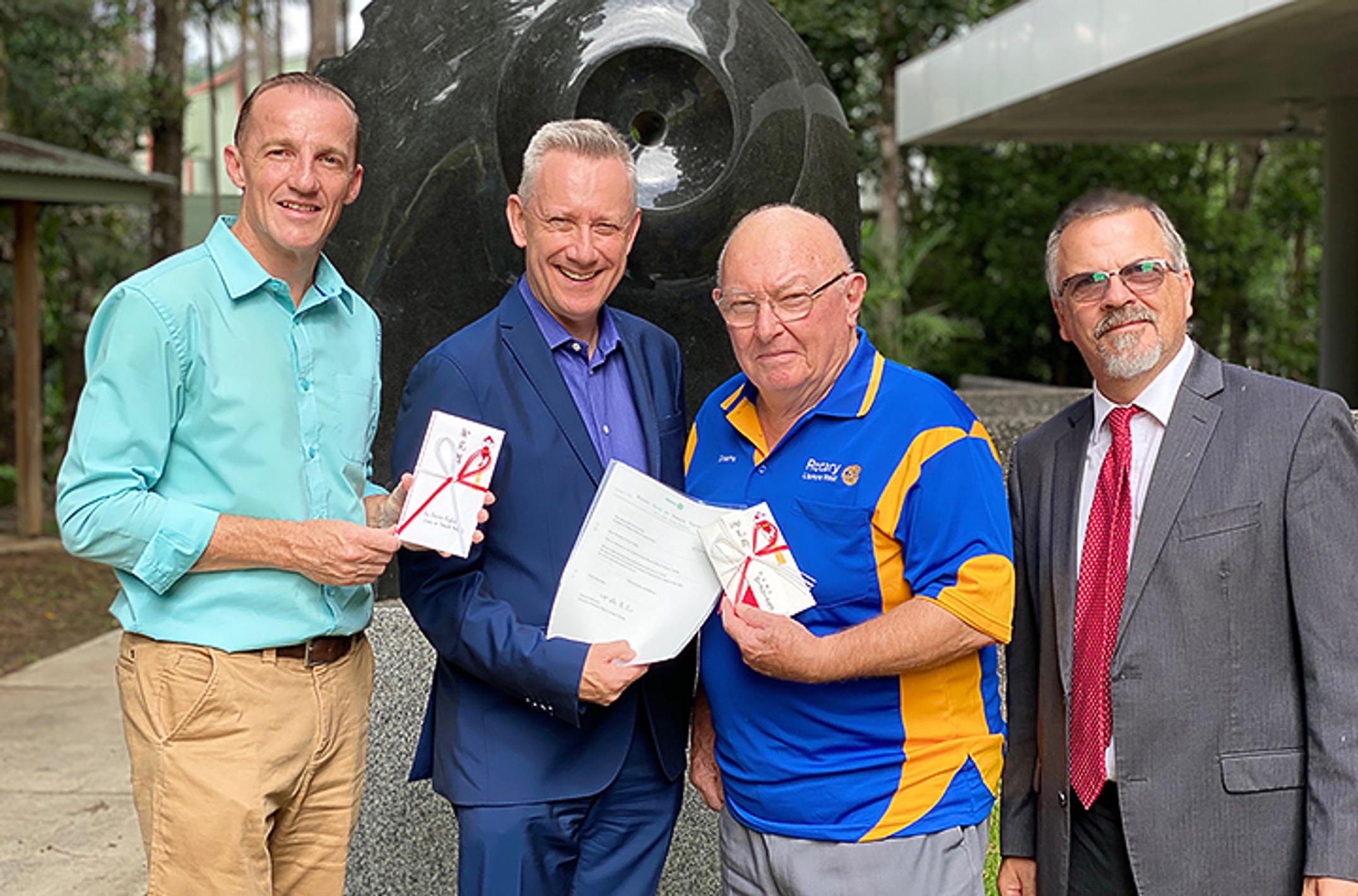 Two separate donations for bushfire relief were handed to the Lismore West Rotary Club Secretary Graeme Hargreaves and the Mayor of Lismore Isaac Smith last Thursday at Southern Cross University.
The donations, originating in Lismore's sister city Yamato Takada in Japan, were hand delivered by Southern Cross Professor Peter Wilson.
During a trip to Yamato Takada at the end of February, Professor Wilson visited both the Yamato Takada Rotary Club and the Yamato Takada Mayor.
The President of the Yamato Takada Rotary Club, Katsumi Nakahori, handed over funds collected by members of the club and asked that they be given to their sister club in Lismore.
"Katsumi handed me an envelope with ¥220,000 (approximately AUD 3,200.00) and a letter. He asked if I could bring it back to give to the Lismore (West) Rotary Club President, Trevor Hopf," said Professor Wilson.
Mr Hopf was unavailable, however club secretary Graeme Hargreaves was happy to step in to accept the donation.
"We've had a sister club relationship with Yamoto Takada since 1995."
"This is such a nice gesture."
"We want the money to be distributed locally, so we will probably give it to organisations like Tabulam-based Sheds of Hope, or Blaze Aid," said Mr Hargreaves.
Sheds of Hope builds sheds on partly or non-insured properties affected by bushfires; to help give the owner somewhere to start from again.
Blaze Aid works alongside rural families to rebuild fences and other structures that have been damaged or destroyed.
In a letter to the Lismore West Rotary Club, Katsumi Nakahori voiced the concern of those from Yamato Takada: "We were really worried about big bushires this time in NSW."
The second donation was gifted on behalf of the Lismore and Yamato Takada Sister City Association, by President Yoshikiyo Yakimoto, with the request that Professor Wilson pass it on to Lismore Mayor Isaac Smith. This money was collected by students and parents of the Bamboo English Class in the local primary school in Yamato Takada.
"Following our floods in 2017 we set up a charity account to help Lismore in the event of natural disasters and this will go towards that," said Isaac Smith.
Lismore and Yamato Takada have had an enduring and supportive sister city relationship since 1963.
The cities have continually strengthened ties through student exchanges, cultural programs and official visits.
Vice Chancellor, Professor Adam Shoemaker said: "This is just another example of the deep and enduring ties between our two cities and the fact that people really do care about each other despite the distance."
---