View all news
Ask Gran Not Google graduates to university sector in a Southern Cross first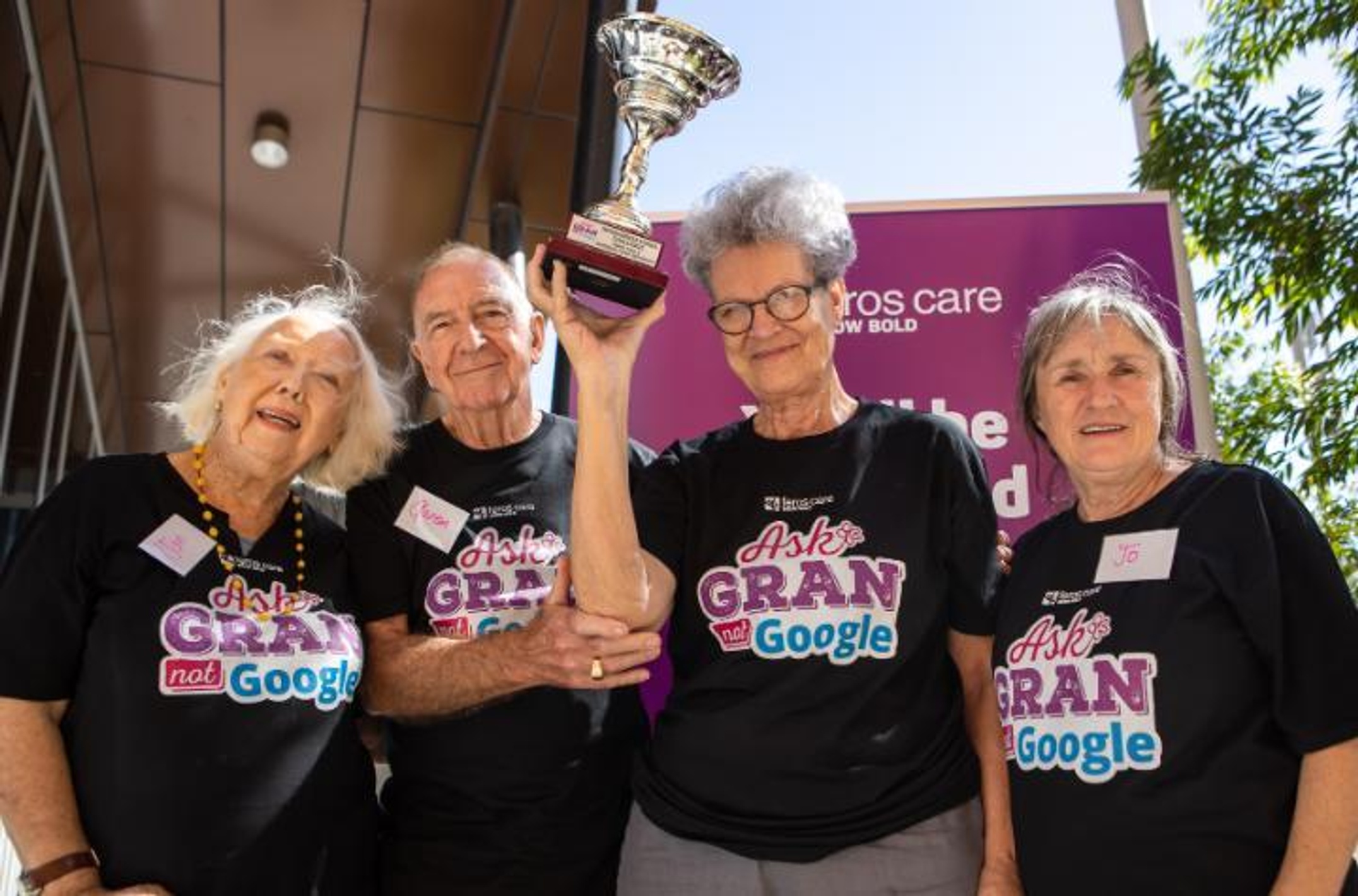 A battle of the ages has unfolded at Southern Cross University, with a dynamic group of Gold Coast seniors taking on the city's sharpest young minds in the latest evolution of the ground-breaking Ask Gran Not Google program.
The inaugural Ask Gran Not Google Intergenerational Cup pitted four teams of Faculty of Health students against a cohort of all-knowing seniors in a quiz-style competition designed to reinforce the wisdom and experience that comes with age.
In the end, the seniors' life learned knowledge proved too good, beating the students 146 points to 138.
A group of enthusiastic Southern Cross students from nursing, osteopathy, speech pathology and occupational therapy took part, including:
Bec Bassett, 2nd year occupational therapy student: "It was really fun. I learned new things I didn't know. I met some lovely seniors and got to talk to them about their life and experiences. It has been very useful. It was also great to meet students from other classes because we don't always get to interact."
Fiona Wright, 4th year speech pathology student: "I think what Feros organised was a genius idea. Hearing about the seniors' experiences was fascinating, particularly in the Truth or Lie challenge to hear some of these fantabulous adventures and then to find out they were true! That ability to listen to stories from people of different generations and to understand that knowledge can come from lots of different areas were the things I took away from today."
Jenny Jackson, 2nd year speech pathology student: "It's been a fun day, it's been very inclusive. It's important to bridge the gap across different ages and promote inclusivity between students and older generation. It's been fun to learn from them and have a laugh. The seniors were on top of questions around terminology and music. They're really quick and they're really good!"
Southern Cross University students Bec Bassett (left), Fiona Wright and Jenny Jackson won 2nd prize (credit Feros Care).

Margo Knox, a proud senior citizen, said initiatives like this help keep lines of communication open and elderly Australians active.
"It's about breaking down the stereotypes of what an older person actually is – that retirement and being in our 80s or 90s means that we're redundant and got nothing to say. The more that we can put forward a different view then that's good," Ms Knox said.
"When groups of people get together from different ages there's an understanding of tolerance that starts to occur. My experience of the intergenerational gap is that you have to put some effort in to bridge it. There are many people who go into aged care facilities and they're not cared for by their families. All that's disappeared from our society. I'm on a mission to change it. I'd love to see families look after their older people and understand what wisdom is and what it means. It's precious."
Southern Cross is first university to host Ask Gran Not Google
The entertaining event signals a bold new direction for the hugely popular Ask Gran Not Google, which has helped breakdown generational barriers by engaging more than 85,000 primary school students since aged care provider Feros Care launched the initiative in 2017.
Ask Gran Not Google Project Lead Jacqi Holloway said partnering with Southern Cross University was part of a strategy to extend the project beyond its traditional primary school base.
"From humble beginnings in 2017, Ask Gran Not Google has reached almost 100,000 children and played a key role in challenging them to switch off their devices and seek answers to life's questions from the experienced seniors in their lives," she said.
"By doing so, young people have gained insights into the valuable roles seniors can play in both their lives and wider society and we now want to grow the initiative to encompass an older generation of youths.
"The Ask Gran Not Google Intergenerational Cup has not only provided Southern Cross University students with a fun and relaxed forum in which to engage with seniors but allowed those seniors to shatter a few stereotypes about ageing."
In front of an enthusiastic crowd of Feros Care staff, fellow students, academics, family and friends, the five teams tackled a series of health and general knowledge questions, along with a Truth or Lie challenge featuring anecdotal stories and interrogatory questioning.
In a fun twist, each team also boasted a designated 'Googler' for those occasions when neither team knew the answer, with the faster 'Googler' awarded the points.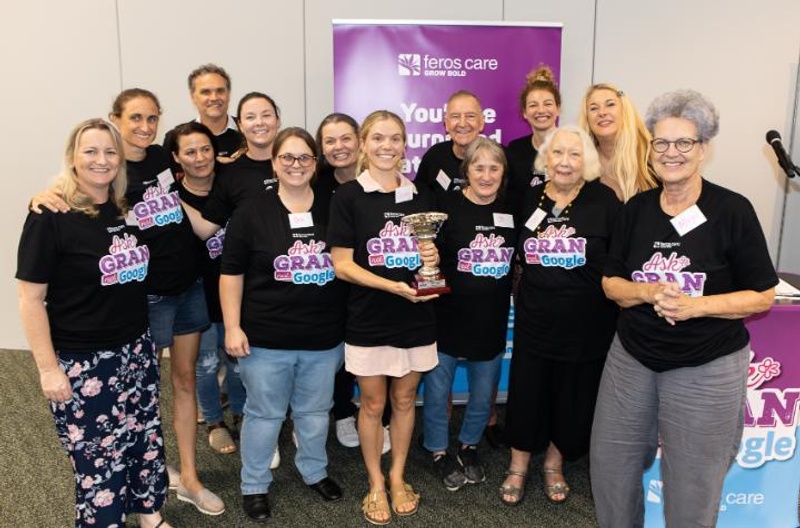 Andrew Woods (back row, left), Bachelor of Nursing Course Coordinator, with competitors in the inaugural Ask Gran Not Google Intergenerational Cup between Feros Care senior citizens and Southern Cross University students (credit Feros Care).

Andrew Woods, Southern Cross University's Bachelor of Nursing Course Coordinator, said the initiative enhanced both student learning and campus life.
"This is a wonderful opportunity to partner with Feros Care to host the first university-based Ask Gran Not Google Intergenerational Cup Challenge at our Gold Coast campus.
"For health students, it is important to experience social interaction with people across all generations. Beyond their personal social lives, students often only interact with seniors in healthcare contexts whilst on clinical placements," he said.
Mr Woods said the recent Aged Care Royal Commission highlighted the need to place people at the centre of care and emphasised the importance of relationships and connections to communities.
"At the Faculty of Health at Southern Cross University, we are aiming to bring students from different health courses together through mutual learning opportunities. The partnership with Feros Care helps to prepare our future leaders of the aged care workforce."
Feros Care launched Ask Gran Not Google as a pilot in 2017, with the project subsequently rolling out across the nation after securing almost $1 million in government funding.
Countless seniors and more than 85,000 students from 700-plus schools have since participated in the initiative, some on multiple occasions.
Feros Care CEO Jennene Buckley said she was thrilled Ask Gran Not Google's promotion of positive ageing had been extended to university students.
"At Feros Care, we work tirelessly to break down harmful stereotypes around ageing and disability and we've found the most effective way to do this is through connection," she said.
"Fostering meaningful interactions between youth and seniors creates lasting, positive impressions that shape the way they view older Australians now and into their future.
"These connections are just as crucial for the seniors as well, as it not only gives them a sense of inclusiveness and purpose but ensures they don't become invisible."
Media contact: Sharlene King, media office at Southern Cross University, 0429 661 349 or scumedia@scu.edu.au
---