View all news
Business graduate steers international college through COVID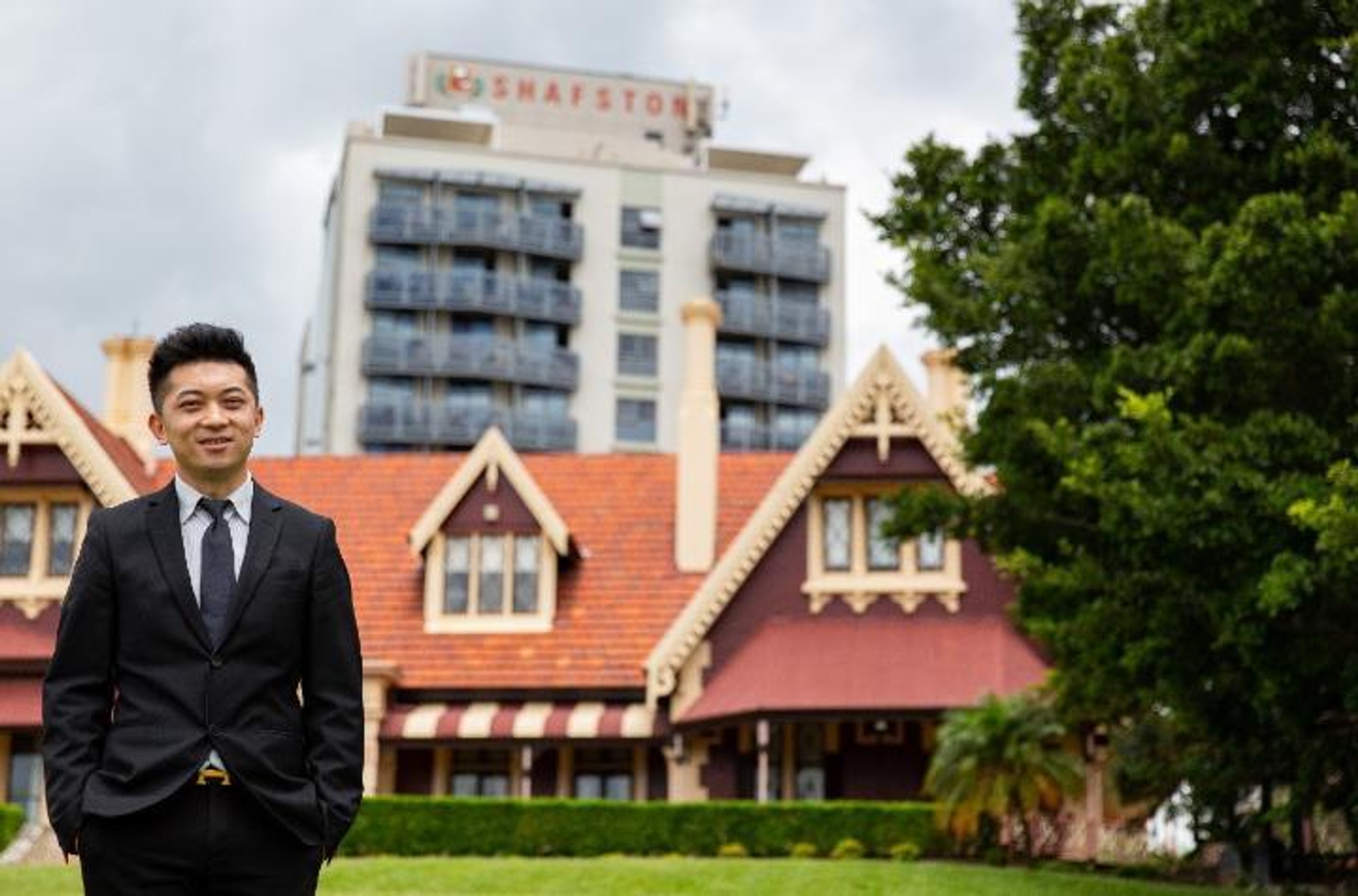 Taking over an international English college in the middle of a pandemic when borders were closed to students might not sound like the most inviting career move, but Southern Cross graduate Peter Yue Wei saw it as a unique opportunity.
The heritage-listed Shaftson College is the second-oldest building in Brisbane, with panoramic views of the iconic Story Bridge and the Brisbane River.
"At first, we only had 20 students, and our target was to have 100 students by the end of the year. We knew that it would be a challenge because of COVID. Then we realised we had the opportunity to provide an education service to local businesses," said Peter, who hails originally from China.
Focusing on the domestic vocational training market, the college saw magnificent growth, with more than 1,000 enrolment requests in the space of three months.
It's the latest chapter and a proud moment in a journey for Peter that began at Southern Cross University, where he graduated with a Bachelor of Business in Convention and Event Management. He credits the knowledge he gained during his degree as the foundation for his work as Director of Shaftson International College.
"I've studied at five different universities, and I still strongly believe I had the best experience at Southern Cross," he said.
"When I studied at bigger universities, there was a lack of close connection with the students and teachers. At Southern Cross, the class sizes are smaller, you know your classmates, and you actually hear each other."
"When I first came here, I didn't know anything about Australia, and Southern Cross taught me a lot. They really have fantastic staff, and the international student support and career development advice is great."
Not only was Southern Cross the springboard for Peter's career, it was also where he met his wife. They married in Byron Bay, an iconic beachside town within reach of both the Lismore and Gold Coast campuses.

"My wife was actually one of my classmates and now we've been married for four years," he said.
With the re-opening of borders, Peter continues to draw inspiration from his Southern Cross experience to grow the college, whether it be organising glow worm tours for new international students or providing exceptional support.

Learn more about studying Business.
Hello my name is Peter Yue Wei. I'm a graduate of Southern Cross University. I studied a Bachelor of Business Enterprise. Now I'm the director of Shaftson International College. Shaftson House is the second oldest building in Brisbane. Our library used to be a hospital in World War one. We know because of COVID we would have a very difficult time however we started to realize that we have the opportunity to provide an Education Service to local businesses.
So now we have received more than one thousand enrolment requests. I studied at five different universities for now I still strongly believe I had the best experience in Southern Cross University and after all I met my wife in Southern Cross University too. Actually she was my classmate. We have been married four years. Southern Cross University is where my Australian life started.
You know when I first took over this school everyone said it's a very difficult time and if you want to get some trouble maybe you take over the school. However my father told me it's the worst situation it's better you're jumping now because for everything we're getting better. This is the most thing I proud of and I'm sure we'll grow and we will have more International students we will have the glory time back for Shaftson International College.
---