View all news
Celebrating community spirit in the Student Excellence Awards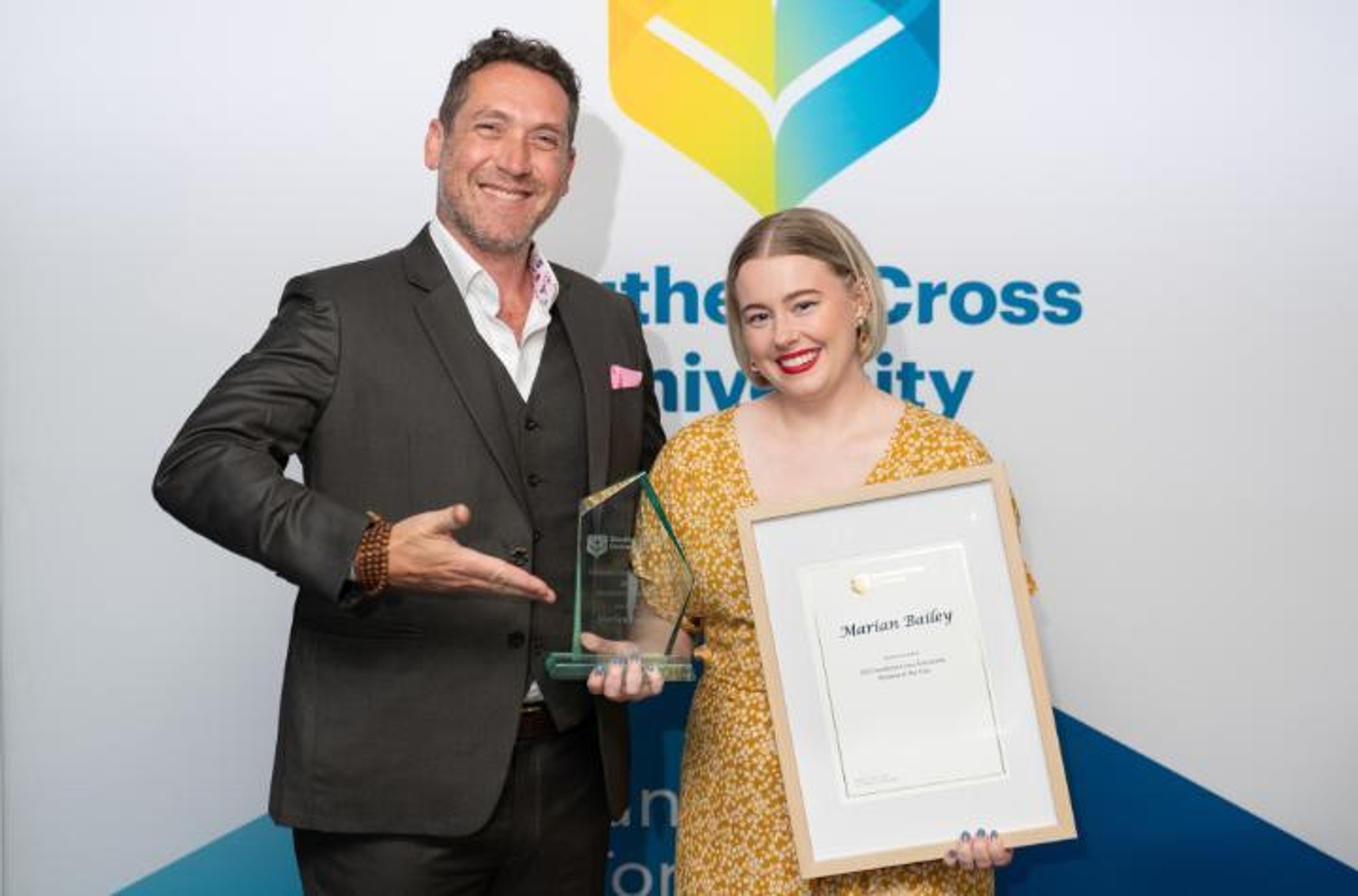 Back in February, as the water kept coming, Marian Bailey didn't hesitate, volunteering to help at the on-campus evacuation centre from that very first day, when almost 1,000 people took shelter in the campus buildings. She returned time and time again in the weeks and months following the floods, to help those who had been displaced or who needed basic necessities like food, blankets and clothing, often putting in exhausting, 12-hour days.
In recognition of her many community-focused activities that go well above and beyond her studies, PhD candidate Marian Bailey was named Student of the Year 2022 at a ceremony held at the Gold Coast last night.
This is the 14th edition of the Southern Cross Student Excellence Awards, an annual event that shines a light on the extra-curricular and non-academic activities of our multi-talented student body. The Awards celebrate our outstanding students who have distinguished themselves in the areas of leadership, volunteering, community engagement and sport.
Ann-Maree Wilkinson, one of the team coordinating the Student Excellence Awards, says she is constantly inspired by students. "This year the theme of the awards was 'community', a theme that runs strongly through all five winners but also through all those who were nominated. I think it's a particularly appropriate theme given the events of this year and also the way students have come together after the COVID years," she said. "It's great to celebrate their achievements."
This year the winners are:
Student of the Year 2022
Marian Bailey
In addition to her significant work in flood crisis response and recovery, described by the Vice Chancellor as 'incredibly inspirational', Marian is also the Treasurer of the LEXSA Student Association and has made an important contribution to the Higher Degrees Research student experience at the University by chairing the student RISE Conference, as well as often participating in and leading social events.
Student Excellence Award winners 2022
Mekhala Egodawele
Mekhala supports the Gold Coast Student Association (CoastRs) in its operation and championing positive change within the University, as a CoastRs committee member. As an International Student Ambassador, Mekhala has assisted many international students to transition to university life in Australia by actively taking part in campus tours, Orientation and the Fusion Festival in 2022. She has also volunteered for a number of community events hosted by Study Gold Coast, Placemakers, and Multicultural Families Organisation.
Benjamin Hockey
Ben is an active and passionate member within the Southern Cross community and the broader community in Coffs Harbour. He is the Vice President of the Student Advisory Group for Education, an active UniMentor at the Coffs Harbour campus and was involved in How2SCU sessions run by Student Learning Zone team to help commencing students transition to university. Benjamin is also an active representative for the University during SCU Open Days, as a blood donor, for the One Foot Forward Charity, and as an umpire for local AFL juniors.
Corina Murray
Corina has been a UniMentor at Southern Cross for six years and is still involved in the program. One of Corina's passions is equity for women, helping to push back the stereotypes of gender roles. In 2022, Corina was appointed as the Student Council Equity Representative for Women. She has taken part in the university's Mental Health First Aider program and has also been involved in various volunteer roles at the University and in the community with the Gilchrist Foundation, Surf Lifesaving and Primary Schools.
Gurpreet Singh
Gurpreet has done an outstanding job in enhancing the relations between Southern Cross University and the broader community through his work as a Student Ambassador and contributing to local sports. He is actively involved with ACE Performance, NRL RISE and the Sydney Swans Academy, where he uses his knowledge gained from University to help improve youth athletes' physical performance. Gurpreet has served on the University Council and the Higher Degrees by Research Committee.
Media contact: Southern Cross University media and content team, content@scu.edu.au
---