View all news
The sky is the limit for Taiwanese aviation graduate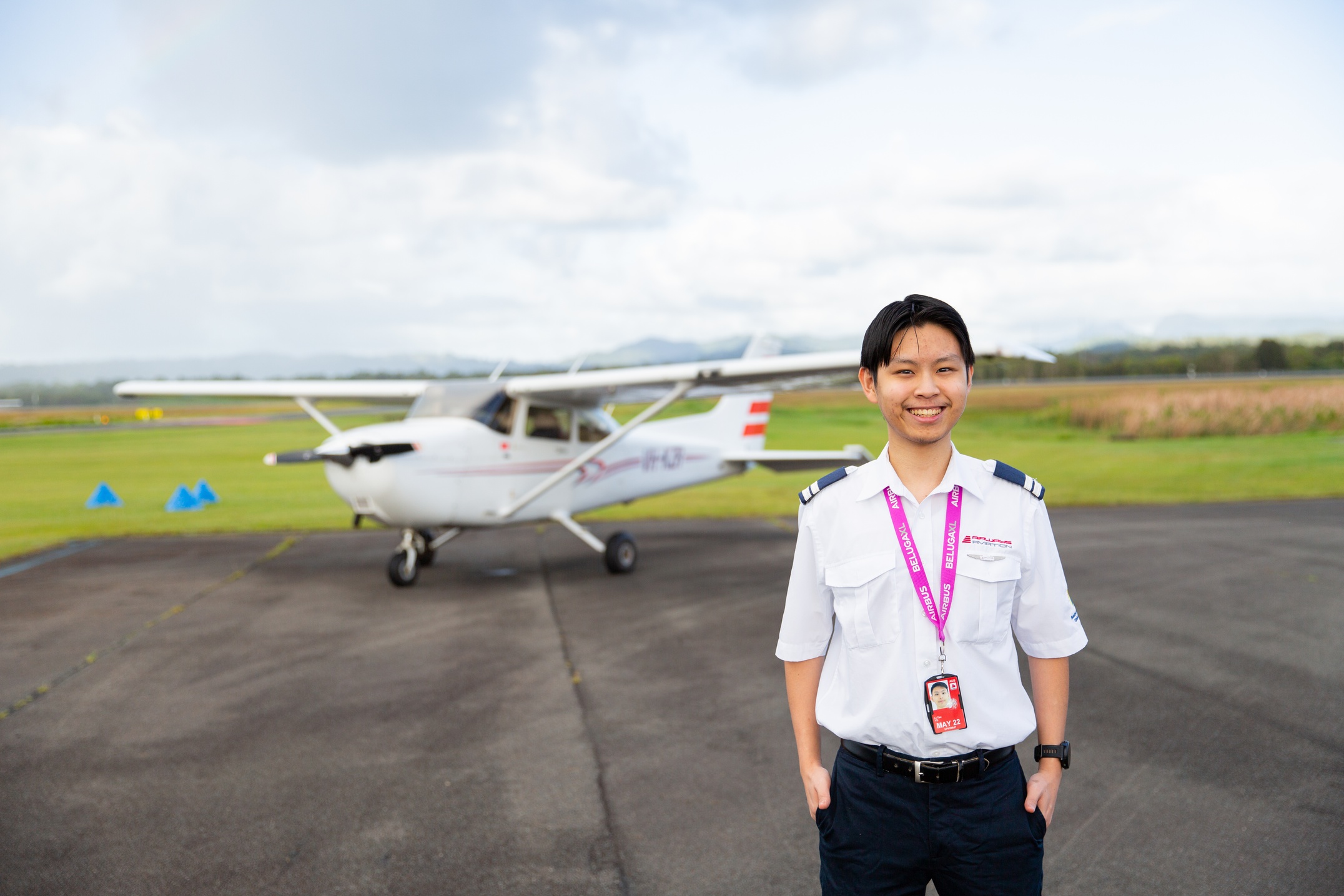 The sky is the limit for Dylan Li Tse Yu who left his home in Taiwan at the age of 17 and headed to Australia to pursue his dream of becoming a pilot.
"I decided to take a big step, which was to fly to Australia to study business and aviation at Southern Cross University. It wasn't always easy in the beginning because English is not my first language, but I did a preparation course first which taught me a lot," Dylan said.
Dylan completed the Undergraduate Qualifying Program with SCU College before commencing his Bachelor degree, which prepares international students for study in business, tourism and hospitality and IT, combining English language and academic skills development with academic studies. The 15-week course gave Dylan the right foundation to succeed in his business and aviation degree.
"I chose the Business and Enterprise degree at Southern Cross because it gave me the opportunity to study business subjects and complete my Commercial Pilot Licence in just three years," he said.
Southern Cross is the only Australian university located next to an international airport, which provides the perfect setting for students who want a tailor-made start to their aviation career.
Dylan describes feeling nervous and excited the first time he was given the controls to fly the plane.
"My first experience flying a plane, what we call the 'first solo', was very exciting. I got control of the whole plane and I flew around the Gold Coast Airport where I could see my university down below and the beautiful views of the Gold Coast," he said.
"I felt nervous at first, but it gave me the experience communicating with the control tower at the international airport and controlling the whole plane. After that I started to trust myself more."
The first time that I've flown a plane in aviation, so-called 'first solo' was very exciting, and I got the control of the whole plane. I fly around the Gold Coast Airport I see my university down here and I see the beautiful views on the coast.
It's very exciting because I get to control the plane and I'm starting to trust myself. Hi, my name is Dylan, and I'm from Taiwan. I'm currently studying at Southern Cross University in Australia and studying Bachelor of Business and Aviation degree.
I choose to study this subject because it gives me an opportunity to study business subjects while I can get my commercial pilot license within three years.
My dream is to become a commercial pilot and fly for international airlines from my home country such as Starlux and Eva Airlines.
Dylan graduated on the Gold Coast in June this year, receiving his degree and the ticket to an exciting career in aviation. He plans to build his flying hours through charter flights to Darwin, Cairns and scenic regional tours.
"My dream is to one day work for a commercial airline like Eva Air, China Airlines or Star Air. I'm also keen to get experience as ground staff, pit crew, workforce scheduling or flight dispatcher," Dylan said.
He describes the support offered to international students and the friendships he made with other students as the best parts of his study experience.
"Southern Cross University has a very helpful team, especially for international students like me. They check in to see how I'm doing and they help me to keep on track with my study plans."
"Australia has a great culture. It's all very relaxed here, they teach you about the slangs and you get to laugh around."
Find out more about studying Aviation Management at Southern Cross University.
---