How to Apply for Human Ethics Approval
All applications, changes of protocol and reporting will be made via IRMA, our Research Management System. Ethics applications for research that is considered moderate to high risk will be made via the HREA website with supplementary questions entered via IRMA.
The Human Research Ethics Committee (HREC) approves human research conducted at Southern Cross University (SCU) in accordance with the National Statement on Ethical Conduct in Human Research. Make sure you have read and understood the "National Statement", and have applied its principles when completing this application.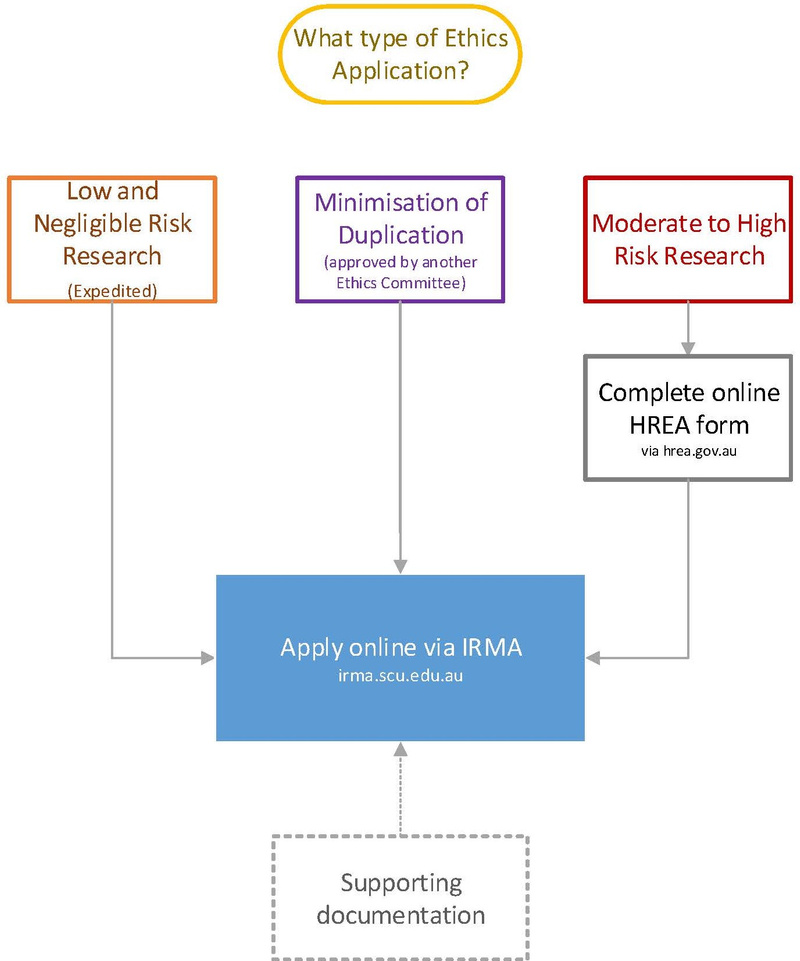 For a complete IRMA manual visit the:
Negligible to Low Risk Research
An application must be submitted for consideration via the expedited processes. Applications will be assessed by the Chair of the Human Research Ethics Committee, and in some instances additional reviewers, depending on the project. Expedited applications can be submitted at any time.
Moderate to High Risk Research
Human ethics applications for research which is considered moderate to high risk must be submitted online at the government Human Research Ethics Application (HREA) site: hrea.gov.au
Supplementary information must also be submitted directly to SCU via IRMA (Irma.scu.edu.au)
Moderate to high risk research will be considered by the SCU HREC Committee and applications must be fully submitted two weeks prior to the committee meeting. For a list of scheduled meetings click here.
Guides (links)
Minimisation of Duplication
If a research proposal has been approved by another organisation or University ethics committee and also involves Southern Cross University researchers, then a Minimisation of Duplication Application is submitted to Southern Cross University as a formality and to receive a Southern Cross University Approval Number. Southern Cross University must be aware of ALL research being conducted by Southern Cross University staff and students.
Complete a new application via IRMA at Irma.scu.edu.au
Review Outcomes
The ethics office will communicate the HREC Chair and Committee outcomes, resulting in one of the following outcomes:
Approved with standard conditions (Annual Reporting, Reporting of Changes of Protocol, Completion Reports and Adverse Events reports).
Approved with more than standard conditions.
The Committee has further questions and you will need to respond or re-submit parts of your application.
You may be required to resubmit the application.
All Ethics applications are approved for three (3) years, with standard conditions or additional conditions as communicated by HREC.
If unsure, please always feel free to get in touch with the Ethics Office or the Chair of HREC.