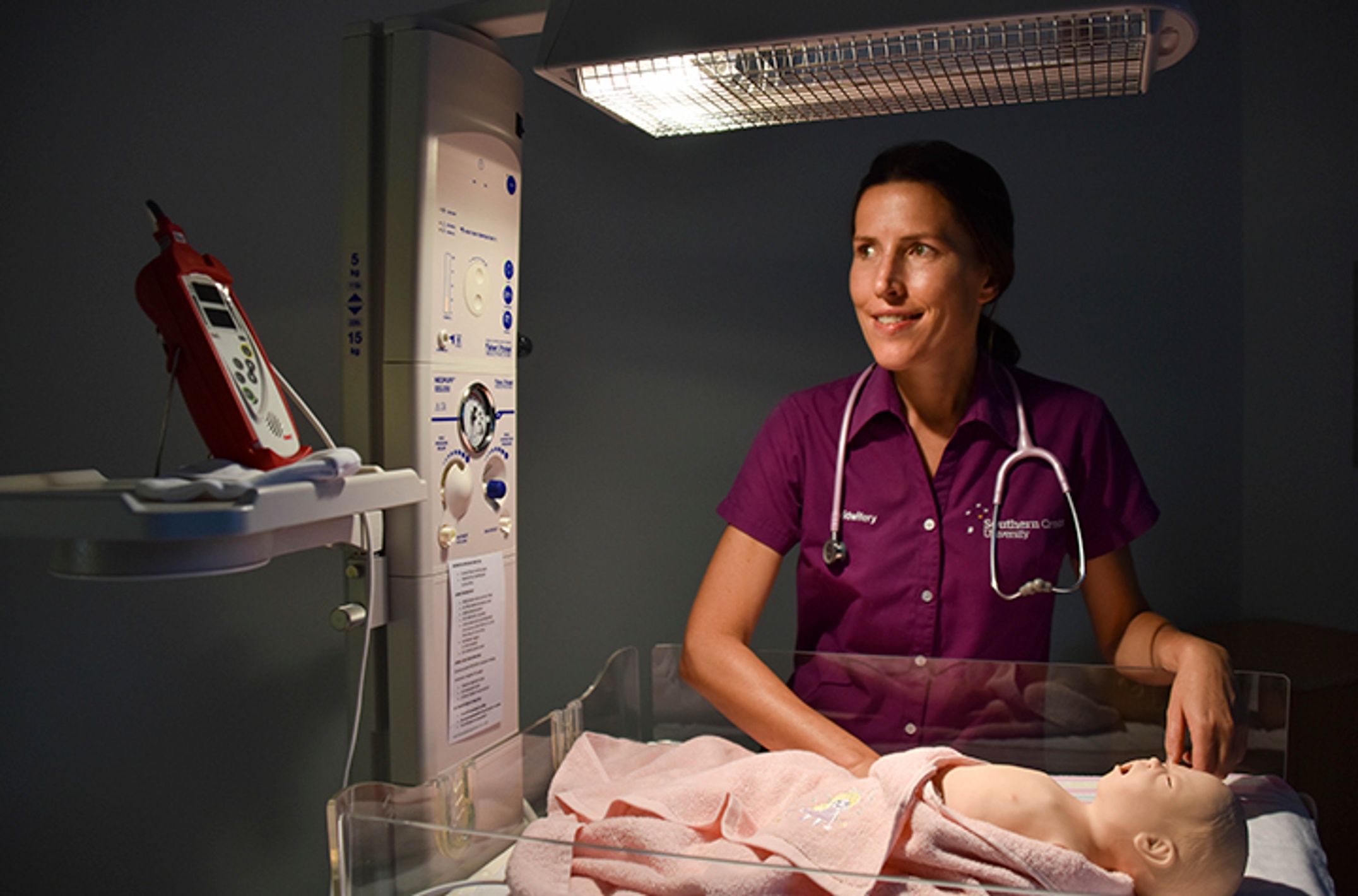 When Georgina Swift realised an opportunity to help make a difference in the lives of women through healthcare, she sold her design business in Sydney and sought to pursue her dream of becoming a midwife.
The Bachelor of Midwifery student at Southern Cross University was awarded the undergraduate Coffs Coast International Women's Day Scholarship (Friday March 6), while National Marine Science Centre student Lauren Hasson, who is studying a Master of Marine Science Management, took out the Postgraduate category. Both women were awarded for their high academic success and personal achievement, to celebrate International Women's Day (March 8).
Georgina said she was thrilled to receive the bursary worth $2500, which will enable her to attend the annual women's culture camp in Uluru in April.
After running her own Sydney design studio for eight years Georgina sold her businesses she had started to pursue a passion that had been niggling at her for years.
"The more I grew as a woman the more my desire to work in women's health and make a real difference in the world continued to grow, so at age 32 I sold my business and my partner and I travelled throughout Asia and South America before settling near his family in Coffs Harbour where I could begin studying a second time," Georgina said.
"I've always wanted to work with women and during a separate trip to the Australian outback I was able to spend time in an Indigenous community where my sister lives and works near Alice Springs and found the disparity I saw in women's health there confronting. In the future I would like to work in outback Australia to help ensure all women can have access to continuity of care and can have positive birthing experiences because it's something that not only affects the women but also their children and families.
"The women's camp at Uluru focuses on integrating Indigenous and non-Indigenous culture, aiming to improve health outcomes for women in outback Australia and during the camp I'll be learning from Indigenous elders, gaining a direct insight into their law and culture impacting the way I can deliver culturally-safe care in the future."
During her degree Georgina has supported 20 births and has also spent time volunteering with AIME – the Australian Indigenous Mentoring Experience – where University students mentor Indigenous High School students to help achieve educational goals such as completing high school and attending University. She said her lecturers at Southern Cross have really inspired her through their own experiences of working with Indigenous communities to support women and their infants have a healthy start to life.
"International Women's Day is a great day to celebrate women's empowerment and to recognise what women give to humanity as mothers and creators. Celebrating the courageous women who have walked before us and those who inspire the future generations of women," Georgina said.
"One of my other role models is Ina May Gaskin who forged her own path in midwifery and basically raised awareness around spiritual and physiological childbirth. She is the only midwife who has an obstetric manoeuvre named after her – the Gaskin manoeuvre – all the others are named after men. Her book inspired me to study midwifery and the way I want to help keep improving continuity of care for women, and she continues to inspire midwives across the globe."
Southern Cross University International Women's Day Scholarships were presented at an IWD breakfast event, held at C.ex Coffs, was hosted by three women's groups: the Zonta Club of Coffs Harbour Inc., BPW Coffs Harbour (Business and Professional Women) and the Coffs Coast Business Women's Network (BWN) ahead of International Women's Day (March 8).
---