View all news
New courses take flight at Southern Cross University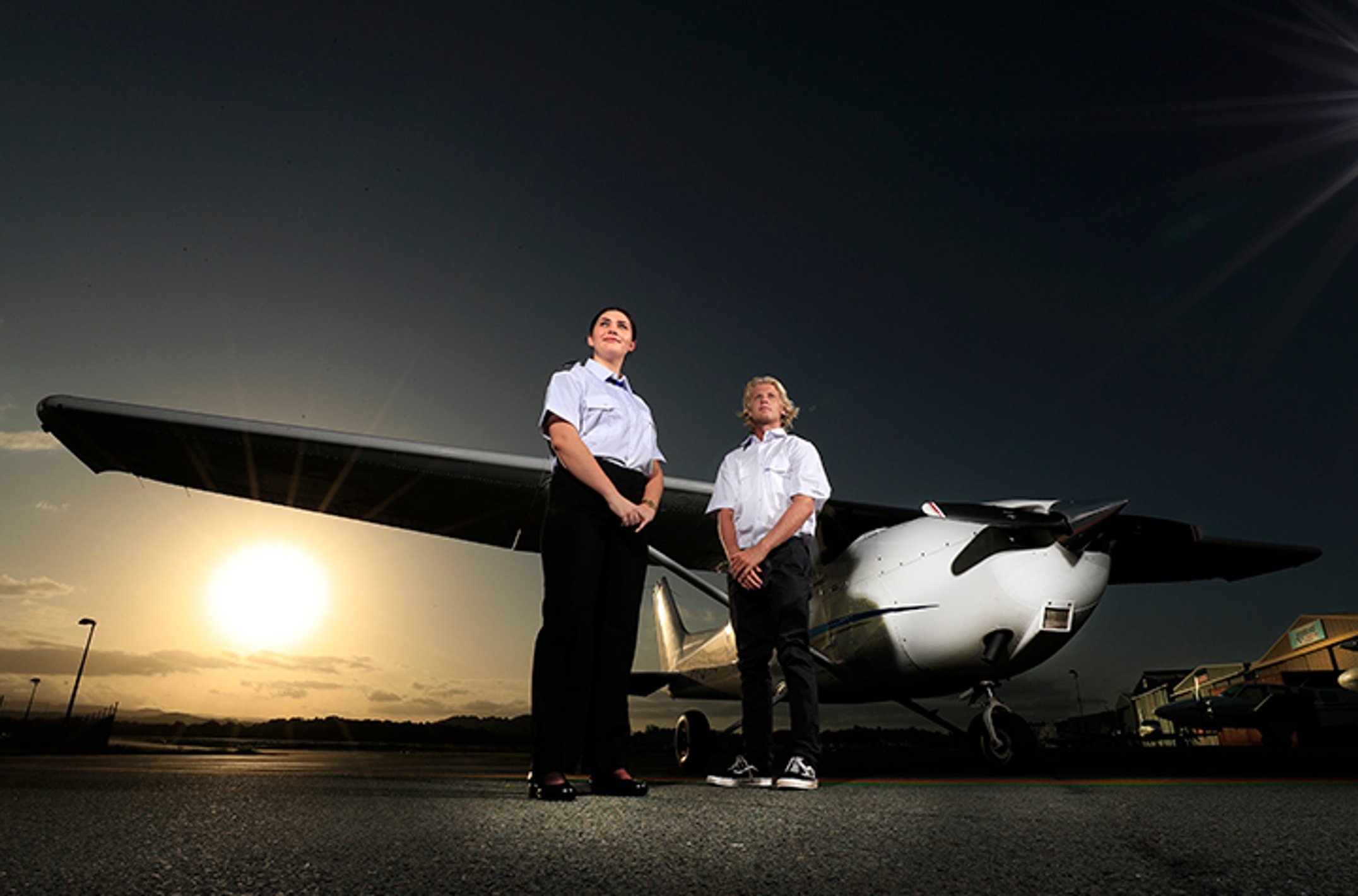 Southern Cross University is proud to offer a suite of new courses from 2020, including a new partnership with Air Gold Coast where domestic students earn their commercial pilot licence through the University's unique Bachelor of Business majoring in Aviation Management.
This is in addition to the University's existing partnership with Airways Aviation for international students.
Southern Cross University second-year business student Indiana Marshall said she was thrilled the University was now offering the aviation major to domestic students, as it means she can now incorporate her dream of flying into her degree.
The 18-year-old Tugun local will begin her flying instruction with Air Gold Coast in Session 1 next year and dreams of working as a pilot.
She also recently secured work at Jetstar at Gold Coast Airport in the customer service department and is excited her degree at Southern Cross will incorporate material on how to 'take off' in the business side of the aviation industry.
"My parents both work in the airline industry so this is a passion I've wanted to pursue for as long as I can remember," she said.
Meanwhile 18-year-old Ryley Gardener completed Year 12 at Palm Beach Currumbin High School last year and is excited to begin University for the first time at Southern Cross University Gold Coast campus.
The Currumbin local said when he found out Southern Cross University was expanding their Aviation offerings as part of the business degree available to domestic students it was as though the stars aligned.
"I look a practice flight with a local company once where they show you what it's like to be a pilot and I found it really fun," he said.
"I've always had an interest in business so I already wanted to study that at Southern Cross but then when I found out they were offering aviation as a major it lined up perfectly."
Southern Cross University, the only Australian university situated adjacent to an international airport, is a short walk from the Gold Coast Airport terminal, Air Gold Coast and across the Gold Coast Highway from North Kirra Beach.
Southern Cross University is set to welcome its largest ever cohort in 2020 when classes begin next week, and will continue taking direct applications for Session 1 until this Friday, February 28 at midnight.
Other new degrees, locations and courses on offer
The Bachelor of Science has seen the largest increase in applications for any course, due to the innovative new major in Regenerative Agriculture, and engineering degrees in civil, mechanical and coastal systems that were previously only offered at Lismore campus are now available online along with two new engineering online courses (Diploma of Civil Construction Engineering (Engineering and Management) and Associate Degree of Construction Engineering (Engineering and Management)).
The popular Bachelor of Occupational Therapy now includes a new major in Indigenous Health, while the new six-week intensive Transition to Uni offers an alternative pathway to Southern Cross University for year 12 school leavers.
New online postgraduate offerings include the Graduate Certificate, Graduate Diploma and Master of Mental Health Nursing, Doctor of Education, and the Graduate Certificate in Organic Food and Nutrition.
From 2020, Bachelor degrees in contemporary music, digital media and communications and information technology are available at Southern Cross University's new Coomera location on the Gold Coast. Coffs Harbour campus has opened the doors to its new $12 million state-of-the-art Health Sciences Building enabling a new generation of occupational therapists, exercise scientists, health practitioners and community workers can now undertake professional training in Coffs Harbour.
In addition to Sydney and Melbourne, Southern Cross University has again partnered with Mulpha Australia to open The Hotel School Brisbane. New courses on offer in 2020 through The Hotel School include the Diploma of Hotel Management, Bachelor of Business in Hotel Management and the Graduate Certificate, Graduate Diploma and Master of Business in Global Hotel Leadership. A new two-year International Hotel and Tourism Management Program is now offered through The Hotel Schools new partnership with HTMi Switzerland and AccorHotels.
To apply for study at Southern Cross University visit scu.edu.au/study
---