View all news
Grown in floating ocean pools, baby corals set free on damaged reefs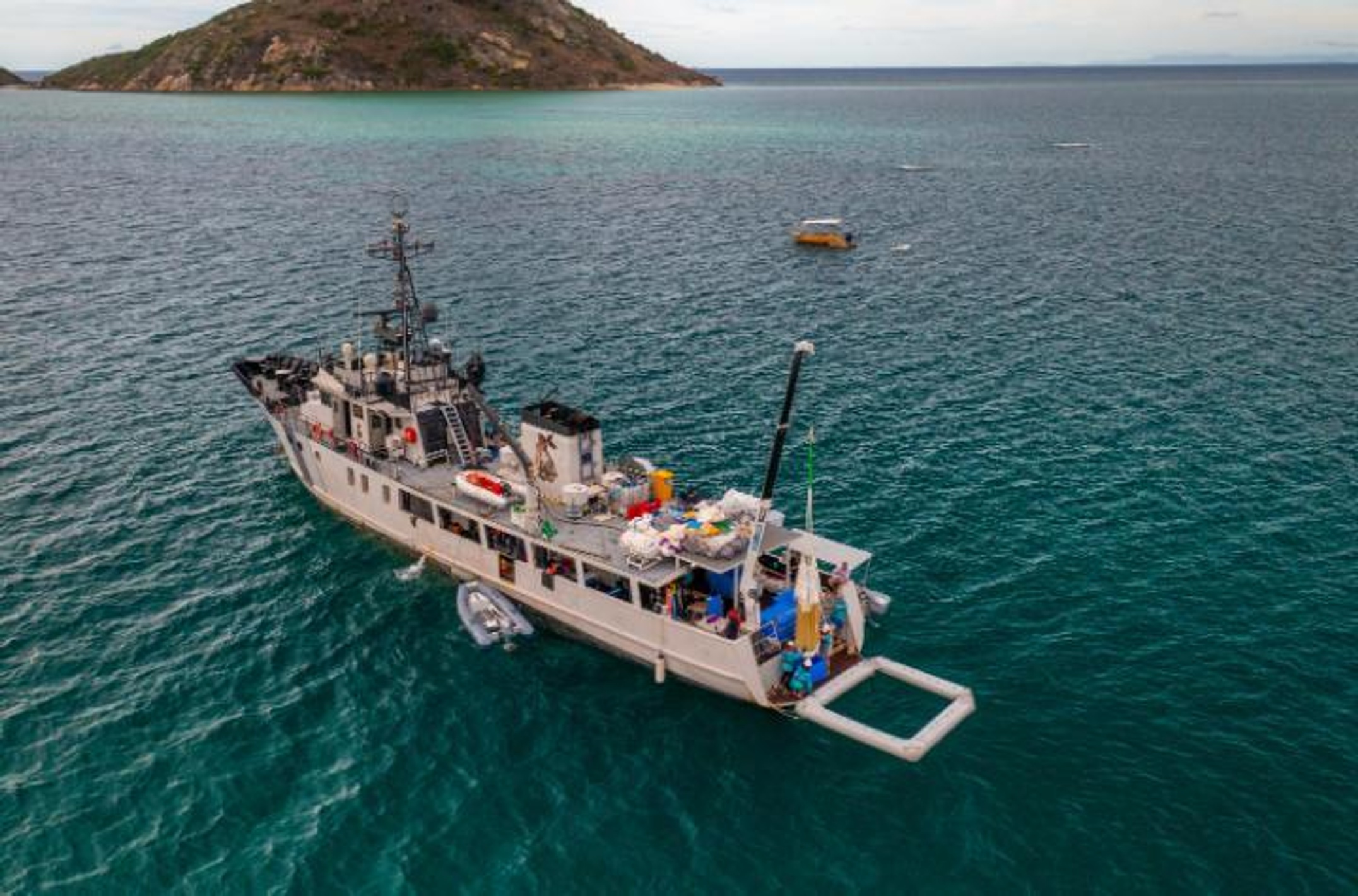 Lizard Island in the Great Barrier Reef's far north has received its first delivery of millions of Coral IVF babies to help accelerate the recovery of damaged areas of reef.
The deployment exercise over three days saw nearly ten million coral larvae released onto four reef locations around Lizard Island using a combination of techniques including concentrated delivery directly onto target reefs, dispersed larval clouds, and robotics.
The research at Lizard Island is co-led by Southern Cross University, CSIRO and QUT as part of the Reef Restoration and Adaptation Program.
Dubbed Coral IVF, the innovative coral larval restoration technique pioneered by Southern Cross University's Distinguished Professor Peter Harrison aims to optimise large-scale larval production and release directly on the Reef.
Southern Cross, CSIRO and QUT worked closely to collect coral spawn and culture the growing larvae in floating ocean pools before release.
DISTINGUISHED PROFESSOR PETER HARRISON: This has been an immense team effort. We've got team members from Southern Cross University, the CSIRO and QUT and together we've achieved very large scale of larval production.
We've raised more than 8-million healthy larvae in the floating larval pools and we've now released those larvae onto damaged sections of the reef. We've released them in a number of ways: we've used a series of pipe systems to release the larvae back onto target reef sites; we've had larger scale larval cloud delivery by opening the bottom of the nets; and we've also used robot technology to deliver millions of larvae onto other sections of the reef.
And now we're comparing the results of those different methods to see how many new baby corals we can find on the reef systems and we'll monitor their growth and survival throughout next year and beyond. So we're mimicking what occurs naturally on the reef system but just increasing the rate of larvae that are coming into those damaged reef areas.
"The research at Lizard Island has been highly successful and our combined team have successfully completed all of the planned experiments to deliver millions of healthy coral larvae onto target reef sites that haven't recovered naturally from recent severe bleaching events," Professor Harrison said.
The team, including three PhD students, has also successfully settled more than 160,000 baby corals on limestone tiles and ceramic devices in larval nursery pools floating above the reef, and will monitor their survival and growth over coming years after the tiles are placed on the reef.
"We will use the results from our successful experiments to refine the methods and optimise mass larval culture and delivery during future mass coral spawning periods, to increase the areas of reef we can start to restore," said Professor Harrison.
Dr George Roff, Senior Experimental Scientist with CSIRO, said trialling new techniques is key to scaling up coral larvae restoration.
"Our new research is helping to better understand coral recovery in areas of the Reef that have been damaged. This includes using drones to spot coral spawn slicks, improved collection methods to harvest the coral spawn slicks, predictive modelling to help inform the location of larval releases, and 3D mapping to monitor the success of those deployments on the reef," Dr Roff said.
"We're deploying these methods at Lizard Island following successful trials of larval collection and culturing in southern areas of the Great Barrier Reef."
QUT Professor Matthew Dunbabin and his team successfully deployed their newly created AI-enabled multi-purpose reef-restoration robot boats.
"This year we had three of the boats to firstly collect coral spawn, then they were reconfigured to autonomously generate high-resolution 3D maps of large areas of reef for larval release, and then reconfigured again to autonomously deploy the larvae directly to suitable restoration locations," said Professor Dunbabin.
"We were able to demonstrate the necessary technology stages for scaling restoration and ongoing monitoring to regions around the world."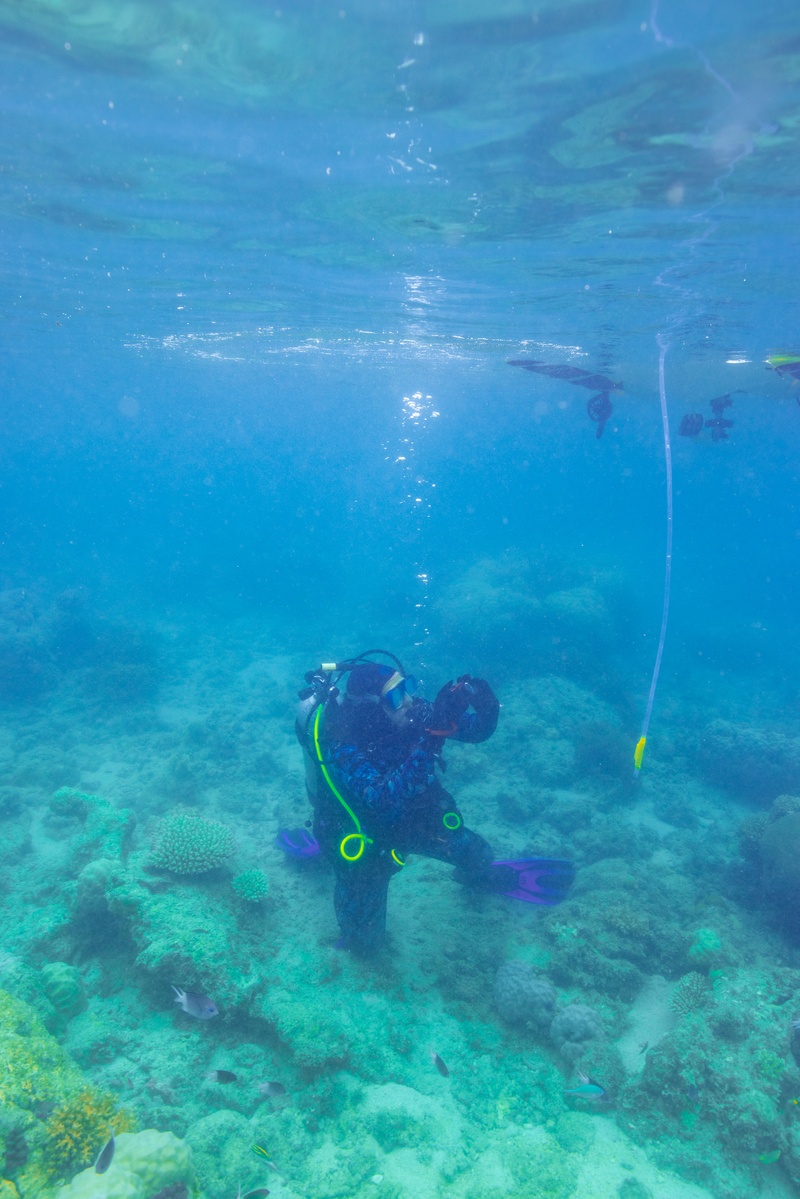 Professor Peter Harrison watches as QUT's AI-enabled multi-purpose reef-restoration robot boat releases coral larvae onto a damaged section of reef around Lizard Island.
The natural settling behaviour of coral larvae onto a reef is essential for restoring the next generation of coral communities. When reef systems are degraded or depleted of healthy adult breeding coral colonies, the coral larval restoration team can step in to deliver millions of larvae from eggs and sperm collected during mass coral spawning.
The project is part of the federal government's $150 million Reef Restoration and Adaptation Program (RRAP) that aims to optimise large-scale larval production for release directly on the Great Barrier Reef.
Minister for the Environment Sussan Ley said the work was an example of the world leading science that is helping to build resilience in the Reef's marine ecosystems.
"The work of Australia's marine scientists is being watched closely by reef managers around the world," Minister Ley said.
"We know that coral reefs are under pressure from climate change and through the RRAP program we are researching new ways to help them adapt."
Great Barrier Reef Foundation Managing Director Anna Marsden said: "We're already seeing the effects of climate change on our Reef.
"That's why we're trialling innovative new solutions like this large-scale fertility treatment which integrates with a toolkit of interventions being developed through the Reef Restoration and Adaptation Program.
"In addition to reducing emissions, if we want to protect the Reef for future generations, we need to pioneer new solutions to restore lost reefs and help corals adapt to warming temperatures," said Ms Marsden.
Professor Harrison has been successfully trialling the unique restoration process at ever-increasing scales in the Philippines (since 2013) and on the Great Barrier Reef (since 2016).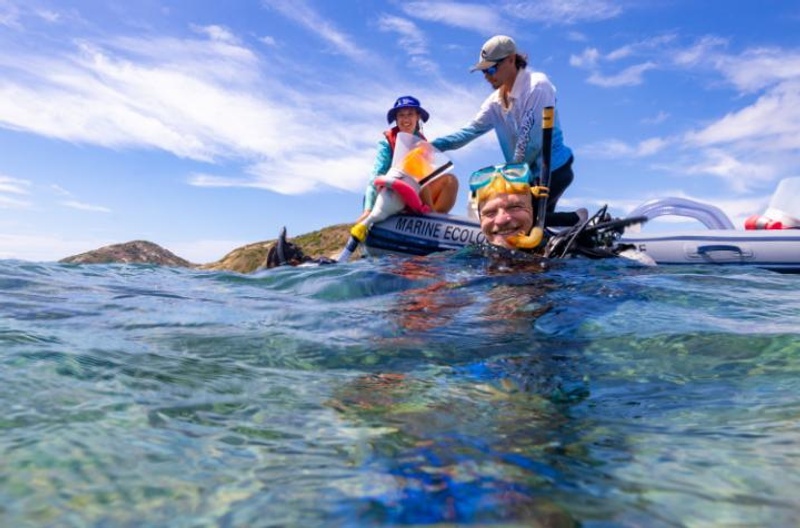 Professor Peter Harrison (foreground) with the coral larval restoration team releasing concentrated larvae directly onto target reefs around Lizard Island.
Last week the combined research team captured many millions of coral eggs and sperm during the synchronised coral sex event known as mass coral spawning and reared them for five to six days in floating nursery pools in Lizard Island's Blue Lagoon.
The deployment of millions of larvae will help replenish the reefs around Lizard Island which have suffered multiple disturbances since 2014: Crown of Thorns starfish, severe cyclones, and three mass coral bleaching events.
The research team was buoyed in their efforts by news from Heron Island – site of the first Coral IVF trial on the Great Barrier Reef led by Professor Harrison – that coral larvae settled there in 2016 are now reproductive adults, thereby completing the coral larval restoration lifecycle.
This research is part of the Reef Restoration and Adaptation Program which is funded by the partnership between the Australian Government's Reef Trust and the Great Barrier Reef Foundation. Partners include the Australian Institute of Marine Science, Great Barrier Reef Foundation, CSIRO, The University of Queensland, QUT, Southern Cross University and James Cook University.
Related article: Great Barrier Reef's baby boom holds the key to its protection
Media contact: Sharlene King, media office at Southern Cross University, 0429 661 349 or scumedia@scu.edu.au
---