View all news
Scholarship supports aspiring occupational therapist during rural placement
Heading to outback Australian communities to complete a professional placement is a rite of passage for many University students, it can be a turning point in their journey from student to experienced professional. But being away from home, family and daily routine can also present challenges.
For Southern Cross University occupational therapy (OT) student Tara Fritz, travelling to the outback Queensland town of Charleville in the third year of her degree was an opportunity to grow personally and professionally.
"At first, I had some concerns. How will I pay for this? Have I learnt enough to do this? Will my car even make it?" Tara said.
As a recipient of the Australian Collaborative Education Network (ACEN) Work Integrated Learning Placement Scholarship, Tara was provided with $1,500 to cover her expenses during her placement.
"Receiving the ACEN scholarship was an absolute blessing. It helped support me financially while on my placement. Being a full-time student without work, I went into this placement with limited finances and debt for my accommodation. The scholarship allowed me to pay this back in full, cover groceries and living expenses, fuel, and even accommodation on the way home," she said.
Based on her academic transcript, personal reflection and the recommendation of her course coordinator, Tara was one of only eight recipients selected for the scholarship Australia-wide.
Spending six weeks on clinical placement at the Charleville Hospital, Tara worked alongside qualified occupational therapists and allied health professionals to treat a range of patients, gaining hands-on skills and experience.
"From hand therapy after orthopaedic injuries to oedema management and home modification assessments, I saw what being an OT is all about. And it made me feel really confident and happy in my choice of career path," Tara said.
Spending quality time in the small country town, Tara also had the chance to experience life in a rural community and explore some of the local sights and scenery, from rockpools to stargazing at the local observatory.
"Charleville became my home. It challenged my assumptions about what rural living and rural practice would be like. I was worried the community might not welcome me, or that I might feel uncomfortable in such a small town, but I was wrong on both counts," she reflected.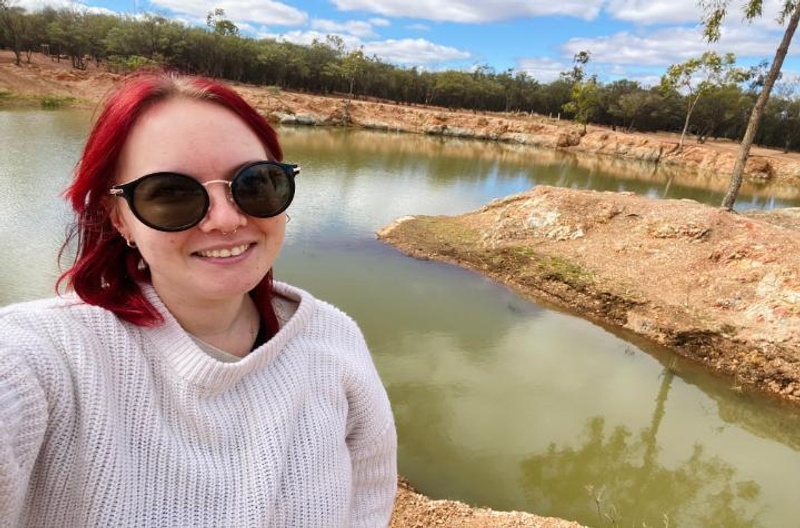 Her inspiration for studying occupational therapy stems from a challenging period in her own life. Following a motorcycle accident, Tara's fiancé experienced a traumatic brain injury and extensive orthopaedic damage with the need for ongoing rehabilitation.
She had always known she wanted to work in health, but didn't know which area would suit her. It was during her partner's rehabilitation that she came across occupational therapy.
"It was a fleeting experience in my life. OT has this really holistic approach to treating people and it's not just about the physical body, it's about every aspect of a person's life. So, I just fell in love and knew this is what I should be doing."
Doing her research into courses and institutions, Tara came across Southern Cross University and was attracted to the practical, hands-on learning approach of the Bachelor of Occupational Therapy. She said the rural placement supported by the ACEN scholarship has been a highlight of her study experience so far.
"If you have the opportunity to go on a rural or remote placement, I would say absolutely do it. The experience I had was once-in-a-lifetime and I would do it again in a heartbeat."
Southern Cross University has a range of scholarships available, ranging from $150 to $60,000. Find out more at https://www.scu.edu.au/scholarships/
---