View all news
Bug lady running her best life at Gold Coast Marathon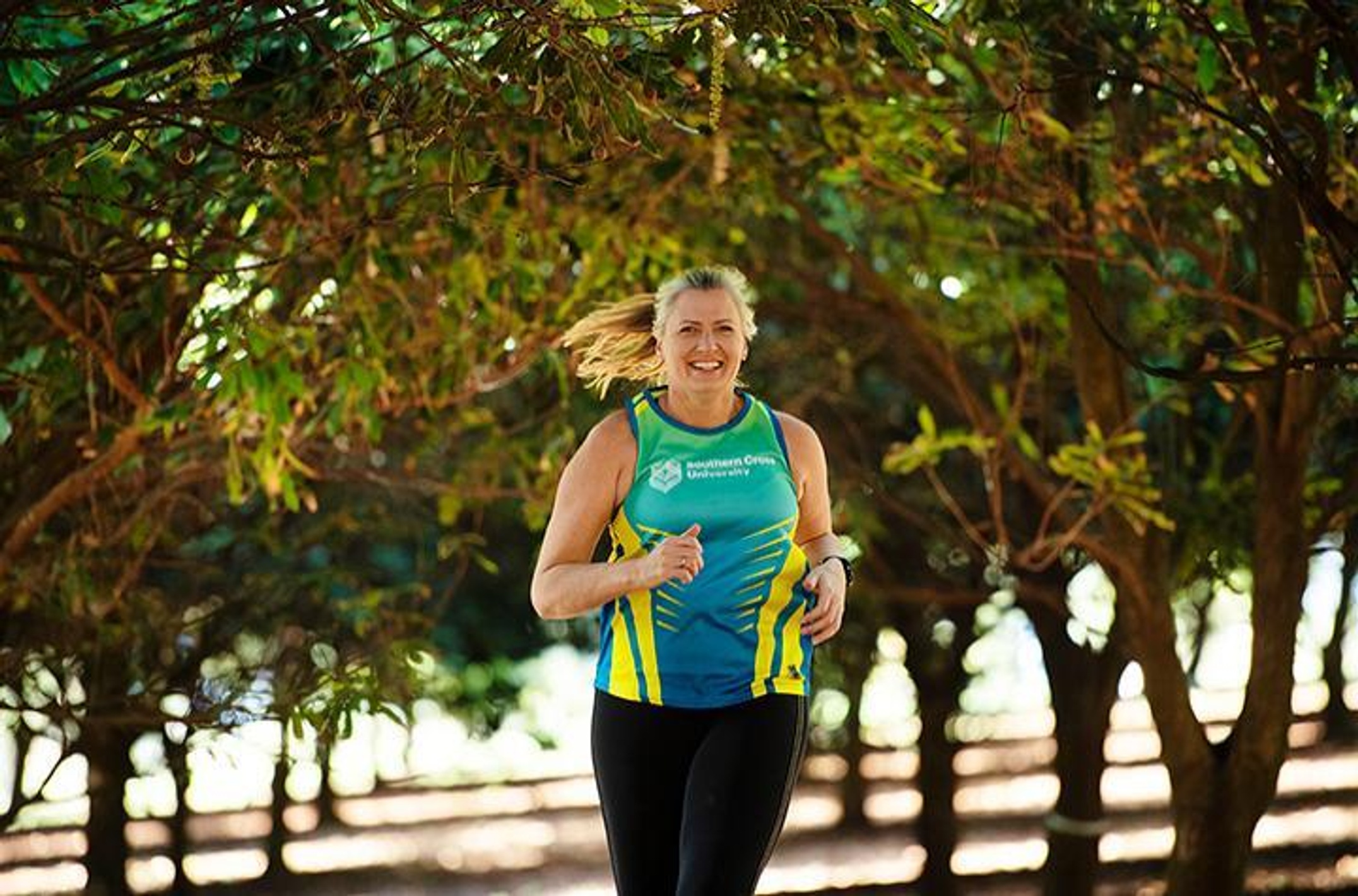 Southern Cross University PhD researcher Kirsten Ellis' two passions are orchestrating bug wars to protect macadamia crops and running long distances.
With the Gold Coast Marathon 42km race fast approaching (Sunday July 3) and a training schedule disrupted by the almost insurmountable task of cleaning-up her home after the devastating Lismore floods four months ago, Kirsten remains unfazed.
"I'm confident I'll finish the Gold Coast Marathon but it's likely to be around the 5- or 6-hour mark and I'm not going to ask myself to do any better than that," said Kirsten who competed in the event for the first time in 2016 when she lived on the Gold Coast.
"Even if I have to walk some of it, I'm going to finish it! I want the finishers' medal, regardless of my time! The challenge is ultimately with myself, not everyone else, and I want to prove the floods can't knock me down."
Kirsten is not backwards in coming forwards to let you know that running saved her life. In 2014, after a failed marriage, PTSD, significant post-pregnancy weight gain, a pre-type-2 diabetes scare and a L4/L5 lumbar laminectomy, doctors told Kirsten to get into shape or live a significantly reduced lifestyle.
She pulled on the running shoes, changed her diet and hasn't stopped.
That was eight years ago. Along the way the then-independent consultant earned the moniker 'bug lady' around Queensland's Southern Downs for advising and assisting farmers to move across to an IPM (integrated pest management) system as a better way to manage agricultural pests than routine chemical sprays.
PhD researcher Kirsten Ellis inspecting a bunch of macadamia nuts growing on a tree.
Kirsten also received an Australia Day Sports Administration Award 2017 from the community of Stanthorpe for establishing parkrun in the Southern Downs town. The free, community-based fitness program held each Saturday morning improved both the physical and mental wellbeing of the Stanthorpe townspeople.
Running is a healthy obsession, Kirsten says, that for her is about the process and not the fastest time.
"Other runners beat me any day of the week but I really enjoy the long distance, endurance stuff because that's where it's just me and my brain. I had a lot of demons to work through and running is where I do that," she said.
"When I started I had this brain that was overthinking and a voice inside my head putting myself down, a kind of monkey-on-your-back. I used to gauge how bad it was by how many kilometres it took for the first positive thought to happen. There'd be that click in my brain and I'd exhale a sigh of relief, my thinking would switch to 'life is great, I am good enough to do this'. The effect of that lasts for days."
Chasing the finish line feeling
This Gold Coast Marathon weekend, Kirsten will be helping Team SCU in the Southern Cross Recovery Hub, located near the finishing chute, and cheering on all the competitors.
"I like to believe in people," Kirsten said. "I like to tell them, 'look at me, I'm not a runner, I don't have the physique of a runner. If I can, you can!'. You've only got to get a couple of what I call 'finish line feelings' under your belt before you realise, 'oh maybe I can do this'. That runner's high gives you a fresh perspective where you believe in yourself a little bit more, and that seeps into other areas of your life.
"I want that finish line feeling for everyone. You can be so down and suffering from depression or anxiety or any of the mental health problems, and in Lismore there are so many people struggling at the moment after floods. But if you can just get up and moving, perhaps find a 5km parkrun event in your local community. Walk it, if that's all you can do, there's no shame in that. Then you cross the finish line at the end and you go, 'I did that'. It's such a fantastic sense of achievement."
Bug lady vs macadamia lace bug
Now as a PhD researcher under the supervision of Professor Terry Rose at the Centre for Organics Research at Southern Cross University, Kirsten gets to focus on her other passion: the macadamia lace bug.
"In Australia, we have changed the chemicals available for use since 2010 when we removed some of the persistent organic pollutants (POPs) from use. At the same time, we also reduced the funding into agriculture and extension. For farmers, that has meant the loss of effective insecticides, plus the loss of research into alternative solutions," said Kirsten.
"Consulting in Stanthorpe became difficult because some insect problems simply had no solution. That is why I want to see more research in this area, our food crops are depending on it.
"For my PhD I'm trying to solve the problem of the lace bug that has emerged over the past 10 years and has become a really significant pest for the macadamia industry," she added.
Although the native insect has always been present in macadamia orchards, it is only in recent years as the industry has started shifting away from old style insecticides that numbers have soared in the growing regions of the NSW North Coast, and Queensland's Sunshine Coast and Bundaberg.
The macadamia lace bug feeds on the macadamia flowers, causing them to wilt, blacken and eventually drop. The bug's populations can build to very high levels over the course of the flowering season and lace bugs have been responsible for 100% of crop losses on some plantations.
Kirsten's research aims to improve understanding of the lace bug's ecology and identify beneficial predators and management practices to optimise predatory activity.
"Biological controls – insect predators that reduce pest populations – have been hugely successful against other macadamia pests," she said.
"Integrated Pest Management (IPM) practices rely on a good understanding of pest ecology. We are trying to understand how lace bugs work. There's little knowledge of how far they travel, where they live in summer and how they reproduce.
"It's critical that we understand all of this to develop new and effective IPM strategies. We're hopeful that we can deliver similar controls against the lace bug."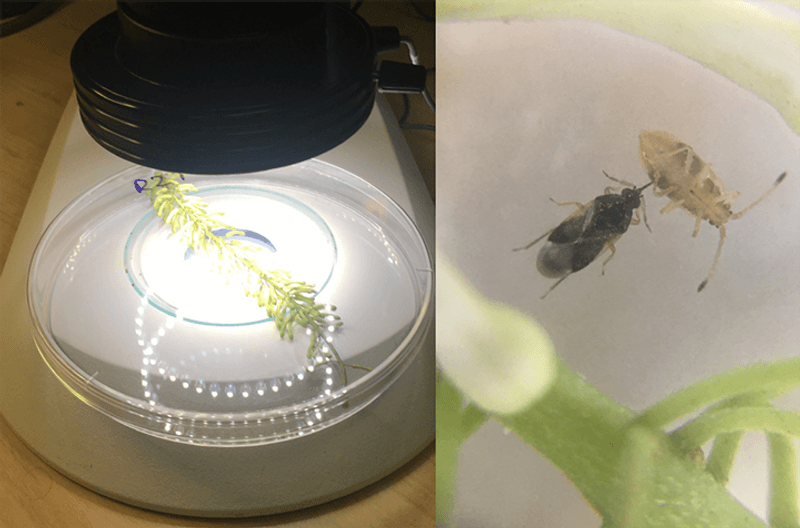 Monitoring pest predator interactions in lab - Orius bug feeding on macadamia lace bug nymph.
She enjoys spending her days monitoring on-farm field sites for lace bug numbers in macadamia orchards all over Northern NSW. It also keeps her fit.
"A crucial part of reduced insecticide use on-farm is knowing what pests are there, and acting early with a range of solutions, such as biological controls (the good bugs) before there is a major problem," said Kirsten.
"Being out in the field I do a lot of miles checking and observing bugs. I do 10- to 15km of walking, day in, day out. It keeps my legs moving, keeps my back from not hurting. Best of all, it keeps my base level of fitness really good."
Kirsten laughs that the nickname bug lady has followed her from Queensland's Southern Down to Southern Cross University on the NSW North Coast.
"An insect is always an easy indicator to something wrong in the system," she said. "By doing this PhD, there'll be research to show how to start moving to a system that increases insect biodiversity in crops, to create bug wars, and protect yields.
"I can't get away from being the bug lady, my colleagues call me that, so I might as well embrace it."
---