View all news
International rugby union star inspires Gold Coast graduates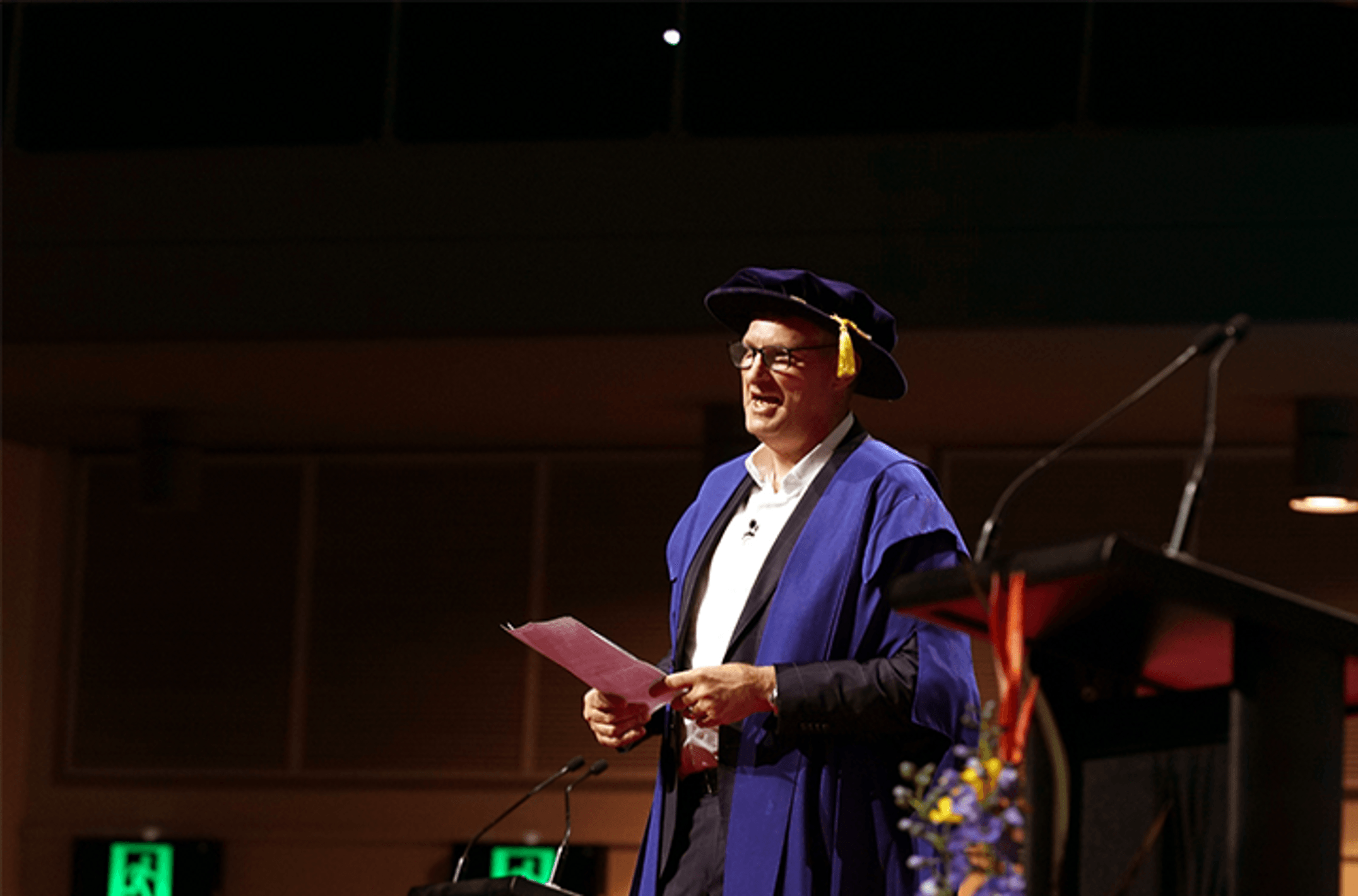 Former Wallabies player and Chief Executive Officer of the Rugby Union Players' Association Justin Harrison gave a moving occasional address to graduates at the final Southern Cross University graduation event for 2022.
The event saw over 800 students cross the floor across three ceremonies at the Gold Coast Convention and Exhibition Centre on Tuesday 13 December.
Mr Harrison encouraged the graduates to embrace the new chapter of their lives.
"We're all storytellers. We all have the capacity to tell a story and we do it by living our lives," Mr Harrison said.
"I've seen the world. I've represented my country in front of 86,000 people for the first time. And now I get to try and instil some of the pride that I felt on that night and relate it to what you feel now and what the people around you feel watching you," he said.
"What makes us unique is our capacity to think for ourselves. Make your own choices. Be curious and courageous, confident and humble. Challenge people and things, concepts and norms. Add value through your design, your thumbprint. Nobody else has got the same one."
Mr Harrison played 34 Tests for the Wallabies and made 98 Super Rugby appearances for the ACT Brumbies and NSW Waratahs, winning a Super Rugby title in 2001.
In 2005, he took his career abroad, playing as part of Ulster Rugby in Ireland and Bath Rugby in England. He returned to Australia in 2010 to play for the Brumbies before retiring and taking up the position of Forwards Coach for the Brumbies in 2011.
Mr Harrison enrolled in Southern Cross University's Bachelor of Applied Science in 1993, during which time he played for the University's GoldRats Rugby Union Club, before later graduating with a Bachelor of Applied Science in Sports Administration at the University of Canberra in 2001.
Mr Harrison is currently the Chief Executive Officer of the Rugby Union Players' Association, which protects and advocates for the workplace conditions of every Australian professional Rugby player.
He finished his address with these words: "You've all got your own story. Be so very proud of it. Go bravely into the night and welcome to the alumni community. Congratulations."
Media contact: Southern Cross University media and content team, content@scu.edu.au
---