Australian ingenuity is behind a technique making waves around the world for its success in restoring damaged coral communities on reefs.
Coral larval restoration is an idea conceived by Southern Cross University's Distinguished Professor Peter Harrison during the discovery of the mass coral spawning on Australia's Great Barrier Reef (GBR) in the early 1980s, and is also known as Coral IVF or larval reseeding. However, unlike laboratory-based reseeding efforts, Coral IVF is conducted directly on coral reefs.
Professor Harrison gradually developed techniques to enable the research discoveries to be applied to restoration of degraded coral reefs. The first reef trial was successfully completed in 2013 with then-PhD candidate Dexter dela Cruz in the Philippines, supported by research funding from the Australian Centre for International Agricultural Research (ACIAR). This was the first study to show that increased larval supply and settlement directly onto highly degraded and algal phase-shifted reefs could successfully restore breeding coral populations within three years.
Since then, many successful reef trials have been done on damaged reefs in the Philippines supported by additional ACIAR funding.
The technique has also been successfully trialled on damaged reef areas in the southern Great Barrier Reef at Heron Island, in the central GBR and up to the northern GBR. These trials have been supported by funding from the Great Barrier Reef Foundation, the Tiffany and Co Foundation, the Paul G Allen Family Foundation and through grants from government agencies and departments.
After a further decade of adapting and refining the technique, Professor Harrison has recently published a Technical Report, Methods for restoring damaged reefs using coral larval restoration with collaborator Dr Dexter dela Cruz, now a Post Doctoral Researcher at Southern Cross University.
"Mass culture of coral larvae on reefs provides a scalable approach to reef restoration, and this Technical Report outlines the rationale for coral larval restoration and the evolution of some innovative methods and equipment being used for restoring essential reef-building corals on damaged reefs," said Professor Harrison.
Coral IVF is based on natural sexual reproduction processes. Millions of coral eggs and sperm, just a small fraction of the trillions of eggs that corals release during the mass spawning (breeding) season, are collected and placed in floating ocean pools to grow into larvae. Around a week later when the larvae are ready to settle and become baby corals, the Coral IVF team releases them directly onto degraded areas of reef.
Global warming, mass coral bleaching, crown of thorns starfish, terrestrial run-off, coastal development and destructive blast fishing are impacting coral ecosystems around the world.
"Without healthy reefs, we potentially lose up to a million species that live in and around the reef ecosystem and lose essential food supplies and other resources for hundreds of millions of coastal people who rely on healthy reefs" said Professor Harrison.
The sobering numbers amplify Professor Harrison's sense of urgency. In nature, the chances of a single coral larva surviving to settle and grow into an adult breeding colony may be as low as one-in-one-million.
"In the Philippines we're getting about one adult coral from every 15,000 to 20,000 larvae that we're releasing onto the reef," said Professor Harrison. "We've also achieved world-record growth, with the fastest-growing colonies growing to breeding size in two years and we are seeing increased numbers of reef fish in the larval restoration sites living among the new colonies."
Co-author Dr dela Cruz explained the ongoing benefits of the initial trial in his home country.
"The success of the Coral IVF approach has enabled us to develop new partnerships with local government and community stakeholders in multiple regions in the Philippines to increase the scale of reef restoration in additional reef regions," Dr dela Cruz said.
Another Philippines coral larval restoration site showing recovery of degraded reefs (credit Dexter dela Cruz).
Early trials on the Great Barrier Reef at Heron Island in 2016 clearly showed that increasing the densities of larvae supplied onto reefs was important for rapidly establishing new coral populations and the surviving corals reached sexual maturity five years later, thereby completing the lifecycle.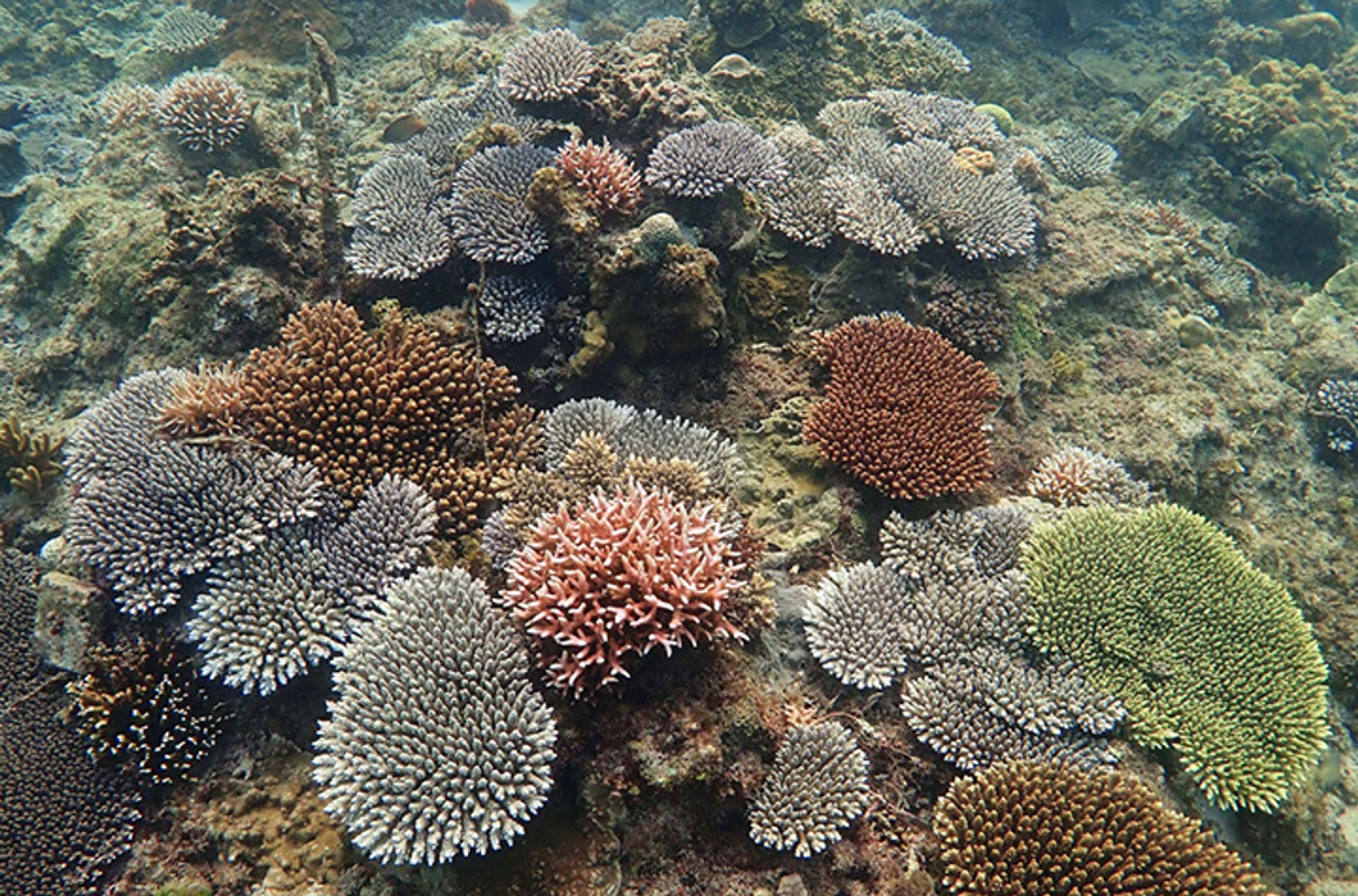 In 2016 we began this Coral IVF process for the first time on the Great Barrier Reef
in the southern part of the Great Barrier Reef at Heron Island. What's really exciting
is that we've monitored the outcomes of that experiment for five years
and we now know that the larger colonies that we created by settling larvae directly on the reef
are dinner plate size and are sexually reproductive. So we've closed the lifecycle and
established a new breeding population on an area of the Reef that had very few live corals present
and it's really thrilling now to see the outcomes of that because we know that this
approach can restore breeding populations quite quickly on damaged parts of the Reef.
Professor Harrison noted that the most ecologically appropriate and cost-effective way of producing many millions or billions of coral larvae for coral restoration is to manage larval production directly on reefs.
"This reef-based approach avoids problems and increased costs associated with collecting breeding corals, coral spawning and larval production in the laboratory, and allows us to grow many millions of coral larvae in natural reef environments that can be simply released into damaged reef environments using a variety of innovative techniques," Professor Harrison said.
"Therefore, increasing attention has been focused on scaling up larval production directly on reefs and we're now routinely producing many tens-of-millions of larvae after spawning events, and establishing new projects in the Maldives, Caribbean and Southeast Asian reef regions.
"The detailed Technical Report allows us to explain how and why the coral spawn collection, larval culturing and dispersal methods and equipment have evolved over time, and to acknowledge the many funding organisations and people who have helped us along the way."
Professor Harrison is following up the Technical Report with a practical training guide for coral larval restoration methods that can be used by organisations and local communities around the world.
Technical report details
Title: 'Methods for restoring damaged reefs using coral larval restoration' by Peter Harrison and Dexter dela Cruz.
DOI: doi.org/10.25918/report.233
Distinguished Professor Peter Harrison (right) with Dr Dexter dela Cruz at Heron Island in the Great Barrier Reef.
---