Beekeeping for sustainable livelihoods in the Indo-Pacific region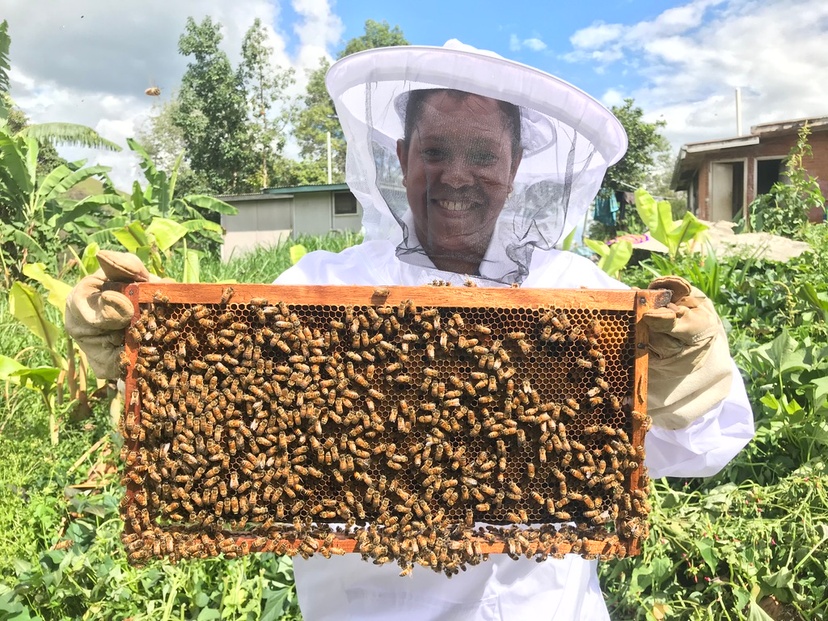 Overview of Impact
Beekeeping programs have increasingly been implemented in developing countries, with the overall aim of creating alternative income generating opportunities for the rural poor.
Beekeeping has the ability to provide rapid returns on investment, improve crop yields, does not require large areas of land, and is complementary to most farming systems. Despite these positive attributes, the potential benefits of beekeeping programs are not always realized.
Many beekeeping programs have yielded few positive livelihood outcomes for the intended recipients, and in some cases, have exacerbated financial hardship for the poor despite the best intentions of development agencies.
Our research and extension seeks to provide best practice beekeeping information based on leading applied scientific evidence with the goal of optimising success within beekeeping development programs and achieving sustainable and equitable outcomes for marginalised beekeepers throughout the Indo-Pacific.
Local communities through the strengthening of their local economies, diversification of incomes, provision of effective and appropriate best practice information
Agricultural and community development practitioners and consultants
Aid organisations engaged in apicultural programs
Federal government relations between Australia and partner countries
State government coordination of resources for beekeeping in partner countries
Local government skills development for industry planning and coordination
Beekeeping industry (beekeepers, beekeeping input suppliers, honey packers and processors)
Students at Southern Cross University, University of Goroka and Fiji National University, skills development and learning about agricultural development practice and programs in undergraduate and postgraduate programs
Capacity impacts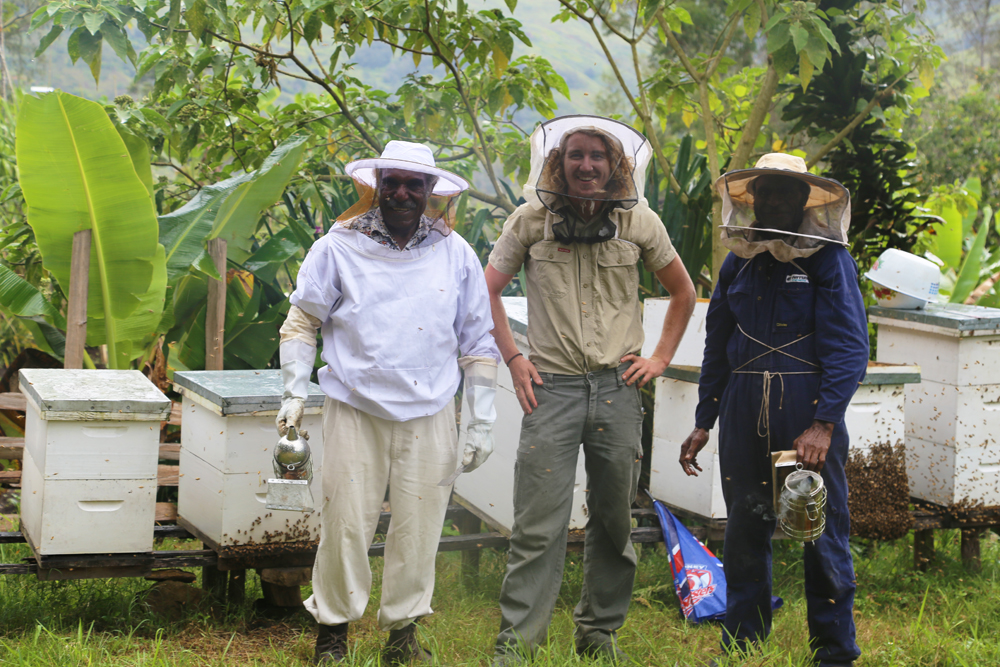 Through the provision of educational materials and training our research programs have helped to upskill biosecurity and agricultural extension staff, young researchers, entrepreneurs, agribusiness and NGO managers and most importantly, rural households and farmers. Our work with project partners in developing countries (in particular Indonesia, Timor-Leste, Fiji and Papua New Guinea) has built capacity to improve the management of honey bee pest and disease through skills training days; 'train the trainer' programs (involving approximately 650 beekeepers); beekeeping conferences and beekeeper industry stakeholder workshops (12). In PNG a manual 'Beginning for Bees' was produced (in both English and the local language Tok Pisin) and distributed amongst beekeepers. A Best Practice Manual was developed for training staff working at the New Guinea Fruits honey processing company in PNG. Engagement with our projects' networks and outputs enables entrepreneurs and agribusiness managers to better understand and adapt to new and emerging opportunities, including markets, as well as dealing with opportunities, risks and threats identified by the project.
Community and Economic Impacts
Our research demonstrates the impacts of supporting a commercially viable beekeeping industry, including extra nutrition for the families of existing and potential beekeepers, employment in the processing of bee products and in the manufacture of hardware used by beekeepers. In areas where upskilled project staff work with communities, beekeepers with well-managed hives can achieve a 3-fold increase in outputs harvesting up to 45kg/ year per hive. Conservative estimates suggest ownership of 10 hives with yield increases of 20 kg per hive are achievable, providing a net return of $1000 per household per annum. Improvements in quality of production and honey extraction processes have resulted in increased product availability for trading by honey companies in PNG and Fiji. Subsistence farmers conducting beekeeping near their crops are also likely to benefit from increased pollination and resulting improved quality and quantity of the fruit set.
Social Impacts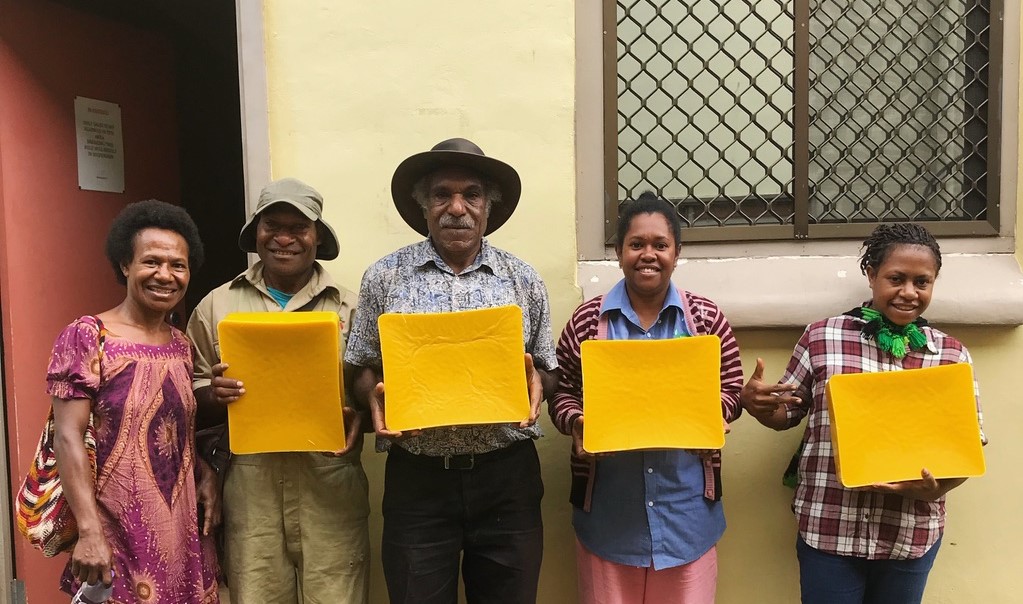 In addition to increasing incomes, the income diversification and income smoothing of beekeeping enterprises have brought long-term and enduring benefits to rural communities that has enhanced livelihoods in numerous ways. For example, this research highlights (in PNG particularly) that cash income from honey is often used on education, clothing and healthcare unlike other forms of income. Identifying the relationship between beekeeping and improved livelihoods has been a key output from our projects. Increased knowledge and opportunities have led to greater confidence and an increased desire of rural people, especially youth and women, to participate more fully in beekeeping enterprises, including value-adding activities, most notably the production of beeswax. Women's groups are an important target community, ensuring that increased revenue streams flow directly onto families. We anticipate that 500 beekeeping families in Papua New Guinea and 400 in Fiji will have doubled their annual household cash income within 5 years after project completion.
Environmental Impacts
Our research developed non-chemical controls for managing honey bee mites, reducing the need for use of plastic chemical strips that were both costly and ecologically damaging where discarded into the environment. In Sumbawa, Indonesia, our research has highlighted that income from honey produced from forest areas or national parks can serve as a means for promoting conservation (through reduced clearing or burning) of these areas. Beekeepers understanding the value of floral resources provided by trees and grasslands has created incentives to plant honey trees and discourage the burning of nearby forest areas which are beneficial to their beekeeping enterprise.
Policy impacts
Our projects aim to support the implementation of policies that promote smallholder beekeeping operations and encourage mechanisms for supporting the beekeeping sector. For example, the recognition of the Papua New Guinea Beekeepers Association as an official industry association, along with the strengthening of inputs by the Fijian Beekeepers Association has developed new policy pathways for industry stakeholders to collectively voice the priority areas of their respective apiculture industries. Further, our research emphasises the value for beekeeping to local and national economies, thereby providing a pathway for key industry partners to utilise this information to lobby for the sector. Our research on methods for disease detection (e.g. the fatal honey bee brood disease American foulbrood (Paenibacillus larvae) in Fiji and honey bee mites (Tropilaelaps mercedesae and Varroa jacobsoni) in Papua New Guinea) has created resources to inform biosecurity policy in Fiji, Papua New Guinea, Australia and more broadly for other Pacific Island countries.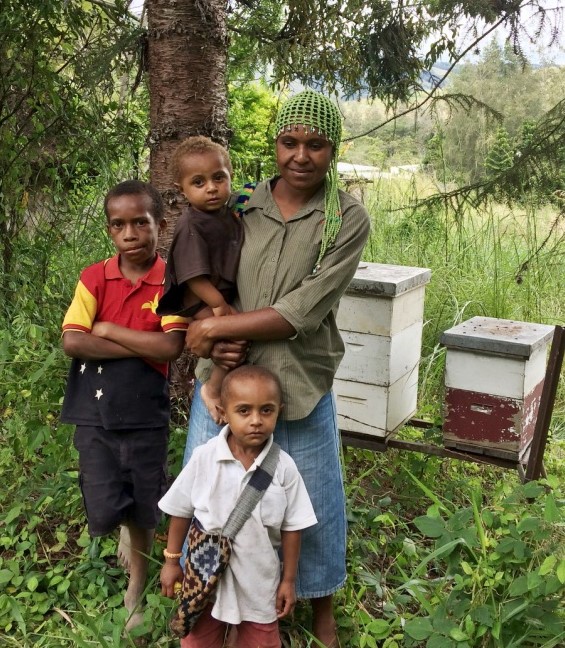 This body of work has developed since 2014 when Associate Professor David Lloyd began exploring the viability of beekeeping in Timor-Leste and Indonesia. An initial study was undertaken with PhD candidate Cooper Schouten and Dr Doug Somerville (Dept of Primary Industries) with funding support ($46,000) from ACIAR (Australian Centre for International Agricultural Research). This work investigated the technical and management issues related to beekeeping focusing on the suitability of European Honeybee (Apis mellifera) and the Small Asian Honeybee (Apis cerana). The study also examined the role of honey hunting of the Giant Asian Honeybee (Apis dorsata), as well as the potential of stingless beekeeping (Trigona spp.). In particular, the study identified the key considerations for developing a viable honey bee industry, suitable for landless and subsistence communities that is environmentally, socially and economically sustainable.
In 2017 this research theme of sustainable beekeeping was extended to Papua New Guinea, Fiji and Solomon Islands. With further funding from ACIAR ($150,000) the research team explored both the current decline and unrealised potential of beekeeping in these countries. The research sought to establish a process to address the issues facing the industry and investigate 'best practice' protocols for beekeeping in this region. This work led to the development of novel and improved strategies for management of honey bee mite by smallholders in PNG and investigated current limitations to women's involvement in the apicultural sector and how best to increase women's participation in beekeeping enterprises.
Under the same funding an experiment in the management of honey bee mite (Varroa and Tropilaelaps) was conducted in the Eastern Highlands Province of PNG with CSIRO and local government experts. The trial was developed in consultation with key apiculture staff with feedback from over 50 beekeepers from the Eastern Highlands Beekeeping Association during a stakeholder workshop. New cultural control methods were developed to overcome issues relating to increasingly high cost of the available chemical product and risk of mites developing resistance. The methods were developed to also enhance scaling up of bee enterprises by simultaneously facilitating increases in hive numbers and production of queen bees through complementary management techniques. The results of the study found non-chemical control methods have potential to effectively reduce mite numbers in honey bee hives. These methods all involve creating a brood-free period in hives, which showed greater effectiveness against Tropilaelaps because of its inability to feed on adult bees.
Data collected via a series of focus group discussions and household surveys explored ways to increase the participation of women in apicultural enterprises in PNG, Fiji and the Solomon Islands. This work highlighted there is much potential for improving beekeeping capacity for both women and youth in supporting inclusion and diversification among family small beekeeping business. No taboos were found to exist which forbid the involvement of women in beekeeping, and numerous positive attributes were identified which should support women's engagement, particularly when exemplified as a 'family enterprise'. Passionate and skilled female beekeepers and queen breeders have been identified in both countries.
---