Sea cucumber manual a global success story for Southern Cross Uni researcher
Published 1 December 2021
Dr Steven Purcell
A Southern Cross University manual for postharvest processing of small-scale fishery products is now available in eight languages.
If you've ever seen a sea cucumber lying on the shallow ocean floor, you'd quickly recognise the marine animal's elongated body and leathery skin.
What you may not know is many fishing communities have been harvesting sea cucumbers for hundreds of years, and they provide income to around 3 million fishers globally.
Southern Cross University's Dr Steven Purcell has been working as a marine scientist for more than 20 years. While finishing a study in WA on the repopulation of large marine snails, called trochus, an opportunity arose to work with sea cucumbers in the Pacific Islands.
He realised there was a much bigger story behind the sea cucumber trade globally, and began working with fishing communities across the Pacific to understand their processing practices.
In 2014 he authored a sea cucumber fishery processing manual funded by ACIAR – the Australian Centre for International Agricultural Research. His research team worked in collaboration with government fishery ministries in Kiribati, Tonga and Fiji to develop a highly successful training program including manuals, videos and workshops held in more than 80 villages to build capacity within fishing communities. Around 6000 manuals, in Fijian, Kiribati and Tongan languages, were distributed.
Since that initial project, the manual was sought after by other countries. An initiative by the UN Food & Agriculture Organization (FAO) saw the manual translated into Arabic and then into Swahili for use by artisanal fishers in East Africa. Similarly, a French version was prepared and distributed by the Pacific Community (SPC). Most recently, the Wildlife Conservation Society commissioned a Tok Pisin version of the manual, which was given to village fishers in Papua New Guinea.
Now thousands of fishers across the developing world have access to research-based training to improve their income, product quality and reduce wastage. Dried sea cucumbers – known as bêche-de-mer – are exported mainly to China where they are considered a high-value delicacy, ranging from AU$15 to well over AU$1,000 per kilo. Dr Purcell's manuals, which focus on village-based post-harvest processing methods, explain step-by-step how best to cut, gut, salt, wash, smoke, cook and dry the product depending on the sea cucumber species.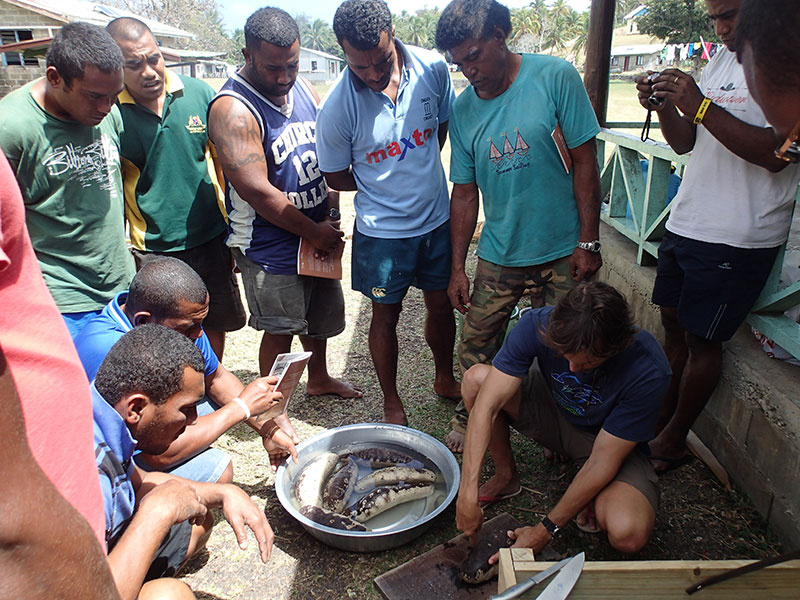 Dr Purcell showing how to cut a White teatfish at a workshop in Fiji
"Despite many of these communities having a 200-year history of sea cucumber trade, few traditional fishers have formal training or knowledge of optimal processing methods and consequently almost half were dissatisfied with the resulting income," Dr Purcell said.
"This research focuses on how fishers can produce these to a better standard and gain a much better price for what they're catching. This kind of work in the community is not specifically about food security, it's more about helping fishers get out of poverty through capacity building using local resources.
"The manual is also being used in the Torres Strait. What a lot of people probably don't know is sea cucumbers were actually one of Australia's first documented export commodities, with trading between Indigenous people in Arnhem Land and Makassan fishermen from Indonesia being documented by the navigator Matthew Flinders in the early-1800s."
Alessandro Lovatelli, an officer of the UN's Food and Agriculture Organization (FAO) said that the manual translations have been 'extremely useful' and that artisanal fishers 'are now empowered and better understand what is a well or a poorly processed bêche-de-mer'. Mr Lovatelli said the manual also puts the fishers in a position to bargain better prices for their processed sea cucumbers. In just three years, there were more than twelve thousand downloads of the Arabic translation.
Aymeric Desurmont, a Fisheries Information Specialist at Pacific Community, says the Pacific intergovernmental agency has sent more than 900 French hardcopies of the manual to be used by fishers in French Polynesia, Wallis and Futuna, New Caledonia and Ghana. In the past four years the manual has been downloaded more than 7,000 times from Pacific Community's website.
"The well-illustrated 'Processing sea cucumbers into beche-de-mer' manual has provided these communities with a simple and detailed tool they can use to significantly increase the value of their catch. The manual has been a bestseller since 2014 and is still in demand," says Mr Desurmont.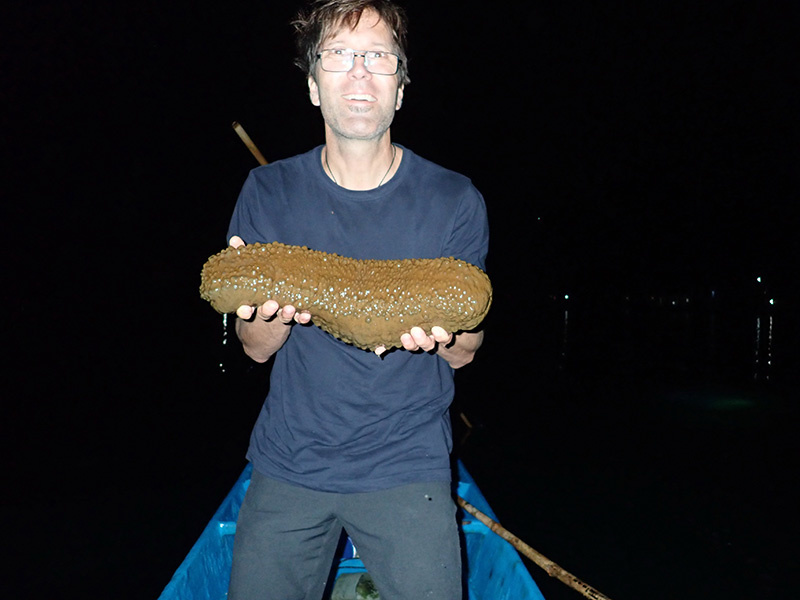 Dr Purcell with a large curryfish in Indonesia
Dr Purcell explained the manual is not aimed at promoting harvesting or attracting new fishers, but rather benefiting existing groups through best practices for processing and trading the seafood delicacy, as well as education around responsible harvesting.
In the Pacific Islands alone the harvesting and trade of sea cucumbers is a vital source of income for up to 300,000 rural residents with the export economy estimated to be worth between AU$30 and AU$50 million annually. There are at least 80 countries that harvest sea cucumbers including those in North, East and West Africa, the Middle East, Mediterranean, Latin America, and even Spain, Italy, Iceland and Norway.
Dr Purcell is continuing to work directly with fisheries in New Caledonia and provide advice to the Torres Strait fishery, to ensure sustainable harvesting and practices.
In another exciting development, Southern Cross University recently signed a contract for Dr Purcell to work with the FAO to produce a 2nd Edition of a global identification guidebook for 90 sea cucumber species to supersede the 1st Edition of the guidebook, published a decade ago.
Latest publications of fishery processing manual:
https://www.aciar.gov.au/publication/books-and-manuals/processing-sea-cucumbers-beche-de-mer-a-manual-pacific-island-fishers
Swahili version (2021) Usindikaji wa majongoo bahari kuwa chakula kiitwacho bechedema - Mwongozo kwa wavuvi wa Visiwa vya bahari ya Pasifiki. ISBN: 978-92-5-133901-5 [FAO] https://www.fao.org/3/i8576sw/i8576sw.pdf
Tok Pisin version (2021) Ol rot bilong redim pislama bilong salim: manuel bilong ol Pacific Ailan fisas. ISBN: 978-982-00-1368-1 https://purl.org/spc/digilib/doc/tkzzq
Media contact:
Jessica Nelson 0417288794 or scumedia@scu.edu.au