View all news
$1m Future Fellowship funding will step up action in reducing antimony contamination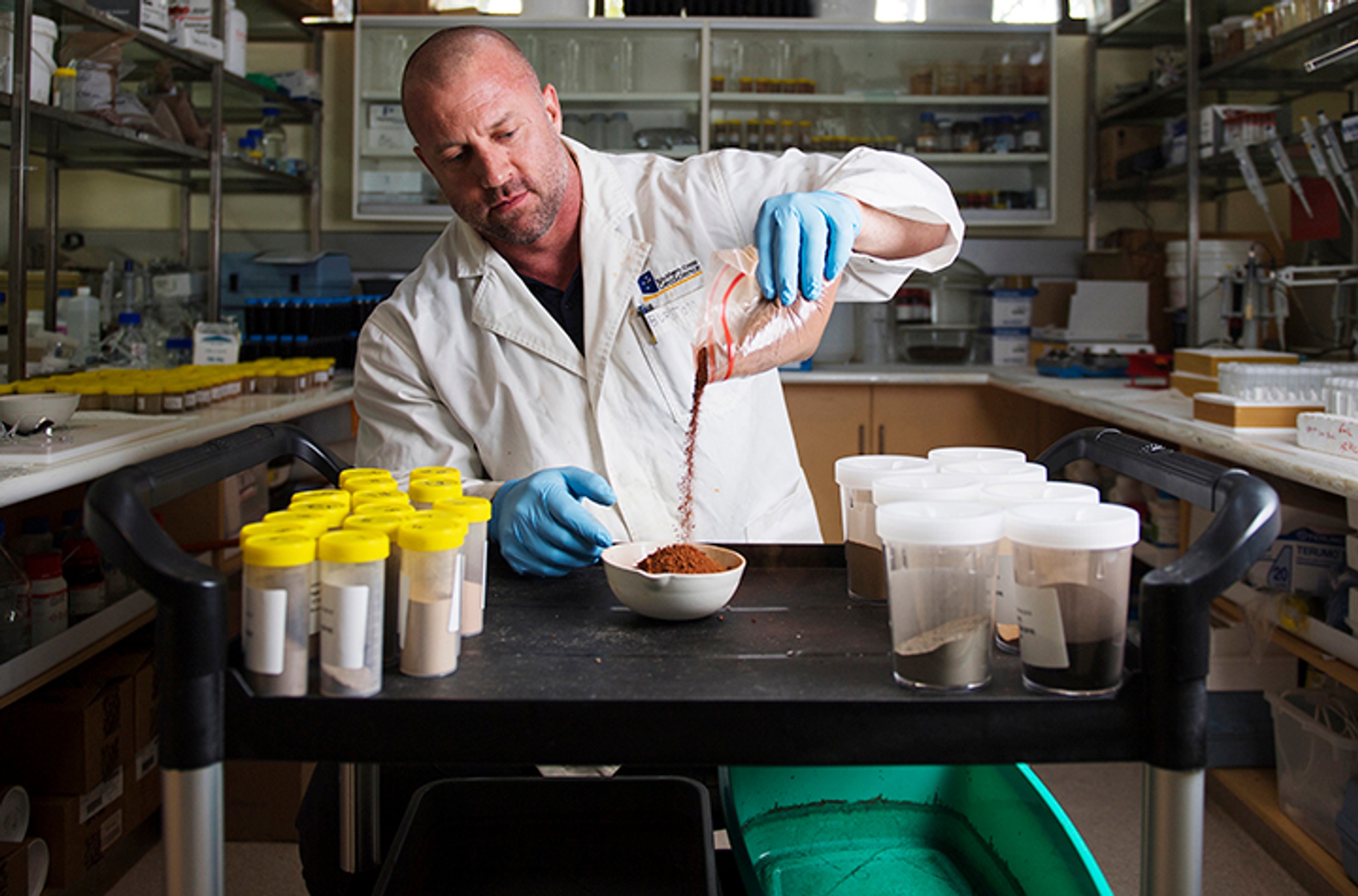 A Southern Cross University scientist, whose research sits at the interface of geochemistry and soil science, has been announced as a 2020 Australian Research Council Future Fellow.
Professor Ed Burton, Head of Environmental Geochemistry and Mineralogy at Southern Cross GeoScience, will use the prestigious Future Fellowship, worth $1,048,328 over four years, to explore how antimony geochemistry interacts with the iron cycle in soils, sediments and aquatic systems.
"Antimony is a critical mineral resource which plays an important and growing role in our daily lives. It is widely used in plastics, textiles, electronic and computer equipment and to harden metal alloys in batteries, bearings and ammunition," said Professor Burton.
Antimony is also central to a wide-range of emerging new technologies, such as phase-change memory devices which increase computing speeds and liquid metal batteries for renewable energy sources.
"Yet antimony is also a carcinogenic toxin and a priority environmental pollutant of increasing concern," Professor Burton said.
"Surges in antimony production over recent decades and the resulting generation of antimony-bearing waste have, along with historic mining activities, led to extensive antimony release into the environment."
The result is a growing legacy of antimony contamination in many areas worldwide. In Australia, for example, antimony mining has led to severe contamination of the Macleay River system in northern NSW. This represents one of the world's largest environmental plumes of antimony contamination, stretching over 300 km from the New England Tablelands to the Pacific Ocean at South West Rocks on the NSW Mid North Coast.
"Many fundamental, yet very important, aspects of antimony's behaviour in the environment remain unexplored; particular with regard to how it interacts with iron in soils and sediments," said Professor Burton.
The project aims to fill this knowledge gap by employing new students and research staff at Southern Cross University who, along with Professor Burton, will work on developing innovative synchrotron-based tools and isotopic approaches to unravel the geochemistry of antimony.
"This project will put Australia at the leading edge of an exciting new research direction and will create a long-term legacy of national benefit," Professor Burton said.
"By providing new knowledge for environmentally-sustainable antimony mining, this project will also be of strong strategic benefit to Australia's future prosperity."
The expected outcomes will provide novel insights into refined strategies to manipulate coupling between antimony mobility and iron cycling for improved rehabilitation of degraded landscapes, safe disposal of hazardous wastes and sustainable exploitation of Australia's valuable antimony reserves.
Professor Mary Spongberg, Deputy Vice Chancellor (Research) at Southern Cross University, congratulated Professor Burton on his important work in geochemistry and soil science.
"The Future Fellowship affirms Ed's reputation as an internationally-recognised expert on trace metal geochemistry and iron mineral dynamics in soil systems. Further, he has the capacity to initiate and lead major projects, to build productive collaborations, and to train, mentor and supervise students and staff," said Professor Spongberg.
"This is the largest Future Fellowship ever to be awarded at Southern Cross University."
"This Fellowship is the only one in the field of Geochemistry to be awarded in this round by the Australian Research Council. That is a great outcome for Ed and for Southern Cross University and builds on the considerable efforts we have made in this field."
---