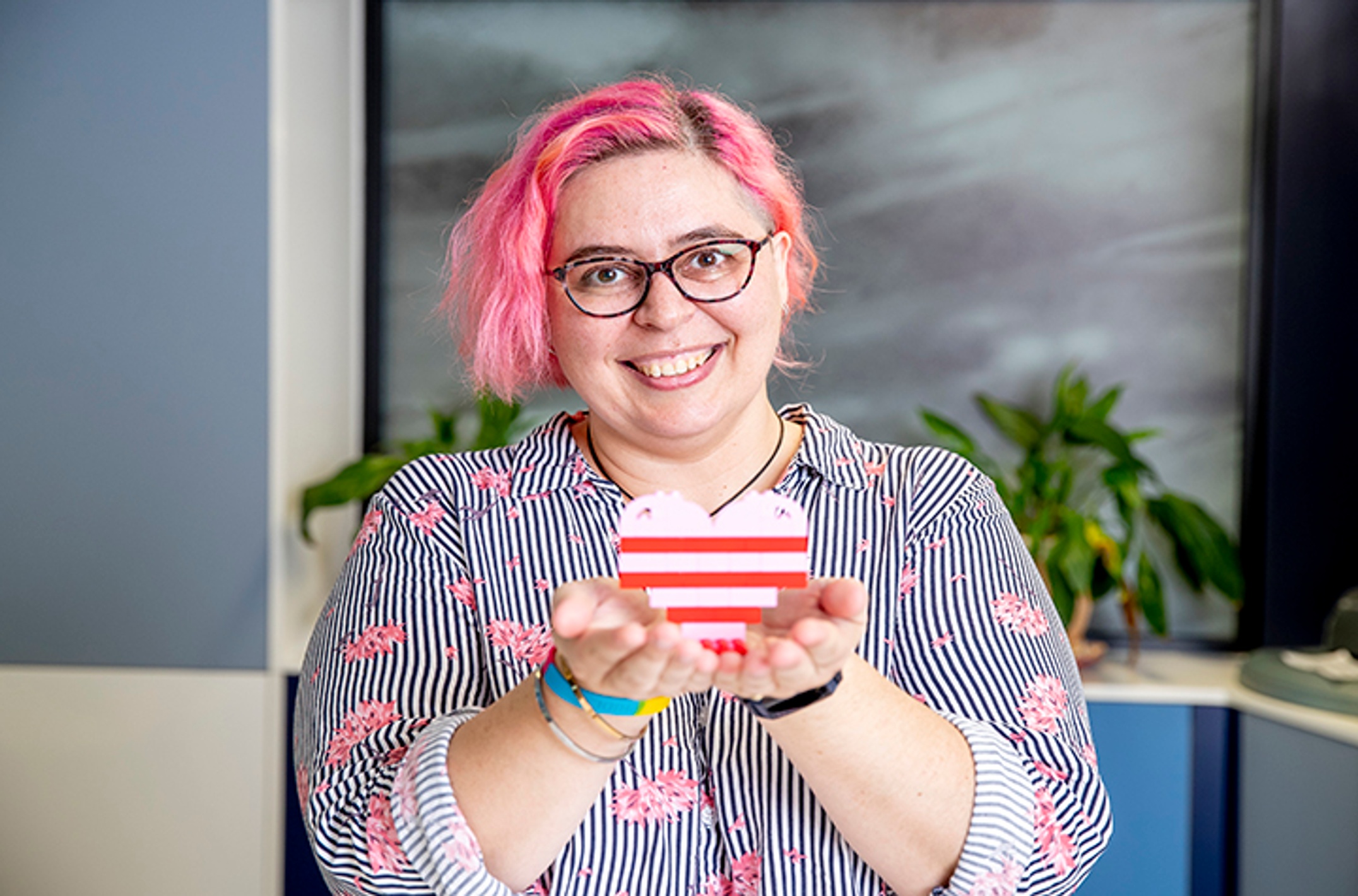 Working as an IT professional is not only about having a passionate relationship with technology. It can also be about love, especially if you're seeking contact with cupid's arrow through online dating. Strangely, a role in IT can also include making things with Lego. How so?
Southern Cross IT graduate Jennifer Doherty knows all about that, working for the international online dating company Cupid Media, which looks after 35 niche dating websites.
After years of working in administrative roles, Jennifer decided to switch to information technology.
"I'd never thought of myself as a technical person but a friend encouraged me to retrain so I decided to study the Bachelor of Information Technology online. When I chose the degree, I liked that there was an option to exit early to attain an Associate Degree, but I surprised myself and ended up fast tracking my studies, taking advantage of Southern Cross' three-session academic calendar to complete the Bachelor degree," says Jennifer.
Starting the degree prompted her employer, Cupid Media, to create a new position specifically for Jennifer, enabling her to leverage her extensive company knowledge and her new IT skills, so she transitioned from a customer service role to Project Coordinator.
After graduating with her degree, she was given more responsibility and authority to make decisions and improve processes, becoming a Scrum Master at Cupid Media… and no, this is not a role that facilitates people scrambling over who should be dating who. Jennifer explains...
"Scrum Masters facilitate 'scrum' ceremonies for planning and process review across the organisation, to transform and improve it. In my new role I also ran demos for major IT projects, business analysis, data collection and analysis, and conducted research for emerging technologies."
While Scrum brings structure to software development, Jennifer says that every day in her role was different.
"I've loved helping my team to overcome hurdles and reach their full potential. I've also enjoyed coming up with games and activities for meetings. Using Lego is a great way to get people feeling relaxed and creative, and even if someone has never experienced Lego before, it's instinctive and easy to use."
From the outset of her Bachelor degree, Jennifer knew she didn't want to be a software developer, but says the software development major in the course helped her to understand that life cycle, and how to communicate and work with developers.
"Going out of my comfort zone helped me learn how to learn and reawakened my desire for ongoing education, which I continue to pursue."
Jennifer studied hard at university to prove she could top her classes and in doing so she received the University's Women in Technology Excellence Award twice, for coming first in programming and in applications development.
"As a mature student and also a woman studying IT, I was always working to prove to myself that I belonged, but the support I received at Southern Cross really helped to make me feel welcome," says Jennifer about the Women in Technology program that provides dedicated support for women entering this industry.
As well as acknowledging students' achievements, the Women in Technology program hosts social events with networking opportunities specifically for female students in the IT degrees and the program's coordinator acts as an advocate for the students, offering support and advice.
Studying information technology may not be for everyone, but it has enabled Jennifer to expand her career opportunities. It's boosted her confidence in a skill-set she had previously believed was not one of her strengths.
As a bonus, she's been able to use her IT qualification to enhance dating technologies and the possibilities of finding love in the world of online dating.
---