View all news
Can a relaxation massage make a difference to pregnant women's mental health?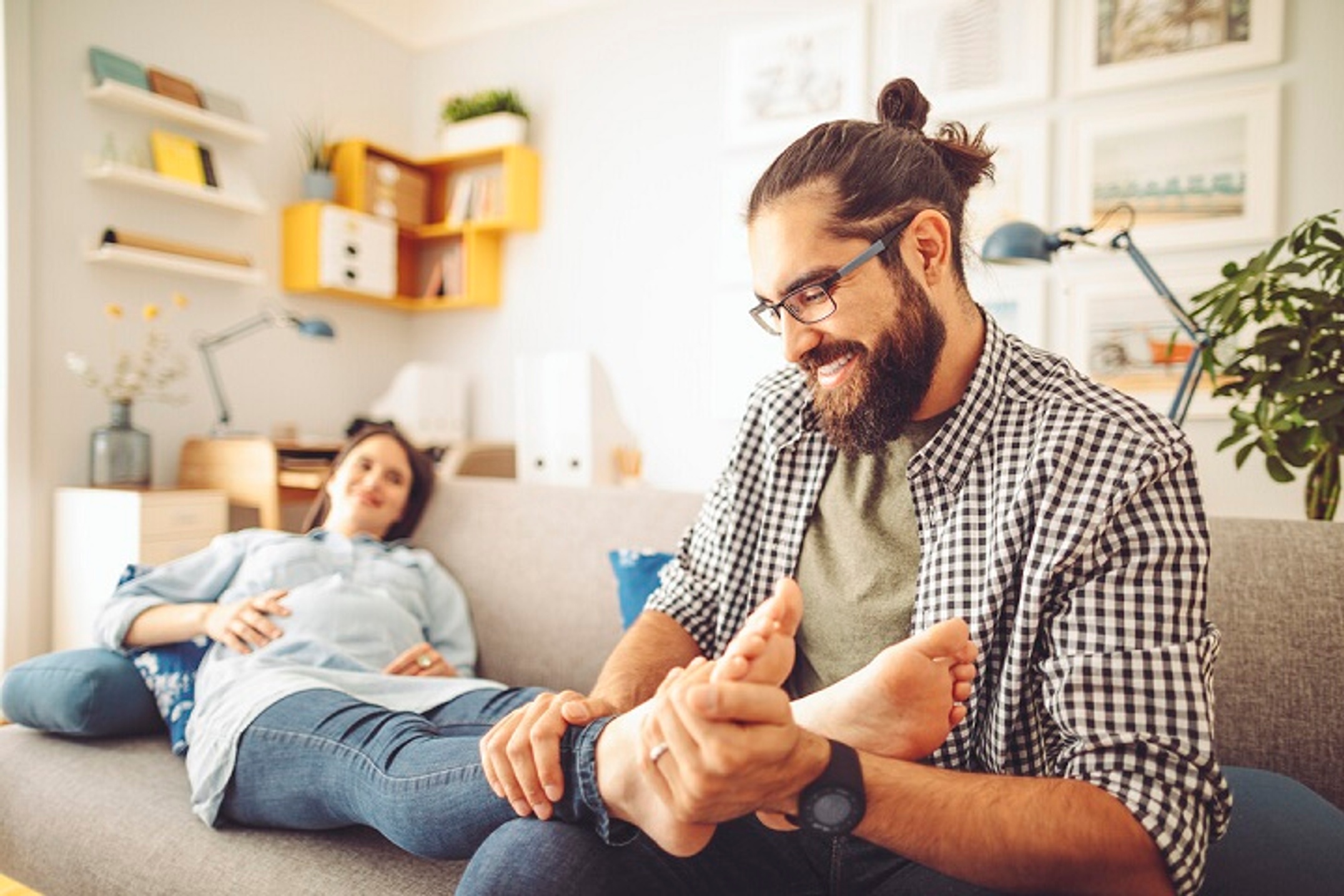 Article by Associate Professor Romy Lauche, Deputy Director of Research at the National Centre for Naturopathic Medicine, Southern Cross University.
Pregnancy is a time of transition, and it is not uncommon for new parents to experience emotional challenges during such time. I have recently partnered with some academic colleagues to explore partner-delivered relaxation massage to help with anxiety in pregnancy.
Under the lead of Associate Professor Helen Hall and in collaboration with Associate Professor Niki Munk, we have recently published the results of a feasibility study on partner-delivered relaxation massage for treating mild to moderate perinatal maternal anxiety (MAMA). The MAMA study successfully demonstrated safety, feasibility for and benefits of partner-applied relaxation massage, and the qualitative data we captured after birth offered very interesting insights into the participants' experiences.
The very nature of pregnancy as an overwhelming physical and emotional experience for some can lead to anxiety or depression. Perinatal mental health (PMH) has become a globally acknowledged public health problem, however the exact numbers of affected new parents are unclear. It is estimated that about one in five pregnant women suffers from perinatal anxiety and/or depression, corresponding to nearly 100,000 women a year. According to a recent analysis, perinatal mental health issues are costing Australia a staggering $877 million per year.
Perinatal anxiety is not only a major challenge for pregnant women, their partners and families, it may also affect rates of maternal or infant morbidity. This could be seen through higher risk of preterm birth, the known impact on development, cognitive and intellectual outcomes for children, reduced prevalence of breastfeeding and postpartum and enduring depression with wider implications for the quality of the family context. Pharmacological treatments are often not recommended during pregnancy or while breastfeeding due to safety concerns and mental health care in general, and perinatal mental health services in particular, may further not be available for some pregnant women.
New parents often report feelings of insecurity and lack of confidence in the efficacy of self-care activities. Through the partner delivered massage our participants regained feelings of control and autonomy – which are key drivers in maintaining positive psychological health and reducing the need for clinical and/or pharmacological interventions. But it was not only women who benefited from the partner-based interventions: their partners also reported significant changes.
Generally, many men feel on the outside to their partner's pregnancy, and inadequately prepared to support them during this crucial time. An intervention as simple as relaxation massage however provided them with the skills they needed to be a calming influence on their partners' anxiety. Even though partner-based interventions might theoretically lessen cost and logistical barriers to self-care, and positively influence the relationship, the partner dynamics may present unique challenges which require further research.
Professor Julie Jomeen, Professor of Midwifery at Southern Cross University said that the challenges of inadequate specialist services and referral pathways to both effective identification and management of perinatal mental health had been demonstrated in her work over many years.
"Access is even further impacted by geography; thus, rural and remote areas are often disproportionately affected. Many women living in these areas can be expected to experience a greater number of known risk factors and problems associated with PMH," said Professor Jomeen.
The COVID-19 pandemic may have escalated this issue by further limiting access to women's perinatal care even more. Against this backdrop, effective evidence-based interventions to manage mild and moderate anxiety that can be delivered outside a specialist service context could be significantly valuable and worthy of additional research. Unfortunately, informal and self-care approaches have rarely been subjected to rigorous controlled trials to provide evidence of effect.
Professor Jomeen's verdict of the study: "The described feasibility study shows great promise and alongside reduction of anxiety, the potential positive impact on partner relationships, increasing sense of support, another well acknowledged factor of critical import in a PMH context, cannot be underestimated. More work is needed on how we reduce pathologisation of PMH and support women to utilise their own resources to promote perinatal wellbeing."
Since a major limitation we experienced was related to the face-to-face partner-delivered massage training, one of our next steps for us will be to move the training online, and examine whether such online training will provide the same promising benefits that we found in our feasibility study.
---