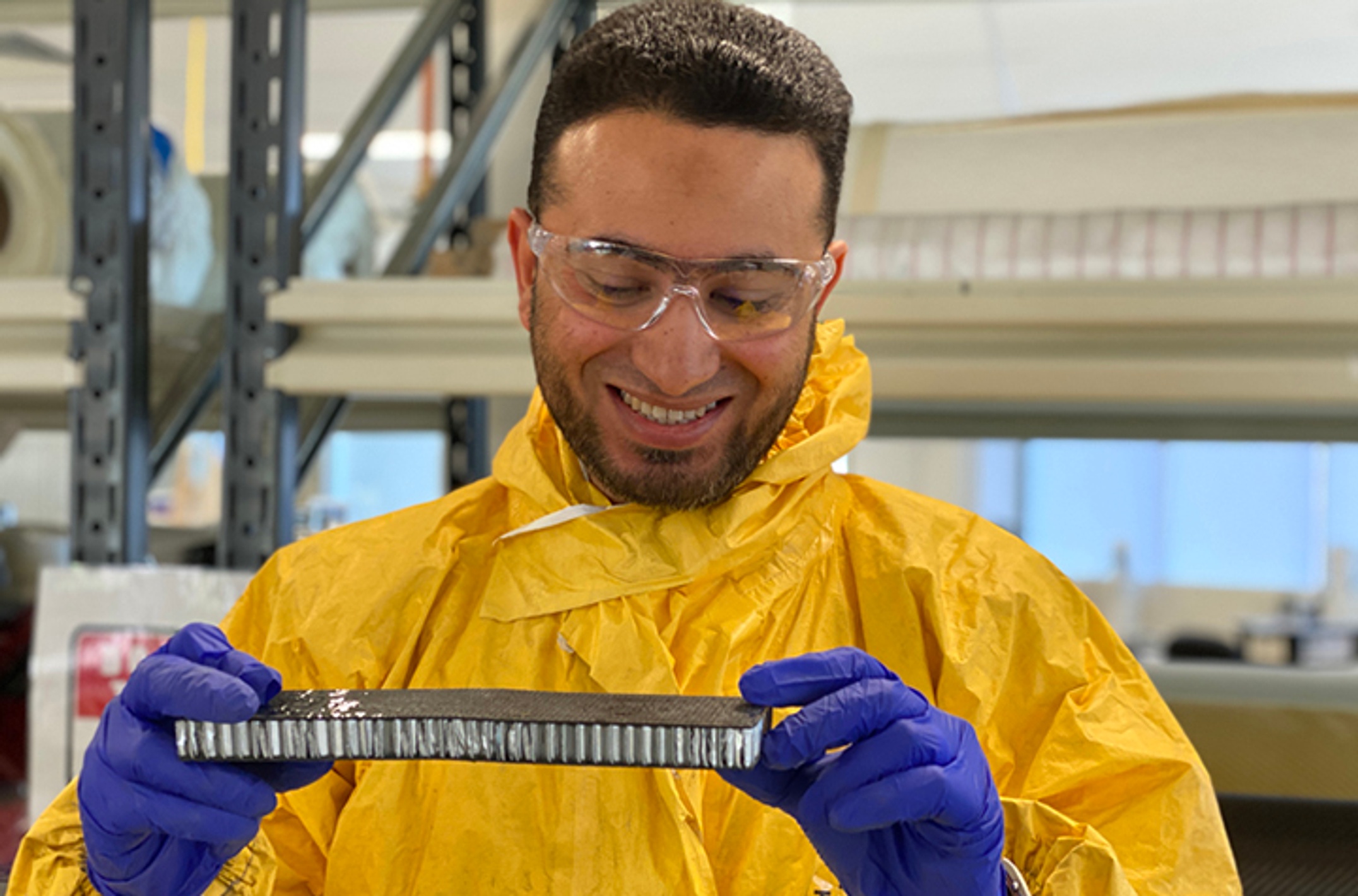 Have you ever wanted to build space ships, design industrial machines or work on biomechanics breakthroughs?
For Southern Cross University's Dr Ahmed Thabet, a vibrant engineering career is seeing him develop technology across all of these industries, from making aeroplane composite parts out of carbon fibre, to building stronger woven wire mesh security doors and improving the structural integrity of rotational moulded water and chemicals tanks, and so much more.
As a Senior Lecturer, researcher and coordinator of industry experience, Dr Thabet is not only working with of Australia's most trusted companies to improve their products and safety, but is sharing his innovative experiences with his mechanical engineering students at Southern Cross University.
He specialises in mechanical and numerical characterisation of a wide range of composite and hybrid materials, aerospace structures, marine structures, mechanical design, structural and biomechanics analysis, and has conducted many research projects with Duraplas tanks, Crimsafe, University of New South Wales at the Australian Defence Force Academy (UNSW-Canberra), multiple food industry stakeholders, and the Trauma and Orthopaedic Research Unit at Canberra Hospital.
Dr Ahmed is leading a Southern Cross University project in collaboration with Duraplas, a leading Australian manufacturer of rotational moulded polyethylene tanks, to develop efficient numerical models using Finite Element Method (FEM) to predict the structural integrity and stability of Polyethylene (PE) buried, partially-buried and non-buried storage tanks for water and chemicals. These comparative studies of design modifications and operating conditions address the issue of safe storage of water and chemicals due to the hydrostatic, soil, wind, snow and earthquake loading cases.
"The project is expected to generate a reliable prediction tool of the short- and long-term creep behaviour of poly resin tanks that will be seriously considered by the industry as an accurate tool to predict the performance and longevity of the rotational molded tanks under various loading levels and environmental conditions," he said.
"My students and I are also working on many aerospace projects, designing parts of aircrafts and developing high-resistance carbon fibre and aluminium composite laminates to be used in the wing and the body of an airplane and in satellites.
"I am very proud to have the opportunity to participate in two big industrial projects that build on my interests in mechanical engineering. With the assistance of the external fund from Trauma and Orthopaedic Research Unit (TORU) at Canberra Hospital, I began the first research project to investigate the durability assessment of femur fracture repair with Supercables™ under cyclic loading. The second project was funded by Crimsafe Pty Ltd to study the structural mechanics of woven wire mesh and perforated-sheet security screens to align with the Australian safety standards. These accomplishments represent an extension of my established research interests into a new area, indicating a continuing trajectory of research and publication in mechanical design and biomechanics engineering."
Another project Dr Thabet is about to begin has been a dream project for him – working with the food industry to create a versatile pneumatic material handling system for industrial applications to move products across a manufacturing plant in a safe and hygienic way using clean energy such as compressed air, rather than hydraulic oil which may cause serious contamination.
"We are working on similar technology for a sunglasses fabrication centre as well, and our Southern Cross University project team, including our students, is hoping we can develop a comprehensive pneumatic platform that we can offer to other industries as well," he said.
Hi my name is Ahmed Thabet.

I am a senior lecturer in mechanical engineering in the School of Environment, Science and Engineering at Southern Cross University.

In our advanced composites lab we have a lot of materials we are developing for many applications.

Applications such as aerospace structure for example this aluminium honeycomb and carbon fibre like this one we are using it for design of aircraft and satellite.

Also we are working with different grades of marine materials like for example the composite sandwich panel that we use for high speed boats and many marine applications.

We are working with a variety of composite materials for different applications like automotive applications and oil and gas. In addition to that we have facilities to investigate the structural integrity of polymeric material like for example polyetherine that are used to design rotational moulded tanks for storing water and chemicals.

Dr Thabet first studied his Bachelor degree in mechanical engineering in his home country of Egypt, at the encouragement of his high school physics teacher and guidance of his older sister who studied electrical engineering within the same faculty. He then completed his Masters in the same field before moving to Australia to pursue his PhD in Aerospace engineering in Canberra in partnership with the Australian Defence Force Academy and UNSW, where he has worked as a post-doctoral research fellow.
In 2017, he joined Southern Cross University as a mechanical engineering lecturer. He teaches numerous subjects including machine element design, design of mechanical systems, finite element method and fracture mechanics, introduction to mechanical design and manufacturing, engineering thesis, introduction to computer aided design, computer aided design and applications.
"These teaching units have given me so much good experience, because when you teach this many different units and do research across multi-disciplinary topics, you get a lot of experience, not only in a specific area like mechanical design, but also material design, working with structural engineering, mechanical, civil and marine engineering, aerospace engineering. This combination of disciplines has definitely enhanced my experience in many topics and research, which has enhanced the experience of my students as well," he said.
Find out more about studying Engineering at Southern Cross University
---