View all news
Students' VR project will make job-hunting easier for people with disabilities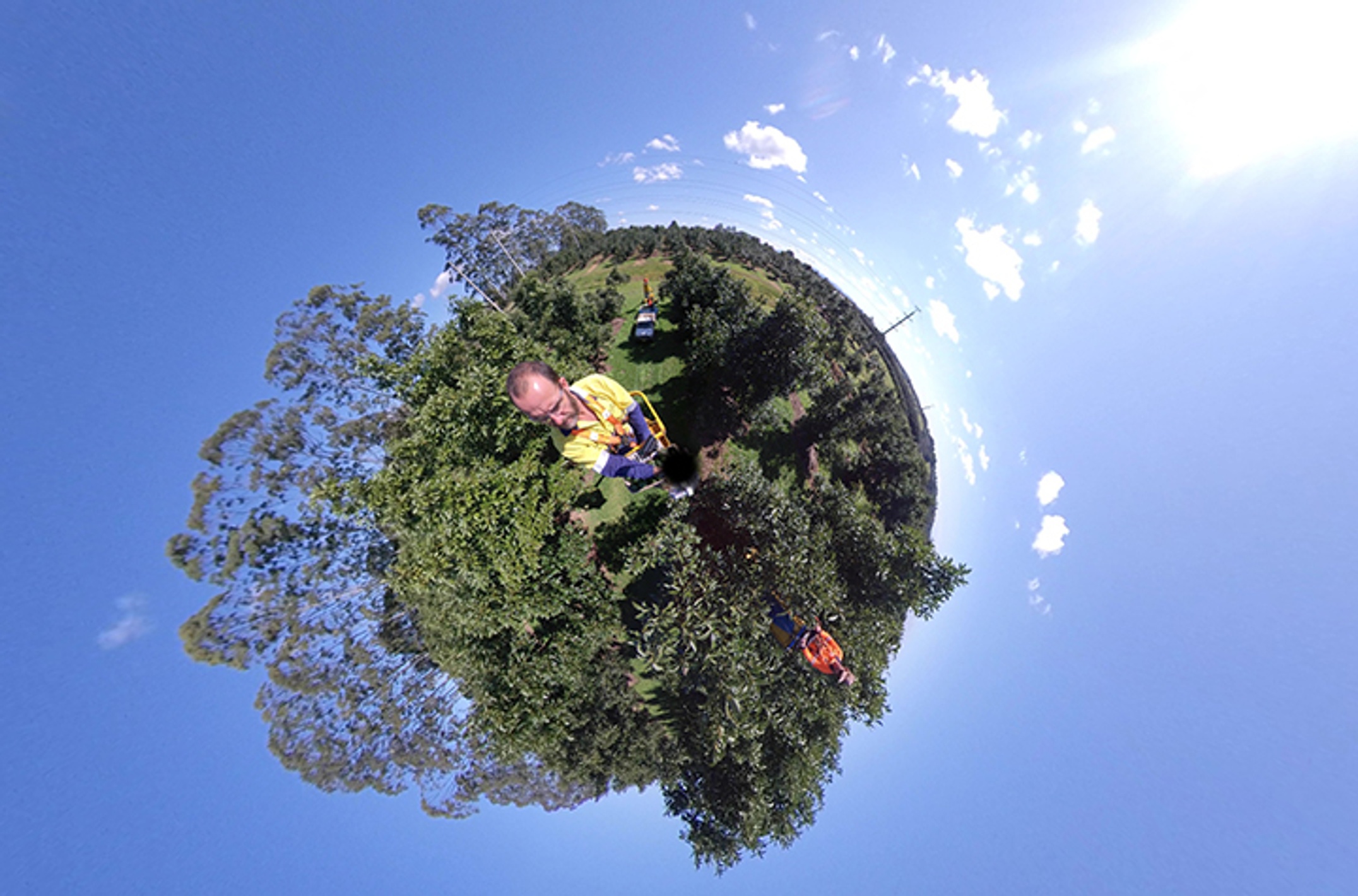 Southern Cross University digital media students are putting the finishing touches on a new virtual reality project that will change lives for the better.
Called 'Bringing the Job to You - SummerlandFarm360', the VR video will give people with a disability a safe way to experience the variety of career options available at Summerland Farm in Alstonville, a business of Aruma providing employment opportunities for people with a disability.
Potential staff, wearing virtual reality goggles, will explore working in the packing shed, de-husking macadamias, picking avocadoes, driving all-terrain vehicles, going up in the cherry picker and more.
The project came about when Summerland Farm approached Southern Cross University earlier this year for advice on media technologies that safely introduce people to the kinds of spaces they might experience at work.
"The farm has a lot of work environments that are quite complex, loud and busy, and people with autism are often highly sensitive to this level of stimuli," said Southern Cross University media artist Associate Professor Grayson Cooke.
"I suggested we explore VR as a way of providing this experience."
Dr Cooke enlisted Charis Crosthwaite and Hope Jurjens, both final year Bachelor of Digital Media and Communications students, plus University technical officer Ian Slade, and the crew set to work.
Born and raised in Lismore, Charis and Hope have been making films together since they were 16-years-old and laugh when explaining the 'non-conventional' challenges of shooting for 360 VR.
"The camera sees in all directions at once, a full 360 degrees, so there's no real framing or composition. When we hit the record button and shout 'action' we have to immediately duck for cover behind a tree or something so we won't be in the shot," said Charis.
Hope added: "Because having 'cuts' is jarring for someone viewing it in a VR headset, you can't really 'edit' the footage so everything must be shot in one take.
"On the set Jesse, an occupational therapist from Aspect Australia, gave us lots of feedback on how the headset and the experience will affect people on the spectrum, and how to not make it disorientating and uncomfortable."
Charis and Hope were involved in pre-production planning and scripting, shooting, editing and designing the whole VR experience, and now post-production.
"This is a fantastic project and opportunity for Southern Cross students to learn about VR production. And because it's for a local community agency there is a very meaningful outcome," Dr Cooke said.
While VR has been used for more than two decades in gaming and film entertainment, Dr Cooke said it was an emerging technology in disability services.
"We know in health-related settings VR is good for simulating experiences. In mental health, VR is used for 'exposure therapy' where people can safely re-visit sites of trauma and overcome their difficulties through this exposure.
"Building on these uses, the SummerlandFarm360 project explores a kind of 'pre-exposure therapy' where VR is used to visit complex environments safely and give a quick experience of sights and sounds," said Dr Cooke.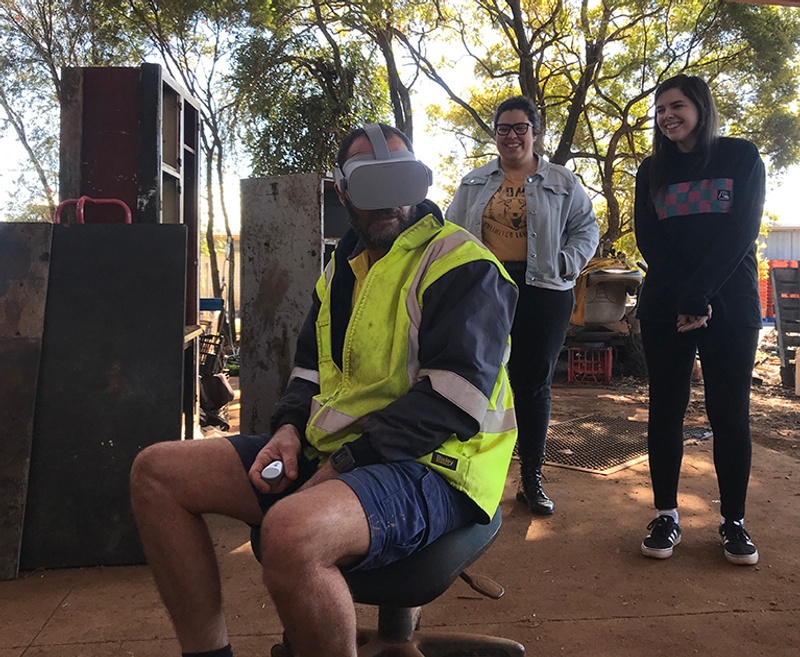 Summerland Farm worker Nicholas Harding wearing VR goggles to test the virtual reality experience as Digital Media students Charis Crosthwaite (middle) and Hope Jurjens (right) look on.
Joanne Monk, Employment Support Manager for Aruma, said the organisation was excited to bring VR into the supported-employment sector.
"It has been a long-time goal across our organisation to use technologies to assist in the disability sector. Now the team is looking forward to taking our VR experience out into the community.
"This will create a very exciting interaction and communicative opportunity when our team visits regional schools, expos and events, showcasing all the work we do and the wonderful supported-employment opportunities we have for people with a disability."
Dylan O'Malley, General Manager at Summerland Farm, said its two Alstonville businesses, Summerland Farm and Facility Services Alstonville, employ close to 120 people with a disability.
"Many meaningful and productive roles have been generated for team members throughout various business functions at Summerland Farm. These roles support the development of valuable work skills, friendships and growing self-confidence within a professional setting.
"However, locating the right job can be daunting for anyone of us, and this is made more difficult when individuals may not have experience or confidence in job seeking and may have difficulty understanding some content. People with autism for example, can experience anxiety engaging with something new whilst adjusting to new sensory environments.
"The team at Summerland Farm has been very fortunate to work closely with Southern Cross University to create a portable product using media technologies which will assist access for people with a disability to engage with our employment opportunities.
"Our VR experience showcases real employees doing real jobs in real time. This allows us to safely and efficiently introduce people to a wide variety of working environments and engage with the diverse roles and functions we have available," said Mr O'Malley.
'Bringing the Job to You - SummerlandFarm360' will be launched in 2021.
---