View all news
Luxe study opportunity in paradise at exclusive new Hayman Island campus
Tourism students have exclusive access to paid internships at the idyllic Hayman Island Resort in the Whitsundays, courtesy of The Hotel School and Southern Cross University's partnership.
The tropical campus at the InterContinental property in the Great Barrier Reef is the only hotel school in the world where students can study, work and live on a 5-star resort island.
The course, a two-year Associate Degree of International Hotel and Tourism Management accredited by Southern Cross University and HTMi Switzerland, blends university-level units with paid internships.
The Hayman Island campus joins The Hotel School's existing campus locations in Melbourne, Sydney and Brisbane. The Hotel School is a long-standing partnership between Southern Cross University and hotel giant Mulpha Australia.
Southern Cross University Vice Chancellor Professor Tyrone Carlin said this latest hotel management study initiative presented students with a unique opportunity to enter the high-end hospitality industry.
"The InterContinental Hayman Island Resort is one of the world's most prestigious hotels and Southern Cross University has built a reputation for delivering outstanding hotel and tourism courses," Professor Carlin said.
"Students can be confident the work experience they gain during the paid internship, where they will put into practice the knowledge and skills gained while studying, will open doors to careers in the high-end market."
The Hotel School campus on Hayman Island.
Mulpha Australia CEO Greg Shaw said his organisation was proud to lead the industry with the world's first 5-star resort island hotel school.
"With the opening of the Hayman Island campus, Mulpha has created a vision of a new globally unique academic offering.
"Rather than students studying academic content and enjoying work opportunities to re-enforce learning, the Hayman Island location allows complete and full integration of students into the InterContinental Resort business," Mr Shaw said.
Sue Bakir, General Manager of The Hotel School, said students will be exposed to executive leadership of the resort and will be actively involved in driving performance and improvement.
"The ultimate goal is for students to understand all aspects of a resort operation and upon graduation be ready to take on further graduate studies offered by The Hotel School and Southern Cross University or managerial roles in hotel or hospitality operations," she said.
After completing the Associate Degree, students are also eligible to graduate with a Diploma in International Hotel and Tourism Management from HTMi Switzerland, giving them a global hospitality passport. Additionally, students will have 24 months credit into the Bachelor of Business in Hotel Management at The Hotel School's capital city campuses.
Applications are now open for the next intake in November. For more information, visit scu.edu.au/tourism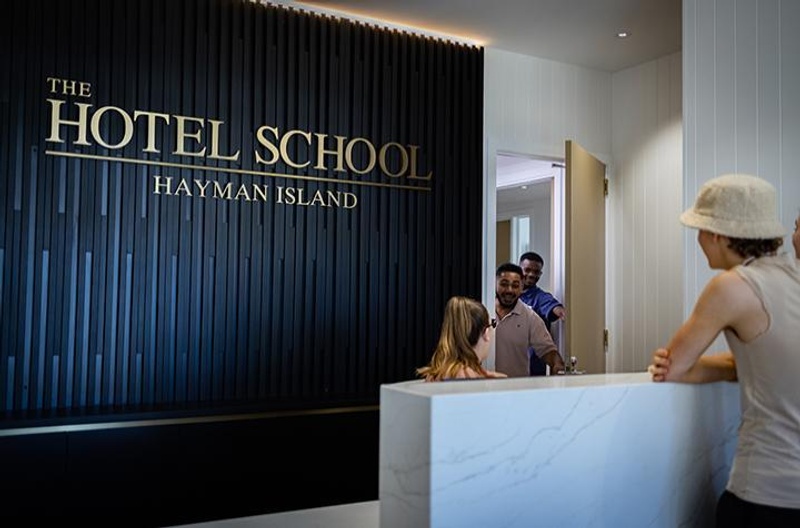 Students mingling at the front desk of the Hayman Island campus.
Media contact: Sharlene King, media office at Southern Cross University, 0429 661 349 or scumedia@scu.edu.au
---