View all news
New research brings hope for macadamia grower, Martin Brook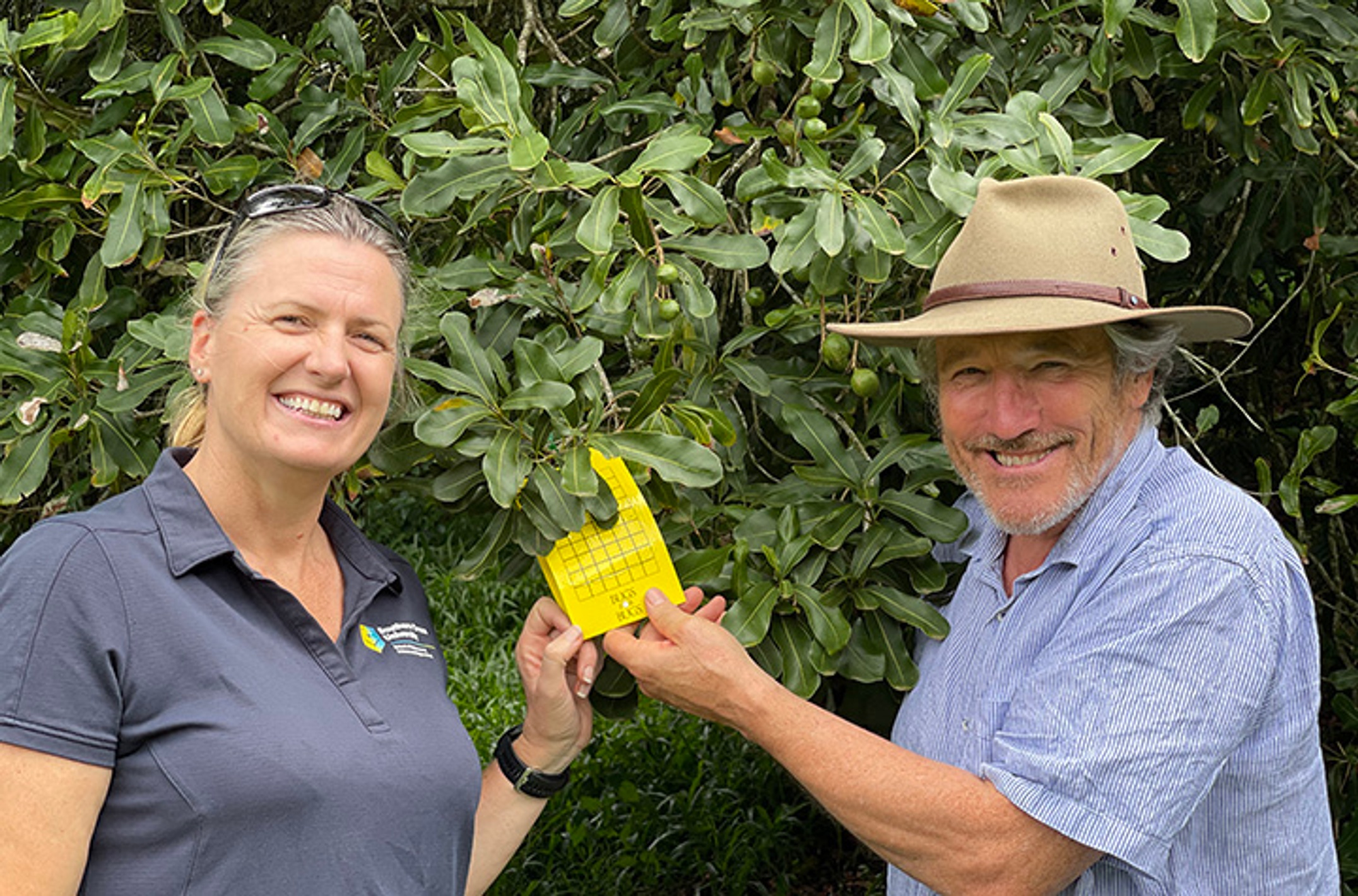 Article by Southern Cross University Centre for Organics Research.
2018 was a tough year on the Brook family farm. More than 90% of the macadamia crop was lost to a native pest, the macadamia lace bug.
"We were organic for five years and the lace bug nearly wiped us out," said Martin Brook, co-founder of Brookfarm – Australia's leading gourmet muesli brand and manager of a 4,500-tree Macadamia farm.
But hope is on the horizon.
PhD candidate Kirsten Ellis from the Centre for Organics Research has set her sights on macadamia lace bug. Ms Ellis' research aims to improve understanding of the lace bug's ecology and identify beneficial predators and management practices to optimise predatory activity.
"Integrated Pest Management (IPM) practices rely on a good understanding of pest ecology," Ms Ellis said.
"We are trying to understand how lace bugs work. There's little knowledge of how far they travel, where they live in summer and how they reproduce. It's critical that we understand all of this to develop new and effective IPM strategies."
Although lace bug has always been present in macadamia orchards, it is only in recent years as the industry has shifted away from traditional methods of pest management that numbers have soared.
Macadamia lace bug feeds on the macadamia flowers, causing them to wilt, blacken and eventually drop. The bugs populations can build to very high levels over the course of the flowering season and lace bugs have been responsible for 100% crop losses.
In her quest for a solution Ms Ellis has set up an arena, dubbed 'the colosseum', back in the lab where she challenges lace bugs with potential insect predators such as lady beetle nymphs. The results provide a clue to potential management options in the field.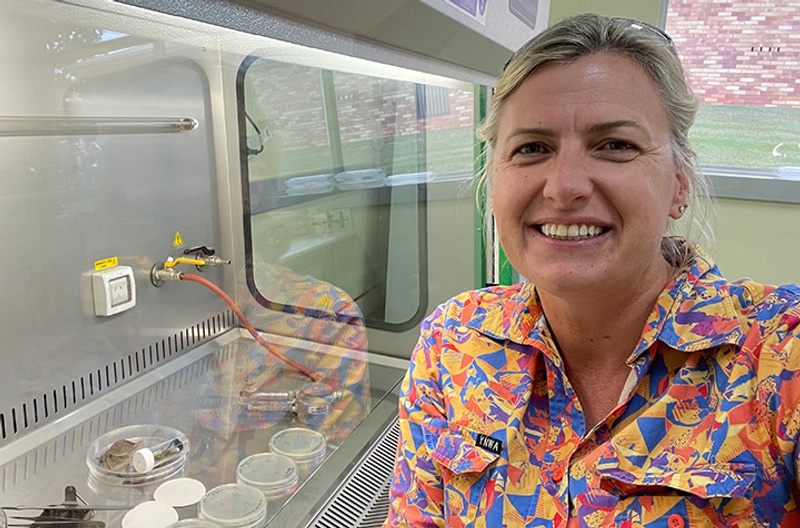 Centre for Organics Research PhD candidate, Kirsten Ellis sets up to monitor insect pest-predator behaviour in the lab.
"Biological controls, insect predators that reduce pest populations, have been hugely successful against other macadamia pests," said Ms Ellis.
"We're hopeful that we can deliver similar controls against the lace bug."
Ms Ellis is conducting research at Brookfarm and five other macadamia orchards across the Northern Rivers NSW region.
This research has brought hope to Macadamia farmers like Mr Brook.
"We are thrilled to host such an important trial," he said.
The research is set to go for 18 months.
Monitoring pest predator interactions in the lab - Orius bug feeding on macadamia lace bug nymph.
About Southern Cross University Centre for Organics Research
The Centre for Organics Research is a joint initiative between Southern Cross University and NSW Department of Primary Industries which conducts research in partnership with community and industry stakeholders across the Organic Food sector. The Centre for Organics Research provides strong evidence-based scientific and multidisciplinary research focused on clarifying some of the complex issues surrounding organics production across the agricultural and horticultural sectors.
Media contact: Dr Emily Grace, Communications Officer, Centre for Organics Research, Southern Cross University, 0405 383 700 or emily.grace@scu.edu.au
---